1 November 2017
It's train travel, but not as you know it. Opulent interiors, refined parlour cars and dapper stewards in tailored suits reference the refined era of rail travel, channelling royalty, intrigue and luxury.  Britain's grand rail journeys elevate the everyday commute, showcasing scenic panoramas in a regal setting. And, you don't have to be a parka-clad trainspotter to get on board.
Travel back in time with Maggy Oehlbeck in part two of the 'Train Spotting in the UK' series as she paints a vintage picture of life onboard the Belmond Royal Scotsman.  Travelling from Edinburgh to Aberdeen, this is a journey amidst ever-changing landscapes of rugged shores and tranquil lochs to towering peaks and sweeping pastures. 
Words by Maggy Oehlbeck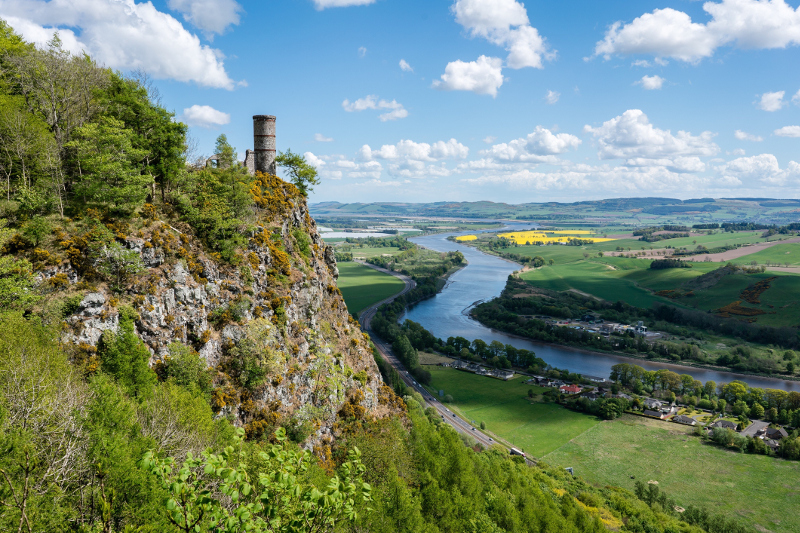 Loop through the Scottish countryside towards Aberdeen's lush green lands
Belmond Royal Scotsman: Edinburgh to Aberdeen
"Follow the piper," the Royal Scotsman's hostess urges. The skirl of bagpipes signals his approach and we join the procession to the waiting train. There's no mistaking the gleaming red carriages with their gold crest and giant lettering emblazoned on the side.
Staff in signature tartan greet us in the splendid manner of Downton Abbey. We soon learn the train is like a stately home on wheels and we are the privileged guests. Fine dining with superbly matched wines, flawless service and the conviviality of likeminded guests are the norm. There's even a spa on board.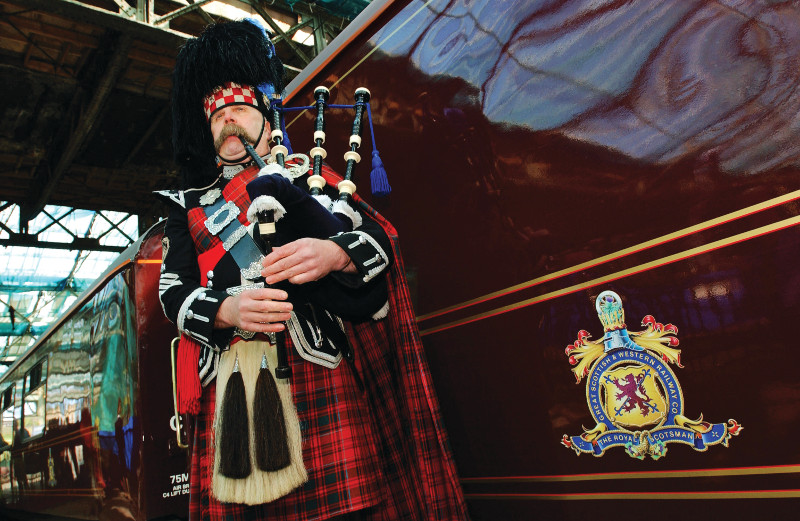 Our journey is a two-night loop from Edinburgh, up to Cairngorms National Park through Aberdeen and Dundee and back. Baggage has magically appeared in our surprisingly spacious two-berth cabin (with ensuite bathroom) but unpacking can wait. We set off to explore.
Enjoying cocktails in the Observation Car, we enjoy the crossing of the famous Forth Railway Bridge, then head toward Dunkeld, Pitlochry and Blair Atholl. We are transfixed by the unfolding spectacle of village life and the majestic landscape of the Cairngorms. Nearby, we will remain overnight on a private railway.
Both dining cars reflect an Edwardian ambience with soft lighting and fastidiously set tables. Chefs prepare all meals in the galley and menus feature regional seafood plucked from pristine waters, Aberdeen Angus beef and opulent desserts. At Rothiemurchus estate we try fly fishing and snare a trout in the mirror-calm loch.
Later, at Culloden Battlefield, a clansman gives a graphic account of the Jacobite rebellion. A shot of famous malt from Strathisla's historic distillery – the home of Chivas Regal whisky – is in order. Tonight is formal. After a sumptuous dinner, we adjourn to the Observation Car for traditional Scottish music and dancing – a memorable highland fling indeed.
Next Train Spotting in the UK instalment: Ffestiniog & Welsh Highland Railways
Previous Train Spotting in the UK instalment: Belmond British Pullman - London to Folkestone 

Other Travel Articles You Might Like...