31 October 2018
If you are Europe bound anytime soon, chances are high that you will be passing through the Middle East, possibly even through the desert oasis of Abu Dhabi. When your journey requires travelling halfway around the world, an extended stop-over in this fabled city is the perfect way to break up the long haul. It's a great place to stretch the legs, take a break from aluminium foiled meals, and if you are anything like me, get a little adrenalin fix.
Located on the Persian Gulf, Abu Dhabi's desert climate provides gorgeous hazy light, even on a cloudless day, warm temperatures and spectacular sunsets.  The city also packs a punch when it comes to fast and furious attractions.  Read on for some of the must do attractions if the shopping malls and beach clubs aren't enough to get your heart racing.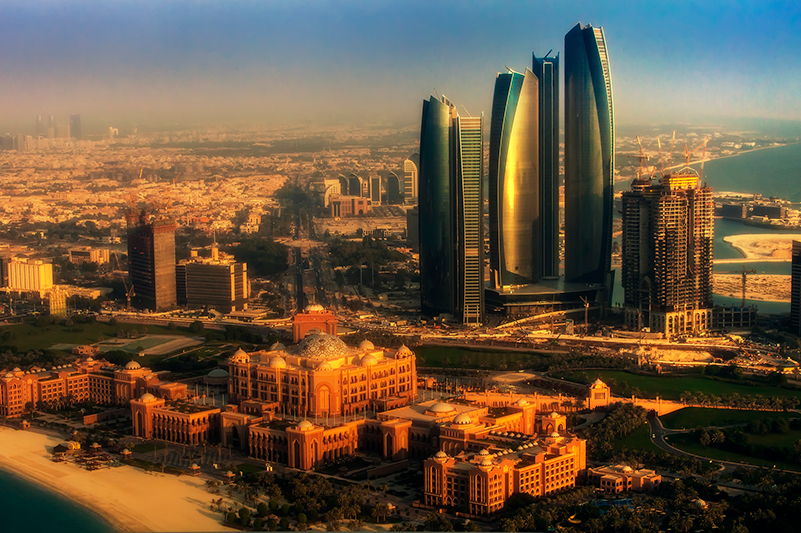 Ferrari World, Yas Island
Abu Dhabi boasts a Ferrari-branded theme park, a world first, where G-force chasing junkies can get their fix on the world's fastest roller coaster – Formula Rossa.  Reaching a maximum speed of 240 kilometres per hour in just four seconds, and a height of 52 metres, this one pretty much speaks for itself.  Other adrenaline-inducing rides include Turbo Track, a vertical climb followed by a zero-gravity fall; and Flying Aces, which takes thrill-seekers through the world's highest rollercoaster loop, hits 120 kilometres per hour and scales the 63-metre height at a 51-degree incline.
If your friends aren't quite as game, they can take to the go-kart track, state-of-the-art race simulator or hit the shops for the largest collection of Ferrari branded products in one place. Most of the park is located indoors, under the largest space frame structure ever constructed, so whether you're there for the thrill, the shopping, or simply the novelty, you will be able to enjoy your visit in cool, shaded comfort.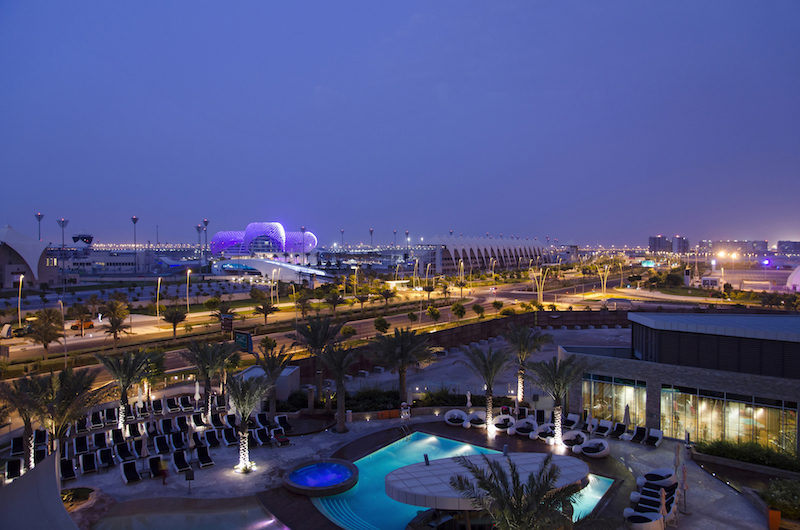 Formula Yas 3000 Drive, Yas Marina Circuit
The closest you might ever get to a Formula 1 race car or professional racing circuit and by far one of the most thrilling experiences you will ever have.  Take an adrenaline-fueled, high speed drive at the Yas Marina Circuit, the same location that the Abu Dhabi Grand Prix is held, and you will feel like Ricciardo himself.
You can take the wheel and hit the 2.4-kilometre circuit solo, hugging corners and operating F1 style paddle-shift gear changes for the drive of a lifetime, or ride shotgun with the Drift Taxi experience.  This thrilling passenger experience pairs you with a professional driver who will take you drifting around the corners in a modified lightweight Chevrolet Camaro SS.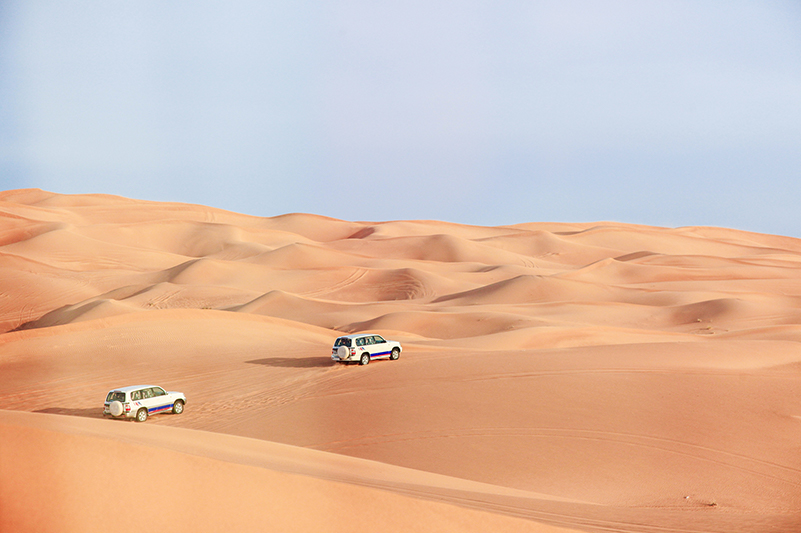 Desert Dune Bashing
There isn't much that will get your heart pumping and stomach churning as much as being hauled over and around a desert of sand dunes in an SUV.  Be warned – this is not for the faint-hearted, or weak stomached.  Highly skilled drivers take guests roaring across dunes in specifically designed and reinforced SUVs, at extremely high or low speeds, while guests are whirled around inside.  As well as the adrenaline rush, you will enjoy some fantastic desert views. If you are lucky enough to spend some time in the luxurious Qasr Al Sarab, ensure to take a ride on the wild side with their dune bashing adventure.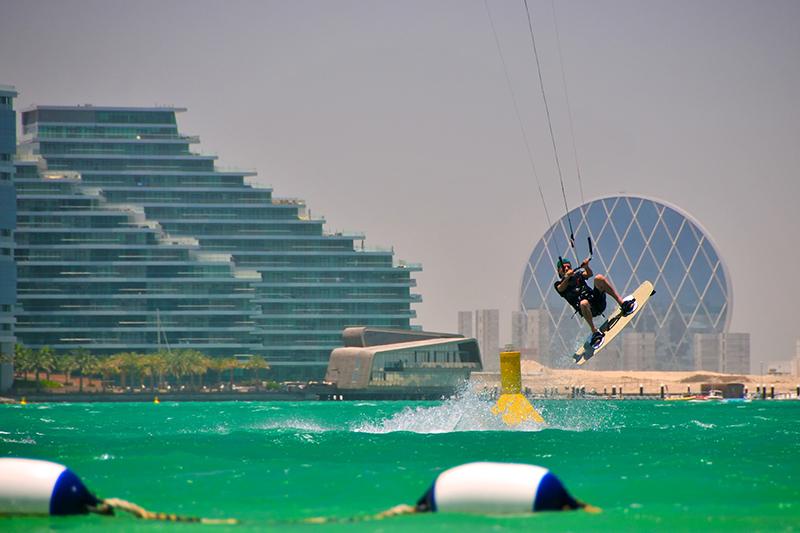 Kitesurfing on Yas Island
Kitesurfing is one of the fastest growing water sports worldwide, and Abi Dhabi's Yas Island has its own beach dedicated to this pastime. This combination of windsurfing, wakeboarding, surfing and power kiting can be done in as little as 10 knots with a large enough kite. For the real junkies out there, grab a smaller kite and you will be able to take on 25 knot plus winds.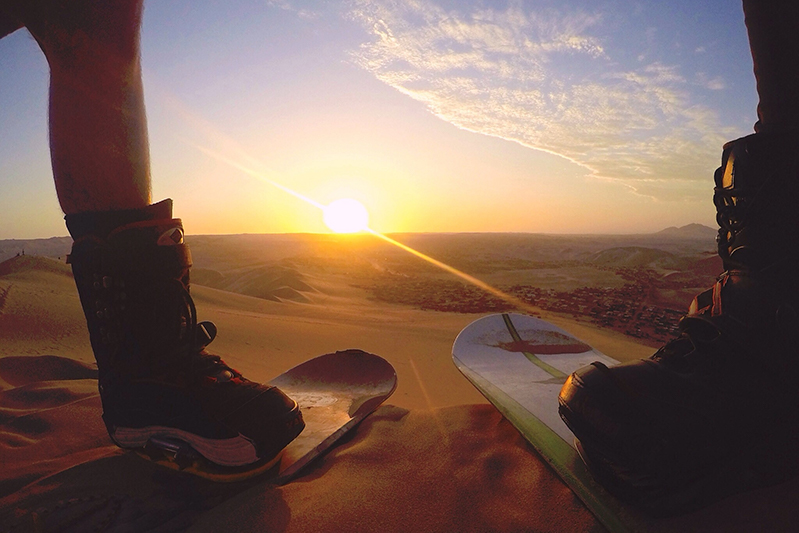 Sandboarding
Similar to snowboarding, but on hot desert sand amidst rolling desert dunes, his extreme board sport involves riding across and down the dunes, while the wind whips through your hair.  It can be done standing, either strapped into bindings, or standing loose, or for the more conservative, it can be done sitting or lying back or belly down.  It is a must-do when stopping through Abu Dhabi, as the Rub al-Khalid plays home to some of the world's largest sand dunes.
A great way to do this as part of your stopover is through Etihad – their Hala morning desert drive includes dune driving, traditional desert breakfast, and a chance to hit the sand dunes as hard or as fast as you desire.
---

Other Travel Articles You Might Like...