1 April 2019
When you think of Fiji, you probably don't immediately think of wildlife encounters – it'smore likely you'll think about palm tree-fringed beaches and brilliant blue (warm) water, and maybe about sipping from a coconut while watching the sunset.
But Fiji has its fair share of unique wildlife, with some incredible wildlife encounters to experience, both large and small.
The Fijian Crested and Banded Iguanas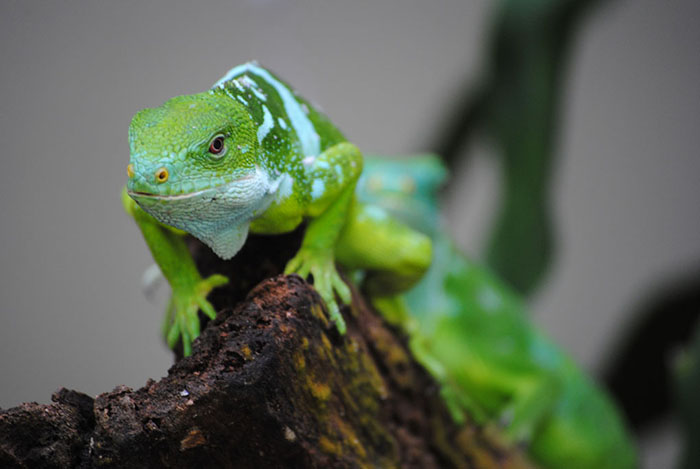 Kula Eco Park is located across the road from the Outrigger Resort on the Coral Coast. With support from Sydney's Taronga Zoo, this sanctuary works hard to conserve Fiji's endangered species as well as educate local school kids about Fijian wildlife.
It's a great place to get up close and personal with a few of Fiji's unique endemic species, including the critically endangered Crested Iguana and the Banded Iguana.
Be a park ranger for a day!
Kula Eco Park also run a program for kids to learn how to take care of the endangered animals in the park. Kids are fitted with their very own Kula Park Ranger Uniform Shirt that they get to take home, and get involved hands-on in the Diet Centre, where you'll make special food for the tropical fish display, prepare diets for the Kula Collared Lories (and get to hand-feed them).
Kids also get to take part in health checks to some of Fiji's rarest iguanas and go on to hand-feed any babies in residence (It could be lambs, baby goats (kids) or even a flock of Peacock or Quail chicks). And you'll get to leave your mark in Fiji by planting a fruiting tree that's an attractive diet for the many wild coloured Fruit Doves that visit the park.
Wilson's Legacy: The Fijian Crested Iguana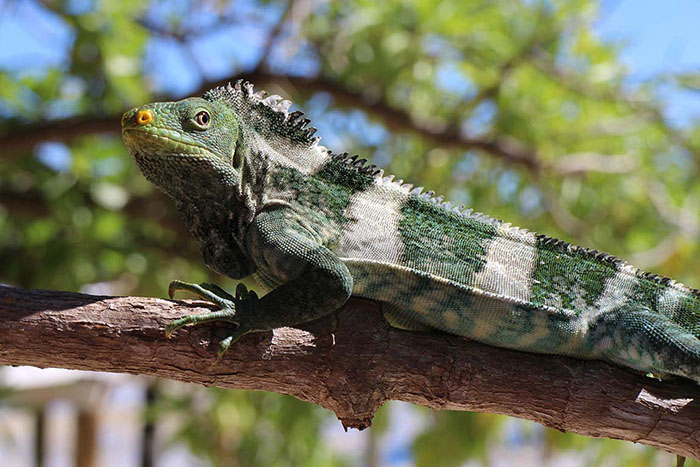 Conservationists are celebrating the population recovery of this critically endangered species (once thought extinct) on a recently established 'ark' at Monuriki Island. Monuriki, in the lower Mamanuca archipelago, is also famous for being home to Tom Hanks and 'Wilson' in the film 'Castaway'.
The island was cleared of all feral animals including cats, goats and rats and 32 crested iguanas bred in captivity at Kula Eco Park were reintroduced here in a program supported by Taronga Zoo, the Mamanuca Environment Society and San Diego Zoo.
Many of the day cruises from nearby islands visit Monuriki, and you can also get up close to them at Likuliku Resort on Malolo Island, whose manager Steve Anstey has been closely involved in the conservation project ever since the rare crested iguanas were found on Malolo. A specialist from The University of Georgia is now resident at Likuliku to study the species discovered here to educate resort staff and guests, and to determine if the iguanas found here are in fact a sub-species.
Tag A Turtle At Treasure Island
On Treasure Island in the lower Mamanucas, you can help feed endangered turtles on a natural diet of sponges and seaweed as they build up strength before being tagged and released back into the ocean. During the breeding season you can also help monitor nests, with turtles often hatching right in front of the Bures.
Turtle sanctuaries can also be found at Turtle Island, Mana Island, Levuka and Kula Eco Park. Or if you'd rather just swim with turtles, you'll usually find a couple snorkelling and diving in the Mamanuca and Yasawa Islands.
Snorkel with Manta Rays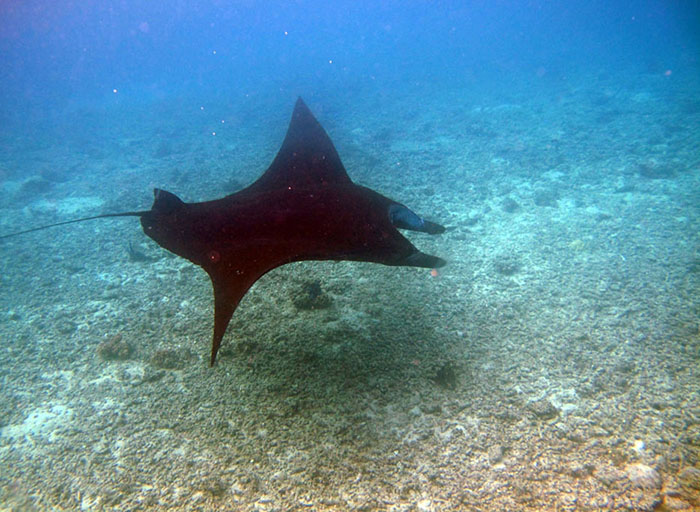 In the upper Yasawa Islands, between May and September you can snorkel with these magnificent pelagic creatures. Stay at Manta Ray Resort, Barefoot Manta Resort or Botaira Resort, and each morning listen out for the conch to be sounded.
If you hear the conch, grab your mask, snorkel and fins, and race for the boat, which will take you out to the shallow channel where the mantas go back and forth feeding on plankton that is washed through on the morning tide.
Snorkel And Dive With Sharks
Just like everyone else you'll meet in Fiji, Fijian sharks are definitely friendly. While this is probably not something to do with the kids, if you'll quite often come across small reef sharks snorkelling and diving off the many island resorts. But if you want a guaranteed shark encounter, depending on how brave you are, head either to the Reef Shark Snorkel run by Barefoot Kuata Resort in the lower Yasawas, or for major league action with Tiger Sharks and Bull Sharks, Beqa Lagoon.
The Reef Shark Snorkel is a 30-minute boat ride from Barefoot Kuata, and you can choose to float on the surface and watch the sharks in a natural bowl in the coral reef, or duck dive down to get closer to them.
In Beqa Lagoon there are a couple more serious shark dives where you can get within biting distance of a few larger apex predators including bull sharks and tiger sharks. You'll need scuba diving certification for this, but it's not a challenging dive. It's fairly shallow at about 18 metres, no current and with very well-fed sharks so you needn't worry about missing limbs unless you accidentally stick your GoPro too close to their gaping jaws (which your guides are highly unlikely to let you do).
---
---
Other Travel Articles You Might Like...