31 May 2022
Here are the Top 6 South Pacific Honeymoon Destinations: 
1. Fiji 
2. French Polynesia- Bora Bora and Moorea
3. Cook Islands- Rarotonga and Aitutaki
4. Hawaii
5. Vanuatu 
---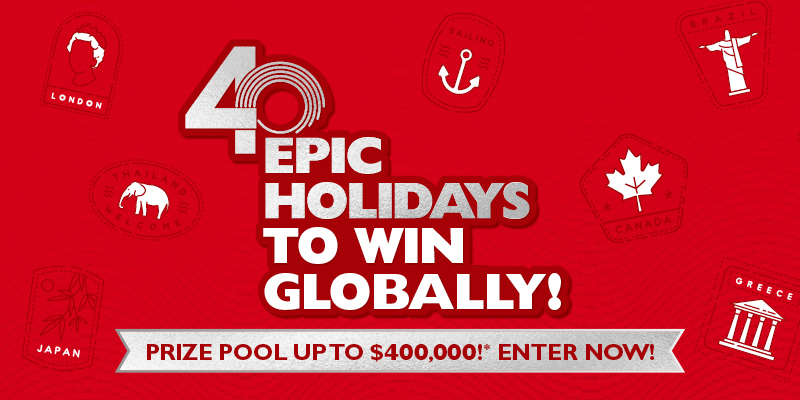 ---
If you're looking for a romantic getaway with white sandy beaches and turquoise waters – look no further than the South Pacific Islands. Known for its picturesque landscapes, luxury islands and secluded private resorts, the South Pacific is the perfect honeymoon destination. We've created a list of our top six South Pacific destinations and resorts to help you plan the perfect honeymoon getaway. 
1. Fiji:
You'll be in paradise with immaculate white sand and palm lined beaches. Fun and adventure are at your doorstep with plenty of things to do in between relaxing poolside or soaking up the sun. Enjoy scenic day and snorkelling and diving to get you up close and personal with the beautiful marine life. Stay at the Jean Michel Cousteau Resort – Fiji's finest 5-star luxury and eco-resort. The resort focuses on rest, relaxation, cuisine and culture what could be more romantic?
If you're looking for something more secluded, Royal Davui Private Island Resort located in the Bega lagoon – offers the perfect adults-only honeymoon haven. With pristine beaches and an unhurried and stress-free feel, this will be a once in a lifetime experience. If you're planning to make Fiji your destination of choice, have a look at our
top things
to know before you take off to Fiji.
2. French Polynesia – Bora Bora and Moorea:
French Polynesia is made up of over 100 islands and is home to stunning coral reefs, over water bungalow resorts and beautiful white and black-sand beaches. With destinations including Bora Bora and Moorea, there is no limit to the experiences on offer for your perfect honeymoon.
Bora Bora
Set against the lush tropical slopes of Mount Otemanu, Bora Bora is known for its velvet blue waters, white sand beaches and iconic overwater bungalows. The St. Regis Resort is the largest overwater villa resort in the South Pacific and is the optime of luxury with glass panel floors that open to the turquoise blue waters below. If you're looking for even more privacy – a secluded beach villa surrounded by palm trees may be more your style. You'll receive the ultimate St Regis service for your honeymoon.
Moorea
Being surrounded by jagged volcanic mountains and white sandy beaches, Moorea is the perfect destination to take your honeymoon to the next level. From hiking trails through winding rainforests to picturesque lookouts over Tahiti and beyond – Moorea is the ultimate couples' destination. Luxury overwater bungalows, a 5-star resort experience and scenery from one of the most beautiful places on earth are just a 10-minute ferry transfer from Tahiti. The Sofitel Moorea la Ora Beach Resort is not to be missed for ultimate romance.
3. Cook Islands – Rarotonga and Aitutaki:
Rarotonga
Rarotonga is the largest of 15 islands in the Cook Islands region and the famous beaches, coastal lagoon and coral reefs make snorkelling and scuba diving popular activities. For a luxury romantic escape, look no further than the secluded Te Manava Luxury Villas & Spa. Located on Muri Beach, honeymooners will be treated to spectacular views of the tranquil waters of the Muri Lagoon.
Aitutaki
Only a 50-minute flight away from Rarotonga is the stunning, secluded island of Aitutaki. Leisurely days await you, relaxing with a massage, working on the perfect tan or exploring the island by bike or scooter. Luxury continues at the Pacific Resort, just a 5-minute drive from the airport. Enjoy an intimate experience in beachfront rooms with a private deck overlooking the water, perfect for a drink as the sun sets.
4. Hawaii:
Hawaii, an archipelago of eight islands is filled with opportunities for couples to experience golden-sand beaches, green-garden forests and volcanoes. Honeymooners can expect a mix of tropical paradise and unique experiences and with eight islands to choose from – there's something for every couple! Turtle Bay Resort on Oahu offers a range of accommodation from ocean bungalows to luxury suites and is the perfect mix of seclusion and welcoming community. Guests are sure to receive luxury service at the resort spa and explore all that Oahu has to offer through helicopter tours or surf experiences.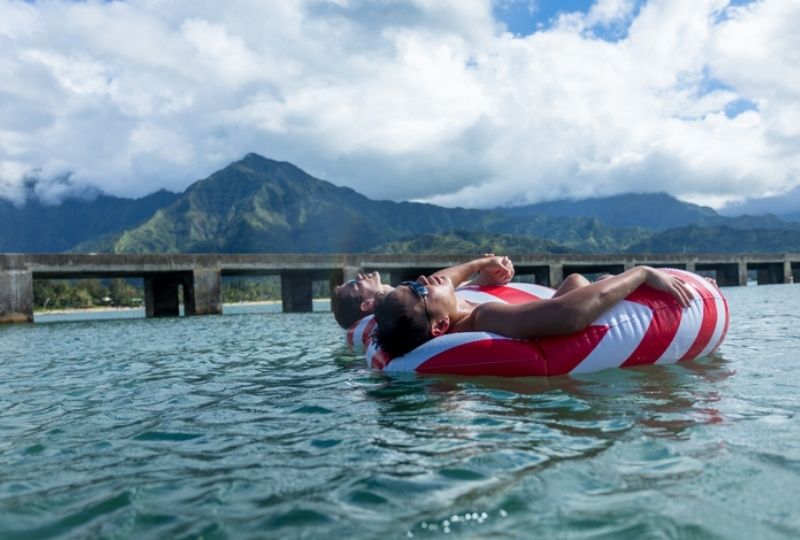 5. Vanuatu:
Vanuatu is the
South Pacific's best kept secret
and is perfect for the ultimate honeymoon experience. For a romantic daytrip, take a swim in the one of the blue holes dotted around and watch the deep swimming holes flit between stunning shades of blue. Barrier Beach Resort continues the romance with smooth white sand surrounding the resort – fish, turtles and stingrays at your doorstep and fine dining. More adventurous couples can take a 4WD tours and to visit a waterfall. To see what else makes Vanuatu special, see why we've named it the
dreamy all-rounder.
6. Samoa
Samoa has plenty beaches to kick your feet up and relax on, work on a tan and enjoy your time away. There are plenty of opportunities to sail to neighbouring islands, get up close and swim with turtles, or dive headfirst into the To-Sua Ocean Trench. To-Sua translates to 'giant swimming hole' and is perfect for aesthetic honeymoon photos. Stay at the Taumeasina Island Resort for cooking classes, cultural shows or relaxing at the spa. The perfect balance of fun and adventure on your honeymoon can be found in Samoa.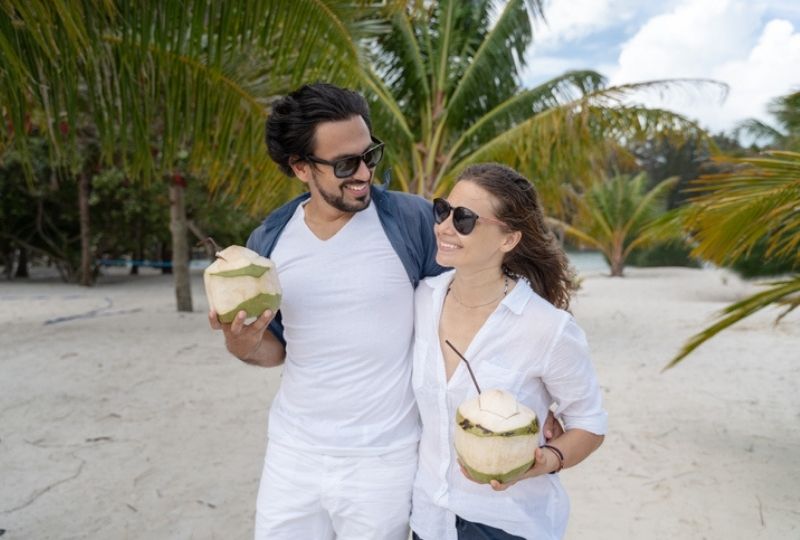 Other Travel Articles You Might Like...