6 October 2020
Toyed with the idea of a camping trip, but just a little concerned about 'roughing it'? Dirty, cold, and uncomfortable, paired with boring tinned food… sound familiar? Well, let us stop you right there because boy you've got it wrong! 
Camping doesn't have to mean rough, with a little preparation you can have a fantastic and very comfortable time away. And, if your mates do go camping and eat tinned food, please, send them this link, they could learn a thing or two.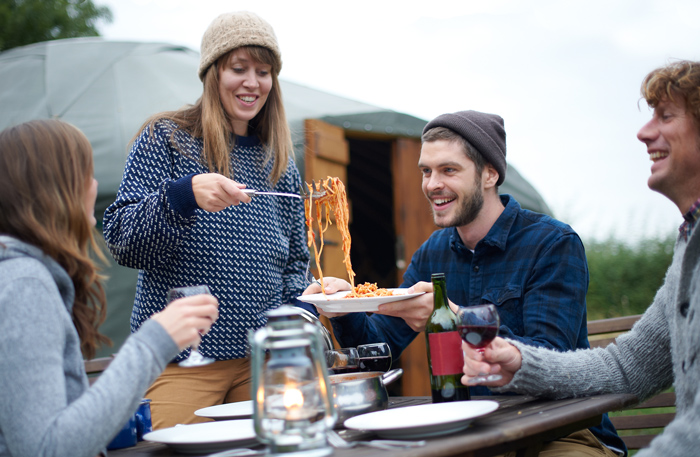 Get Prepared
If you're heading away for a weekend then our top tip is to take an esky. Leave the tinned spaghetti at home, please. Make a bolognese or simple pasta sauce before you head off, and simply store it in the esky. Then when it's time for an alfresco dinner under the stars, just heat your bolognese up over the campfire, cook up some pasta, and voila, fuoco italiano. Prego! 
The best meals to make ahead of time?
Bolognese
Curry
Dahl
Chili con carne 
The best bit? Make a bigger batch so you have leftovers, then you've got a readymade meal for lunch the following day!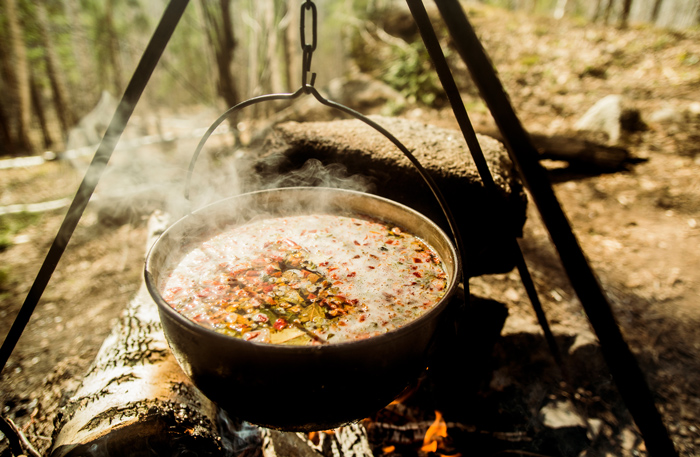 ---
---
Fire Pit Cooking
You only need one of these two things for cooking over a campfire: a cast iron pot, or alfoil. It's that easy. (Having both is ideal, but you can make do with just the foil if needed.)
The Cast Iron Pot
Cast iron pots are serious business. From making stews and potato hash in the skillet to using the lid like a hot plate for a fry up hack (hello halloumi and eggs), 'versatile' is an understatement. Arguably the most gourmet thing you could make in a cast iron pot is campfire lasagna. That bolognese sauce previously mentioned? Layer it with lasagna sheets and ricotta cheese (not traditional, but we're cooking lasagna on a campfire here) in the skillet, then cover with mozzarella and bake with the lid on. Delish! 
Top dishes to whip up with your cast iron:
Hashbrowns
Nachos
Risotto
Pizza
Huevos rancheros (baked eggs)
The Foil
If you forego the pot, the best plan of attack for fire pit cooking is to wrap everything in foil - shiny side facing in (to trap the heat in). The options here are actually endless. You can cook sausages and veggies together to make a stir fry situation, make a spinach dip to impress your mates, do jacket potatoes, roast pumpkin with feta, or capsicums, which you can peel and dress with oil, lemon, and parsley for something a little fancy by the fire.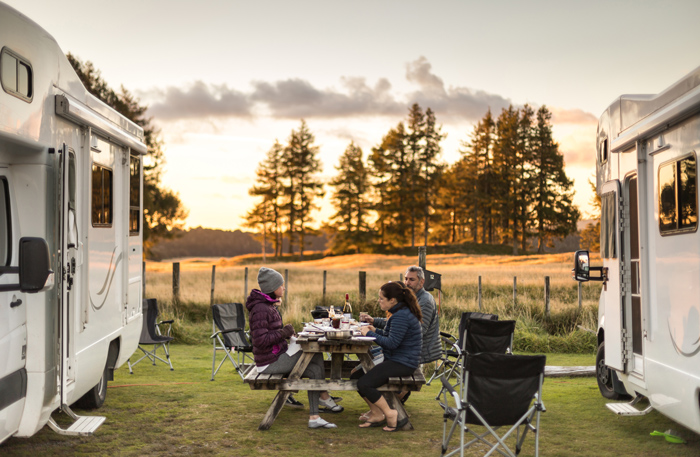 ---
---
Wrap it up
Who doesn't love a burrito? If you're camping for a few days, wraps are an excellent alternative to bread, because 1. They take up way less room to store. 2. They keep longer than a loaf of bread. 3. You don't need a toaster holder to toast them at brekky. 4. They're delicious for all meals of the day. 
Three wrap ideas to get you rolling:
Breakfast burritos with beans (tinned beans allowed for this one).
Fresh lunch wraps - great to take on a hike in your backpack. Just forego the tomato to avoid sogginess. 
Grilled wraps cooked on the hot plate, or straight over the fire for dinner enchiladas or hot falafel wraps. 
Use as a pizza base for a quick and easy pizza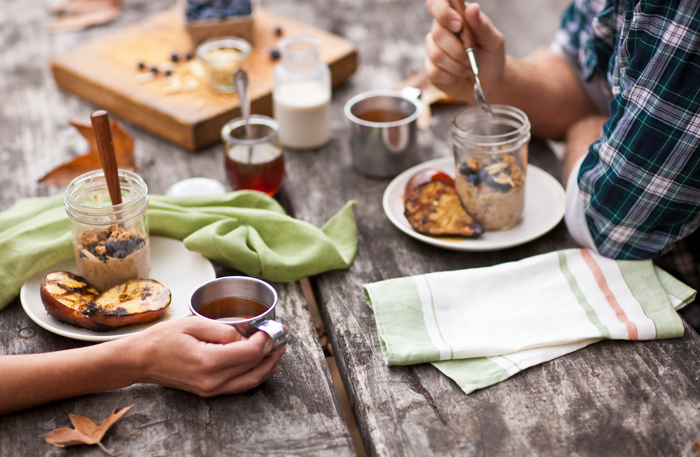 Mason Jar Meals
A great way to prepare your meals without having to reheat is the trusty old mason jar, a camping staple. For breakfast, you can make overnight oats or an omelet in a jar. For lunch, there are pre-made salads (just keep the dressing separate), tacos in a jar, chicken pot pies, and mason jar macaroni cheese. 
---
Other Travel Articles You Might Like...