12 Must See Stops On A WA Road Trip Along The Coral Coast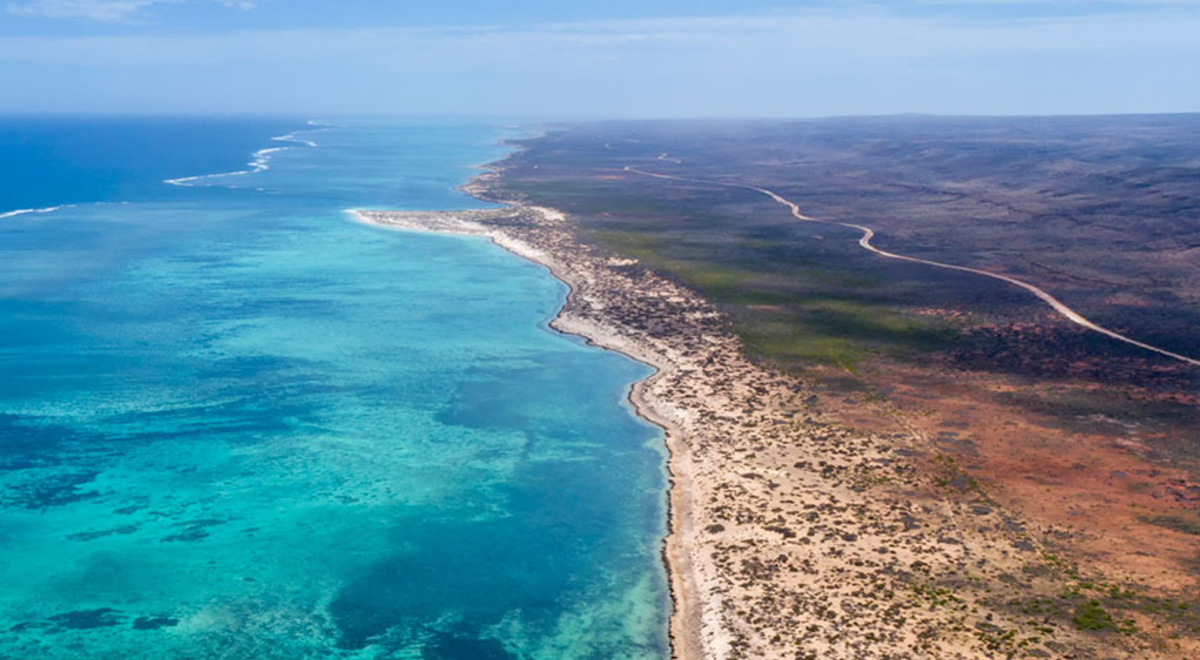 ---
---
If you're thinking about taking an Aussie road trip this year, why not take the road less travelled. Western Australia's Coral Coast spans 1,100 kilometres from Cervantes, just two hours north of Perth, right up to Exmouth in the north of the state. It follows the picturesque Indian Ocean, and passes through some of our country's most noteworthy regions. 
Boasting spectacular scenery and plenty of quaint seaside towns along the way, this stretch of road is perfect for a self drive holiday. You'll be able to explore rugged ancient gorges in its pristine national parks, and walk white sandy beaches. Admire bewilderingly beautiful wildflower displays and World Heritage listed sites, plus, they've got a coral reef thrown in there where you can swim with majestic whale sharks.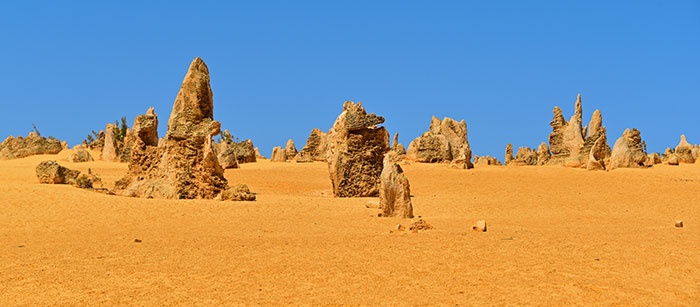 It's less crowded compared to Australia's East Coast drives, and is packed full of Insta-worthy photo ops, delicious spots to eat and myriad places to stop and swim. So if you're heading North from Perth, here are our top destinations to stop at on your way:
1.The Pinnacles 
A few hours along the picturesque Indian Ocean you'll find The Pinnacles, located within Nambung National Park. These bizarre looking rock formations are actually amazing natural limestone structures that are over 25 thousand years old. They can get up to five meters tall and cover an area of over 17 thousand hectares. Walking around here feels like being on another planet! 
Road Trip Tip: You do need to pay to enter the national park - entry is $13 per car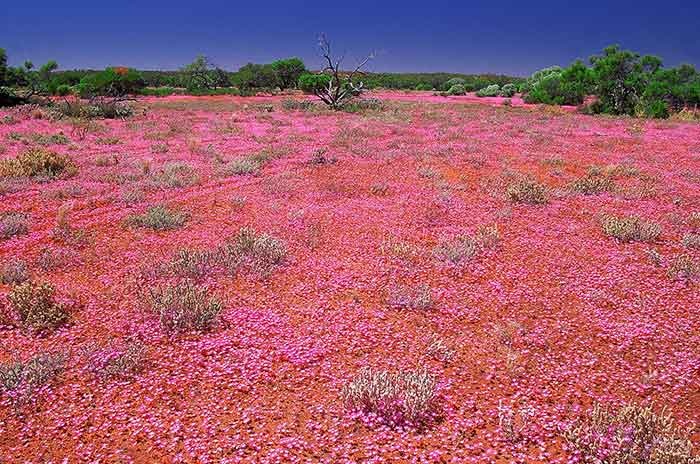 2.Geraldton
A little known fact is that Western Australia is home to the world's largest wildflower collection; many of the species here aren't' found anywhere else on earth! If you're travelling between June and August, keep an eye out for some beauties, especially when you're in the Geraldton region. If you've got the time, take a wander on the Everlastings Trail. While you're in the area it's also worth heading downtown to check out Geraldton's urban art scene too.
Road Trip Tip: The best time of year for the wildflowers is June - August
3.Hutt Lagoon, near Port Gregory 
This famous pink lake has graced many a postcard, and yes, is as good in real life as it looks on the 'gram. It gets its colour from high salt levels, and is most photogenic mid-morning or sunset. If you really love a birds-eye-view I recommend checking it out from above with Kalbarri Scenic Flights, they run daily flights around the area and many of the itineraries head over the lake.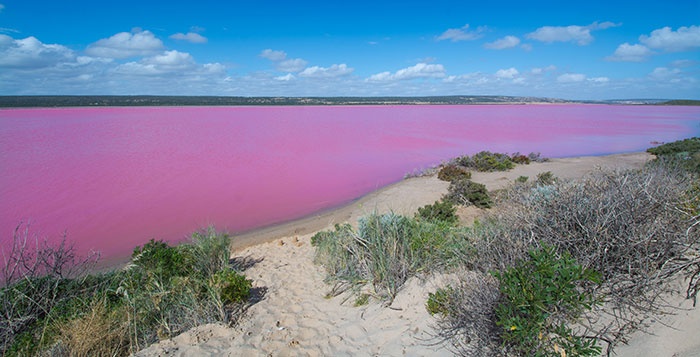 4.Kalbarri National Park 
This region is a favourite for families thanks to its range of land-based and water-based activities. You can traverse the impressive gorges within Kalbarri National Park, or take the easy 500 metre stroll to the iconic Nature's Window, if that's more your style. Alternatively, you can admire the views from Kalbarri Skywalk, which sits 100m above the Murchinson River Gorge, or if you've got time, take a swim in the various river and coastal gorges and swimming bays. 
Road Trip Tip: The best meals on the Coral Coast are found in small local places, I recommend Finlays Kalbarri, where you can enjoy beer from their microbrewery, accompanied by fresh seafood, straight off the trawler! 
5.Monkey Mia Reserve, Shark Bay
No matter how much time you have, you cannot 'do' the Coral Coast without a decent visit to Monkey Mia Reserve in Shark Bay. Bordering Francois Peron National Park, it's best known for its bottlenose dolphins, and is a must-see for families and nature lovers alike. This reserve is one of the only places in Australia you can see dolphins in their natural habitat, daily, no matter the season.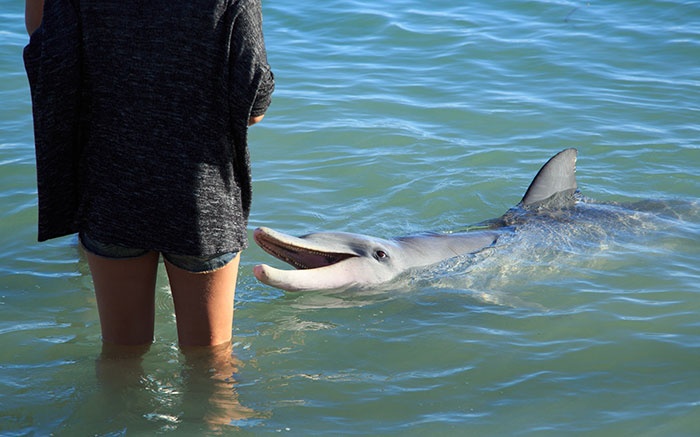 6.Take an Aboriginal cultural tour, Shark Bay
An Aboriginal cultural tour is another must-do whilst in Shark Bay, which was originally called 'Gutharraguda', meaning two waters. The night tours are particularly special; sit by a campfire, under the stars and listen to dreamtime stories, told by a guide who's heritage spans over fifty-thousand years.  
7.Hamelin Pool
A little detour off the highway will lead you to the Hamelin Pool, home to some crazy looking fossils known as stromatolites. These dome shaped rocks are some of the oldest and largest living fossils on earth, and definitely worth a photo, to say that you've seen then in real life of course. 
8.Quobba Blowholes
When they talk about big waves here, they mean big, and the famous Quobba Blowholes are a testament to this. With spouts often reaching up to 20 metres high, there's a reason there's a very photographed sign nearby reading 'King Waves Kill' - please visit with caution. While at Quobba, I recommend a spot one kilometre south of the Blowholes – a calm coral lagoon that locals call the 'Aquarium'. It's the perfect spot for a dip, or even a snorkel!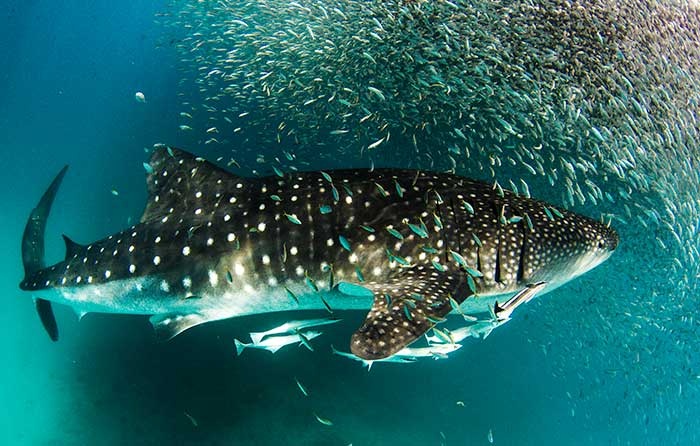 9.Ningaloo Reef
World Heritage listed Ningaloo is the world's largest reef that's located right on a coastline, meaning you can walk straight out onto it. This underwater paradise is a popular spot for humpback whales, dolphins, turtles and whale sharks, the largest fish in the ocean. To get the full experience, you really need to head underwater and explore this marine playground. If you time it right - between mid-March and September, you can even swim with the whalesharks. Growing up to 12 metres, swimming alongside these giants truly is a once in a lifetime experience. You can join a Whale Shark tour that will depart from Exmouth or Coral Bay. 
Road Trip Tip: I recommend Ningaloo Whale Shark Swim, who have their own spotter plane, to follow the shark movements before you head out. Whale sharks are in the area between mid-March and September.
10.Turquoise Bay, Cape Range National Park 
Cape Range National Park is located on the western side of the Exmouth Gulf, where you'll stumble across rugged limestone ranges, breathtaking deep canyons and stunning beaches and bays, like the famous Turquoise Bay. This coastal swimming patch is pretty remote, making it the perfect spot to relax over a DIY picnic lunch, a quick swim or splash of snorkelling. A nice quiet spot to break up the drive.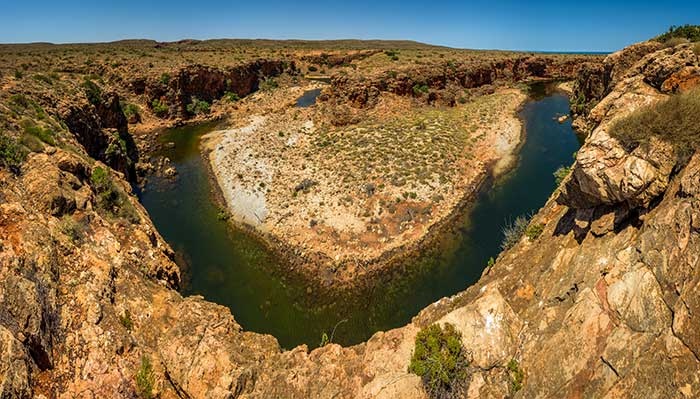 11.Shothole Canyon, Cape Range National Park
Another must see in the national park is Shothole Canyon, where the scenery really lifts the road trip game. The 11km dirt road through the canyon is four-wheel-drive only, but there are plenty of lookouts offering the same views before the dirt road starts so you can experience this magnificent place no matter what kind of car you're driving.
12.Exmouth
Once you reach Exmouth, you've made it to the North West Cape of WA. Known as an eco-adventure hub, it's got some of the clearest waters in Australia like Pebble Beach in the south, Bundegi Beach in the north, and the Navy Pier dive site.  A trip to Exmouth isn't complete without visiting the Jurabi Turtle Centre to learn about these amazing creatures which are found right along the Ningaloo Coast. 
Road Trip Tip: If you're feeling a little hungry, hit up Whalebone Brewing Company. This family-owned outdoor craft brewery is an institution in Exmouth.
---
Sign up to our newsletter for more travel inspiration, tips and exclusive deals sent straight to your inbox. 
---
---
Flight Centre acknowledges the Traditional Custodians of Country throughout Australia.