16 Travel Apps Flight Centre Travel Agents Actually Use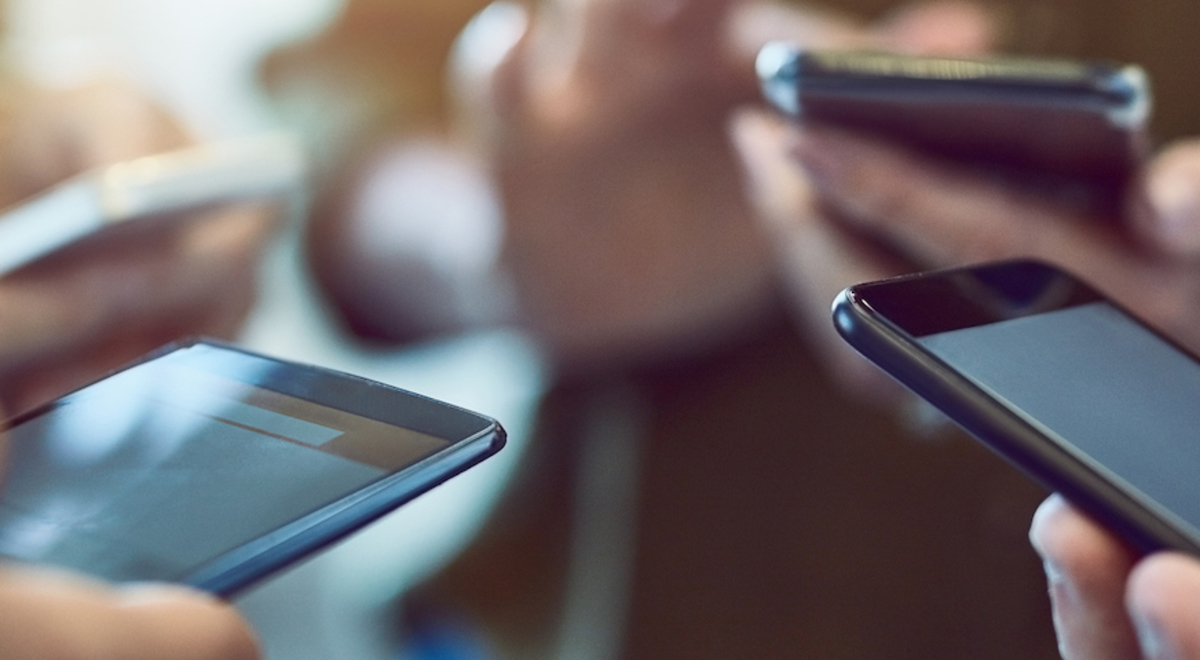 What you need to know:
When travelling, communal computers and broadband connections are a thing of the past

We have everything right at our fingertips with our smartphones and devices, but with so many travel apps on the market, which ones are worthwhile?

Our Flight Centre Travel Agents provide the low down, what you really need to know. 

Read on for the travel apps they actually use when on the road 
---
Gone are the days when we'd use communal computers to load funds onto Skype accounts to phone home, email friends and family, check MySpace pages to keep tabs on friends, and wait anxiously on the status of bank accounts as the broadband worked overtime.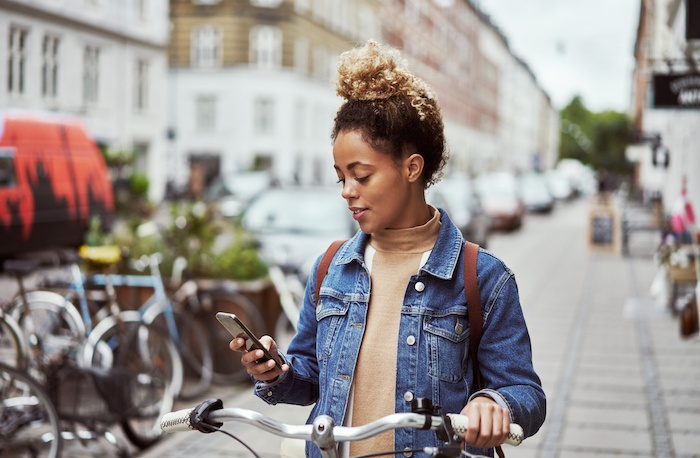 Now, we have all that and so much more at our fingertips within seconds; we're living in a material world and I for one, am a material girl. Read: I cannot travel without a few necessities including my smartphone, iPad and a haul of apps, many of which make time on the road easier, safer and most importantly, more enjoyable. I also can't travel without a good SPF, a lightweight linen button up and some comfy shoes but that's a whole different article.
So when it comes to travel apps, where do you start? There is certainly no shortage of options, but which ones actually deliver a worthwhile benefit, help us in uncertain situations, and are worth their weight in smart phone gold (storage space)? I reached out to the experts, because who better to get advice from than the best in the biz, our Flight Centre Travel Agents. Read on for the travel apps they actually use.
---
---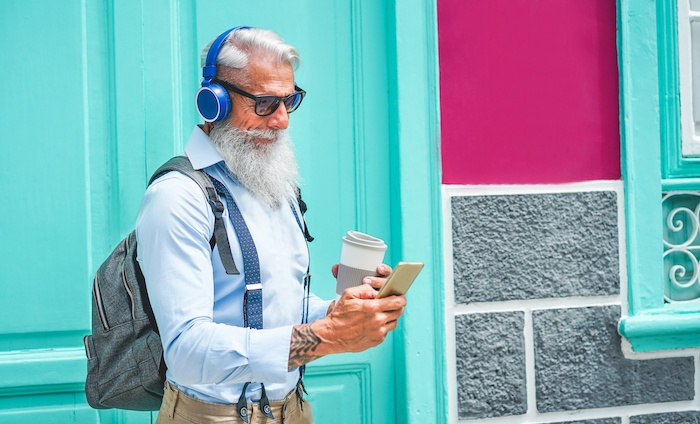 General Travel Apps 
Pack Point
Available on the App Store & Google Play
This whizz bang app was designed to build you an ideal packing list based on your trip plans, so you have everything you need, and don't waste precious suitcase room with roughly 18 useless items (something I am very guilty of). It takes into account every little detail; will you be swimming, hiking, flying internationally, working, traveling with a baby? Just pop all the info in and this genius app will suggest a packing list based on the length of your trip, weather at the destination and any activities you have planned. It even factors wearing outfits multiple times, washing requirements and whether you will have access to laundry facilities.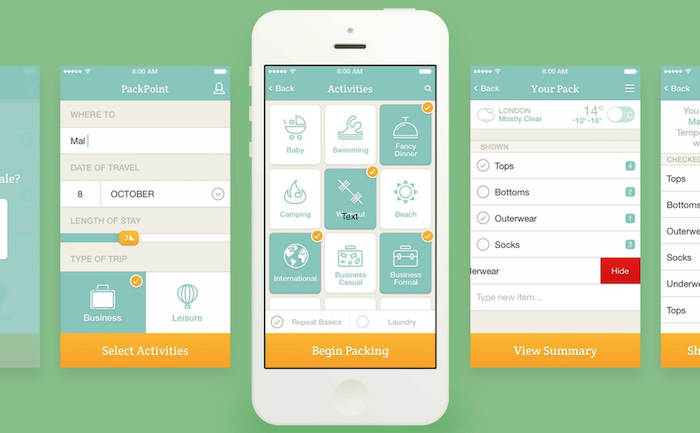 Image credit: PackPoint.com
Trail Wallet 
Available on the App Store
While we're on the organisation train, this app is great for those who need a little extra help in the budgeting department. Built by two long-term travellers (who were struggling to manage their own expenses on the road), it was designed for easy, intuitive daily use. Set up will only take a few minutes, then you can set daily budgets, trip budgets and track expenses in over 200 currencies. It's currently only available for iOS so can be downloaded from the App Store.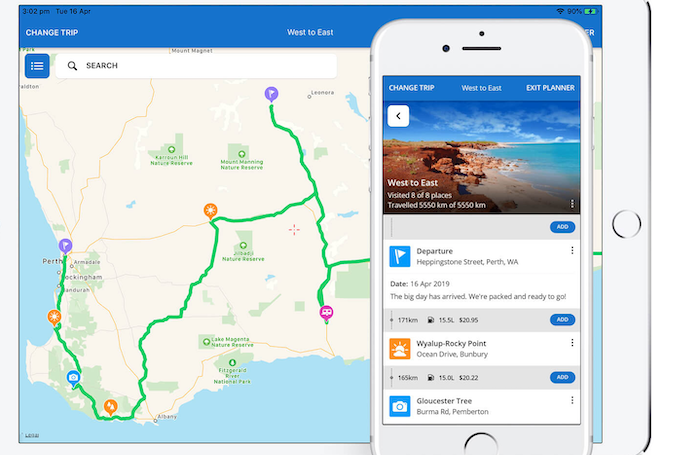 Image credit: WikiCamps
WikiCamps
Available on the App Store, Microsoft Store & Google Play
Love getting down and dirty in the great outdoors? You need this, it's the ultimate camping companion. It uses community-generated information to provide authentic insights, updates and reviews on free and paid camp sites. Users drop pins onto an interactive map and can comment on the good, the bad and the ugly! The experiences are ranked in date order so you will always have the most up to date reviews at your fingertips. Since free camping in many parts of Australia is illegal, this little guy can save you $$$, as well as a lot of time and hassle. A huge bonus is that it works offline! The app currently works in Australia, NZ, USA & UK.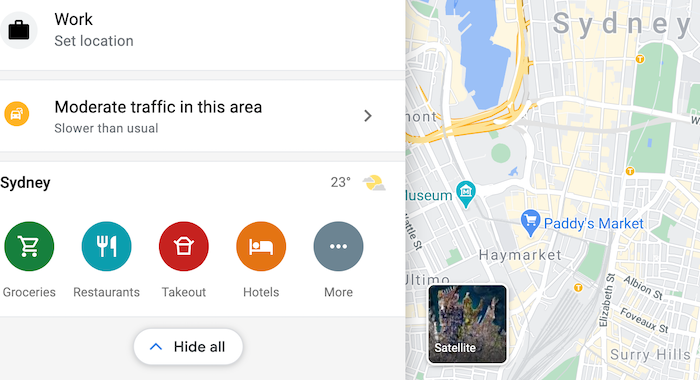 Image credit: Google Maps
Google Maps 
Available on the App Store & Google Play
The world's most popular navigation app, there's hardly a traveller out there who hasn't used it at some point. It allows users to view their location from a variety of perspectives including street view, panoramic, and satellite, offers map downloads for offline use and integrates with several third-party applications. It's user friendly and has features that are super handy when travelling to a new destination like 'Explore Nearby' which lets you search for nearby restaurants, shops, travel attractions and more. You can also read user generated reviews on all of these attractions in the app.
---
---
MAPS.ME (formerly known as MapsWithMe.)
Available on the App Store & Google Play
Another popular maps app (and my personal fave), this app uses 'OpenStreetMap' data which is a community driven open data source. It utilises a data compression method that keeps offline downloads super small in size but high in detail. A total win for having all your desired maps stored on your device without eating into a mobile data plan. As an example, the New York City map is 71 MB on MAPS.ME and 285 MB on Google Maps. The app offers location and bookmark sharing, plus something I loved is the ability to pin drop with notes and colour codes, making it easy when it comes to remembering and making recommendations down the track.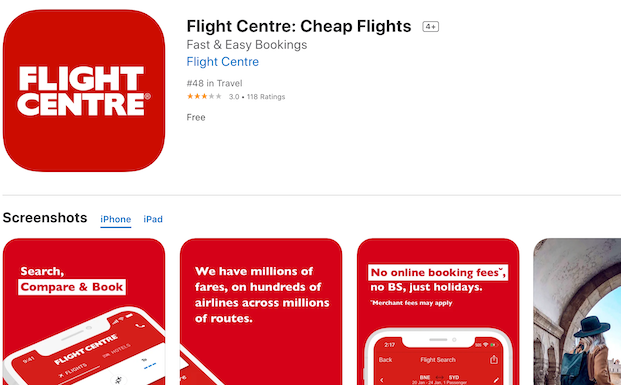 Image credit: App Store
Flight Centre 
Available on the App Store & Google Play
Look, we're obviously biased when it comes to the best travel app on the market, buuuuut that's only because we made this one ourselves out of years of planning, research and understanding what exactly our customers want and need in their holy grail of travel apps.
Not only can users book flights, hotels and see all of our latest travel deals, they can even view their full trip itinerary and check into their flights, straight from the app. This means no more searching through your inbox or asking your agent (again) to resend your trip details. Finally all of your travel info is easy to find, in the one place.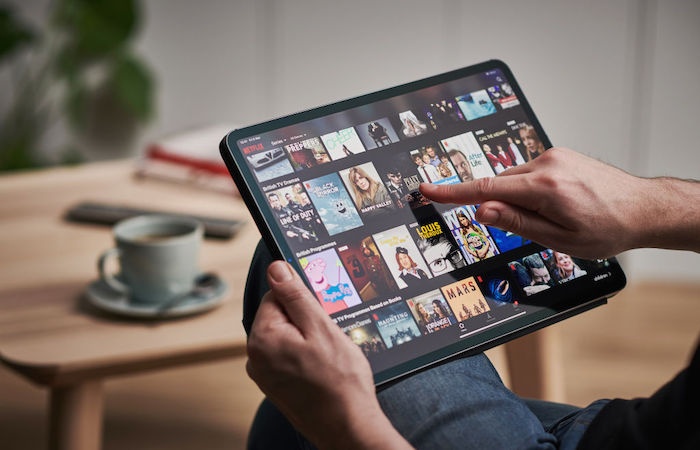 Netflix
Available on the App Store, Microsoft Store & Google Play
Not a travel app you say? Well hear us out, it's perfect for those annoying layovers, and filling the time caused by flight delays. If you have an account in your home, simply download the app on your phone or tablet, download your fave series and docos while on WiFi and boom, you have your very own curated in-flight entertainment system. 
Travello
Available on the App Store & Google Play
Think of Travello as the Facebook of travel communities. Used by travellers in over 180 countries. Travello is the best place to make travel friends from around the world. It helps you connect with fellow travellers and is great if for instance you're looking for some friends to go skydiving in Dubai with or just to have a beer with in a new city. We all know the best thing about travelling is the people you meet, and Travello makes that easier. The app has groups for Travel Bloggers, Backpackers, Solo Travellers, Digital Nomads, Travel Photographers and more. 
You're also rewarded for using the app with Travello Reward Points which you can use for discounts off activities and day trips across the globe. Post a picture, get likes, refer a friend and book activities. All these actions earn you points.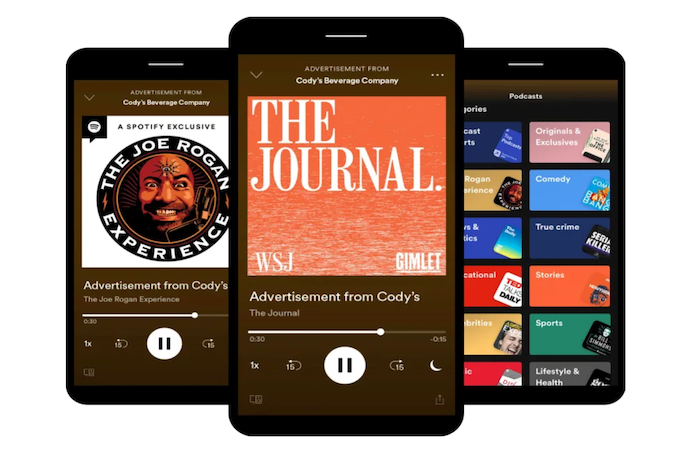 Image credit: Spotify.com
Spotify
Available on the App Store, Microsoft Store, Amazon Appstore & Google Play
On road trips and flights, for your dorm dance parties and beach BBQs; are you a playlist or podcast kind of traveller? Well with Spotify, you can have both. Stream albums, playlists and podcasts, discover new music and artists based on your current listening, tune into popular albums and trending playlists, or create your own. You can download it for free and use the basic membership, or upgrade to 'premium', but either way it will be on high rotation! 
Dark Sky
Available on the App Store
Ahhh the weather; one of the most unpredictable elements of travelling, and at times, one of the most frustrating. Download a decent app like Dark Sky though and you'll be laughing. It provides hyper-accurate local weather forecasting including a precipitation map and hourly forecasts, UV information, severe weather alerts, along with customisable notifications, and lockscreen weather modules. This one is so darn good that even Apple utilised the technology to improve its own built-in weather tools. It costs a few dollars but is sure to save you from getting caught in the rain.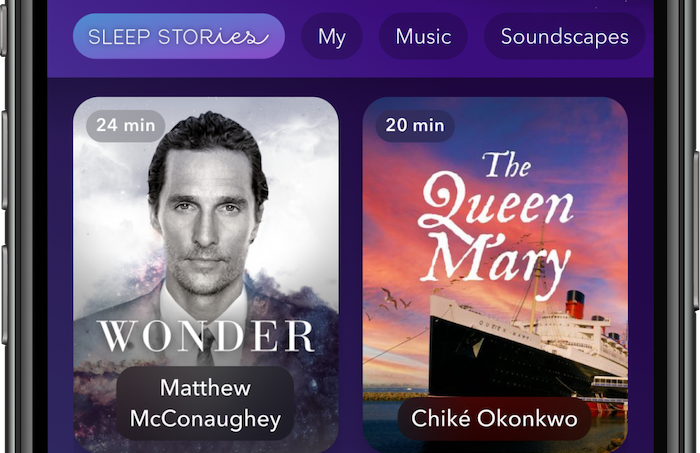 Image credit: Calm.com
Calm 
Available on the App Store & Google Play
Travel is great for the body, mind and soul, as they say, it's one of the only things you can buy that will make you richer. So when you're on the road and want to take a moment to relax, meditate or be gently lulled into slumber, you can turn to the trusty Calm app. 
Offering a huge range of audio from guided meditations on self-awareness, happiness, managing stress and anxiety, breathing exercises, sleep stories, calming instrumental music and more, its benefits are endless. Whether you want to block out noisy hotel neighbours, manage flying anxiety, practice mindfulness, transport yourself to Jasper Lake or have Matthew McConaughey put you to sleep, simply open Calm and you'll be on your way. It also has a great range of kids content, travel content, train and nature noises and with a little forward planning, is all available offline. 
Trip It
Available on the App Store & Google Play
Your one stop shop for the ultimate vacation organisation. Store all travel documents, itineraries, tickets, and confirmations in one easy to access place by simply forwarding the emails to plans@tripit.com and the little worker bees in the app will transfer it all into your master account. Everything from flights and hotel confirmations to restaurant bookings and car rentals. Easy!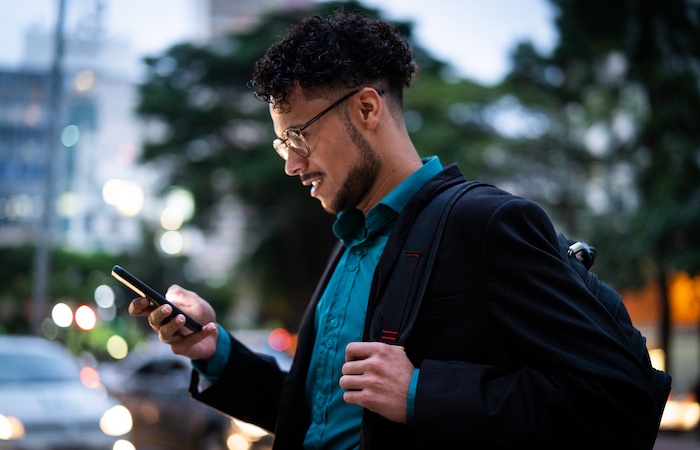 Apps For International Travel 
XE Currency
Available on the App Store & Google Play
An oldie but a goodie, this app is regularly updated and provides live exchange rates for "every world currency" in real time. You can also store the most recent rates when you are online, so you can access them when you're offline. Our agents give this one bonus points for the Siri shortcut too.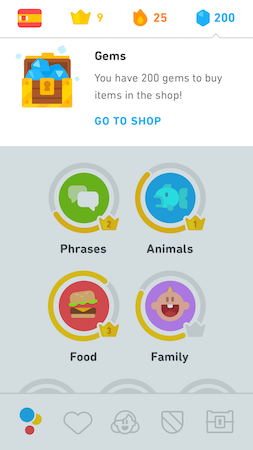 Image credit: Duo Lingo
Duo Lingo 
Available on the App Store & Google Play
Now there are a myriad of apps out there for specific languages, skill levels and all at varying price points, but you just can't beat Duo Lingo. It's free, always makes the top language app lists, and thanks to its gamification, it's arguably the most fun one to use. It's got over 100 million users all over the world and has become a staple for language learning on the go. A lot of the courses are created by native speakers themselves and to date, the app boasts a whopping 81 languages to learn!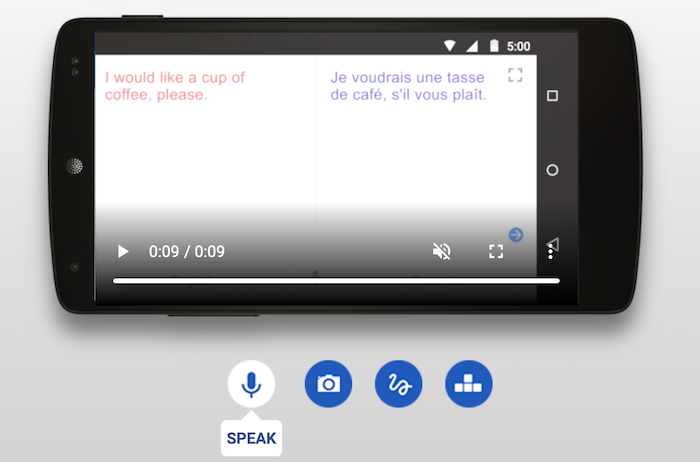 Image credit: Google Translate
Google Translate 
Available on the App Store & Google Play
Allowing users to translate 108 languages by simply typing a word or phrase, as well as access to 59 languages when offline, Google Translate is a hard one to beat for ease, speed and cost (it's free). One of the best features (IMO) is the camera tool that allows you to simply hover your camera viewer over text while the app translates it (90 languages available with this tool). Exceptionally handy when reading menus, signs and tourist guides. It also offers instinct speech translation in a number of languages, and gives users the ability to use handwriting in 95 languages.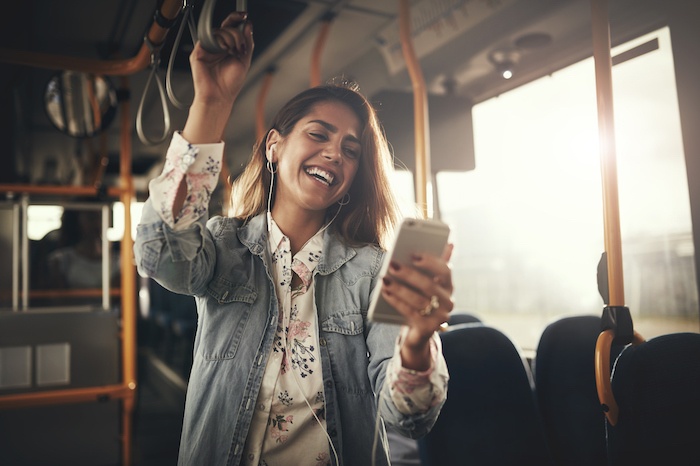 Lounge Buddy 
Available on the App Store
Enjoy the benefits of airport lounges, without the annual membership fees and airline affiliation thanks to this handy little app. Users can access a huge range of lounges in the Lounge Buddy network, regardless of airline status or airfare class. Simply join, select the airport you're in or headed to, and the app will advise which lounges you can access for free and those you can purchase a day pass for. Whether you're traveling for business or leisure, lounge access can help you make the most of your airport experience. 
---
Flight Centre acknowledges the Traditional Custodians of Country throughout Australia.