Keep Palm: 35 Family Friendly Things To Do While In Fiji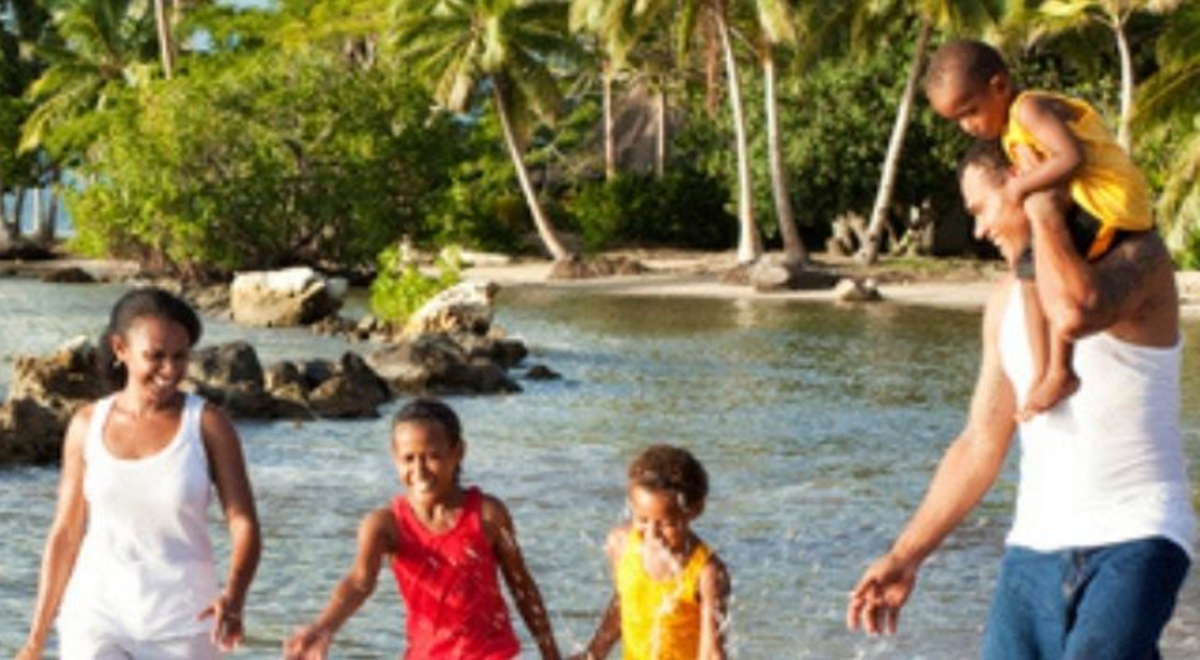 ---
---
Fiji is one of the best flop and drop destinations– the perfect place to relax and has its fair share of adults-only romantic resorts. It also has incredible surfing, beautiful white sandy beaches and amazing natural attractions.    
But did you know that Fiji is the perfect family holiday destination too? South Pacific culture cherishes children, and yours will have no shortage of attention from friendly locals. Most Fiji beach resorts have fantastic kids clubs on-site that offer organised and fully supervised games and activities that kids will love. However, there are a lot of family adventures to be had away from the resort.  
---
---
Here are 35 family things to do in Fiji:
 1. Sea Kayaking   
Hire kayaks for the day from your resort or look for a family-friendly operator for an overnight kayaking experience. Be sure to book an indigenous guide so the kids can learn about Fiji's rich culture and natural history along the way.   
 2. Snorkeling   
Fiji boasts some of the world's best snorkelling and offers colourful coral and a vast array of fascinating marine life. Warm-up with some off beach snorkelling around the fiji islands and book a glass-bottom boat when you're ready to take the kids out a little further.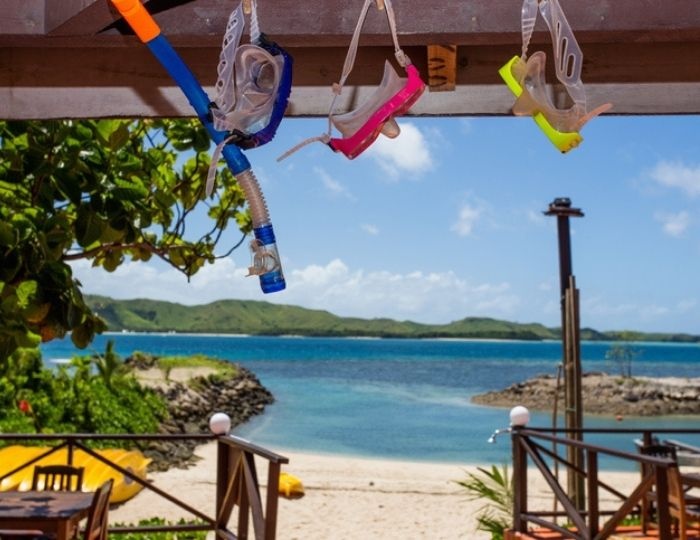 Snorkeling at Tauva Island
3. Rafting   
In Viti Levu on the Sigatoka River, the whole family can take a traditional bamboo raft 'bilibili' trip through mountain gorges and rainforest regions, stopping along the way to meet the locals and learn about Fijian culture at Namuamua Village.   
 4. Jetboating the Navau River    
If your family is more thrill-seeking, you can choose to jet-boat the Navua River in Viti Levu instead. You'll zoom past farms and villages on the way to the waterfalls. There will be cultural opportunities too with a Fijian-style lunch which gives back to the host village.
5. Hiking   
Make your way inland on Kadavu or Taveuni Island and see the other side of Fiji, away from sea and sand. Take the kids on the clearly marked Lavena Coastal Walk through several traditional Fijian villages and then onwards and upwards to the beautiful Wainibau Falls. Walk the trail to an ancient volcano crater, now Lake Tagimaucia, or hike through the unspoiled Koroyanitu or Bouma National Park.   
---
While the adults participate in a traditional Fijian kava ceremony, the kids can explore an old fort, listen to a storytelling session or watch the authentic song and dance performances. Take books and supplies to give back and thank them for their friendly hospitality.
7. Kula WILD Adventure Park     
Down the road from Sigatoka, this wildlife sanctuary has a collection of critically endangered Fijian creatures, including the Fijian Crested and Banded Iguanas. Kids can help feed sea turtles and meet a resident reptile. There's also a fantastic education program helping spread awareness about these rare Fijian animals that you can contribute to – a great way to give back.    
 8. Snorkelling with Sharks   
Get over your fear of sharks with this incredible snorkel experience where you can get as close to the sharks as you wish. The sharks are fed a few fish heads in a circular basin in the middle of a reef, about 10 metres below you, so you can choose to duck dive for a shark-selfie or float on the surface and watch the free-diving Fijians play with them.   
 9. Snorkelling with Manta Rays   
If sharks just really aren't your family's thing, you can snorkel with these gentle giants of the sea instead. It's a short trip out to a channel where the mantas come to feed on the tiny shrimp floating on the incoming current.
10. Sabeto Mud Baths   
What kid doesn't love getting muddy? These mud pools, halfway between Nadi and Lautoka on the main island, are created by geothermal activity and have therapeutic properties. After the mud bath, rinse off in nearby hot springs.   
11. Island Hop    
Three-hundred and thirty three different tropical islands make up Fiji, and each one is uniquely breathtaking. Take a boat tour to see as many as possible in one day – the kids will love being on the open ocean, snorkelling and playing on each island.    
12. Kids Club    
Fiji is famous for its kids clubs, and for good reason. Most resorts run kids clubs with fantastic facilities and action-packed activities, and there are even nanny services for very young children. Outrigger Fiji Resort on the Coral Coast has a legendary Kids Club and Meimei nanny service.    
Be sure to sample some Niu – you and the family can't go to Fiji without tasting this refreshing, super-cheap, fresh coconut water that is a local favourite.    
14. Ride the Rails at Ecotrax Fiji    
You'll take a journey through the bush, villages and fields with a local guide to a deserted Coral Coast beach on an electric-assisted, rail-mounted bike. Because the bikes are electric, you can choose to pedal or not, and are suitable for a huge range of ages and fitness levels.
15. Whitewater Rafting or Kayaking    
Another activity for the adventurous family, and if you think the kids might get bored kayaking calm water, this trip is for you. Wind through the Namosi Valley, where you will see spectacular mountains, rainforests and waterfalls.    
16. Adventure Sailing    
Jump aboard Moale, a private, 14-metre catamaran that accommodates up to eight people. You can charter Moale for a day or longer if you choose.    
17. Zip Lining    
Tear through the heights of the rainforest on five kilometres of zip lines that will take you through canyons and into a cave where you'll stop for lunch. You'll start on a mountain with views of the Mamanuca Islands, seeing Plantation Island and the entrance to Momi Bay along the way.    
18. Nadi Markets   
You cannot miss getting a glimpse of local culture, and a day trip into the bustling Nadi markets will give you just that. Keeping an eye out for 'Fijian Made' stamps on your purchases to make sure you are supporting the local economy; this is the perfect place to stock up on presents for loved ones and unique keepsakes.    
19. Fiji Museum    
Located in Suva, the museum will teach you about Fiji's cultural evolution, with artifacts dating back nearly 4000 years. A massive Ratu Finau (a double-hulled canoe) measuring over 13 meters in length is a must-see.    
20. Enjoy Traditional Entertainment   
After a big day of adventure or poolside relaxing, head to one of many restaurants for dinner. Many resorts offer evening entertainment, including traditional dancing, singing, fire dancing and fire walking.
21. Chase Waterfalls    
Hidden away in Bouma National Park on Taveuni Island are the Tavoro Waterfalls. To get to the falls, you will need to hike through the lush rainforest, but the first waterfall is accessible to people with a range of physical abilities. What better way to finish a hike than with a refreshing swim?  
22. Under The Sea   
There are beautiful sights on land and above the water in Fiji, but with such diverse habitats and marine life – the view UNDER the water is worth a look too. Fiji is a diver's paradise, and there are many PDA and SSI-affiliated dive operators throughout the islands.   
23. Check out the Tavuni Hill Fort    
Originally used as a defence site in wartimes and built by a Tongan chief in the 18th century, the hillfort has a 90-metre-high limestone ridge with an incredible view of the surrounding valley.    
24. Visit the Sri Siva Subramaniya Swami Temple   
This colourful Hindu temple located in Nadi is a fascinating cultural and historical visit. Remember to dress modestly, remove shoes and behave respectfully when visiting.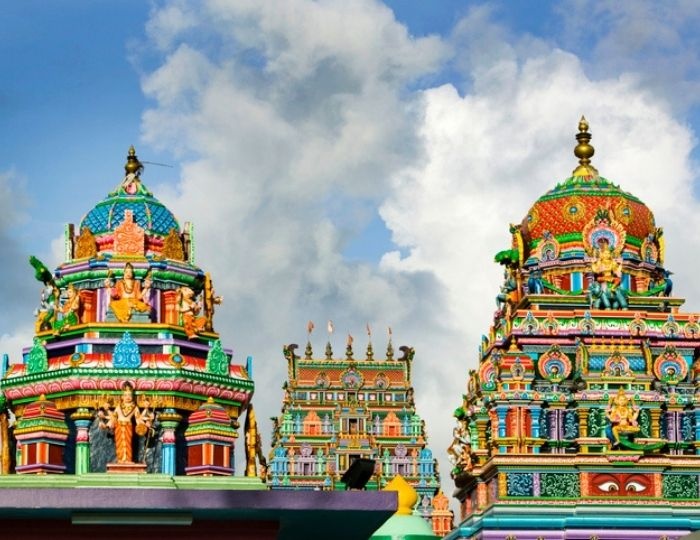 Sri Siva Subramaniya Swami Hindu temple
25. Relax in the Garden of the Sleeping Giant    
A leisurely tour from Denarau, the kids will have plenty of space to run around in this peaceful, shady orchid garden. There are boardwalks to meander along and hammocks to lie in for something a little more laid back.    
26. Plant Some Coral    
It is important to teach kids about sustainability because– let's face it, we're not giving them the world in great shape. Coral planting is an exciting and fun way to learn, and they will feel great knowing they helped.    
27. Say 'SUP'    
Stand up paddleboarding, that is. It is an incredibly relaxing way to take in the ocean surroundings; kids can either paddle themselves or chill on the board while parents take the helm.    
28. Sail into the Air    
Most resorts offer watersports, and parasailing is a fun way to check out the ocean with a bird's eye view. There may be minimum age limits at some resorts, but many also allow tandem rides with adults.    
29. Into the Blue    
One of the Yasawa Islands' finest treasures– the Blue Lagoon, is a must-see! There's mesmerising white sand, beautiful blue water that is clear and warm, and unrivalled visibility for snorkelling no matter the time of day.  
30. Make Dolphin Friends   
Makalati (Moon Reef) is home to playful dolphins and an easy day tour from Takalana Bay by boat. The tour will include snorkelling, lunch and a walk through the jungle.   
31. Slide    
Many resorts like the Radisson Blu have water parks to enjoy, but for the best sliding experience, head to Big Bula Waterpark on Denarau Island. There are so many water activities for toddlers, teens and adults alike. There are fun pools, the world's largest inflatable water park structure and giant water slides – how will you go taking on the biggest one?
32. Visit Modriki Island    
Whether you love the movie Castaway or just like stunning deserted Islands (who doesn't?) – a day trip to Modriki is necessary. Why not stay at Castaway Island Resort, so you have even easier access to the island?    
33. Eat Delicious Pizza   
Ok, so Cloud 9 is essentially a floating bar, but the pizzas are delicious, and kids will love jumping into the water from the platform and snorkelling in the super clear water.    
34. Book All-Inclusive    
Yes, you are heading to one of the most relaxing places on earth, but even Fiji with kids may have its stressful moment. Who wants to have to think about what you are going to do for each meal? Most resorts offer all-inclusive packages with meals and drinks for the ultimate ease.    
35. Relax!    
Life is busy, and this time is for you to stop and relax. Don't feel bad about switching to island time and taking days to just chill in your resort. Send the kids off to kids club – they will love it! Then you can read a book, and visit the spa and the bar!    
Now that you have a comprehensive list of the best activities for kids in Fiji, it is time to start planning. To help, we have info on the best time to visit, things you need to know, the top beaches and the best resorts.  
---
Flight Centre acknowledges the Traditional Custodians of Country throughout Australia.