How To Spend A Thrilling And Tasty 48 Hours In Hong Kong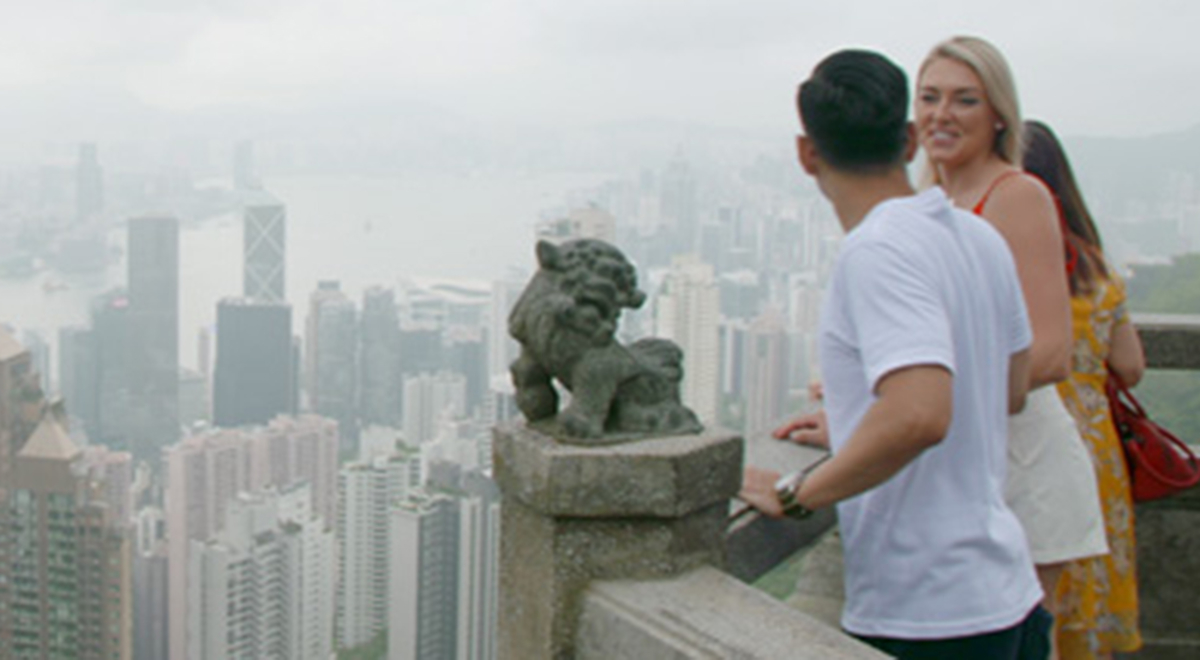 ---
---
Follow Flight Centre consultant Greer Gardiner as she samples the best Hong Kong has to offer, as seen on The 48 Hour Destination TV series. The catch? She only has 48 hours to experience it all.  Here's her thrilling (and tasty) Hong Kong itinerary to whet your appetite for this exciting city.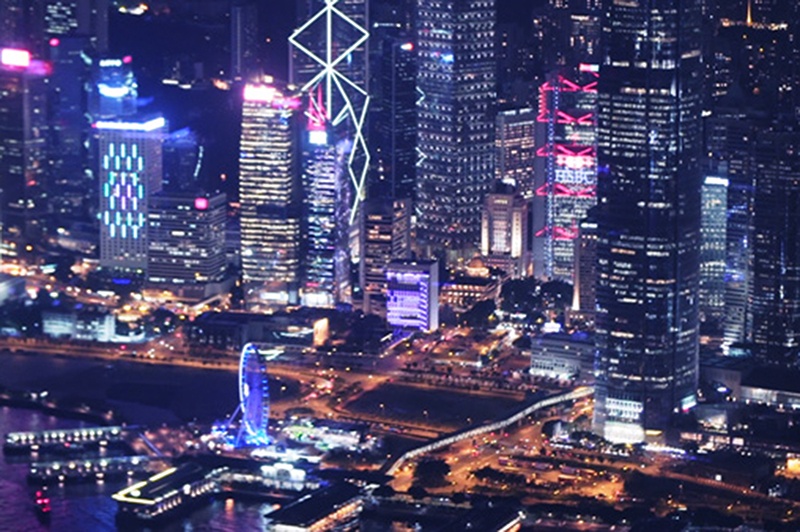 The sparkling view from OZONE, the highest bar in the world.
Day 1
8pm OZONE, Tsim Sha Tsui
Jetting into Hong Kong, Greer makes her way through the neon-lit streets to meet local travel consultant Alan Lau at OZONE, the world's highest bar. Located on the 118th floor of the Ritz-Carlton Hong Kong in Kowloon, this brilliant blue-hued bar is the ideal spot to drink in the famous skyline and harbour with a cocktail in hand.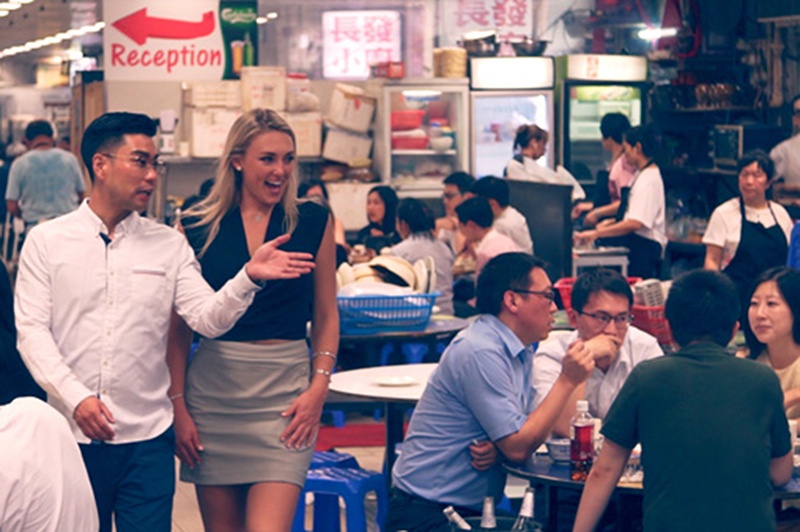 Tung Po is a chaotic and atmospheric place to dine.
9pm Tung Po, North Point
Heading to Hong Kong Island, Alan and Greer dine on Cantonese favourites at Tung Po restaurant, which CNN Travel describes as "Hong Kong's wildest dining experience". It's certainly an eye-opener for Greer – the cheap and delicious meals in this food centre and wet market come with a side of entertainment, courtesy of the flamboyant owner. After such an action-packed welcome, what else is in store for Greer for day two?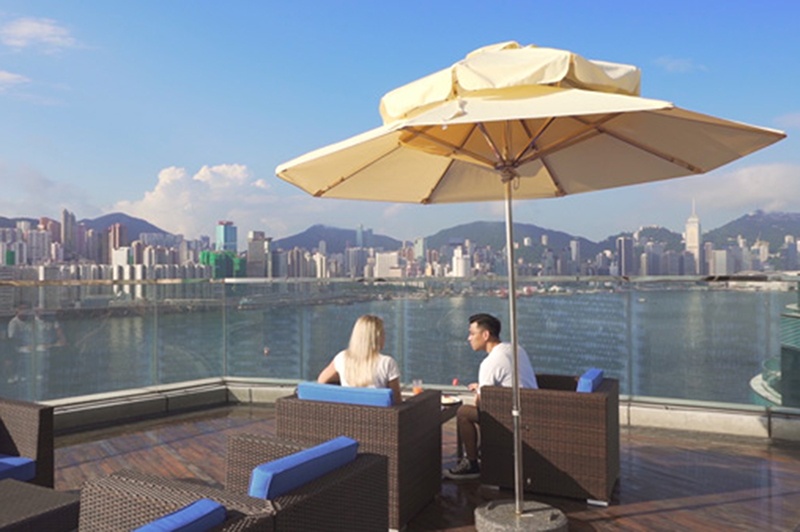 Greer and Alan enjoy breakfast poolside at Harbour Grand Kowloon.
Day 2
7am Breakfast, Harbour Grand Kowloon
It's an early start today as Greer and Alan ease into the morning with a sumptuous breakfast on the hotel pool deck at Harbour Grand Kowloon.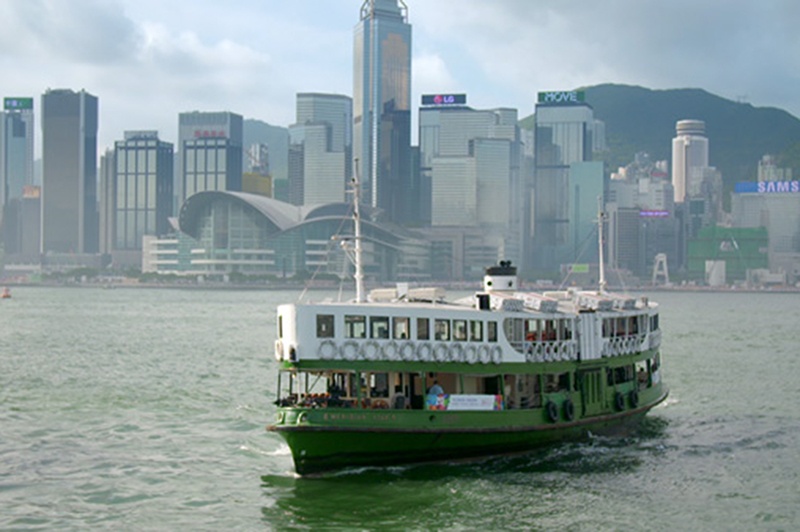 A single ride on the Star Ferry is just HKD$2.70 (approximately AUD$0.45).
8am Star Ferry
No visit to Hong Kong – however brief – is complete without a trip across Victoria Harbour on the Star Ferry. One of the city's cheap thrills, Alan takes Greer for the one-way trip from Kowloon to Hong Kong Island, spotting traditional junk boats and scoping out that famous skyline.
9am Fineprint Espresso & Liquor, SoHo
It's time for a caffeine fix, and Alan knows just the place for Greer. It's Fineprint Espresso & Liquor, an Australian-owned cafe and wine bar in SoHo on Hong Kong Island that definitely knows how to get an Aussie-style flat white or latte just right. The duo chats to owner Scottie Callaghan over coffees to fuel up for the rest of their day.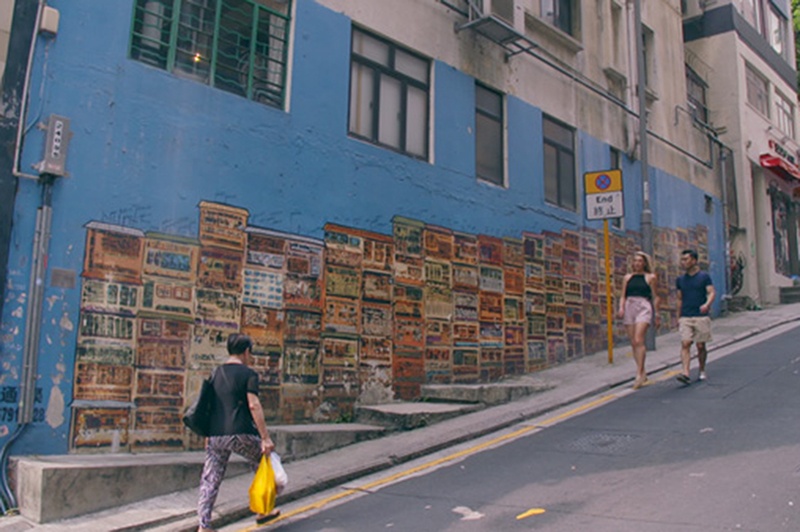 Hong Kong Island's Old Town Central is full of vibrant street art and an East-meets-West heritage.
10am Old Town Central walking tour
Greer and Alan meet Walk in Hong Kong CEO Paul Chan, who will be taking them on a walking tour of Old Town Central, which are also available as self-guided walking itineraries. The SoHo area of Hong Kong Island's Central showcases the British and Chinese heritage in the rejuvenated neighbourhood through street art, traditional temples, chic boutiques, antique stores and street markets. There's also time for a pit stop at a traditional teahouse for local delicacies. Alan introduces Greer to typical Hong Kong fare such as milk tea and French toast, plus a refreshingly sweet sugarcane juice.
12pm Dim Sum Library, Admiralty
After all that walking, our duo has worked up an appetite, which means it's dumpling time! Dim Sum Library in Admiralty has a fresh take on the traditional dim sum, serving an extensive menu of small dishes within a large and stylish statement space. Greer and Alan admire the skills required to create the delicate and intricate dishes before they sample some signature dim sum for lunch – yum!
The Ngong Ping 360 cable car travels a distance of 5.7km on Lantau Island.
2pm Ngong Ping 360, Lantau Island
There's no time to cool their heels, as Greer and Alan are onto their next adventure on Lantau Island. The pair boards a Crystal Cabin for 360-degree views on the 5.7km cable car journey to Ngong Ping. They then walk around the culturally themed Ngong Ping Village and also visit the Big Buddha, a 34m-high bronze Buddha statue that sits serenely atop Mount Muk Yue.
7pm Duddell's, Central
Hong Kong is justifiably famous for its reputation as a culinary destination, so Alan has organised a special dinner for Greer at Duddell's, which has been awarded two Michelin stars and is a popular place to see and be seen. This two-storey space has a feature staircase that connects the floors as well as an elegant garden terrace. Duddell's general manager Iris Lee greets Greer and Alan and chats to them about the restaurant and menu before the duo enjoy a delicious meal.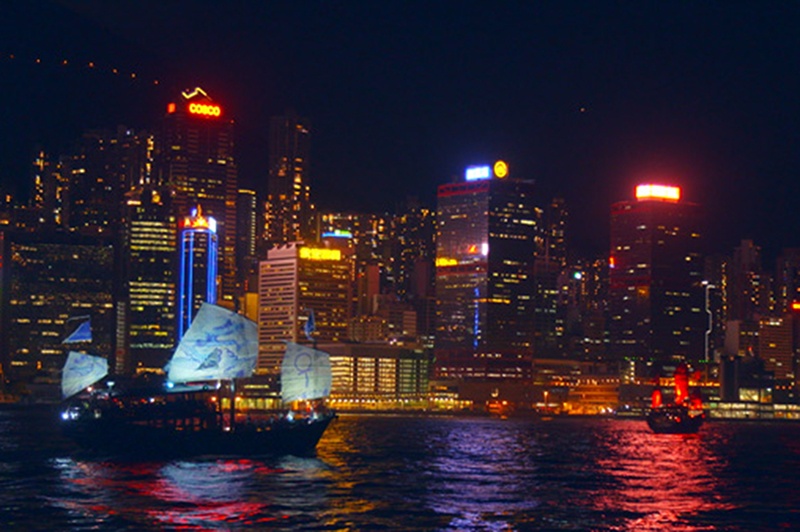 A Symphony of Lights multimedia show is staged every night at 8pm, and best experienced on a sunset junk boat.
9pm Sunset & A Symphony of Lights, Victoria Harbour
Alan wants Greer to experience Hong Kong's dazzling cityscape by night from the harbour. The A Symphony of Lights multimedia show illuminates the towering skyscrapers with dancing animated lights in a spectacular nightly extravaganza and Greer and Alan enjoy the views of Hong Kong Island, Kowloon and the harbour. It's the perfect way to end the day.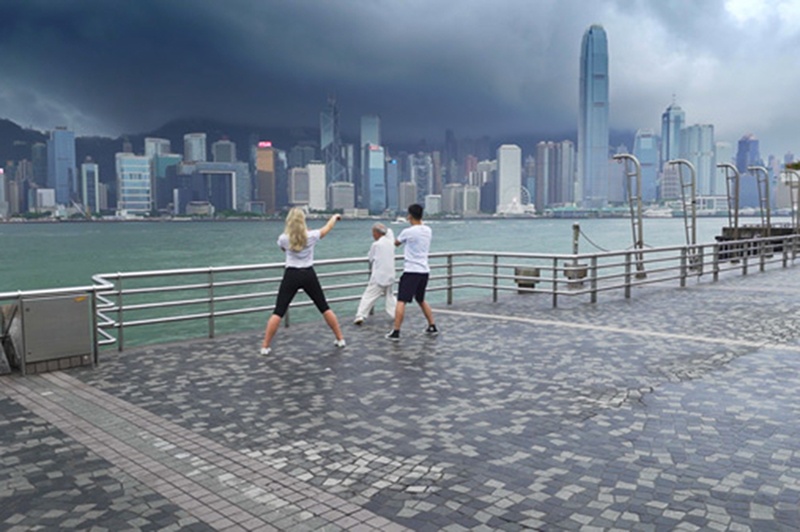 Tai chi master William takes Greer and Alan through their paces in a private morning class by the harbour.
Day 3
8am Tai chi class, Tsim Sha Tsui
Today starts with a private tai chi class on the Tsim Sha Tsui Promenade in Kowloon. With the Victoria Harbour and Hong Kong Island as their backdrop, the duo follow the lead of tai chi master William with his precise moves as he explains the art of tai chi.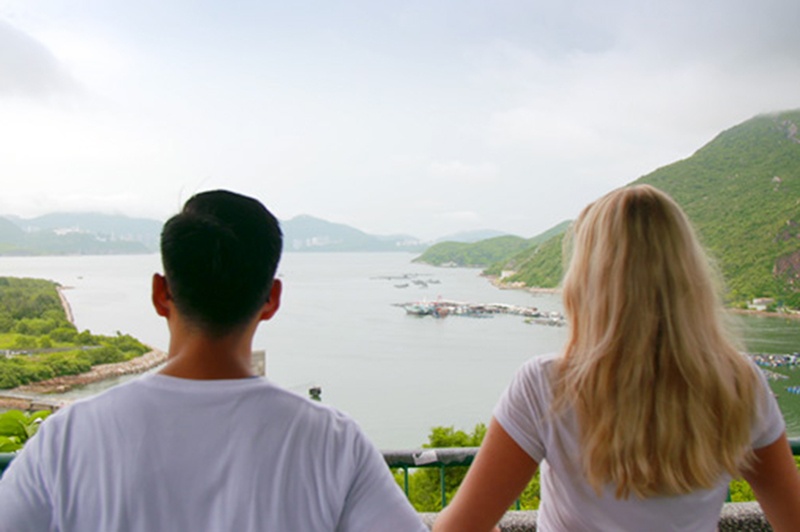 How's the serenity? Greer and Alan enjoy the view of verdant Lamma Island with its traditional fishing heritage.
10am Lamma Island hike
Continuing the mind and body practice, Alan leads Greer up a hiking trail on Lamma Island, which is easily reached by ferry from Hong Kong Island. They pass rustic fishing villages and admire the coastal scenery of green hilly landscapes and white-sand beaches on the easy hike.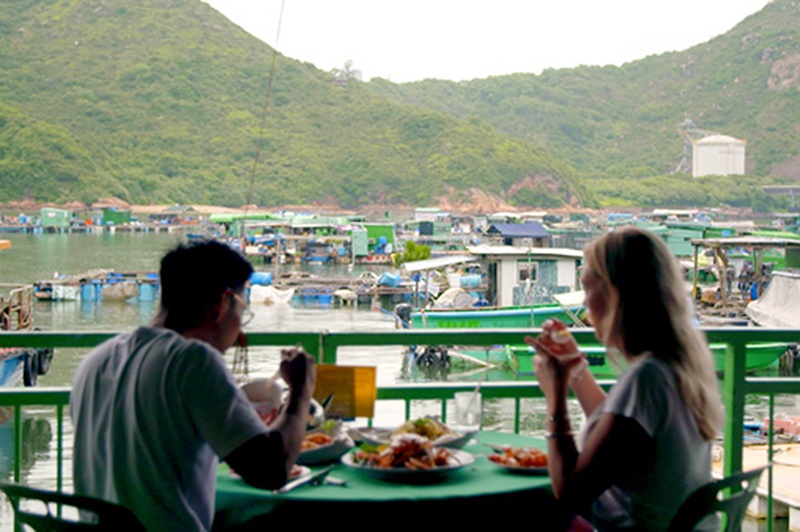 With Lamma Island's fishing heritage, it's no surprise that fresh seafood is on the menu!
1pm Lamma Rainbow restaurant, Lamma Island
With its traditional fishing heritage and customs, Lamma Island is definitely a local favourite for fresh seafood. Greer and Alan make a stop at Lamma Rainbow restaurant for lunch after their hike. The eye-catching restaurant is on stilts and has been operating for over 30 years. The pair enjoys a slap-up seafood meal before returning to Hong Kong Island.
3pm Peak Circle Walk
There's certainly no shortage on vantage points to admire the harbour view on Hong Kong Island, but Alan has saved the most iconic vista for last. The Peak Circle Walk winds around the highest point on the island for sweeping panoramas of the city and harbour.
5pm Sham Shui Po markets
Shopping is another national pastime, so Alan takes Greer to the Sham Shui Po district of Kowloon to explore the bustling clothing and electronics markets here. They also check out dai pai dong (open-air food stalls) and sample the street food on Fuk Wa Street. Alan insists that Greer try the famous steamed rice pudding (put chai ko) at Kwan Kee Store and a delicious egg tart.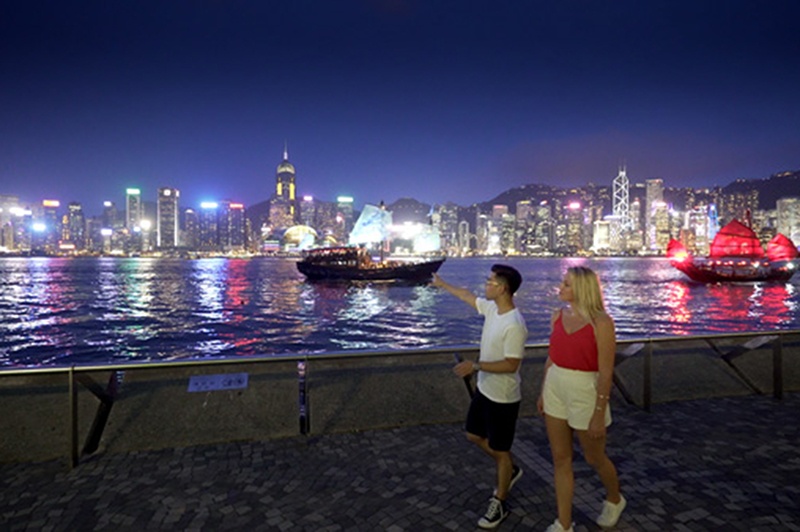 The Tsim Sha Tsui Promenade passes the colonial-era Clock Tower, but all eyes are on that dazzling skyline reflected in the harbour.
7pm Victoria Harbour
It's been a whirlwind trip of culture, food and sights for Greer, as she and Alan wander along the Kowloon side of Victoria Harbour and reflect on their 48 hours together in Hong Kong.
All images: Flight Centre
---
Watch the full episode of 48 Hours in Hong Kong on Sunday at 3:30pm on Channel Ten or stream on tenplay.com.au. For more information, visit www.flightcentre.com.au/48hour
---
Flight Centre acknowledges the Traditional Custodians of Country throughout Australia.