A Whistlestop Around Two Rising Suns: 48 Hours In Japan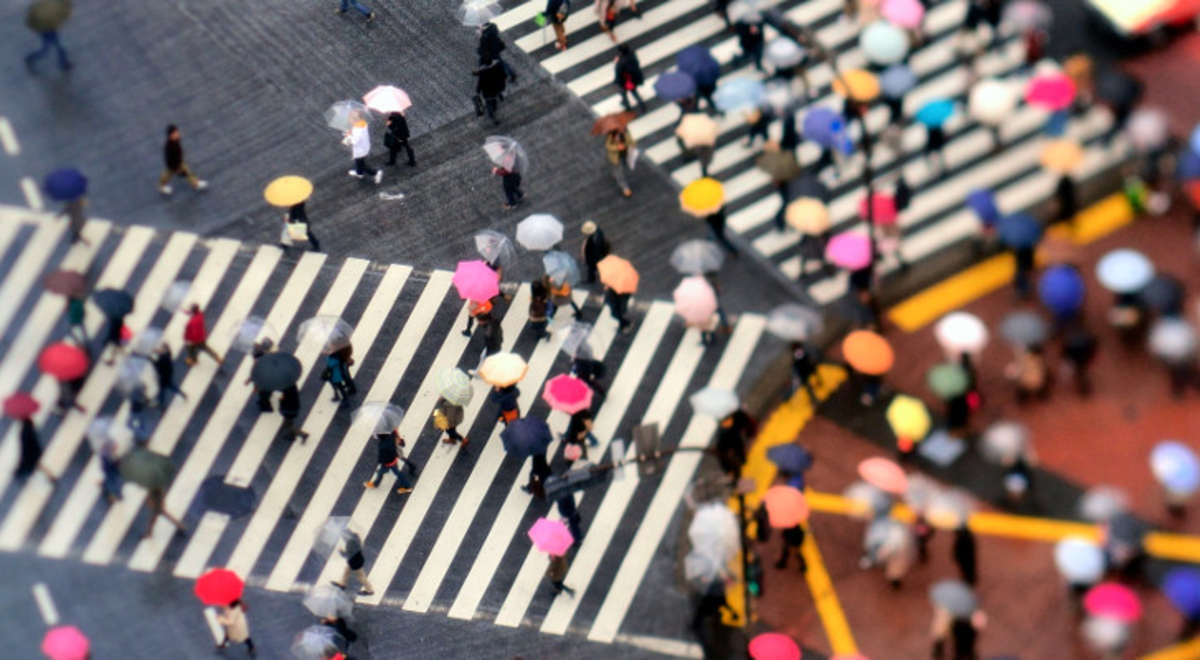 ---
---
Follow Flight Centre consultant Greer Gardiner as she samples the best Japan has to offer, as seen on the 48 Hour Destination TV series produced by Flight Centre. The catch? She only has 48 hours to experience it all. Here's her action-packed Japan itinerary to inspire you.
Day 1
7pm Shibuya Crossing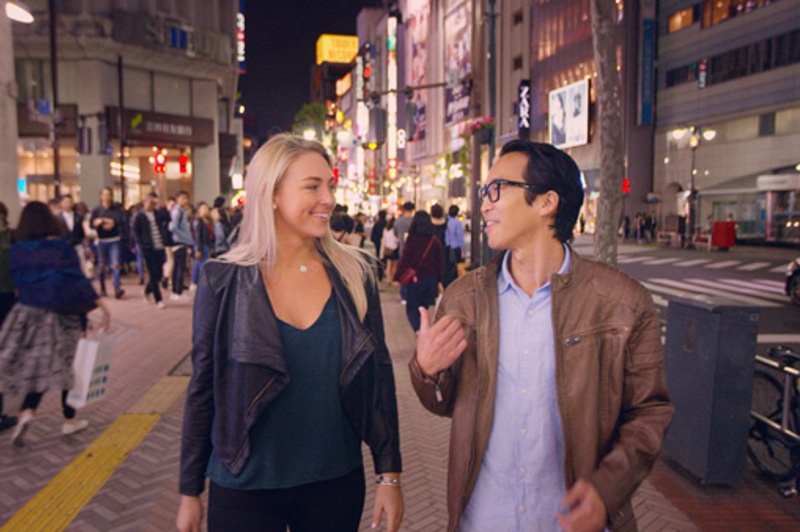 No soft landing for Greer, who goes to the heart of the action at Shibuya Crossing.
After flying into Tokyo, Greer makes her way to the heart of the city and the busiest crossing in the world, Shibuya Crossing, to meet Keiichi Enomoto, a Japan travel expert. It's estimated more than 2,000 people cross here from all directions every time the light changes, so the crossing is also known as the 'Shibuya Scramble'. Greer has heard so much about the famous spot, but navigating it is a once-in-a-lifetime experience.
8pm Ninja Akasaka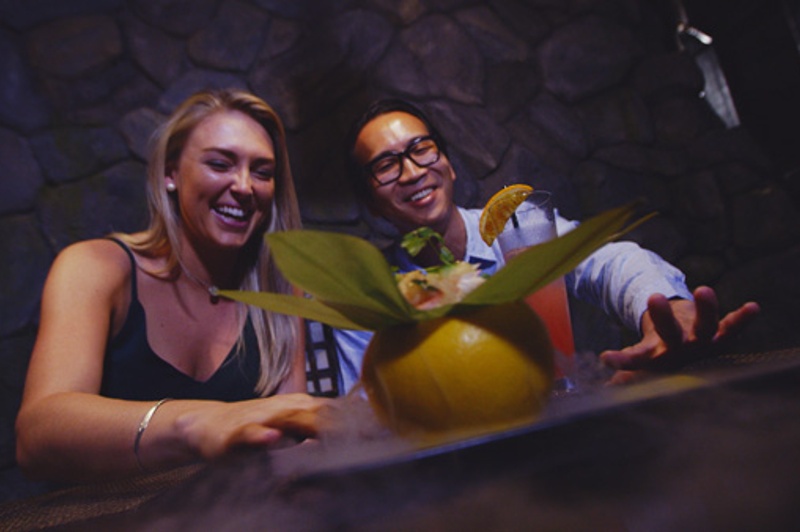 Trying the unique cuisine that Japan has to offer is one of the city's biggest must-do experiences.
Keiichi has a surprise for dinner. Hidden behind an unassuming dark doorway, under a mysterious illuminated symbol, they arrive at one of Tokyo's most entertaining restaurants, Ninja Akasaka. Once inside, their stealth ninja guide drops from a secret part of the ceiling. They follow the ninja who takes them to The Village, and their table, by going through hidden doors, dark tunnels, and tiny stairs. While their food and drinks arrive, Keiichi teaches Greer a few phrases and local customs.
10pm Golden Gai
After a delicious and unique dinner, Keiichi takes Greer to Golden Gai district, a tiny fragment of old Tokyo, which consists of six tiny alleys lined by almost two hundred tiny bars. The bars advertise themselves with an eclectic mix of artwork and enigmatic logos – ranging from cats and acoustic guitars to painted lips and nudes – adding to their mystique. They walk through the maze of alleyways and swirling, colourful nightlife chatting and enjoying the atmosphere.
Day 2
6:45am Helicopter ride over Tokyo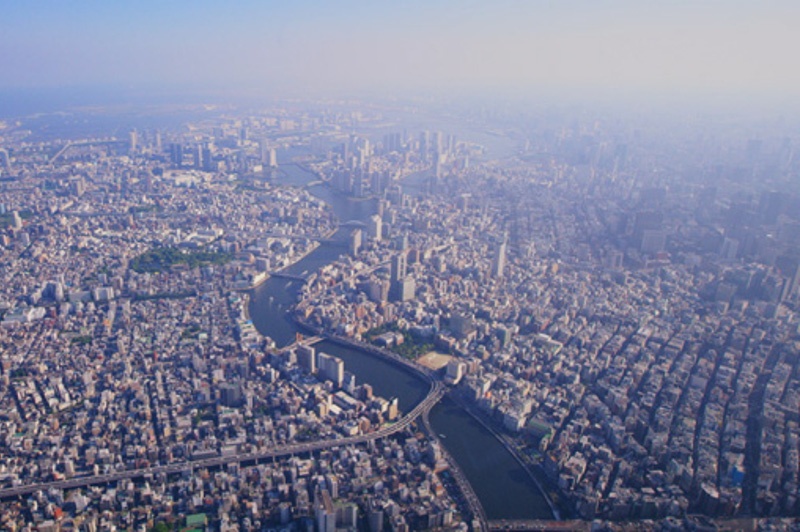 According to recent estimates, the 23 wards that make up the city of Tokyo had an estimated population of over 9 million.
It's an early morning start for an exhilarating 15-minute Excel Air Scenic helicopter ride over Tokyo. Greer and Keiichi take to the skies for a bird's-eye view of the sprawling city and its landmarks.
8am Tsukiji Fish Market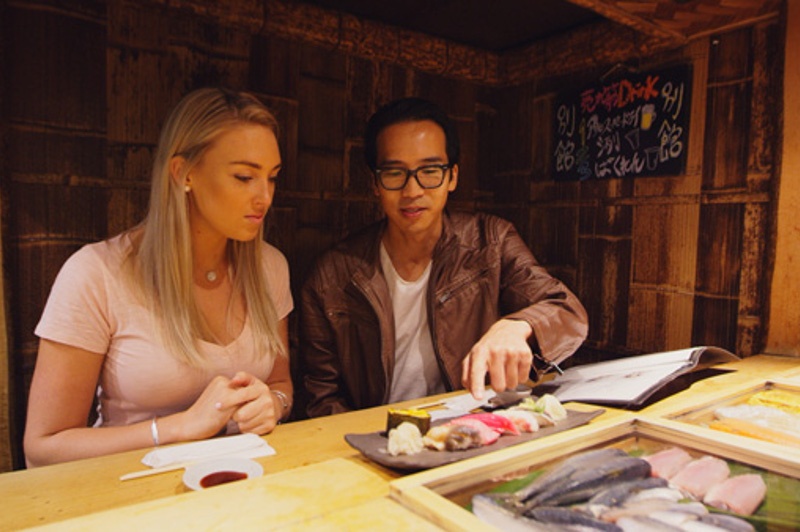 All throughout Tokyo, some of the most tiny, tucked-away restaurants serve the tastiest food!
With their feet back on the ground, it's time to get some breakfast! Where better than Tokyo's largest seafood market for some fresh sashimi and sushi? Famed for its tuna auctions (restricted for visitors), the market handles more than 400 varieties of seafood. The restricted inner-market is home to more than 800 licensed wholesalers, auctioning everything from tuna and caviar to seaweed and sardines every day. Keiichi is taking Greer to the outer-market, where a mix of wholesalers and retail shops sell fresh produce, restaurant supplies, Japanese kitchen tools and groceries. After walking through the massive crowds and sampling some of the freshest seafood, Keiichi takes Greer to his favourite hidden gem in Tsukiji – a tiny restaurant where Greer tries sea urchin for the very first time!
10am Tokyo Skytree  
After a satisfying breakfast, the duo head to Oshiage to visit Tokyo Skytree, Tokyo's tallest building, for panoramic views of the city. Reaching a mind-blowing 634 metres, it's the world's tallest freestanding broadcast tower and is officially recognised by the Guinness World Book of Records.
11am Harajuku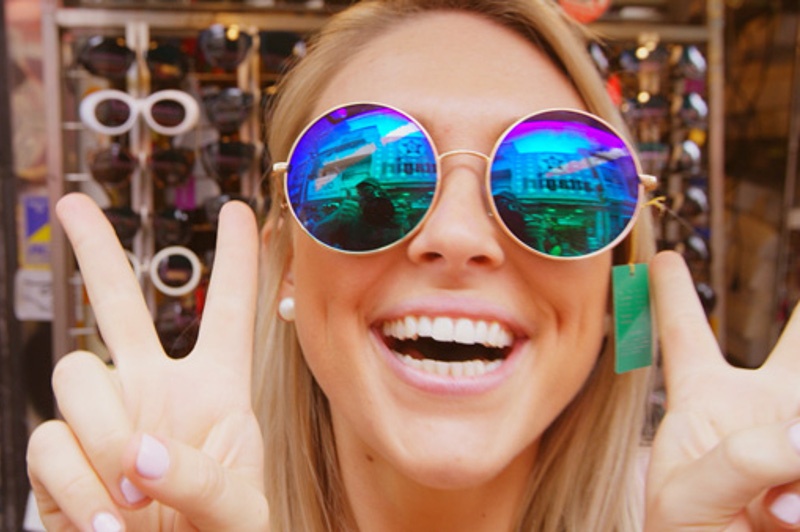 Greer gets into the Harajuku vibe during her action-packed 48 hours.
Greer and Keiichi make their way to one of Tokyo's most famous shopping districts, Harajuku, where they explore the colourful shops and side streets for souvenirs and fashion.  
12pm Senso-ji Temple
For a change of pace, Keiichi and Greer head to one of Tokyo's oldest and most significant Buddhist temples, Senso-ji in Asakusa.
12:30pm Akihabara
Think Super Mario Bros, Pac-Man, Pokemon and Space Invaders... Japan loves its gaming and computer tech.
From one contrast to the next, Keiichi takes Greer to Akihabara (also known as Technology Town and Electric Town) where locals come for all things electronic and gaming.
1:30pm Shinjuku Gyoen National Garden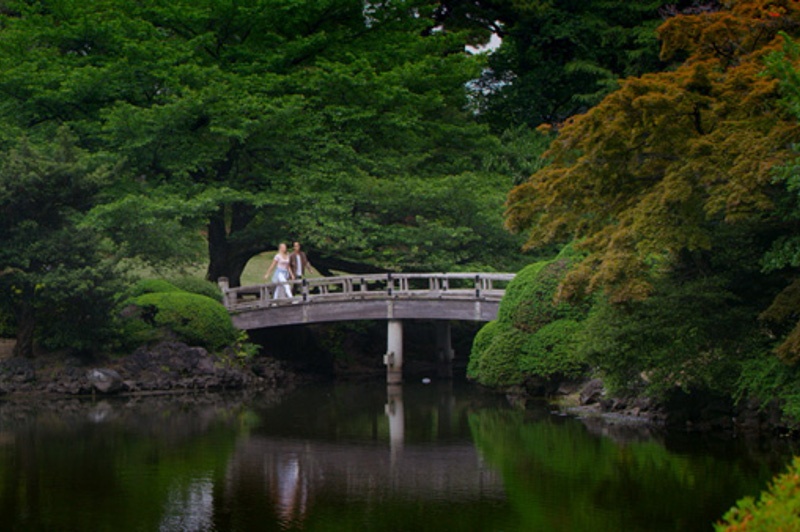 Tranquility in the chaos in Shinjuku Gyoen National Garden
Keiichi knows it's been a jam-packed day already so he takes Greer to his favourite spot in the city to relax: Shinjuku Gyoen National Garden. Tokyo's answer to Central Park, this verdant oasis is home to manicured gardens spacious lawns and meandering walking paths – a relaxing escape from the busy urban centre around it.
3:30pm Tea Ceremony  
The Japanese Tea Ceremony is an ancient, choreographic ritual.
Back at Keio Plaza Hotel, Keiichi treats Greer to a traditional Japanese afternoon tea ceremony, or chanoyu. Held in a sho-fu-an, their lovely host guides them through the customs of this ancient ritual.
6pm Kawaii Monster Cafe  
Greer and Keiichi experience Japan at its wackiest at the Kawaii Monster Cafe.
It wouldn't be a true Tokyo experience without a quirky kawaii (cute) experience and Keiichi knows just the place. Cafe by day, performance restaurant by night, Kawaii Monster Cafe is as fun as it is kitsch. Keiichi and Greer settle in for a night of eye-popping colours, bizarre creatures and over-the-top decadent dishes.
Day 3
8am Breakfast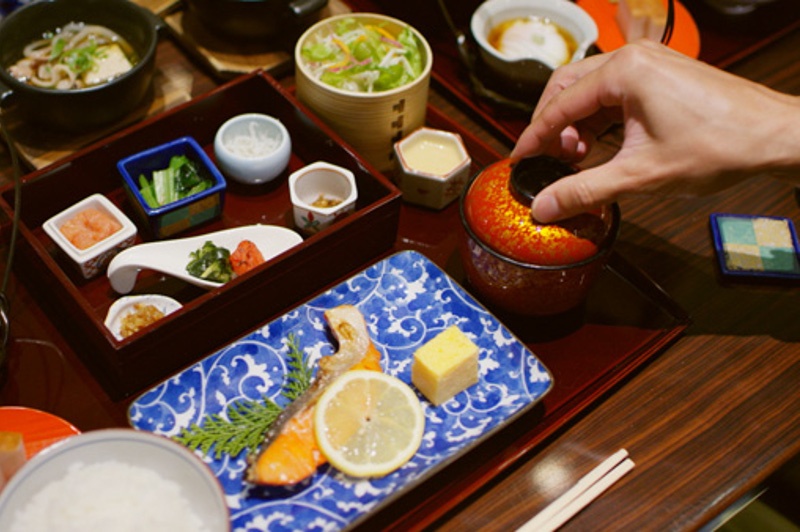 Breakfast is served! Greer is lucky enough to experience a traditional Japanese breakfast, complete with great conversation.
Today, Keiichi has organised a classic Japanese breakfast for Greer. The art of eating in Japan is on full display as they eat their way through the beautiful and delicately flavoured meal. Keiichi explains each element of the meal, and the order it should be eaten in, as they talk about their plans for the day: he's taking Greer to Nagano, to experience the peaceful atmosphere of this mountain city.    
9am Bullet Train to Nagano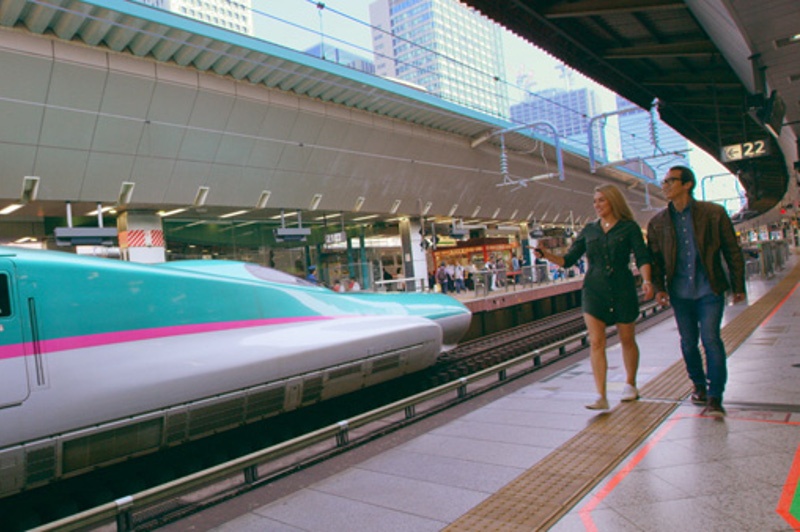 How do you squeeze more into 48 hours? Take the bullet train!
The bullet train, or shinkansen, is one of best ways to travel around Japan. Travelling at speeds over 300km per hour, it's perfect for seeing more of this beautiful country in a short trip. Keiichi and Greer board at Tokyo Station, before tucking into a bento box as they watch the countryside fly by on the two-hour journey north.
11am Nagano City
Greer and Keiichi explore the northern city on foot. Keiichi explains that Nagano is popular in the winter, with both local and international visitors, for its ski slopes. The city even played host to the 1998 Winter Olympics.  
12pm Onsen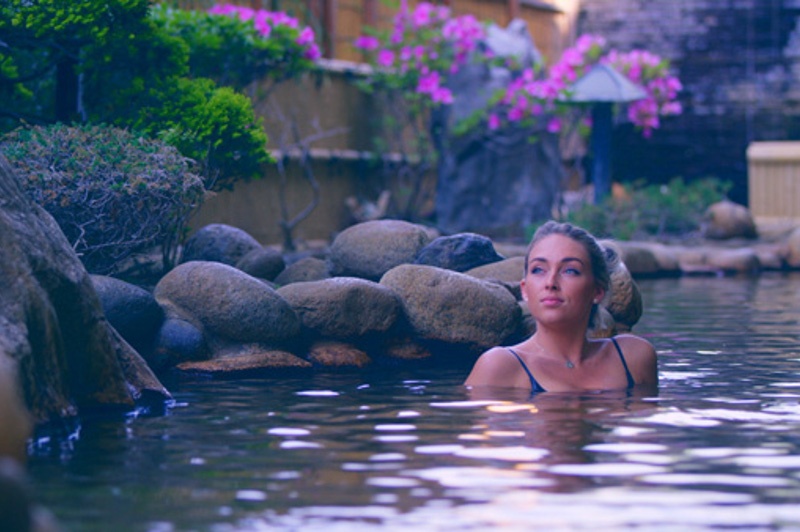 A beautiful daily ritual in Japan: the onsen
The first cultural experience in Nagano is a short dip in an onsen. The onsen is a daily ritual for many Japanese people and involves bathing in waters heated by geothermal activity. It's believed the rich mineral waters impart many health properties. Although Greer wears a swimsuit in the show, onsen bathing etiquette in Japan is sans clothing and according to gender. 
2pm Suyakame
Time for lunch. Since Nagano region is the largest producer of miso in Japan, Keiichi takes Greer to Suyakame, which has been producing the fermented soybean paste for over 115 years. As well as miso paste, Suyakame sells unusual delicacies like miso chocolate! Of course they have to try one of Suyakame's most popular dishes, a grilled rice ball with miso filling.
3pm Higashi Iida Sake Brewery
After lunch, Keiichi has another traditional treat in store for Greer. They are going to Higashi Iida to taste some of the best sake in the region. The family-run brewery has been producing the famous Japanese fermented rice wine for 150 years in Nagano. Greer and Keiichi sample a variety of this ancient tipple while learning the history of sake production in Japan.
4:30pm Hakuna Matata Kimono
To continue the fun, Keiichi takes Greer to dress in the traditional Japanese garb, the kimono. Both men and women wear kimonos, though mostly for special occasions. Greer is fitted in a colourful summer kimono with matching hair accessories and the geta clog, a sandal-like shoe.
5:30pm Zenko-ji Temple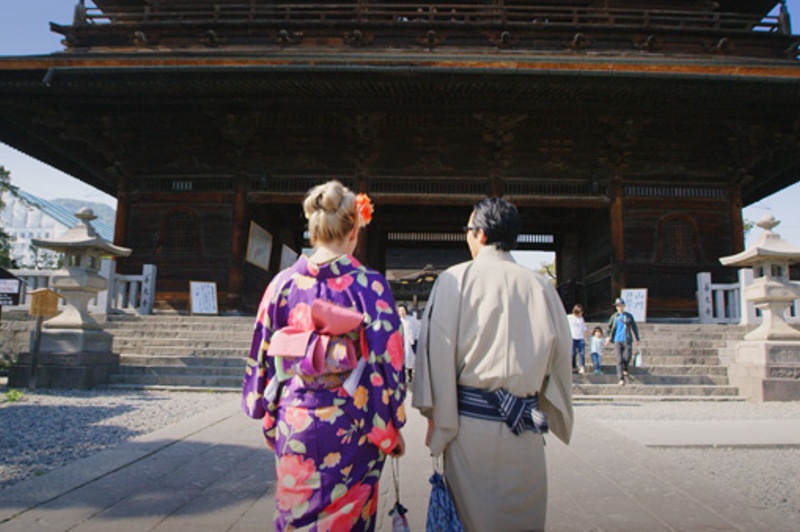 Greer tries her hand at literally stepping into the world of Japanese women, in the kimono.
One of the most important and popular temples in Japan, Zenkoji was built in the 7th century following the introduction of Buddhism to Japan in 552 AD. As they tour the grounds, Greer is amazed to learn of the long and rich history of the temple in Nagano. As the sun sets, the surrounds of peaceful gardens and monks' housing is an incredible way to reflect on Greer's 48-hour adventure in this country of contrasts.
All images: Flight Centre
---
Watch the full episode of 48 Hours in Japan on Sunday at 3:30pm on Channel Ten or stream on tenplay.com.au. For more information, visit flightcentre.com.au/48hour
---

---
Flight Centre acknowledges the Traditional Custodians of Country throughout Australia.