7 Romantic Holiday Destinations That Aren't Just For Couples
---
---
Looking to celebrate love a little differently? 
We asked our Travel Experts and Flight Centre customers about destinations that spell romance – and the answers might surprise you! Here are seven romantic destinations that aren't cliches (or just for couples).
1. Tasmania, Australia
Fly south to Tasmania for a cosy escape at a boutique property with your loved one. The great thing about Tassie is that you can spend a few weeks driving around the state, or simply escape for a weekend away. Flight Centre Business Travel marketing executive Joseph Welsh and his (now) fiancé Tate, recently stayed at the Lake St Clair property, Pumphouse Point, located 2.5 hours' drive northwest of Hobart.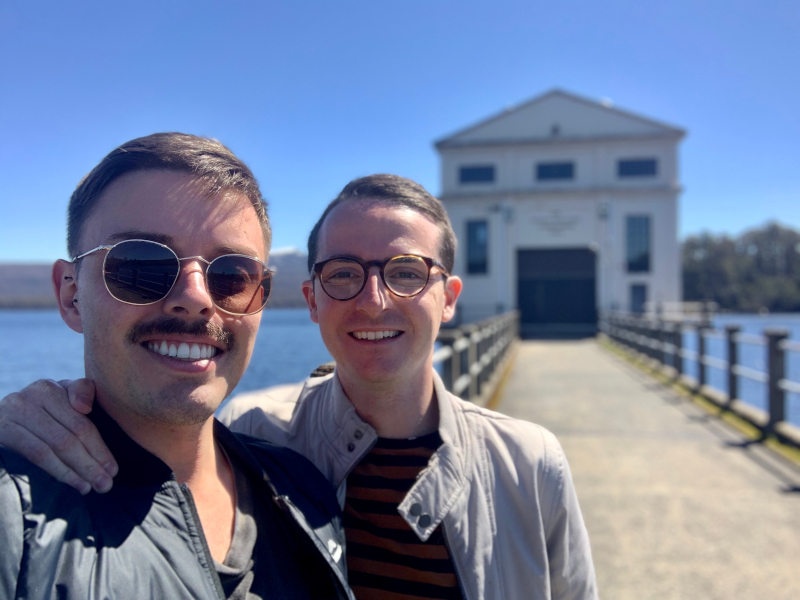 All smiles at Lake St Clair. Image: Joseph Welsh
"Pumphouse Point is very intimate, completely kids-free, in the middle of the rugged, beautiful wilderness and designed for couples to escape and really connect with their partner," Joseph says. "Instead of the usual hotel minibar situation, you have a fully stocked larder full of cheeses, cold meats, dips and alcohol, and they also give you a picnic set backpack so you can explore the surroundings."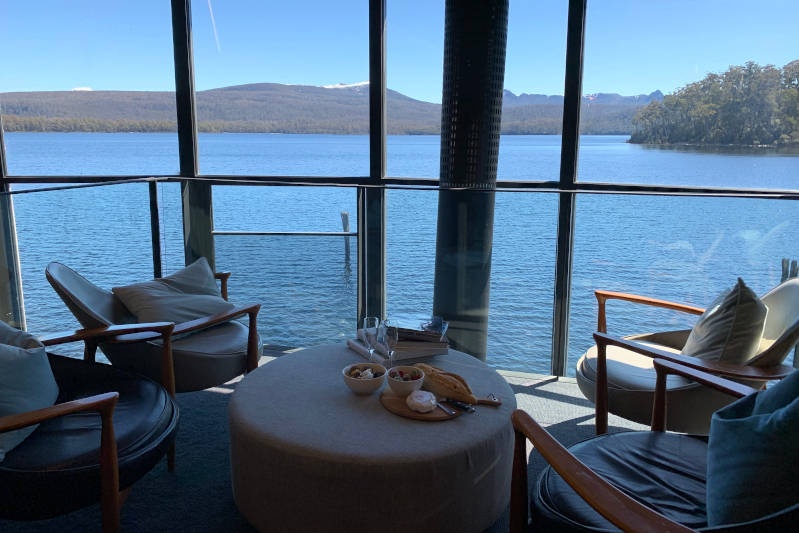 Talk about romance! Image: Joseph Welsh
His top tip? Hire a car and see where the road takes you.
Ask your Travel Expert about unique hotels in Tasmania. 
2. Lapland, Finland
Planning a trip to Europe? Consider allocating some time to visit Lapland in Finland, aka Santa's home. The location is popular, of course, for kids and families, but it's also an ideal destination for a romantic trip during the winter season. Book a stay in a glass igloo, snow igloo or log chalet at Kakslauttanen Arctic Resort for a truly unique experience.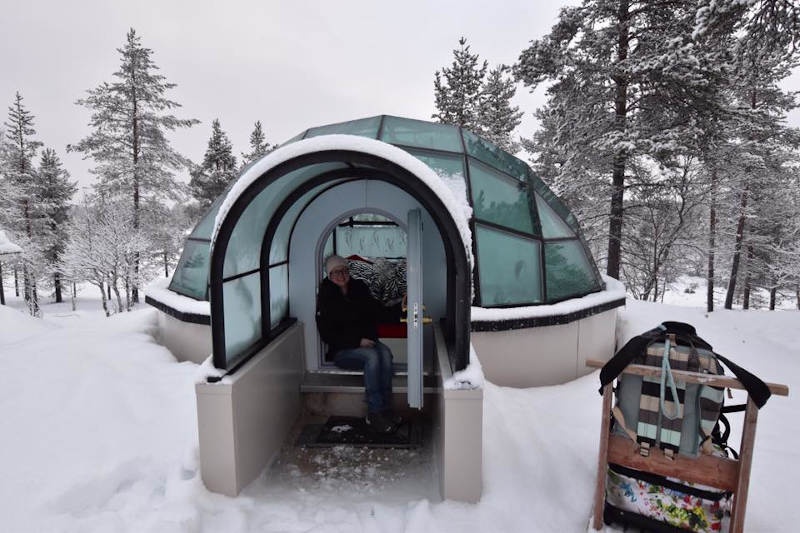 Being careful not to let too much cold in. Image: Michelle Goodear
Flight Centre Helensvale Travel Expert Michelle Goodear visited Lapland with her husband AJ, and says: "Lapland is like walking into a dream. Bundling up in the cold with your loved one on a reindeer-drawn sleigh ride is such a magical experience – it's hard to put into words. [Afterwards] we got to sit next to the roaring fire, enjoy a few drinks and each others' company. Just really being together without the normal interruptions was amazing."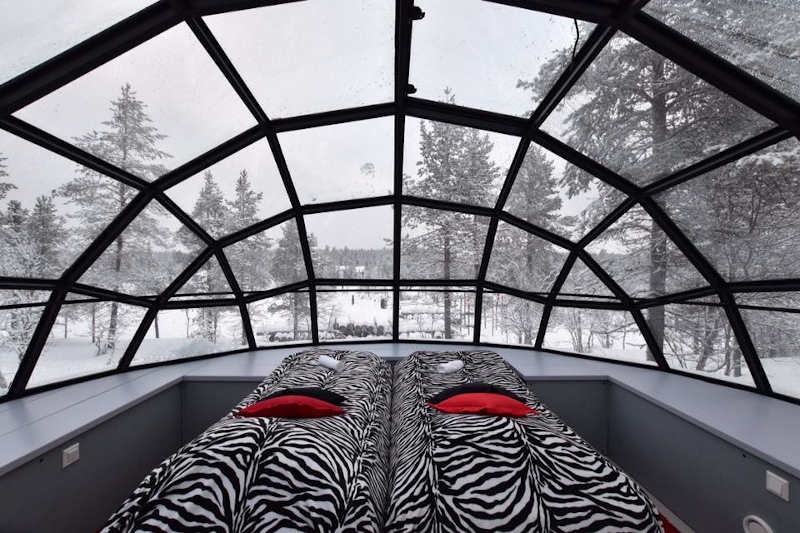 The perfect spot for viewing the Northern Lights. Image: Michelle Goodear
"Make sure you spend two to three nights in Lapland as it's a long way to go and there are so many great things to experience," Michelle says.
3. Oahu, Hawaii
For those who prefer long walks on the beach, consider Hawaii as a romantic destination. Fly direct to Honolulu from the east coast of Australia and settle into island life. If you have more than a week up your sleeve, chat to your Travel Expert about add-on fares with Hawaiian Airlines, which allow travellers to explore more than one island at an affordable price.
Flight Centre customers Amy and Morgan Flood know firsthand how romantic Hawaii can be, after getting engaged on the island of Oahu in 2015.
"The most romantic thing about Hawaii was just being able to spend the day together relaxing at the beach, going shopping, surfing and eating," Amy says. She adds that visitors should also go to a luau, a traditional Hawaiian feast with singing and hula dancing.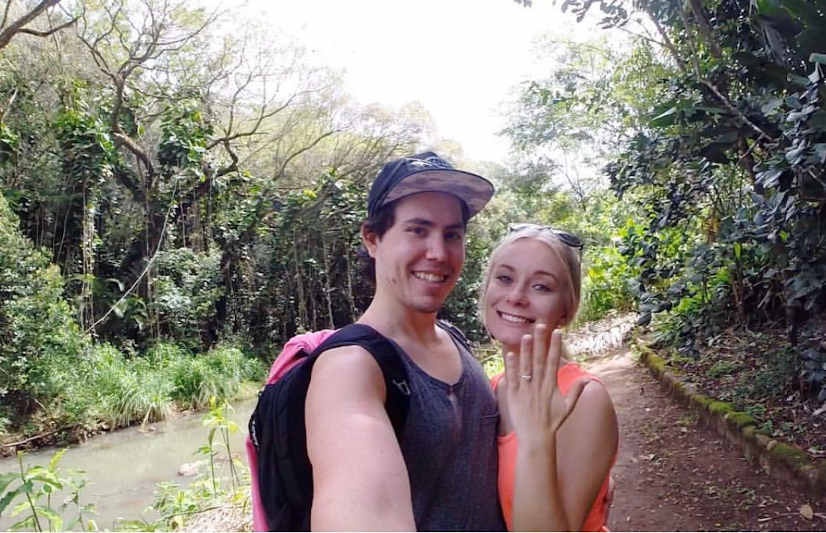 The first selfie as an engaged couple! Image: Amy Flood
If you're looking for a little adventure while on holiday, Amy recommends taking a trip to Waimea Valley, just one hour's drive from Honolulu. "It has an easy walking track through the gardens and a waterfall you can swim in," she says. Not to mention this was the spot Morgan got down on one knee and proposed to his high-school sweetheart. And she said yes!
4. Southwestern States, USA
In the name of adventure (and self love) Flight Centre Stafford Travel Expert Alice Collyer booked herself a spot on Intrepid's Vegas to LA: Grand National Parks trip. The 10-day group tour travelled through Nevada to Utah and Arizona, hitting the likes of Zion, Bryce Canyon, Grand Canyon and Joshua Tree national parks, including Monument Valley, before ending in Los Angeles.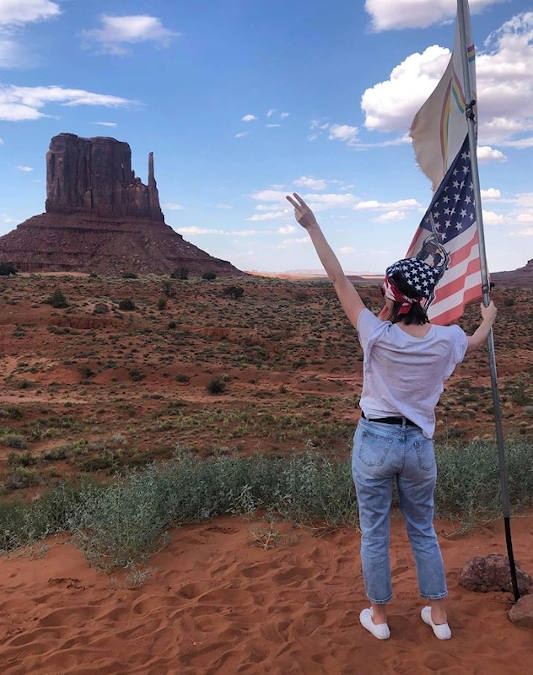 Living her best life! Image: Alice Collyer
"I was travelling solo, which was very rewarding for the soul to step out on my own," Alice says. "A little piece of my heart will always be in the USA. The landscapes are so charming and there is truly something for everyone."
Witnessing the beauty of the national parks at different times of day was a highlight for Alice. In Monument Valley, the group was invited to learn more about Southwestern Native American culture with dinner by an open fire, followed by a song and dance performance. "The sun setting across the picturesque landscape was very romantic," Alice adds.
5. Porto, Portugal 
Want to celebrate love between friends? Then we have two words for you: European summer! A group of six Flight Centre customers and life-long friends also agree after booking an epic trip through Europe last year, which included Topdeck's Trail of Columbus tour. 
Brother-and-sister duo Damien and Jessica joined couples Lachlan and Tess and Simon and Monique on the trip, which included stops in Lisbon, Sintra and Porto.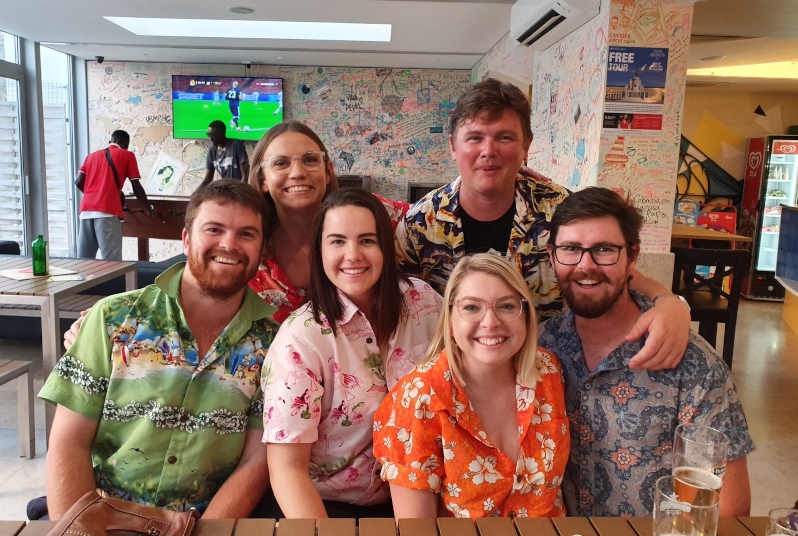 Those who wear matching shirts together, stay together! From left to right, Damien, Tess, Jess, Lachlan, Monique and Simon in Portugal. Image: Tess Holcombe
"I recommend wearing some good shoes and wandering around Porto to find out-of-the-ordinary places to eat and drink," Tess says. "Definitely take the Teleferico de Gaia gondola as there is an epic view from there." 
Chloe, who also travelled on the Trail Of Columbus tour with mates Shaun and Rea, says Portugal is "one of the most beautiful and seriously underrated countries in Europe".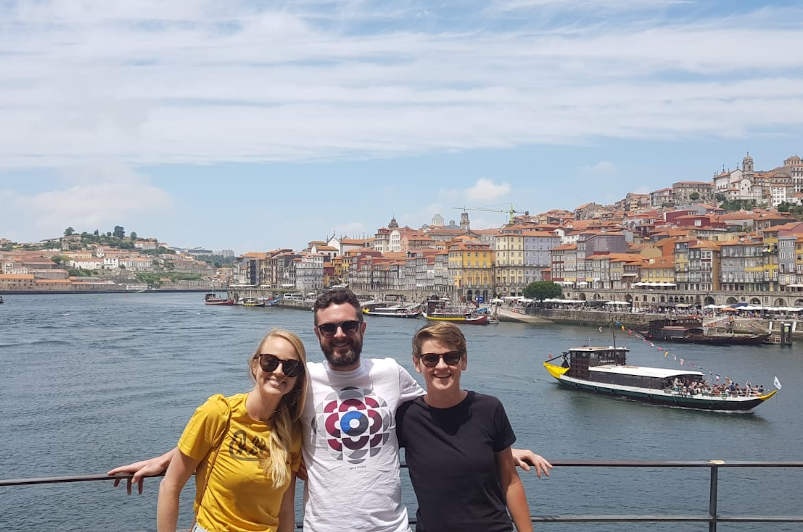 Chloe, Shaun and Rea while in Porto, Portugal. Image: Chloe Buckley
"The picturesque Atlantic seaside, quaint towns, delicious food and drink at dirt-cheap prices – what's not love to about Portugal?"  
6. Ubud, Indonesia 
The beloved island of Bali is popular for families and Australians wanting a tropical getaway for a reasonable price. Resort options are endless, flights operate daily and the locals are as down to earth as Aussies! We love the island for these reasons but in terms of romance, Bali also has a lot to offer, particularly in the mountains of Ubud.
For those seeking a quieter destination to unwind with their partner, consider booking a villa or resort room in Ubud. Resorts, such as Alila Ubud, will have everything you need, including onsite activities,multiple restaurants and a spa. Consider booking the Bale Bengong experience at Alila Ubud, where couples are treated to a five-course dinner in a private bale set above the Ayung River and among the lush rainforests.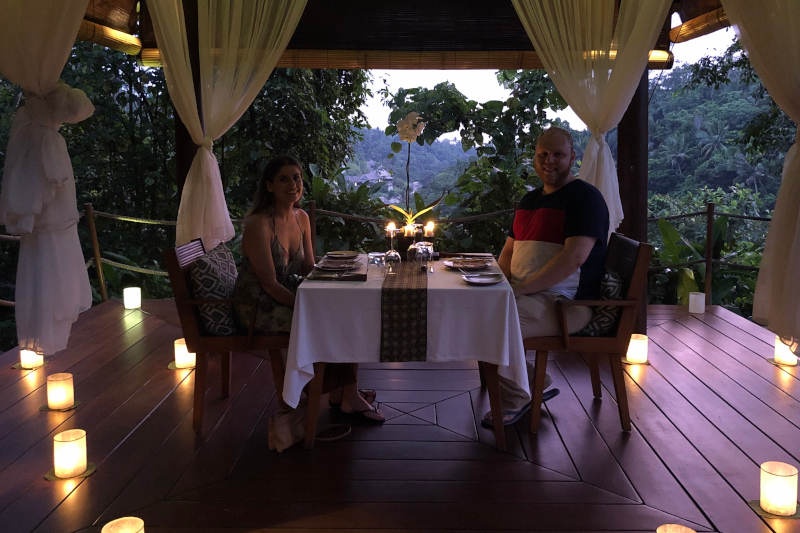 A unique and romantic experience in Ubud. Image: Sheridan Murphy
As an early birthday surprise, my partner, Damon, booked this experience during our stay last year  – and it was without a doubt the most romantic thing anyone has ever planned for me. I felt like a princess carefully taking the steps down towards the bale, candles leading the way. With impeccable service from our private butler and simply listening to the sounds of nature made the experience one I'll never forget.
7. Uluru, Australia 
Central Australia is a culturally significant and naturally stunning destination, right in our backyard. This destination also has a certain allure, particularly at Uluru, making it an ideal choice for a romantic getaway. 
Book a stay in a Deluxe Rock View room at Ayers Rock Resort, where you can relax on a private balcony with a cold one in hand and watch the sunset over Uluru. 
Make the most of your time in central Australia by booking the once-in-a-lifetime experience, A Night at Field of Light, like Flight Centre customer Karen. The experience includes an evening outdoors with canapes, sparkling wine, a three-course bush tucker-inspired meal, entry to the Field of Light installation and more.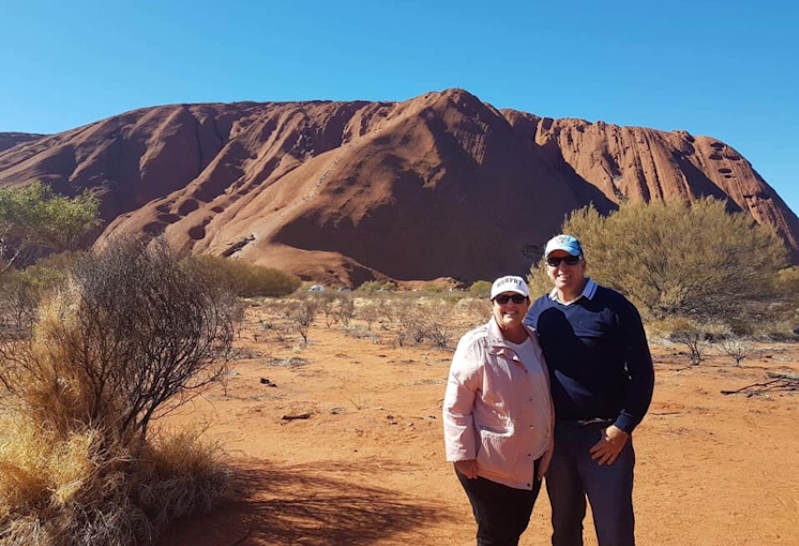 Getting a taste of the outback. Image: Karen Murphy
"Being under the stars with sparkling and amazing views of Uluru was quite romantic," Karen says. "Afterwards, my husband and I got to explore the Field of Light hand-in-hand, which was special."  
---
---
---
Flight Centre acknowledges the Traditional Custodians of Country throughout Australia.