Welcome To The Club: Our In-Depth Review Of Club Med Bali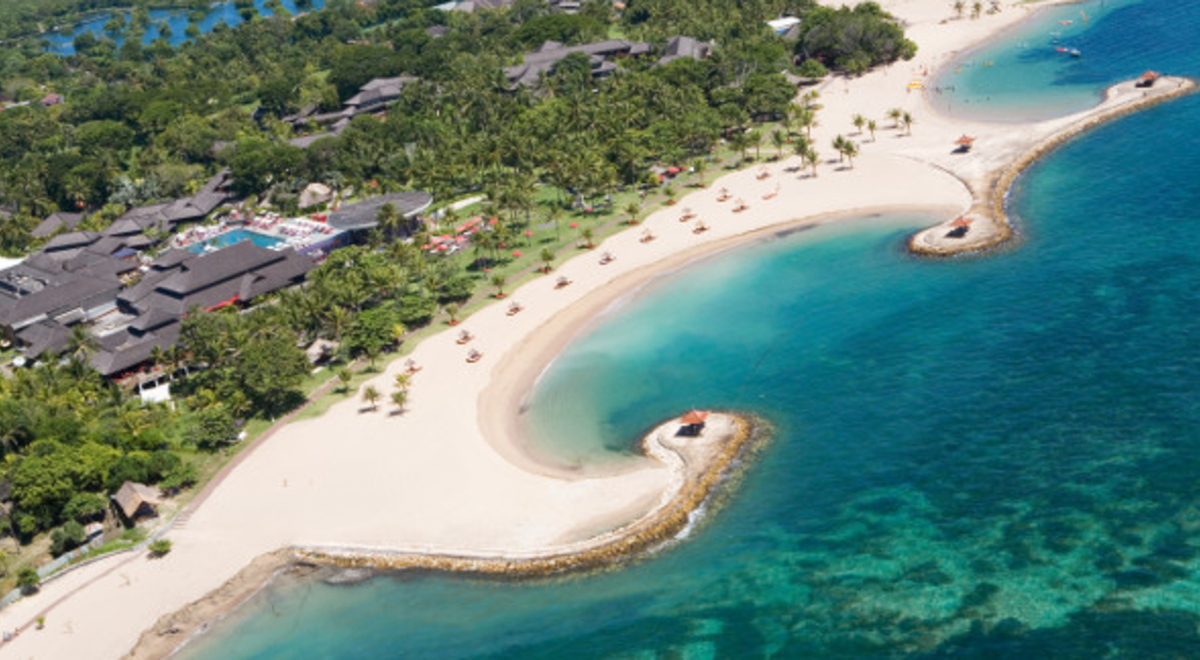 ---
---
"First time to Bali?" asks Komang, my driver as he wheels my luggage through the arrivals terminal. It is indeed my first time, and a long overdue visit at that.
You see, Bali had been sitting high on my travel to-do list for a while now. When the opportunity arose, I didn't just jump, I leaped.
Komang seems to think five days is more than enough time in Indonesia's crown jewel, but I'm already doing the calculations as to when I can return and I haven't seen anything other than the airport and transfer van's interior under the cover of darkness.
My home in Bali for four nights is the glorious Club Med Bali in Nusa Dua.
Club Med and its founder, Gerard Blitz, pioneered the premium all-inclusive holiday concept, believing that a stress-free break makes for a great one.
Sounds like an ideology I can get on board with, and one I'll be testing out over the next few days.
First Impressions
We pull up to the front entrance and Naomi, a G.O from Japan (one of Club Med's Gentiles Organisateurs, or gentle organisers) is awaiting my arrival, waving her arms with a big smile on her face.
Incredibly, I'm not receiving any special treatment; each guest receives this welcome (and farewell) to the tune of Pharrell's, Happy. The song naturally becomes the soundtrack of mine and everyone else's stay.
My accommodation is an airy, interconnecting club room featuring lashings of marble, a king-size bed, air-con and a private terrace leading out to the resort grounds. It's clean, comfortable and spacious enough for two, albeit slightly lonely for one. Especially when the Wi-Fi only works in one corner of the room.
Club Med Bali is currently renovating its deluxe rooms and suites, and I'm able to take a peek into a couple.
There's a palette of Balinese motifs, gold, wood, stone and soft reds, a larger bathroom, and a daybed, which brings the outside in. Suites up the 'wow' factor with a separate living area, a terrace and one of the biggest bathtubs I've ever seen.
The new fit-outs are the perfect blend of contemporary elegance and Balinese design, with the room renovations expected to be completed in 2016.
It's not until day break, when I step onto my private terrace, that I notice how sprawling the resort is.
Immaculate falls short in describing 14 rambling hectares of manicured lawns and tropical gardens by the beach, dotted with soaring palms and every type of day bed imaginable.
Those who say the grass is greener on the other side surely paid a visit to Club Med Bali.
I don't hesitate in gathering my belongings for the day and set off to get my bearings.
And by bearings, I mean find the buffet.
Eating Counts As An Activity, Right?
Agung Restaurant, standing above the main pool, features four dining areas surrounding the buffet floor. There's plenty of choice including Indonesian, Malay, Korean and Japanese corners, as well as the obligatory Western staples.
But I'm not the type to visit Asia and waste valuable stomach space on pizza and pasta. I only wish there were more Indonesian dishes on offer.
Over on the other side of the main pool is Kintamani bar. Open at all hours, Kintamani serves a range of Balinese wines and cocktails in every shade of the rainbow; plus light bites throughout the day.
I was never too from a drink either, thanks to Club Med Bali's bar on the beach.
Over on the other side of the resort, The Deck is Club Med Bali's gourmet seafood lounge. It's a contemporary haven drenched in a spectrum of sea blues and whites offering a la carte breakfast, late lunch, tapas and dinner.
More like second breakfast, second lunch and pre-dinner if you ask me.
---
Find out how you should 'do' Asia with our quiz
Which Bali destination is perfect for you?
Surf's up: Top 7 Places to Surf In Bali
---
 And Zen...
Just a short stroll from The Deck I find my favourite place of the whole resort: the aptly-named Zen pool. This multi-level hideaway is a quiet adults-only oasis that perfectly captures the tropical tranquillity of the beachfront location with its sky-blue pool and hanging day beds.
I spend many afternoons here, enjoying the serenity with a cotton-candy pink guava juice in hand. I never thought I could enjoy doing nothing this much and I almost feel guilty. Almost.
Finding my inner peace at the adults-only pool is one thing, but Club Med Spa by MANDARA takes Zen to a whole new level.
There are four tandem treatment rooms which were not the thatched huts I was expecting, but sky-high air-conditioned villas complete with a stone bath, along with 13 individual therapy rooms.
My treatment of choice is a Balinese massage, and over the course of 50 blissful minutes, I dissolve into the treatment table. The therapist applies gentle pressure (I'm not one to pay to be beaten up) in long traditional strokes that feel like little angles dancing on my back.
Before I know it, time is up and I float over the spa pool and spend a good two hours in the water coming down from my massage high. I could get used to this.
Get Active
It's quite easy to get swept up pampering yourself or simply lazing around, but Club Med has all the trappings if you're looking to get active.
Aside from a fitness centre and daily yoga classes, you can spend your days playing tennis and squash, working on your archery (throwback to school camp, anyone?) or perfecting your golf swing. Yes, the resort has its own golf course.
Standing proud and centre on the grounds is the Flying Trapeze Academy where you can live out all your dreams of running off and joining the circus. The school is run by a few former Cirque du Soleil gymnasts – who swapped the big top for life by the sea – so budding acrobats are in capable hands.
Water babies and babes haven't been forgotten either with a whole host of ocean-based activities including snorkelling trips to the outer reef, windsurfing, stand-up paddle boarding and kayaking. Sunset cruises also run on select afternoons.
The Family Set
The kids can enjoy all that, and then some, with Club Med's fabulous range of kids' clubs: Baby Club (four-23 months), Petit Club (two-three years), Mini Club (four-10 years) and Juniors' Club (11-17 years). All are included in your package, with the exception of Petit Club.
Now, I don't have any kids of my own, but I certainly could appreciate the amount of care and dedication the kids' clubs G.Os put into their work. It's no wonder, as families make up 70 per cent of Club Med Bali's guest list.
There are age-appropriate activities galore, from motor skills in Baby Club to art classes for the toddlers, Little Circus in Mini Club to flying trapeze lessons (and appearances in the late-night shows) for the older kids.
The kids (and G.Os) were having the time of their lives. When the time comes, I know where I'll be taking my family holidays.
Eat Your Heart Out, X Factor
My group jokes that the G.O recruitment process could be likened to a talent show audition, as not only are the G.Os incredibly skilled across activities and guest services, but they all seem to be able to sing, dance and act.
Lazy days turn into long nights with incredible nightly shows – 12 are currently on rotation – including 'Pride of Africa' and an unbelievable aerial performance over the pool. I am completely blown away by the G.Os' athletic prowess. Not to mention core strength.
The passion and enthusiasm of the G.Os and their Chief of Village are infectious, which translates into some pretty spectacular parties including a White Party a la P Diddy (or whatever he calls himself these days), an Out of Africa beach party and the 88/45 t-shirt parties.
88/45 was a mystery to me, but once you're in the Club (Med) you'll understand its significance. The shirts are like badges of honour; prized souvenirs from guests' previous Club Med resort stays.
So, What's The Verdict?
There's a reason why the all-inclusive packages are tailored for a week. By my fourth and last night, I am really getting into the groove, trying more cocktails, sampling meals, mastering activities and attending parties.
Komang was wrong. Five days wasn't nearly long enough.
Club Med's founder, Gerard Blitz has a pretty good philosophy: "The aim in life is to be happy, the time to be happy is now and the place to be happy is here."
This statement couldn't be truer than at Club Med Bali.
---
Flight Centre acknowledges the Traditional Custodians of Country throughout Australia.