Airline Review: We Put The Spotlight On Aircalin Airlines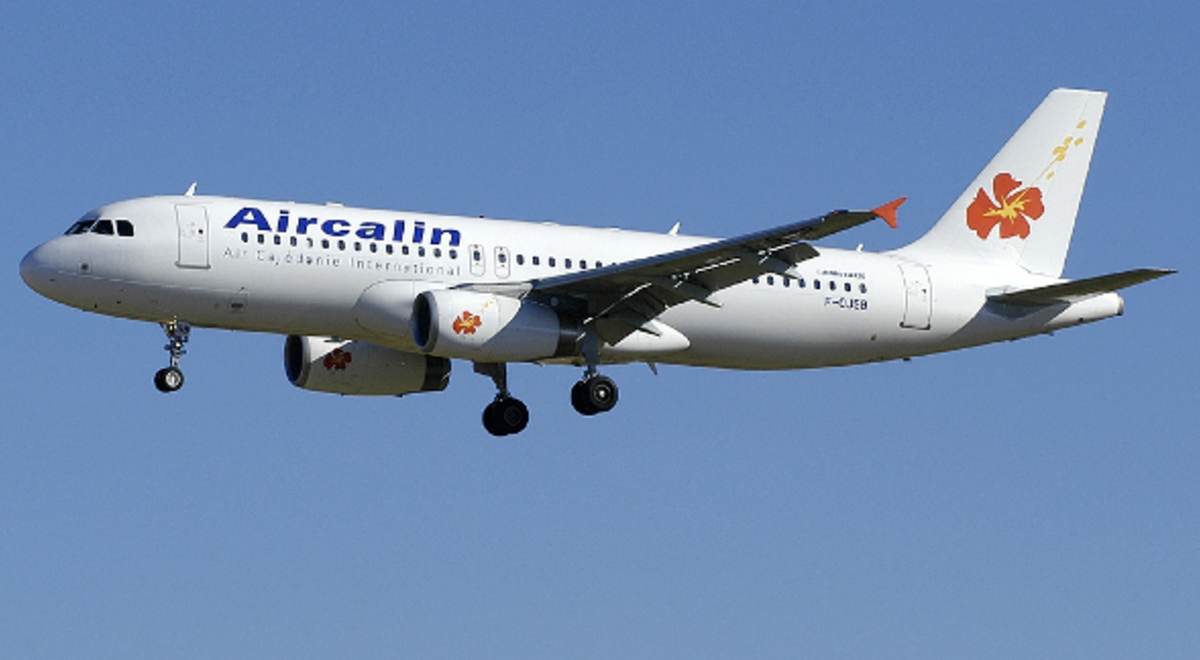 Aircalin is the international airline of New Caledonia, servicing twelve destination in Oceania and Asia including Japan, Australia, Fiji, Vanuatu and Korea. Certainly not one of the world's biggest air carriers, Aircalin (known as Air Caledonie International) has a small fleet of A320 and A330 aircraft.
Despite its small operating scale, Aircalin has developed valuable relationships with its destinations and other airlines including a highly successful codeshare agreement with Qantas in Australia. With no immediate need for expansion, it appears Aircalin is content with continuing to provide quality services to New Caledonia.
Cabin Classes
Economy
Aircalin operates a modern fleet of narrow body A320 and widebody A330 aircraft on routes from Australia and across the South Pacific to New Caledonia's capital city of Noumea.
Aircalin's Economy Class cabin is tastefully decorated in hues of lagoon blue with yellow coral accents. Comfortable seats provide ergonomic support and feature both footrests and adjustable headrests.
Entertainment:
A320: This aircraft is used on shorter regional routes. Aircalin features topical destination programming on shared overhead screens that are located throughout the cabin.
A330: The flagship of the Aircalin fleet, the A330 cabin offers personal TV's at each seat with on-demand entertainment options. Select from a wide range of movies, TV shows, video games and music. For those who like to use their own tablets, laptops or personal devices, each seat comes equipped with both USB and Apple recharge ports.
Food and Beverage: A complimentary meal and beverage service is provided on Aircalin international flights. Meals consist of a bread role and entree or salad, a main course selection and dessert. Beer, wine and spirits are also available along with tea, coffee, juices, water and soft drinks.
Hibiscus Class (Business)
The Hibiscus Class cabin offers an unsurpassed level of comfort when flying to Noumea. The Airbus A320 features eight plush arm chair business class seats with generous width and leg room. For added comfort, the seat also features an adjustable headrest and ample recline.
The flagship A330 is used mostly on long-haul routes to Korea, Japan, and Tahiti as well as on the busy Sydney to Noumea route. This aircraft features a separate Hibiscus Class cabin offering 24 angled, lie-flat seats.
Each seat reclines within its own fixed shell structure and doesn't protrude into the seat space of other guests. A privacy screen may be lowered between each seat, and fluffy pillows and blankets are available
Entertainment:
A320: Entertainment consists of short subject programming and features fascinating tourist information on the sites and culture of New Caledonia. Viewing is on shared overhead screens with headphones provided.
A330: Hibiscus Class seats have their own high-definition personal screen for on-demand entertainment. Choose from the latest movies, Hollywood classics, TV shows, video games and over 100 music selections. Aircalin offers noise-cancelling headsets for use during the flight for maximum listening pleasure.
Guests may also use their personal devices during the flight as each seat has built in USB and Apple port connectors as well as 110V power sockets for laptops. You can even stay in touch with work or family on the ground with personal in-seat satellite telephones.
Food and Beverage: Enjoy a full meal service served on china tableware and with real cutlery in Hibiscus Class. Guests may select mains from a menu which also consists of starters, mains and desserts. On the A330 there is an "Express" menu. This less formal option is a quicker service and gives the guest the option to do some work, enjoy the entertainment or rest.
---
Heading to New Cal? New Caledonia: France's Most Idyllic Spot?
Why should you go? Paradise Unknown: Discover New Caledonia
---
Aircalin Baggage Allowance
Carry-on
The cabin baggage allowance depends on the destination. Regional routes from Australia, New Zealand and other South Pacific Islands permit one piece of cabin baggage – 12 kilograms in business class and seven kilograms in economy.
The allowance for long-haul flights to Japan and Korea are also one bag in each class with an 18-kilogram maximum in business and 12-kilogram maximum in economy.

Cabin baggage dimensions must not exceed 56cm x 45cm x 25cm
Checked
Aircalin uses the piece system for checked bags. Economy Class guests are allowed one checked bag with a maximum weight of 23 kilograms. The allowance for Business Class is two bags, up to 23 kilograms for each. Overweight charges will apply for bags weighing between 23 kilograms and 32 kilograms. The combined size dimensions must not exceed 158 centimetres (length + width + height).
An additional bag allowance may be purchased upon check-in at the airport. If checking in online, the additional allowance may be purchased at a 20 percent discount to the fees otherwise charged at the airport.

Bags weighing more than 32 kilograms will not be accepted and must be shipped as freight.
Bulky items
Guests are allowed an extra 10 kilograms if travelling with equipment for one of the following sports: scuba diving, golf, surfing, cycling, hunting, fishing, camping, water skiing, snow skiing.
Many of these items require special packing for transport. Please ask your Flight Centre Travel Consultant on packing requirements.

Additional items above one piece of sporting equipment will be charged an excess baggage fee.

Infant baggage
Infants under two years of age are given a checked baggage allowance of one 10-kilogram bag plus one of the following items: cradle, stroller/pram or safety/car seat

Car seats are allowed in the cabin, but must have an approved label for aircraft use.
Restricted or dangerous goods
Dangerous goods are restricted items that must never be placed in cabin luggage or in checked luggage. These items could cause injury to persons and the aircraft and are not allowed to fly.
These items include, but are not limited to firearms and ammunition, explosive and fireworks, poisons and toxins, corrosives, radio active materials, magnetic materials, paints, cell batteries, petrol operated machines and paints.

Dangerous goods must be declared to check-in staff at the airport. For a specific list of those items that are banned, please ask your Flight Centre Travel Expert.
---
Check In
Aircalin offers two ways to check in for your flight – online and at the airport. Online check-in is available from 24 hours to 30 minutes before departure. Passengers may select their seats, pay baggage fees and print off boarding passes in advance.
When arriving at the airport, simply proceed to the bag drop-off counter where your bags will be tagged and your passport, boarding pass and other travel documents will be checked.
Airport check-in is always available at the counter. Have your passport and travel documents ready for inspection. Be sure to have the appropriate visas for those countries which require one. Boarding will be denied if passport and visa information is not correct and up to date.
International check-in guide
At home
Know what time you need to leave the house to get to the airport
Pack your things, check out our baggage guide
Have your flight itinerary ready
Ensure you have your valid passport ready
Getting there
Be at the airport at least 

120 

minutes prior to scheduled departure time
At the airport
Proceed to check-in counter with passport and itinerary ready
Go through security
Continue through customs
Check the gate number and flight status
Sit down and get comfy!
---
Lounge Access
Aircalin offers comfortable lounge facilities at Noumea Airport, as well as exclusive member lounges in Brisbane, Sydney, Auckland, Papeete, Nadi, Tokyo, Osaka and Seoul.
Lounges are open to those travelling on a Hibiscus Business Class ticket, for Aircalin Flying Blue elite members and for elite members enrolled in frequent flyer programs with Aircalin alliance partners.
These lounges offer a comfortable and relaxing environment away from the noise of the terminal. Offering plush seating, snacks and beverages and other amenities, these quiet spaces are enjoyable places to work or simply relax.
---
Fly Blue & Feel Golden
The Flying Blue frequent flyer program rewards guests flying on Aircalin as well as for eligible flights with several partner airlines such as Air France, KLM, Air Europa, Kenya Airways and Tarom. Points are also awarded for specific code share flights operated by Qantas between Australia and Noumea.
There are four Flying Blue membership levels: Ivory, Silver, Gold and Platinum. Elite status in Silver, Gold and Platinum is reached when the qualifying number of miles and segments has been met.
---
Visit your local Flight Centre store or call 131 600 for more advice and the latest deals.
---
---
Flight Centre acknowledges the Traditional Custodians of Country throughout Australia.