Australia's Year In Travel 2022: A Year's Worth Of Travel Trends
We've been crunching our numbers to bring you Australia's Year in Travel 2022. Read on to discover our top travel trends of 2022!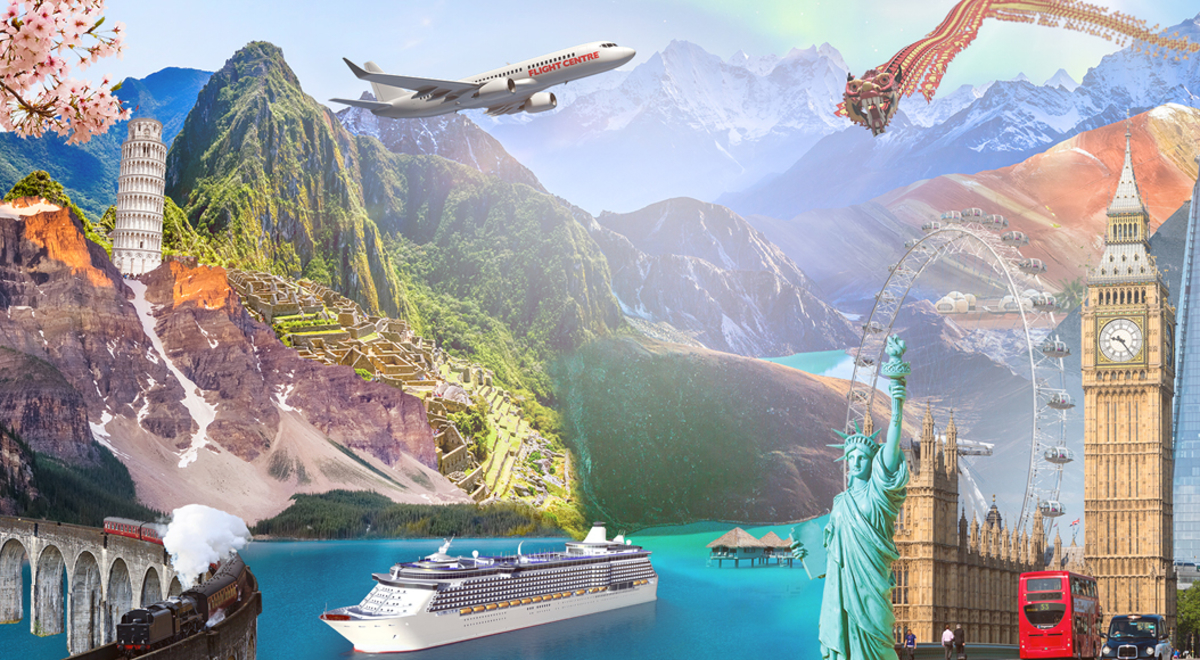 ---
---
We've been crunching our numbers to bring you Australia's Year in Travel 2022. Read on to discover our top travel trends of 2022!
---
It's that time of year. The Christmas trees are going up, Mariah Carey is beginning her annual take-over of our Spotify playlists and the end of 2022 is in sight. What better time to look back on the year that was? From the Winter Olympics in Beijing, a new British monarch and turbulence on Downing Street to the Socceroos' welcome (if unexpected) early victories at the FIFA World Cup in Qatar against Tunisia and Denmark. There's no denying it's been an eventful year. 
2022 was also a big year for the travel industry. Borders reopened, restrictions lifted and Australian travellers began to venture out into the world again. We holidayed domestically and enjoyed the beauty of our own backyard, reunited with loved ones after too long apart and booked our first international trips in what felt like forever. If you didn't personally spend the summer of 2022 in Europe, we bet you know someone who did.  
The Euro summer envy was strong on social media this year.  
Here at Flight Centre, we've been busy crunching our numbers to bring you the wrap-up you've been waiting for (the wrapped that really matters) - Australia's Year in Travel 2022. Read on to discover where Australia's favourite international holiday destination was in 2022, how many of you chose the pointy end of the plane, the most expensive cruise holiday we booked and how many cups of coffee our Travel Experts downed while they were busy making your holiday dreams happen (We should probably sponsor Campos.) 
We get it, your time is precious and you want the summary. Here are five of our biggest discoveries...
TL;DR – Top Five Takeaways
We booked flights for 14,909 babies (obviously their parents/guardians as well)
The most expensive cruise booking made this year cost $333,400
4-star hotels were most popular this year, accounting for 48.45% of our bookings
Longyearbyen in Svalbard and Jan Mayen, Norway was the most northern destination we booked
We made a hotel booking this year for a duration of 1,092 days
What You'll Find Once You Read To The End...
Where We Went: Australia's Favourite Travel Destinations In 2022 
They Spent How Much And Booked How Many?!   

So, Who Exactly Were All These Travellers? 

Planes, Cruises And Touring: How Australia Travelled In 2022 

From Budget To Luxury: Where Australia Stayed In 2022 

How Australia Holidayed Through 2022 
Self-Reflection Time: How Flight Centre Changed In 2022 

Dusting Off The Crystal Ball: Our Predictions For 2023 
Now, without further ado, let's get into the nitty-gritty numbers of 2022!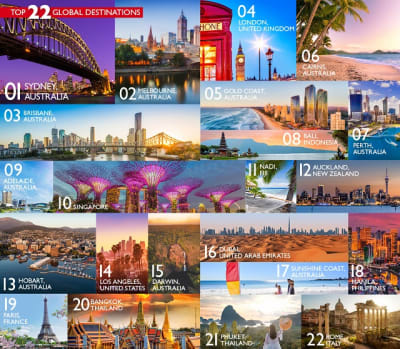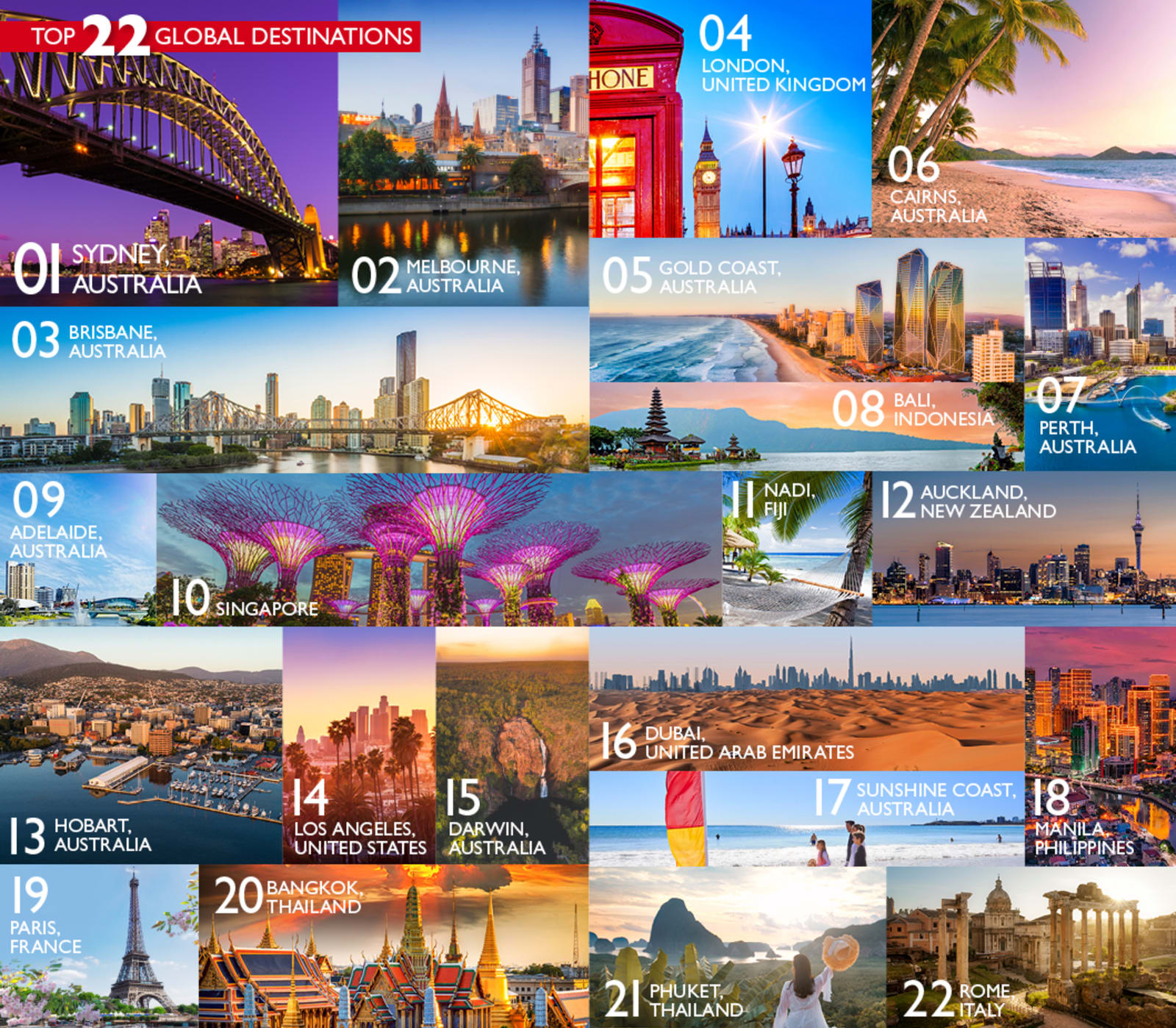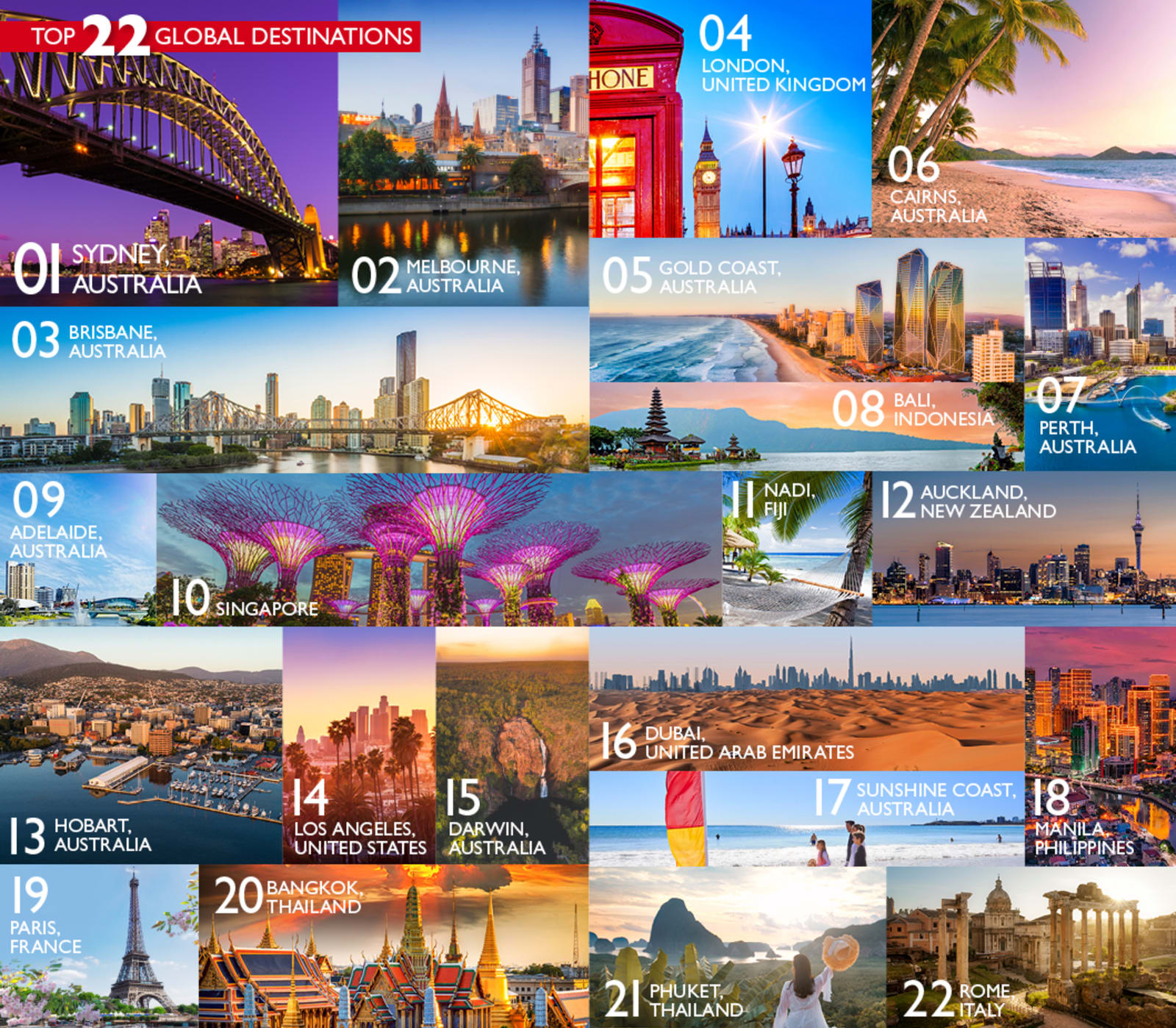 Where We Went: Australia's Favourite Travel Destinations In 2022
Did you know there are close to 200 different countries in the world? While some travellers have ticked off all of them, there were some clear favourites this year.  
Drumroll please...  
Borders may have been open, but since DFAT couldn't issue passports fast enough, most Aussies stayed close to home this year. The most popular destination was Sydney (7.71% of our customers flew there.) Melbourne came a close second with 7.53% and Brisbane scored position number three with 6.06% (is this the first time Brisvegas has made a top 10 list?! 😉). The pent-up demand to visit friends and family, or perhaps get away from them for the weekend (!) was strong.  
London beat out all the other international destinations this year coming in at number four, with 4.64% of our travellers choosing to rip the band-aid off post-pandemic and take the long-haul flight to enjoy the British summer and sink a pint in a London pub once more, Harry and Megan sightings not included. 
Based on the flight booking data, 10 of our top 22 destinations this year were domestic holiday spots. The 12 remaining international destinations show Aussies were going wherever and whenever they could.
Top 22 Global Destinations By Flights Booked
Sydney, Australia
Melbourne, Australia
Brisbane, Australia
London, United Kingdom
Gold Coast, Australia
Cairns, Australia
Perth, Australia
Bali, Indonesia
Adelaide, Australia
Singapore
Nadi, Fiji
Auckland, New Zealand
Hobart, Australia
Los Angeles, United States
Darwin, Australia
Dubai, United Arab Emirates
Sunshine Coast, Australia
Manila, Philippines
Paris, France
Bangkok, Thailand
Phuket, Thailand
Rome, Italy



Top 22 Destinations Around The World In 2022
Feel like everyone you know went to Bali this year? You're not imagining it. Beach clubs and Ubud yoga retreats drew a crowd with Bali accounting for 5.21% of our international flight bookings in 2022, coming in second to London. With 3.98% of bookings, Singapore managed to sling itself into third place, and while plenty of travellers likely chose it for its cleanliness and tropical weather, it's also one of the most popular places for a layover when flying from Australia to, you guessed it, London! Plus (keep reading for the full list) Singapore Airlines is one of our most popular international airlines for 2022.  
Fiji, New Zealand, the United Arab Emirates, the Philippines and Thailand also made the list. The United States earned three of our top 22 destinations with Los Angeles, Honolulu and New York City combined attracting 5.29% of travellers. European destinations also drew in a slightly higher percentage of travellers, with 6.27% of flight bookings enroute for France, Italy, Greece and Ireland in 2022.
Top 22 International Destinations By Flights Booked
London, United Kingdom
Bali, Indonesia
Singapore
Nadi, Fiji
Auckland, New Zealand
Los Angeles, United States
Dubai, United Arab Emirates
Manila, Philippines
Paris, France
Bangkok, Thailand
Phuket, Thailand
Rome, Italy
Honolulu, United States
Athens, Greece
Queenstown, New Zealand
Dublin, Ireland
Manchester, United Kingdom
New York City, United States
Christchurch, New Zealand
Vancouver, Canada
Johannesburg, South Africa
Doha, Qatar



Top 22 Destinations Around Australia in 2022
You already know that Melbourne, Sydney and Brisbane topped the list, so where else did you travel around the country? To chase the sun, it seems.  
Based on our flight booking data, an impressive eight of the top 22 domestic destinations of 2022 (and 37.38% of bookings) can be found in Australia's Sunshine State of Queensland. The Gold Coast attracted 9.67% of our travellers this year followed by Cairns with 7.82% - and between the sunny beaches, famous theme parks and Great Barrier Reef we can certainly understand why.
Top 22 Domestic Destinations By Flights Booked
Melbourne, VIC
Sydney, NSW
Brisbane, QLD
Gold Coast, QLD
Cairns, QLD
Perth, WA
Adelaide, SA
Hobart, TAS
Darwin, NT
Sunshine Coast, QLD
Hamilton Island, QLD
Canberra, ACT
Launceston, TAS
Townsville, QLD
Whitsundays Coast, QLD
Newcastle, NSW
Broome, WA
Mackay, QLD
Uluru, NT
Alice Springs, NT
Byron Bay, NSW
Rockhampton, QLD



They Spent How Much And Booked How Many?!
Our most expensive cruise booking this year cost a whopping $333,400, which is the equivalent of approximately 240 iPhone 14s (or 330 if you're willing to settle for the iPhone 13). The cost of cruising depends on many things – the destination, the length of the trip and the stateroom booked to name a few. We'd love to know what the inside of their stateroom (or rather suite) looked like! 
The most expensive international hotel booking we made in 2022 cost someone $149,100 and the most expensive domestic hotel booking came in at a marginally cheaper $130,878 (we're guessing it wasn't the airport hotel). Even when we combine the cost of both of these hotel bookings, it still comes to more than 50k less than the cruise booking. 
In case you were wondering, our travellers hired 31,319 cars in 2022 and the most northern destination we booked was Longyearbyen in Svalbard and Jan Mayen, Norway. What does one do in Longyearbyen you may ask? The northernmost town in the world, highlights are the dazzling Northern Lights in winter or the Midnight Sun in summer.  
Hot tip: Locals leave their homes and cars unlocked in most places in the Arctic Circle, as the polar bear population far outweighs the human population, so keep your eyes peeled and running shoes on.  



So, Who Exactly Were All These Travellers?
With so many incredible destinations visited by Aussie travellers in 2022, you might be wondering at this point who exactly all these globe-trotters were.  
Close to half of our travellers (45%) were flying solo in 2022, visiting friends and family, or perhaps escaping them after state and international borders reopened. Couples came in second, with 38% of travellers looking to enjoy a trip with their significant other or a friend. Our remaining travellers were made up of family and group bookings, with 10% and 7% respectively.  
Our oldest traveller was 94 years old and our youngest was zero years old. It's unknown if they flew together.  
Fun fact, we booked 14,909 babies onto domestic and international flights in 2022. To the babies' parents, we say you're doing great. To every other passenger on those flights, hopefully you packed your noise-cancelling headphones.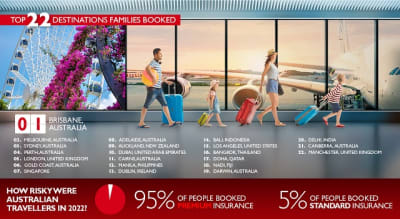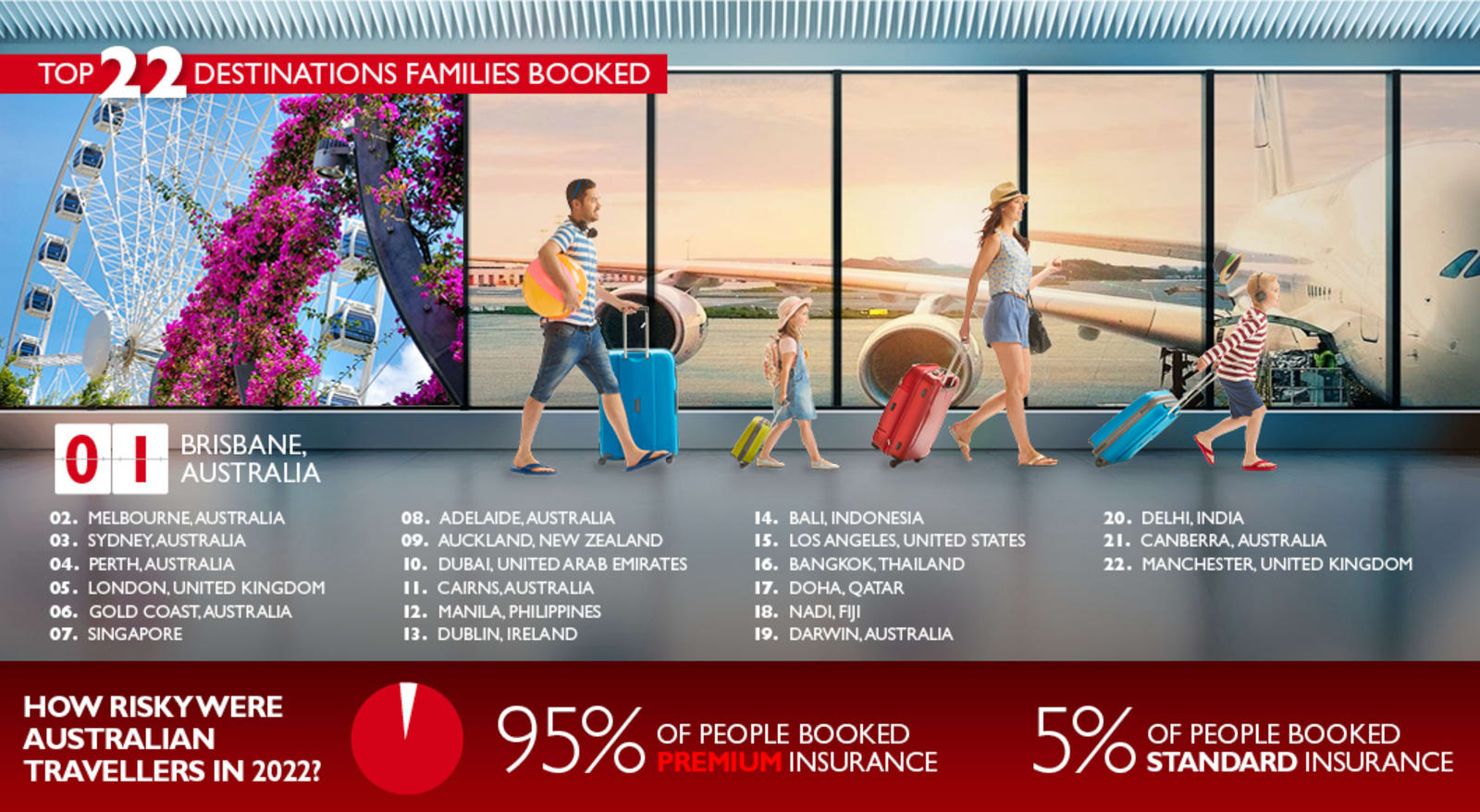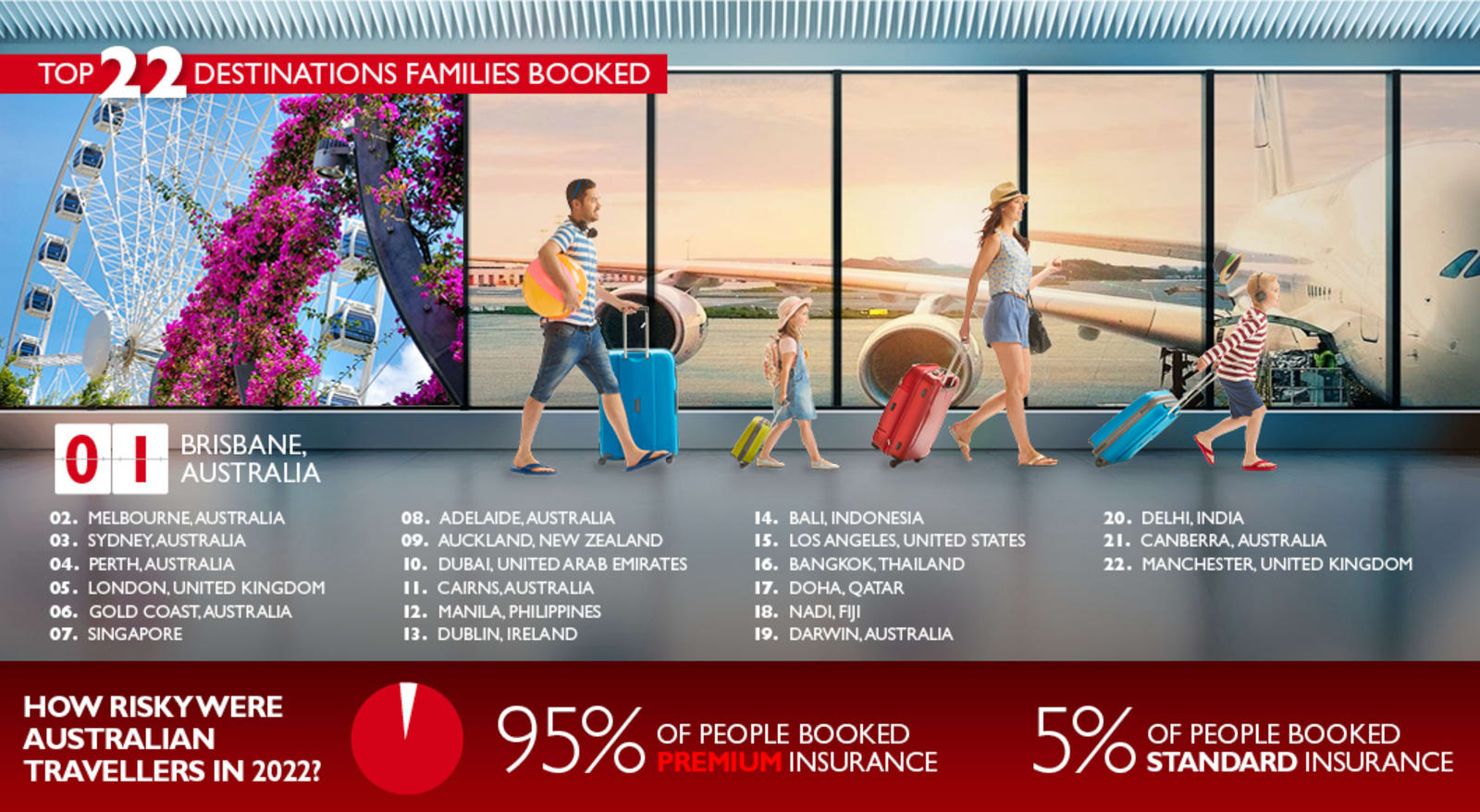 Top 22 Destinations For Travelling Families In 2022
Speaking of travelling babies, let's dive head-long into our family travel trends and take a look at the top 22 destinations chosen as the setting for precious family memory-making in 2022. 
Australia is home to nine of the top 22 holiday spots for families this year, with six of these destinations – Brisbane, Melbourne, Sydney, Perth, the Gold Coast and Adelaide – coming in the top 10. Given that 2022 saw many families taking their first proper holidays since the COVID-19 pandemic began, it makes sense that many chose to keep within Australia for their holidays this year.
In saying this, some families were itching to dust off their passports – particularly those with family and loved ones abroad. London was the first international destination on many Aussie families' minds in 2022, coming in at number 5 and attracting 4.12% of our family bookings. And while we can't prove that 1.23% of our family travellers went to Disneyland, they did fly their kids to Los Angeles.
Singapore, Dubai and Doha also made the list, with savvy families opting for two holidays in one, breaking up the long haul to Europe or North America. And anyone with small children knows the value of a stopover between 10+ hour flights!
Top 22 Destinations For Families By Flights Booked
Brisbane, Australia
Melbourne, Australia
Sydney, Australia
Perth, Australia
London, United Kingdom
Gold Coast, Australia
Singapore
Adelaide, Australia
Auckland, New Zealand
Dubai, United Arab Emirates
Cairns, Australia
Manila, Philippines
Dublin, Ireland
Bali, Indonesia
Los Angeles, United States
Bangkok, Thailand
Doha, Qatar
Nadi, Fiji
Darwin, Australia
Delhi, India
Canberra, Australia
Manchester, United Kingdom
And How Risky Were Australian Travellers This Year?
According to the Smartraveller website, "If you can't afford insurance, you can't afford to travel" and after the ordeal of getting thousands of passengers home in 2020, we couldn't agree more.  
Let's face it, travel has been a little more unpredictable than we would have liked over the last few years. Between COVID-19 testing, flight cancellations and misplaced luggage, it's always good to have a plan for if things go amiss. It's also why we'd recommend booking travel with a travel agent (😉), so that if you do get into a pickle you don't have to try and get yourself out of it! 
For the majority of our travellers, travel insurance and peace of mind was a priority when booking travel this year. Upon weighing up the risks and the costs involved, an overwhelming 95% of our insurance bookings included platinum or gold cover. The remaining 5% decided that standard cover was all they needed for their travels.
Planes, Cruises And Touring: How Australia Travelled in 2022
Buckle up, let's look at how Australia chose to travel this year.



Putting The 'Flight' In Flight Centre
As much as we'd all love to travel exclusively up in First Class, it may comfort you to discover that only 0.3% of our travellers flew First Class in 2022. Approximately 91.3% of us shuffled down to Economy, crossing our fingers that the person in front of us wouldn't recline their seat all the way down and that the person behind us wouldn't be a chair-kicker. The remaining flight bookings comprised of 6.7% Business Class and 1.7% Premium Economy.  
Only 1.48% of our flight bookings this year were multi-stop flights (like round-the-world adventures!) meaning almost all of you chose to travel to one destination over multiple in one trip. Perhaps 2023 will see months-long globe-trotting trips back on the agenda.  
What about baggage?? Despite our efforts to show you just how easy it is to travel with carry-on only, on average, we added just over one bag per booking.  



Cruising Is Back, Baby!
2022 was a big year for cruising and with so many ships to choose from (if you're not a cruiser, watch this), let's have a look some of our cruise data from last 12 months.  
In 2022, the average age of our cruisers was 60.6 (which shocks no one). Interestingly, 41.81% of our cruisers booked Balcony staterooms and 9.17% booked Suite or Penthouse staterooms (must be nice!), despite their higher price points, versus 17.56% booking the cheaper Interior staterooms. (Not sure what the difference is? Read our beginner's guide here). This supports the idea that people are keen to splurge a little on their travel experiences after not being able to throughout the pandemic. 
In other big cruise news for 2022, Disney Cruise Lines announced that they would be bringing their cruising magic to Australia for the first time ever! And oh buoy (see what we did there?!) did it cause a stir! When we posted about it on Facebook it quickly broke our record for the highest number of comments seen on a single post since 2017 and contributed to our huge October cruise results – driving the highest volume of bookings, passengers and sales since pre-COVID.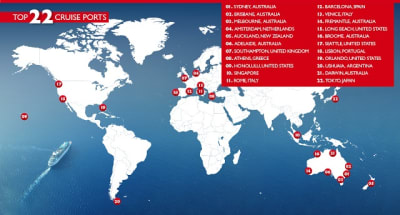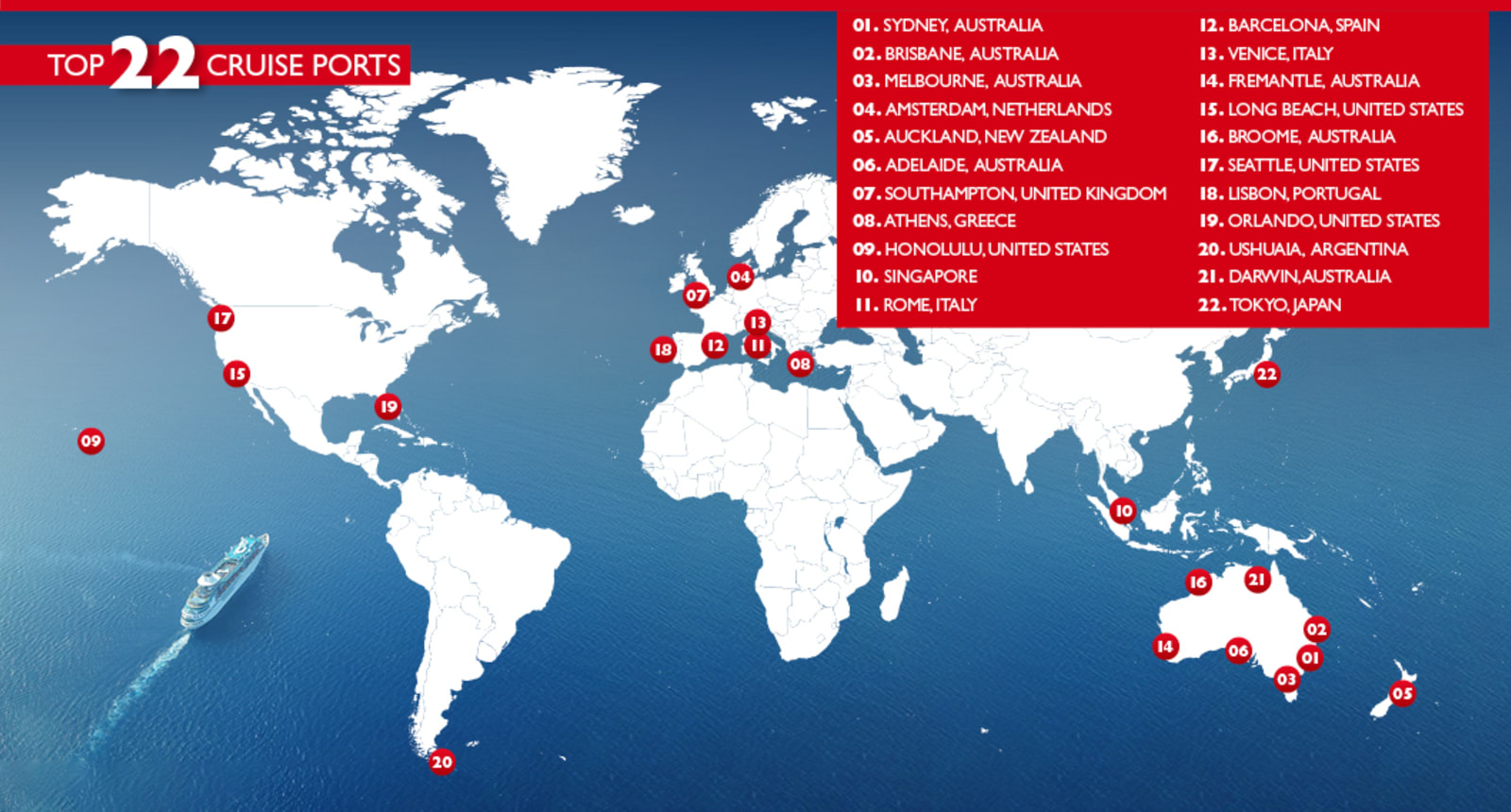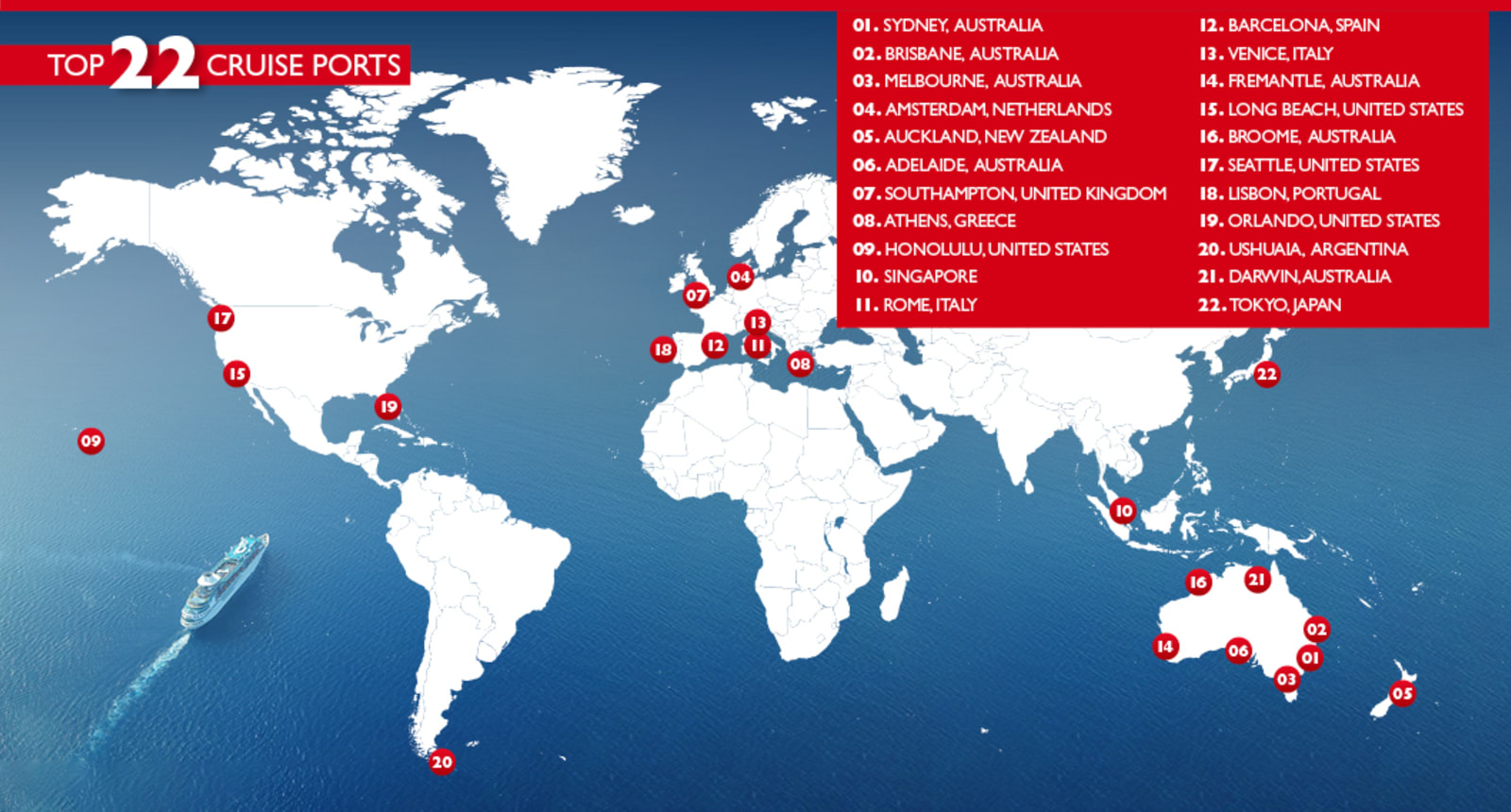 Where Did Australia Cruise To In 2022?
Just as there are plenty of fish in the sea, there are also plenty of ports in the ocean... 
Did someone say European summer? Europe cruising was popular, accounting for six of the top 22 cruise departure ports (Amsterdam, Athens, Rome, Barcelona, Venice and Lisbon), and the United States was represented on the list by Hawaii, California, Washinton State and Florida. 
Homegrown holidays were still the strongest though, with the top departure ports by number of bookings being Sydney, Brisbane and Melbourne. These accounted for almost a quarter of all bookings this year. 
Top 22 Cruise Ports Around The World
Sydney, Australia
Brisbane, Australia
Melbourne, Australia
Amsterdam, Netherlands
Auckland, New Zealand
Adelaide, Australia
Southampton, United Kingdom
Athens, Greece
Honolulu, United States
Singapore
Rome, Italy
Barcelona, Spain
Venice, Italy
Fremantle, Australia
Long Beach, United States
Broome, Australia
Seattle, United States
Lisbon, Portugal
Orlando, United States
Ushuaia, Argentina
Darwin, Australia
Tokyo, Japan



What Goes On Tour Stays On Tour
Much like Taylor Swift's most avid fans, Aussie travellers couldn't wait to get their hands on tour tickets this year. But where did they go? 
It probably won't surprise you to discover that London topped our list of international destinations for touring in 2022, with 11.69% of travellers choosing to start their tour with pubs, Buckingham Palace and double-decker buses. London is the most popular departure port for many European tours.  
What might surprise you, however, is that Thailand, Peru, Egypt and Vietnam rounded out the top five. From Machu Picchu to the Pyramids of Giza, we certainly booked some adventurous globetrotters in 2022. 
What do the countries Vietnam, Peru and New Zealand have in common? They all earned more than one place in our top 22 tour destinations of 2022 list! Ho Chi Minh City (5.19%), Hanoi (3.90%), Auckland (3.90%), Christchurch (1.30%), Lima (6.49%) and Cusco (2.60%) to be precise. Other notable mentions include Casablanca in Morocco, Playa del Carmen in Mexico and Quito in Ecuador. Aussie adventure seekers were travelling far and wide for the adrenaline!
Top 22 Tour Departure Points Around The World
London, United Kingdom
Bangkok, Thailand
Ho Chi Minh City, Vietnam
Lima, Peru
Auckland, New Zealand
Cairo, Egypt
Buenos Aires, Argentina
Casablanca, Morocco
Cusco, Peru
Dublin, Ireland
Hanoi, Vietnam
Lisbon, Portugal
Playa Del Carmen, Mexico
Quito, Ecuador
Rome, Italy
Split, Croatia
Tokyo, Japan
Athens, Greece
Berlin, Germany
Brisbane, Australia
Calgary, Canada
Christchurch, New Zealand
From Budget To Luxury: Where Australia Stayed In 2022
There are two kinds of travellers in this world. The ones who value 5-star luxury above all else (we all know someone who can't travel without their own pillow!) and the one who barely spends any time in their hotel at all. 
Read on to discover our top hotel trends of 2022.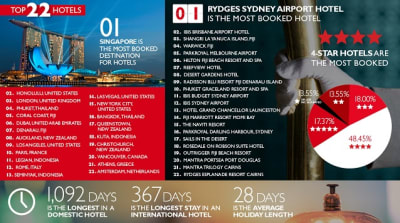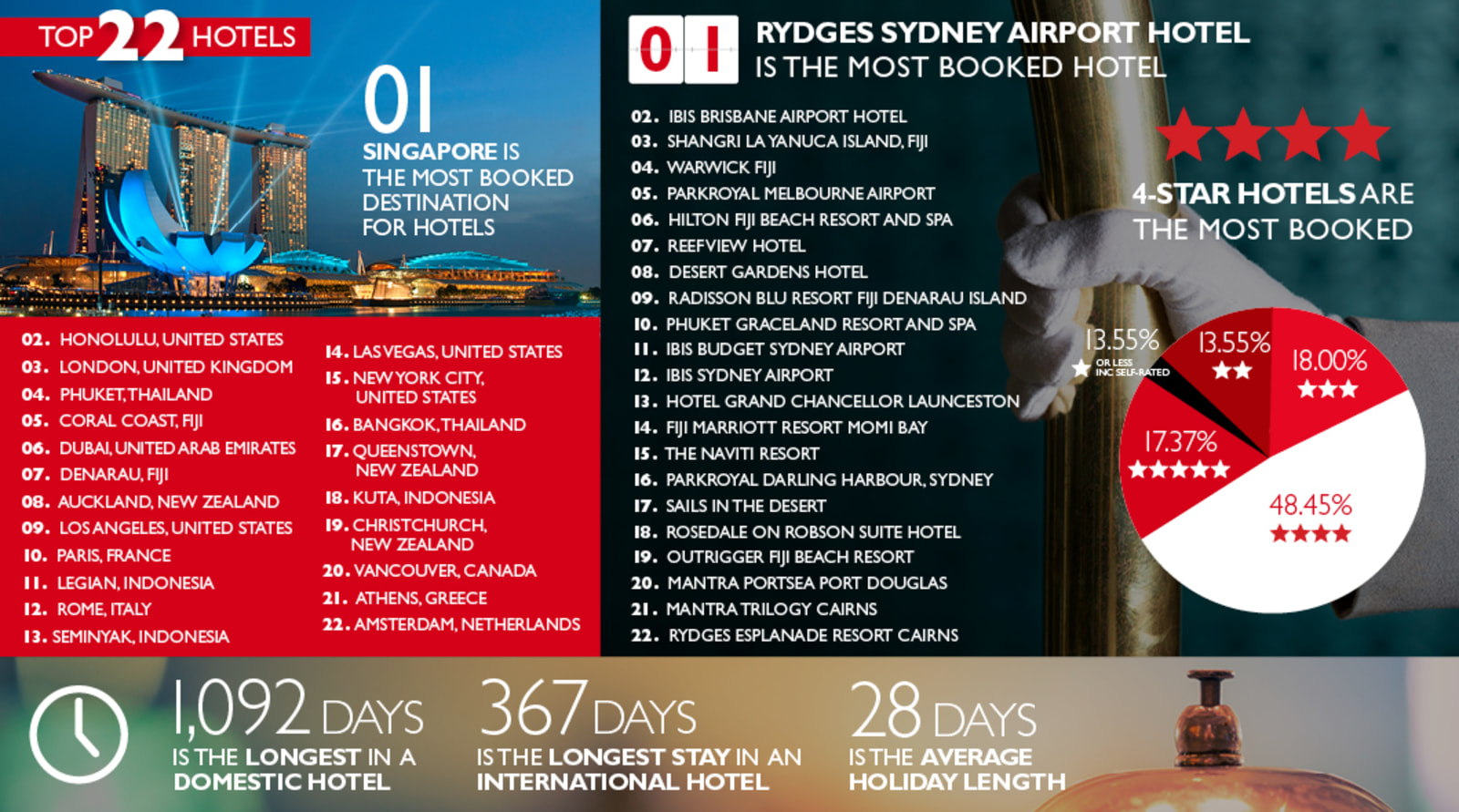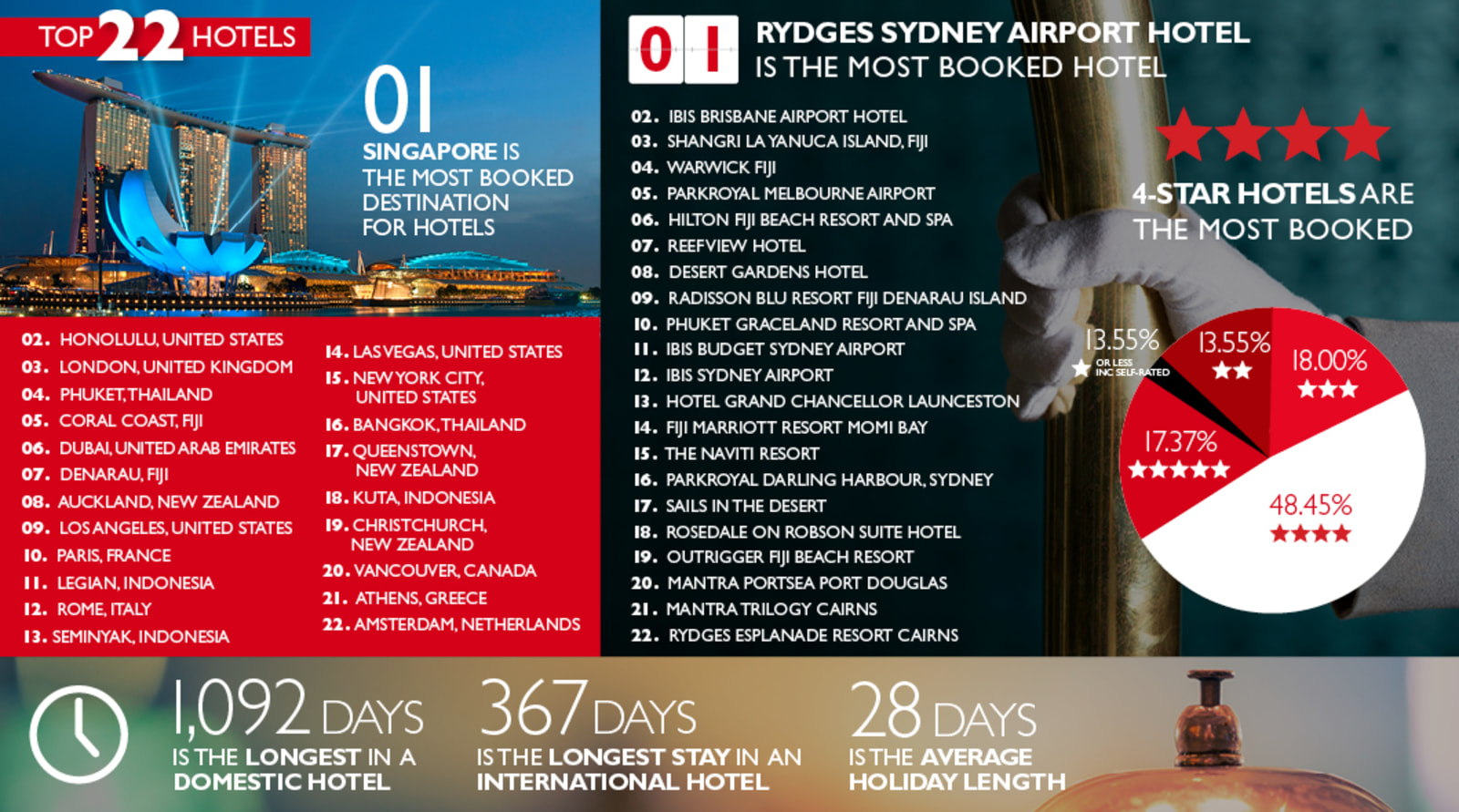 Top 22 Hotels Booked Around The World In 2022
After a careful analysis of the domestic and international hotel booking data available to us, we discovered that Rydges Sydney Airport Hotel was our most popular hotel for 2022! Five of our top 22 hotels were airport hotels – Ibis Brisbane Airport, PARKROYAL Melbourne Airport, Ibis Budget Sydney Airport and Ibis Sydne Airport. Never did we think airport hotels would be our top booked, but thanks to reduced airline capacity and difficult connections, here we are. Either that, or there were lots of "business meetings" taking place at airports around the country this year (😉). 
13 of the top 22 hotels that we booked in 2022 were Australian hotels and nine were international. Of these nine hotels an impressive seven of them were in Fiji (beach please!), one in Thailand (the Phuket Graceland Resort and Spa) and one in Canada (Rosedale on Robson Suite Hotel, Vancouver).
Top 22 Hotels Around The World By Number Of Bookings
Rydges Sydney Airport Hotel
Ibis Brisbane Airport
Shangri La Yanuca Island Fiji
Warwick Fiji
Parkroyal Melbourne Airport
Hilton Fiji Beach Resort and Spa
Reef View Hotel
Desert Gardens Hotel
Radisson Blu Resort Fiji
Ibis Budget Sydney Airport
Ibis Sydney Airport
Phuket Graceland Resort and Spa
Hotel Grand Chancellor Launceston
Fiji Marriott Resort Momi Bay
The Naviti Resort
Parkroyal Darkling Harbour
Sails in the Desert
Rosedale on Robson Suite Hotel
Outrigger Fiji Beach Resort
Mantra Portsea
Rydges Esplanade Resort Cairns
Mantra Trilogy
Top 22 Hotel Destinations Around The World In 2022
Switching focus to the top 22 travel destinations around the world based on number of hotel bookings, we find Singapore with 5.03% of hotel bookings, Hawaii with 3.84%, London with 3.73% (again!), Phuket with 3.11% and Fiji's Coral Coast with 2.53% taking out the top five spots. 
Europe was represented by Paris, Rome, Athens and Amsterdam and in the United States, Los Angeles, Las Vegas and New York City made the list (along with Hawaii).
Top 22 Destinations Around The World By Number Of Hotel Bookings
Singapore
Honolulu, United States
London, United Kingdom
Phuket, Thailand
Coral Coast, Fiji
Dubai, United Arab Emirates
Denarau, Fiji
Auckland, New Zealand
Los Angeles, United States
Paris, France
Legian, Indonesia
Rome, Italy
Seminyak, Indonesia
Las Vegas, United States
New York City, United States
Bangkok, Thailand
Queenstown, New Zealand
Kuta, Indonesia
Christchurch, New Zealand
Vancouver, Canada
Athens, Greece
Amsterdam, Netherlands
The Long And Short Of It...
The average hotel booking duration this year was a very respectable 3.65 days (3.99 days for international bookings and slightly less, 3.13 days, for domestic hotel stays) but we love an outlier, so let's take a look at the longest and shortest hotel bookings made in 2022. 
According to our data, the longest hotel booking made overseas in 2022 was 376 days, from December 2022 to December 2023. We'd love to know where this traveller is planning to spend the next year (and 11 days).  
If you thought that was impressive, you won't believe the longest domestic hotel booking.   
One of our travellers booked a hotel stay for a whopping 1,092 days this year, from March this year to March 2025! That's some impressive planning ahead! We'll save you the maths; 1,092 days is approximately three years OR 36 months OR 1,572,480 minutes. Just in case you were wondering. 
And the prize for the shortest hotel booking came in at 0 days. We wonder what need someone could have had for such a short hotel stay... 
When looking at our international and domestic bookings combined, nearly one in two of our travellers (48.45%) booked 4-star stays for their holidays, looking to find a balance of luxury and affordability in their home away from home. 3 and 5-star stays were almost tied, with both star ratings accounting for approximately 18% of our travellers' stays this year. But it turns out, when travelling overseas, people were more likely to book a higher star rating. Of our international hotel bookings, 19.96% were 5-star in comparison to the 13.48% for domestic hotel bookings.  
Struggling to decide what the optimal holiday length is? Let's check the data! ln 2022 our travellers booked holidays with an average trip length of 28 days. A month-long holiday certainly sounds like a good idea to us. When looking at our international and domestic booking data combined, travellers typically booked their holidays approximately 77 days before departing.  
How Australia Holidayed Through 2022
We've looked at our flight and hotel bookings, but what about our holiday data? Let's take a peek at our holiday packages data to find out where Aussies went and what they did there.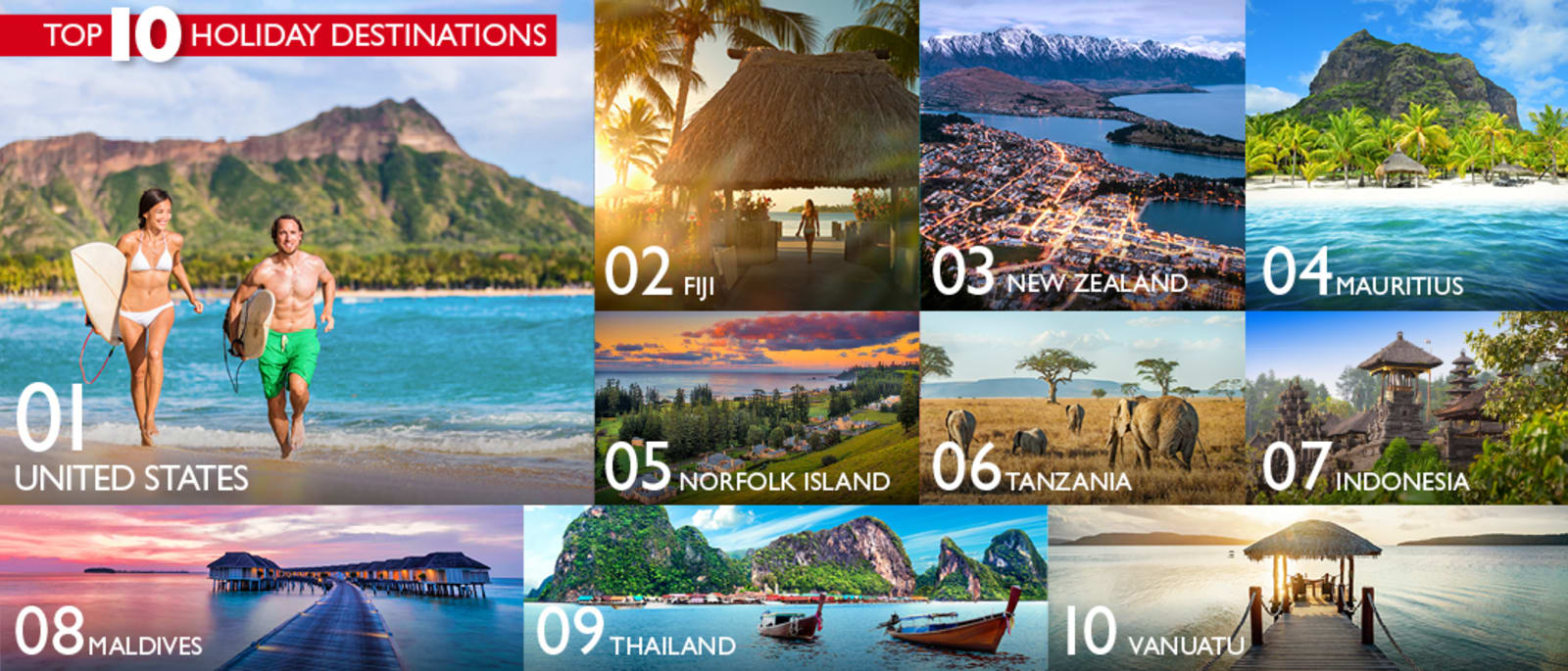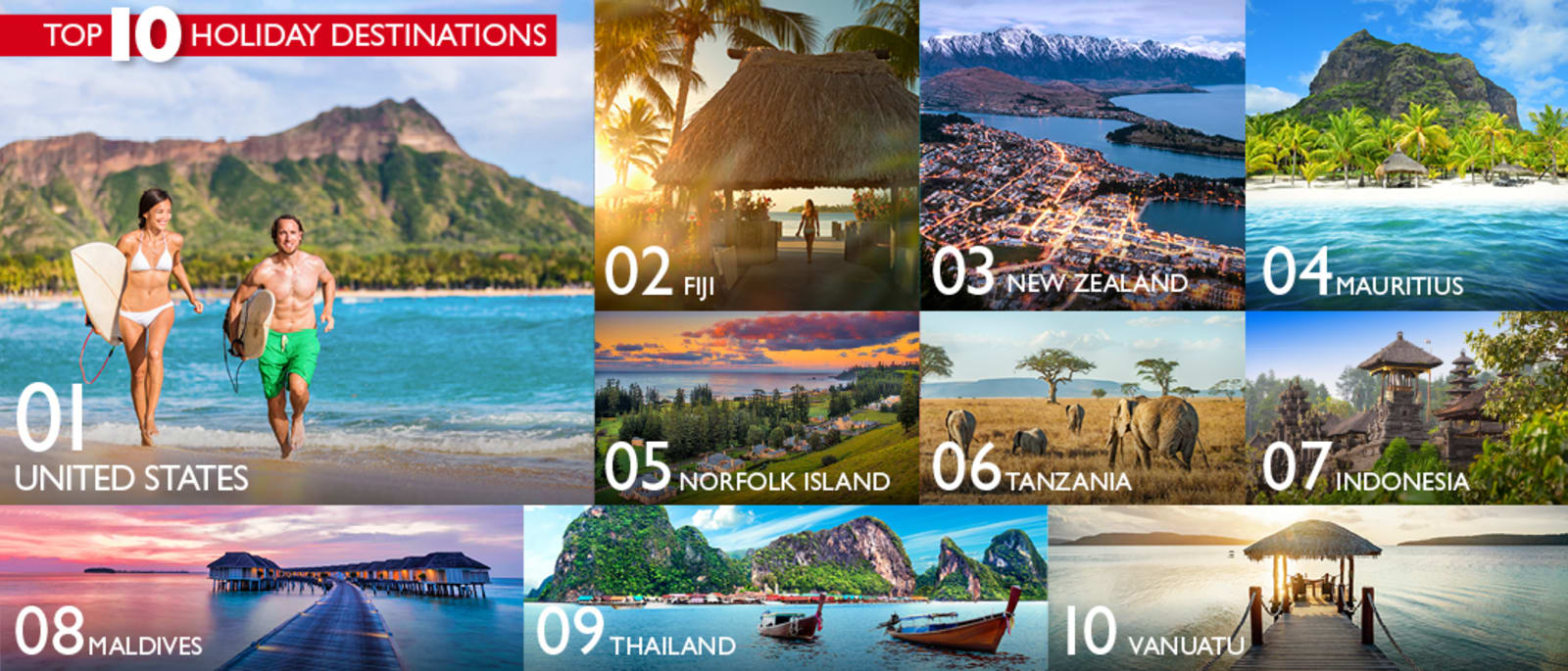 Top 10 Holiday Destinations Around The World In 2022
Our travellers couldn't wait to say aloha to this travel hotspot in the United States this year, with 9.78% of our holiday bookings taking people to the sun, surf and laid-back atmosphere of Hawaii. Fiji was also extremely popular, with travellers excited to book holidays to Nadi, the Coral Coast, Denarau and Momi Bay. The beach trend continues, with Mauritius coming in fourth place and Norfolk Island, Indonesia, the Maldives and Thailand also making the list. 
Moving away from the beach paradise destinations, we also booked travellers on holidays to Zanzibar in Tanzania and Queenstown in New Zealand. Writing this report is making us a tiny bit jealous, we're not going to lie!
Top 10 Destinations Around The World By Holiday Packages Booked
United States
Fiji
New Zealand
Mauritius
Norfolk Island
Tanzania
Indonesia
Maldives
Thailand
Vanuatu
So, What Did Aussie Travellers Do While On Holiday Overseas In 2022?
People travel for lots of different reasons. Let's break down the data to find out what holiday activities our travellers were excited to book this year.  
When travelling internationally, the top three holiday products booked in 2022 fell into the categories of City Sights (33.20%), Cruises, Boats & Submarines (11.94%) and Attractions (10.54%). We hope all those travellers enjoyed their submarine excursions! 
Adventure & Action products saw almost as many bookings as Cultural & Historical products (both saw approximately 8% of products booked). Further down the list, Flights, Helicopters & Balloons products attracted 3.76% of our bookings and Theme Parks saw 3.01% of bookings. 
0.19% of our top 22 products booked were categorised as Photo Tours (you know those pics you see of a chick in a red dress with a Mykonos sunset? You can book a tour to get that shot) and 1.05% were Segway & Walking Tours (though if we're honest you don't look as good on a segway). 
Top 22 Holiday Activities By Category
City Sights
Cruises, Boats & Submarines
Attractions 
Adventure & Action
Cultural & Historical
Food, Wine & Gastronomy
Multi-Day Tours
Flights, Helicopters & Balloons
Theme Parks
Water Activities
Wildlife & Safari
Ski
Segway & Walking Tours
Eco Tourism
Airport Lounges & Services
Theatre, Cabarets & Concerts
Photo Tours
Rail
Shopping & Fashion
Shore Excursions
Sports Tours
Tailored Activities
European Summer Vs. Winter: The Ultimate Showdown!
Remember the Euro summer envy we mentioned earlier? Well, there's no doubt about it, travellers love to visit Europe in summer.  
36.33% of the Europe holidays we booked this year were for the summer months, but we also saw substantial booking numbers for the shoulder seasons with 28.47% of travellers booking for the Northern Hemisphere's spring and 22.44% for autumn. The allure of a white Christmas still attracted 12.76% of our Europe holiday bookings during the cooler months but was, unsurprisingly, the least popular season based on our holiday booking data.
Which Was Australia's Favourite Theme Park Destination To Visit In 2022?
For many travellers – children and adults alike – a trip to Disneyland is worth getting among the crowds for a ride on Star Wars: Rise of the Resistance (at 15 minutes, it's one of the longest rides!). But with theme park options all around the world, let's take a look at which destinations were the most popular with Aussie theme park fans according to our 2022 data. 
Coming out on top was Florida in the United States – home to Universal Studios Florida and Walt Disney World! An impressive 45.89% of our theme park bookings had their sights set on theme parks in Florida this year, as opposed to the 7.36% of travellers who instead headed to California.
Moving away from the United States for a minute, Paris scored almost a quarter of our theme park bookings, with 25.97% of our travellers looking for a more European flavour. Singapore, home to Universal Studios Singapore, also accounted for a substantial 20.78% of bookings.  
Conclusion: people love to visit theme parks all over the world!
Biggest Group Holiday Bookings In 2022
Fun fact! In 2022, our biggest group booking involved sending 50 people to Darwin – must have been one hell of a work conference! Our biggest group booking to an international destination wasn't too far behind either, with a group of 42 people booked to Dubai.



Self-Reflection Time: How Flight Centre Changed In 2022
We love a little bit of end-of-year introspection so here are some of Flight Centre Australia's numbers for 2022. 
In exciting news, Flight Centre turned 40 years young in 2022! We re-opened more than 28 stores across the country in 2022 and hired approximately 1,300 new agents (want to work with us? Check out our careers page!) Across Australia, our store network covers an area of approximately 24,500 square metres, which is equal to almost 100 tennis courts! 
Assuming each of our Travel Experts consumed between one and two cups of coffee per day at work this year (though we can think of a few who drank more...!) the total number of coffees downed as they made travel dreams come true was approximately 600,000 cups! That's roughly 210,000 litres of coffee.  
While we sent plenty of people on holiday, there were a few who sadly couldn't rebook from travel booked pre-covid, and we refunded $200.67m across 117,969 refunds between 1 Dec 2021 and 30 Nov 2022.  
One thing that hasn't changed at Flight Centre in 2022 is the experience of our people, in fact we have over 30,000 years of experience between us! Internally, we booked our Travel Experts on over 3,000 trips this year. There's a reason they're called Travel Experts! Australia, the United States and Singapore were some of our favourite destinations, but our people travelled far and wide in 2022. From underwater hotels on the Great Barrier Reef and igloos in Lapland to family holidays at Legoland and a themed chalet in Disneyland for a honeymoon – it's been a big year for our Travel Experts! 
All that's left to say is bring on 2023! 
Dusting Off The Crystal Ball: Our Predictions For 2023
No one really knows what the future has in store, but this is our best guess at the top 23 destinations of 2023 based on the booking data and travel trends we've seen towards the end of 2022.  
Number one: Tokyo, Japan. Just a few short months ago, Japan became one of the last countries in the world to ease its COVID-19 travel restrictions and requirements. With a trip to Japan finally back on the cards, we anticipate this to be a popular choice for international holidays in 2023 (family ski trip, anyone?) 
Our inner Nostradamus is also telling us that Rome, London and the Greek Islands will be big next year – with 2023 being the first time in a long time where travellers will be able to plan and book a European summer with confidence. And for those not looking to venture quite so far away, we think Fiji will be an attractive option next year.  
Our Predicted Top 23 Destinations For 2023
Tokyo, Japan
Rome, Italy
London, United Kingdom
Greek Islands
Fiji
Sydney, Australia
Queenstown, New Zealand
Bali, Indonesia
Gold Coast, Australia
Melbourne, Australia
Honolulu, United States
Los Angeles, United States
Perth, Australia
Cairns, Australia
Dubai, United Arab Emirates
Phuket, Thailand
Hobart, Australia
Paris, France
Bangkok, Thailand
New York City, United States
Istanbul, Turkey
Vancouver, Canada
Cairo, Egypt
To Wrap Up...
And that's Australia's Year in Travel for 2022! We hope you found it interesting, but we also hope it inspires you to travel near and far in 2023.
Methodology
This report is based on the internal booking data we had available to us and covers a time period of 1 December 2021 to 30 November 2022. We're confident in the quality of our data and every effort has been made to ensure and preserve its accuracy.
---
Flight Centre acknowledges the Traditional Custodians of Country throughout Australia.