Flexing Into 2019 – 13 Los Angeles Workouts You Should Try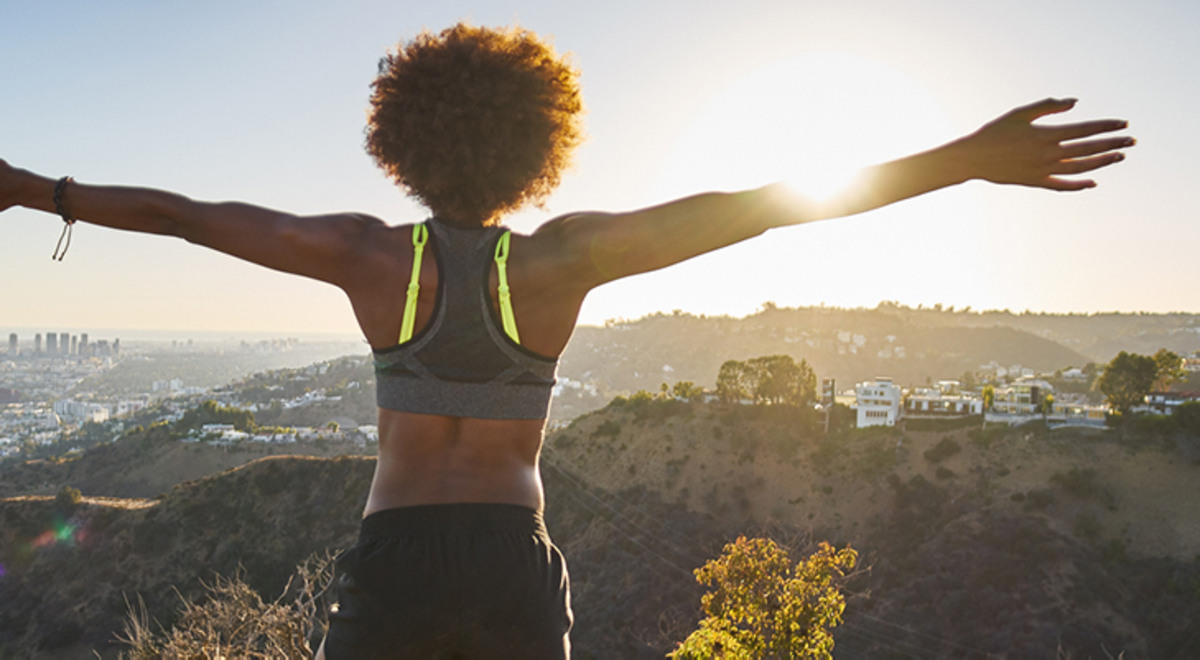 ---
---
If getting strong is your #fitnessgoals for 2019 or you can't bear to miss barre while on holiday, there's no better place for #fitspo than Los Angeles.
This city is ground zero for the latest cutting-edge workouts plus that year-round California sunshine will urge you to get out and about.
There's the celeb fave Runyon Canyon (BYO tiny dog) to hike or sprint up, or the Hollywood Sign hike for views above or below the famous landmark.
Perfecting that three-legged downward facing dog pose at Helipad Yoga in LA. (Image: Loews Hollywood Hotel)
Whether your workout style is outdoor cardio or a sweaty HITT sesh indoors, pair your LA stay with a wellness workout. Best of all, most of the fitness classes listed below are located along Hollywood Boulevard in West Hollywood (aka WeHo) if you're staying nearby.
We like Ramada Plaza West Hollywood, Hilton Garden Inn Hollywood and Magic Castle Hotel if you're after a value accommodation option in the WeHo area, or there's the always-popular W Hollywood and Hollywood Roosevelt hotels, which are both located right on Hollywood Boulevard. Guests at Loews Hollywood Hotel can also try Helipad Yoga, held on the hotel's helipad, and Dream Hollywood Hotel has an onsite gym and wellness centre designed by celeb trainer Gunnar Peterson.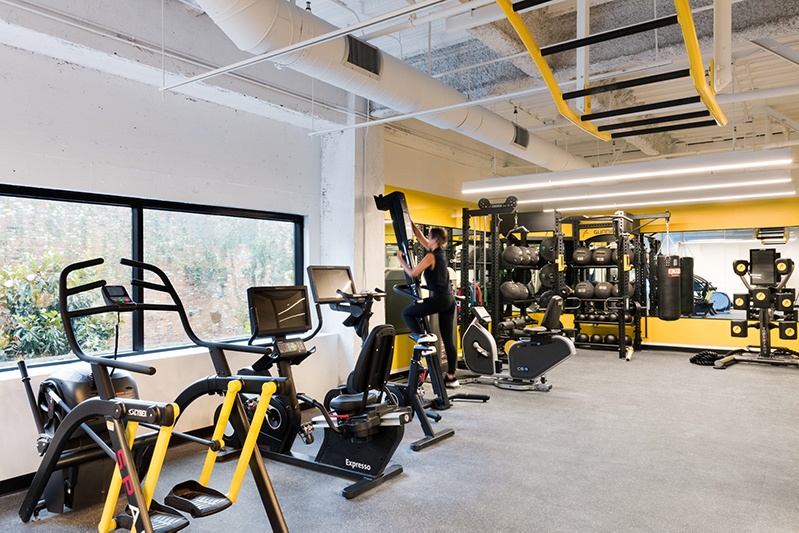 Sweat like a Hollywood celeb at the Gunnar Peterson-designed gym within the Dream Hollywood Hotel. (Image: Emily Andrews)
Here's 13 on-trend workouts to get you pumped for 2019.
1. Griffith Observatory hike
Check out that buena LA vista on your way up to the Griffith Observatory. There's two trail options: West Observatory Trail and East Observatory Trail. The 3.4km-roundtrip West Observatory Trail is slightly longer and the more popular option with weekend hikers (the East Observatory Trail is 2.4km up and back). It's a one-hour hike from Los Feliz Boulevard to the Griffith Observatory for views over Downtown LA and the Hollywood sign. Griffith Park is open 6am-10pm daily, although the hiking trails close at sunset.
2. Core Power Yoga class
With styles from hot yoga to Vinyasa and for all levels, this Hollywood Boulevard studio in West Hollywood will help you get your flow on. Practice your asanas and set your intentions for 2019. Sign up online for one week's free access to classes as well as free mat and towel rental for first-timers.
3. SoulCycle class
You've seen it in movies and TV shows, now get set for the ride of your life. A 25-minute walk from Core Power Yoga down Hollywood Boulevard, you'll find the cult class that is SoulCycle. The spin-meets-empowerment sessions offer sweat and mindfulness in the one 45-minute class held within candlelit rooms. SoulCycle incorporates cycling and upper-body weights for a full-body workout. Shoe rental is USD$3 and a single class is USD$30.
4. Barry's Bootcamp class
In the same WeHo complex as SoulCycle, Barry's Bootcamp is billed as the best workout in the world. Essentially, it's a mix of running and weights at a high-intensity pace. Try the Original (25 minutes cardio of on a treadmill and 25 minutes of strength training in 15-minute intervals). A single class is USD$28 (ask if there's first-time rate) and make sure you stay for the post-workout superfood smoothie at the onsite Fuel Bar.
5. Training Mate class
If you're missing the Aussie accent, hit up Training Mate on Santa Monica Boulevard (look for the Southern Cross on the shopfront). Started by an ex-Australian rugby player and staffed with Aussie trainers, the WeHo studio offers 45-minute HITT circuit-style classes with cheeky names (Thunder Down Under for a butt-and-leg workout or the Bondi Burn upper-body strengthening class). Bonus? The first class is free.
6. Rise Nation class
A half-hour walk south down La Cienega Boulevard from Training Mate you can step up to Rise Nation's West Hollywood studio. If you're into short, sharp, full-body workouts, this 30-minute climbing cardio class with the vibe of a dance music festival will be right up your alley. Using VersaClimber machines, first-timers can expect to ascend up to 760m during the slower-paced intro classes with pumping music and a lit-up ceiling. A drop-in class is USD$26 or newbies can purchase a 4-pack for USD$40.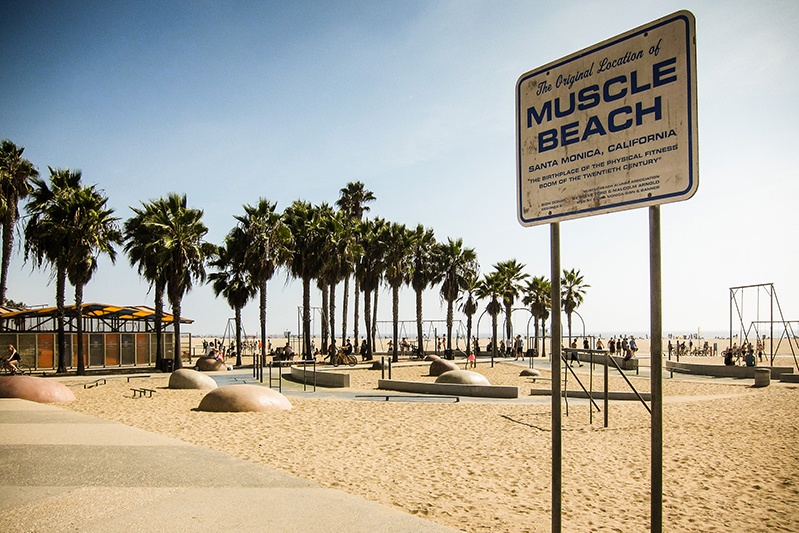 The (in)famous Muscle Beach in LA. (Image: Getty Images)
7. Muscle Beach gym session
Hankering to get outside again? Why not take your workout to the beach? But not just any beach – the public outdoor gym where Arnold Schwarzenegger used to pump iron. Yep, Muscle Beach in Venice Beach was once the training gym of bodybuilder greats such as arnie and Lou Ferrigno (the original Hulk). This spot is strictly for strength training and no music allowed – headsets only. A day pass is USD$10 but the bragging rights? Priceless.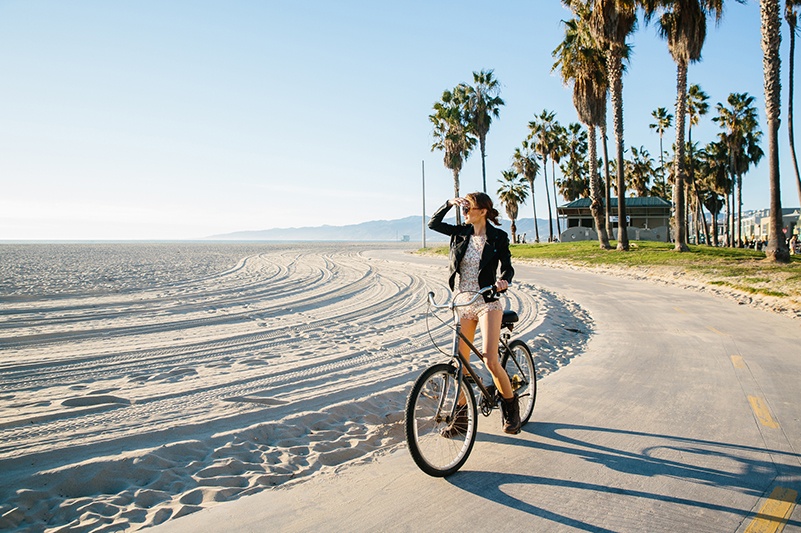 Cycle and see the sights along the Venice Beach to Santa Monica trail. (Image: Getty Images)
8. Venice Beach to Santa Monica Pier bike ride
Head to the colourful shopfront of Jay's Rentals in Venice Beach to hire a bike and a lock and cycle down the iconic 9.6km trail from Venice Beach to Santa Monica Pier. The popular path hugs the boardwalk and heads along the beach bluffs past art installations, the skate park and those famous shops. A round-trip bike ride along the boardwalk should take you around 45 minutes. Bike hire is USD$22 a day or rent an electric bike from USD$25 an hour.
9. Pedal + Punch
Take it back to the old school with a 50-minute sweaty sesh that combines a high-intensity indoor cycling on a stationary bike with a round of toning boxing bag work for a full-body workout. Classic Bicicletta is a vintage cycling studio in Pasadena where the Schwinn bikes and sound system are high-tech against a low-fi industrial backdrop. A single class is USD$23 – reserve your bike online. Don't worry, there's no need to clip in – trainers are fine.
10. The Stronghold Climbing Gym night climbing class
For something new, look out for a night climbing event at The Stronghold Gym in Downtown LA. Every few months, the industrial-looking ropes gym turns the lights off and the music up for headlamp climbing. Purchase a headlamp for USD$30 (or bring your own) and join in the vertical Twister and night-time climbing action. You can also hire all the climbing gear you need for USD$6. Costs for entry/events are separate.
11. Sunset yoga class at Oue Skyspace
Double down on your downward dog at California's tallest open-air observation deck, Oue Skyspace LA. On the first Tuesday each month, take the one-hour yoga class at 6:30pm some 305m above Los Angeles to watch day transition to night as you move between poses. Book online and BYO mat. Tickets are USD$25 and include a spiritual reiki healing plus a ride on the Skyslide, a fully enclosed, 14m-long glass slide above Downtown LA for a different view of the city at night.
12. Beer Yoga + Meditation class
Craft brews and a relaxing yoga sesh? We'll drink to that! Every Sunday morning, Angel City Brewery & Public House offers a yoga and meditation class suitable for all levels for a donation (USD$15-20 is recommended) that includes a free drink at the brewery after class. Head to the Downtown Arts District brewery and check-in at 10:30am for the class.
13. Bunda class
LA's latest workout craze is all about building a better booty. Bunda (Brazilian slang for 'butt') focuses on the lower body, specifically the glutes, for that curvy shape (hello, belfie!). The 50-minute workout mixes Stairmaster and resistance exercises at the Beverly Grove studio. New clients get 2 for 1 classes for USD$30 and parking is free for 75 minutes.
---
Ready to get fit in LA? Check out our deals on sale now!
---
los angeles active travel fitness
---
---
Flight Centre acknowledges the Traditional Custodians of Country throughout Australia.