Flight Review: Etihad Airways First Class Sydney To London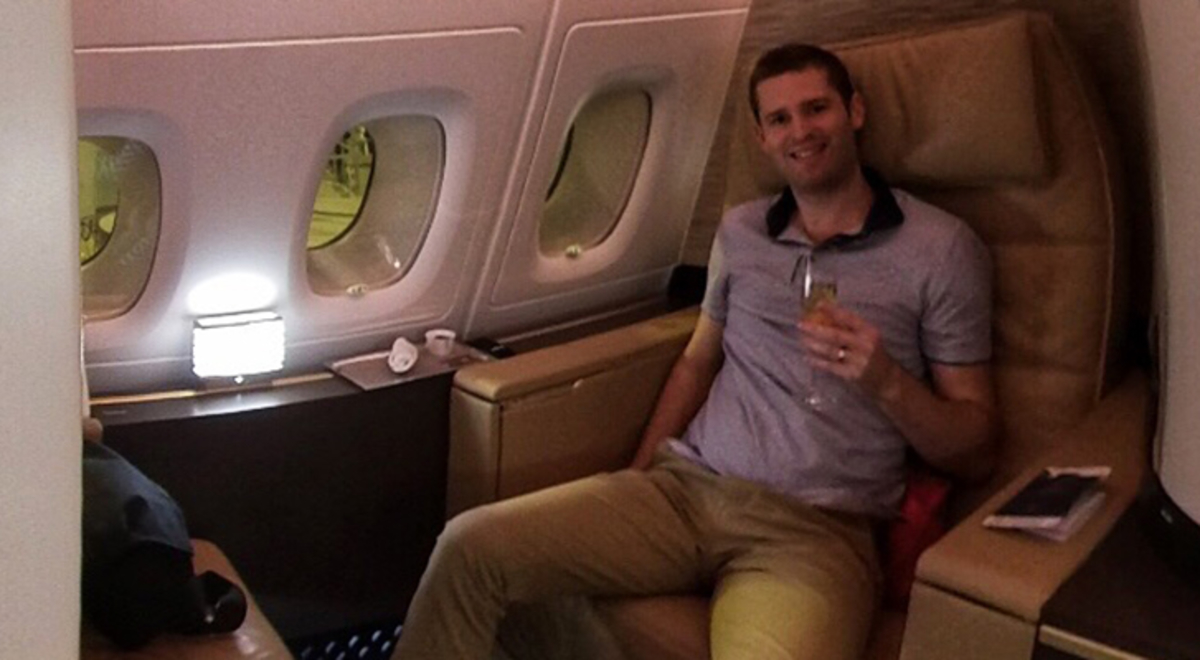 ---
---
Turning left when boarding a plane is every traveller's dream. But turning left upstairs at the pointy end of the plane (while business class passengers turn right) is next level, literally.
Working in Flight Centre Marketing means sometimes we earn amazing perks, such as airline tickets in First Class. My Etihad Airways First Class experience flying from Sydney to London was due to achieving an award at Flight Centre's annual Global Gathering Awards – two half-price tickets flying anywhere on the Etihad Airways network. My wife, Melita, didn't need much convincing, so we decided to go all in: First Class – here we come!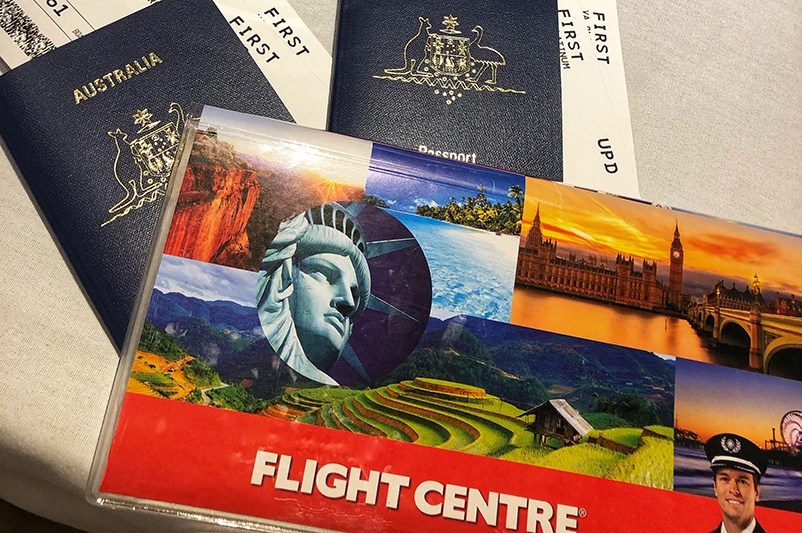 The obligatory passport and tickets photo elevated – note the cabin assignment. (Image: Cameron Robert)
---
Quick Overview:
Route: Sydney (SYD) to London (LON) via Abu Dhabi (AUH)
Aircraft: Airbus 380 (EY0455 & EY0019)
Class: First Class Apartment
Seat Number: 3A & 4A (portside, centre-partition joined apartments)
Duration: 14 hours, 40 minutes Sydney to Abu Dhabi; 7 hours, 40 minutes Abu Dhabi to London
Baggage Allowance: up to 50kg in total (each bag must not exceed 32kg)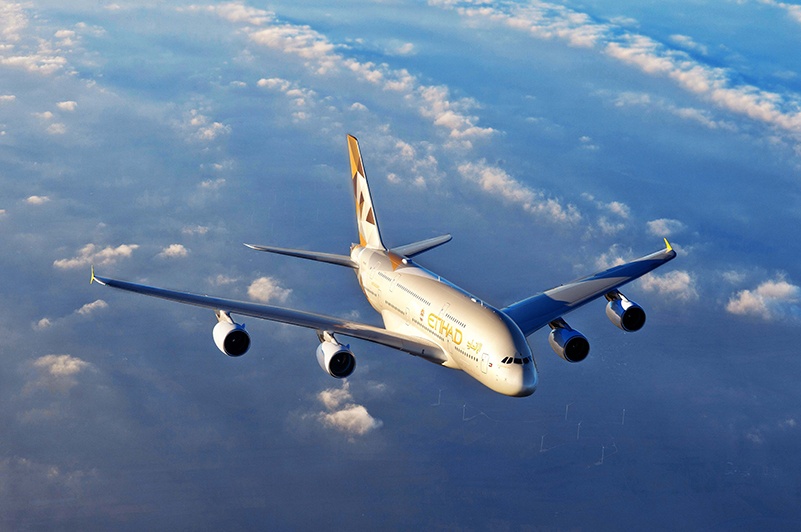 Etihad Airways A380 in the air. (Image: Etihad Airways)
Check-in
The personalised travel experience and attentive service begins as soon as you check-in. Etihad Airways First Class travellers have a dedicated lane at the check-in counter, which is separate to the Business Class and other general loyalty lanes. As expected, the team at the First Class counter are friendlier and in less of a rush, leading to a more pleasant and seamless check-in experience.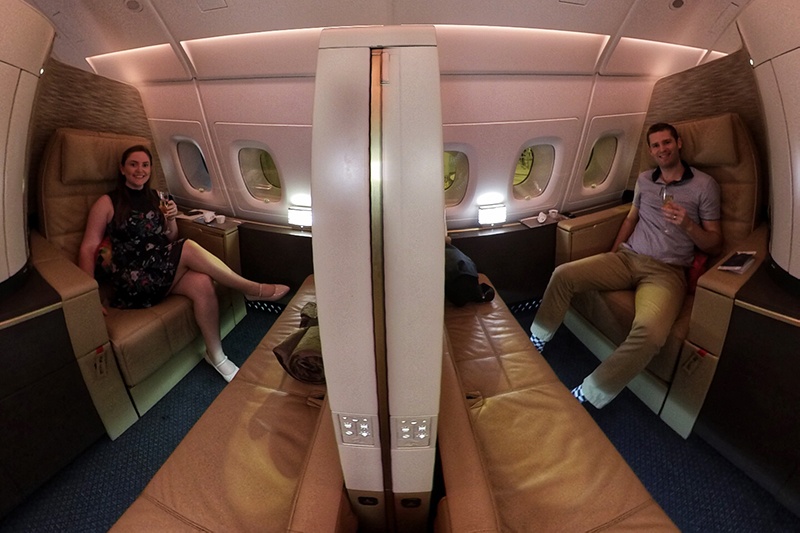 This is the life – the view in First Class. (Image: Cameron Robert)
Lounge
The Etihad Airways premium lounge at Sydney International Airport is called The House – Home of Etihad Airways. Guests flying in First or Business Class, Etihad Gold members and Virgin Velocity Gold or Platinum members boarding an Etihad Airways-operated flight are eligible to access the lounge.
The House has all the expected international departure lounge facilities and is tastefully furnished and very well maintained. Where The House really stood out was its a la carte dining options and service – both were exceptional and exceeded our expectations.
We sat in the dining area and were promptly greeted by a staff member, who offered us menus and explained the specialty wines and meal options. We ordered entrees, mains and desserts – all with accompanying wines as suggested by the staff.
Surprisingly, boarding was not announced by the lounge staff (unlike other departure lounges), and although slightly inconvenient, it was nice not to hear the "first and final boarding call for flight..." announcements while we waited.
Ready to take-off! This seat'll do nicely. (Image: Cameron Robert)
Seat
The First Class boarding experience on the A380 made us feel very special. A separate boarding ramp (for Business, Apartment and Residence guests only) took us directly to the top floor of the plane where we were greeted by the premium cabin crew. While Business Class passengers were directed to the right and met by a crew member to escort them to their seat, we were personally greeted and escorted to our First Apartment seats by one of the two dedicated First Class hosts. 
My wife and I sat in 4A and 3A respectively, which can be joined by collapsing a partition (3A is positioned to be flying backwards). After returning with Champagne (Charles Heidsieck, 2012 vintage), the host demonstrated the features of our space, which included a seat and separate fully flat bed. The seats, actually a leather armchair, had a touchscreen panel with various adjustment functions, including controls to raise or lower the two different shutters on each of the three windows in our apartments. A turndown service is available at any time (converting the couch into a bed).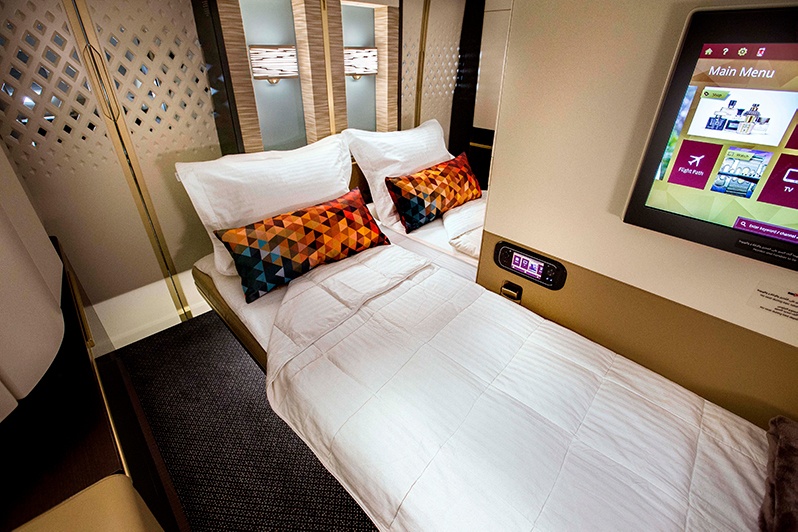 The First Class turndown service on Etihad Airways A380. (Image: Etihad Airways)
There's also an onboard shower (it's recommended to reserve a timeslot during the flight to shower, for example, after dinner but before bed). The shower is larger than the facilities on a cruise cabin, but smaller than in your home however the inflight shower was still tall enough to accommodate my six-foot, five-inch frame. The shower pressure is also surprisingly good for 35,000 feet up in the sky!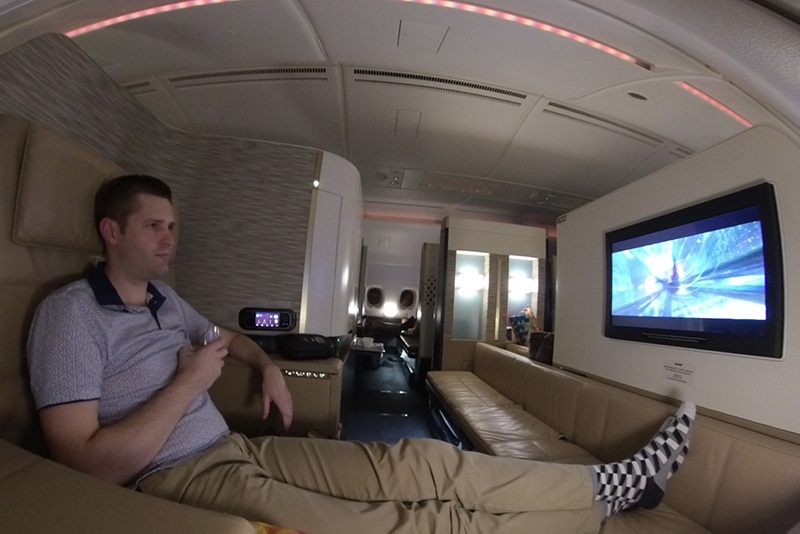 There's plenty of space to relax and enjoy the inflight entertainment. (Image: Cameron Robert)
Entertainment
The First Apartment contained a 24-inch TV mounted on a swivel arm (for viewing while sitting or in bed), which was controllable by two separate smartphone-sized, touchscreen remotes located next to the armchair and bed. Etihad Airways offers standard inflight entertainment options with an extensive library of new and popular movies and TV series. First Class guests are also given a 90mb inflight Wi-Fi code to use during the flight.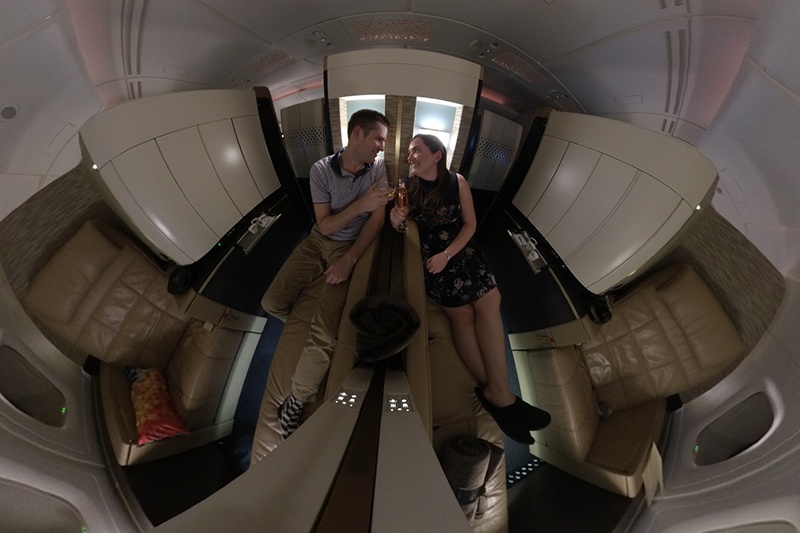 We're close but have our own space too in adjoining First Apartments! (Image: Cameron Robert)
Service
Two dedicated hosts for the nine First Class Apartments meant we enjoyed a much more attentive service than Business Class, which included the welcome Champagne plus Arabic coffee and dried dates before we had even taken off. The biggest difference between Business and First Class was the staff treated First Class guests in a much more patient and respectful manner. During the flight I was able to time how responsive our hosts were – the time that elapsed from pressing the 'attendant' button to a host knocking on our apartment door was just eight seconds.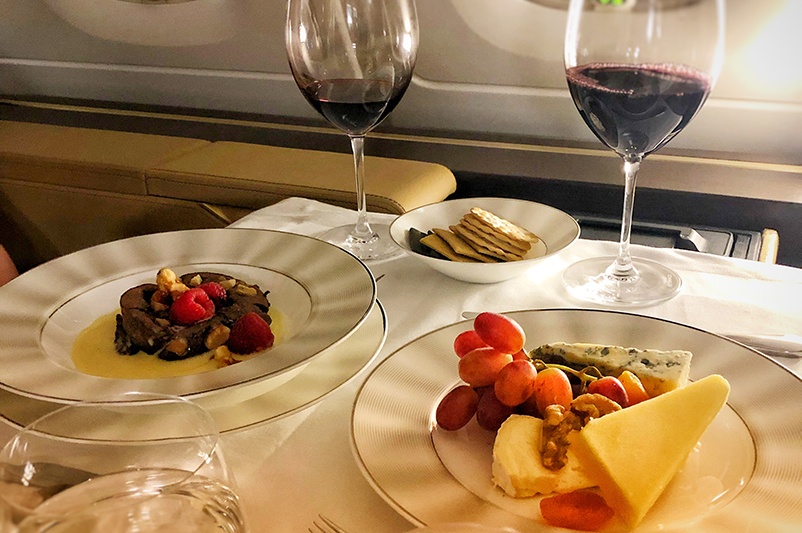 The food and beverage options are endless and impressive. (Image: Cameron Robert)
Food and Beverage
Around five minutes after boarding (after the Champagne, coffee and seat demo), the inflight chef introduced himself. A lengthy list of entree, main and dessert items were available from the menu, however we could order anything we liked. The menu options were mostly Western meals with some Middle Eastern influences (no pork, for example).
We took advantage of this by ordering a cheese platter that consisted only of cheddar cheese. Rather than just removing the soft cheeses from the plate, the chef created a custom board with dried fruits, nuts, biscuits and dips. When we re-ordered a second platter, the items that no longer available were substituted for others to ensure we still had a full platter to enjoy. The drinks menu was equally impressive with a lengthy list of vintage wines and top-shelf spirits. 
The First Class dining experience itself was also special. A massive table (as large as a typical restaurant) extended from the side of the armchair, allowing us to dine together. We enjoyed a three-course meal with paired wines at 35,000 feet! Full table service was provided with the attentive hosts (and chef) regularly checking on us to remove plates and refill our wine.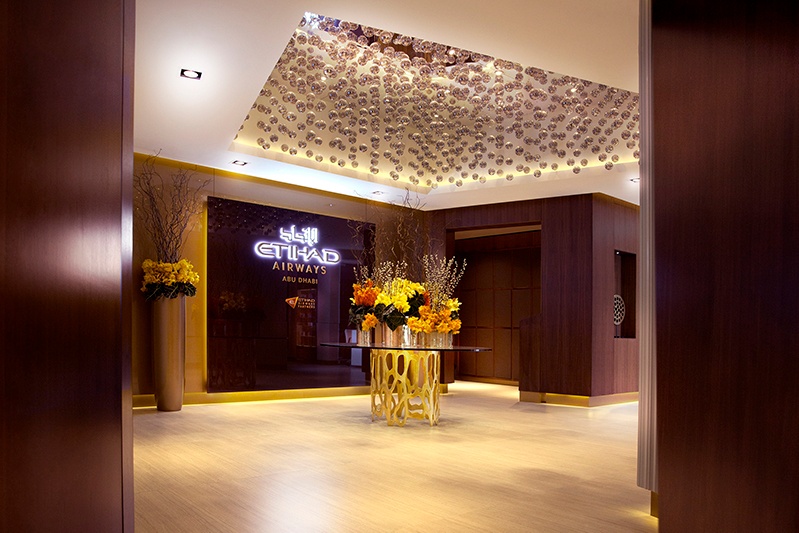 The First Lounge & Spa at Abu Dhabi Airport. (Image: Etihad Airways)
Abu Dhabi Lounge
First Class passengers and Platinum Velocity members can access the First Lounge & Spa at Abu Dhabi Airport, which is definitely the best lounge I've ever experienced. Despite our plane arriving in Abu Dhabi around midnight, there was still a high lounge staff-to-passenger ratio. The lounge staff welcomed us and provided a service level equal to what we experienced in First Class.
The First Lounge & Spa had all the facilities you would expect of a premium lounge, but taken to the next (luxury) level. The lounge a la carte menu was on par with a fine dining restaurant and the boutique wines were the same as we were served in First Class, allowing us to enjoy one more glass of the Bordeaux red.
Note: First Class travellers (and Platinum Velocity members, but not their guests) are also entitled to a 15-minute complimentary massage in the lounge spa (do not pass this up!).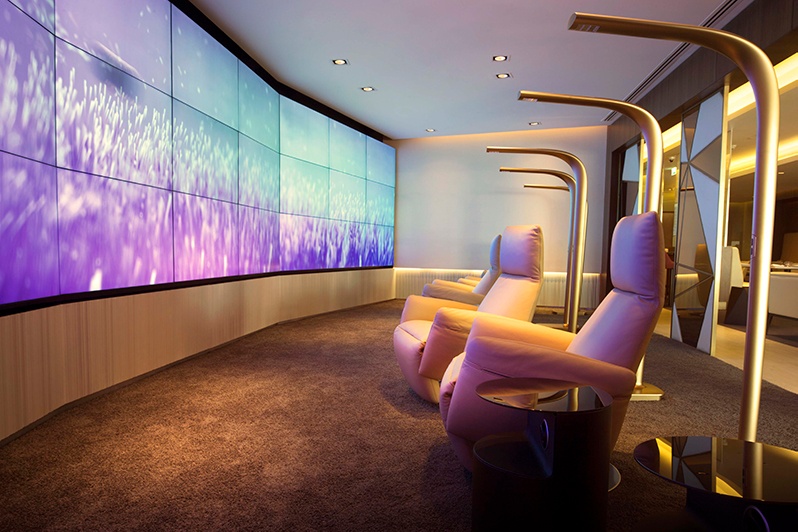 The state-of-the-art First Lounge & Spa reflects the First Class inflight experience with Etihad Airways. (Image: Etihad Airways)
Last Word
Flying First Class is definitely a bucket-list experience you should try at least once in your life. Price-wise, it's a little bit more expensive than the cost of a Business Class seat, but this leap is reflected in the attentive yet unobtrusive service, fine dining and boutique beverage options, sheer space and onboard privacy and superior facilities in every aspect of your flight experience. If the difference between Economy and Business Class is basic to luxury, First Class is the ultimate experience you can have in the sky.
It was the accumulation of lots of little things that made our flight amazing: the immaculate facilities, the respectful manner of the First Class crew in all interactions, the gate-to-gate entertainment access and even including things you never thought you wanted or needed, such as a fully stocked mini-fridge within your seat. First Class, you'll be a tough act to top!
---
---
---
Flight Centre acknowledges the Traditional Custodians of Country throughout Australia.