Virgin Australia Premium Economy: Brisbane To Los Angeles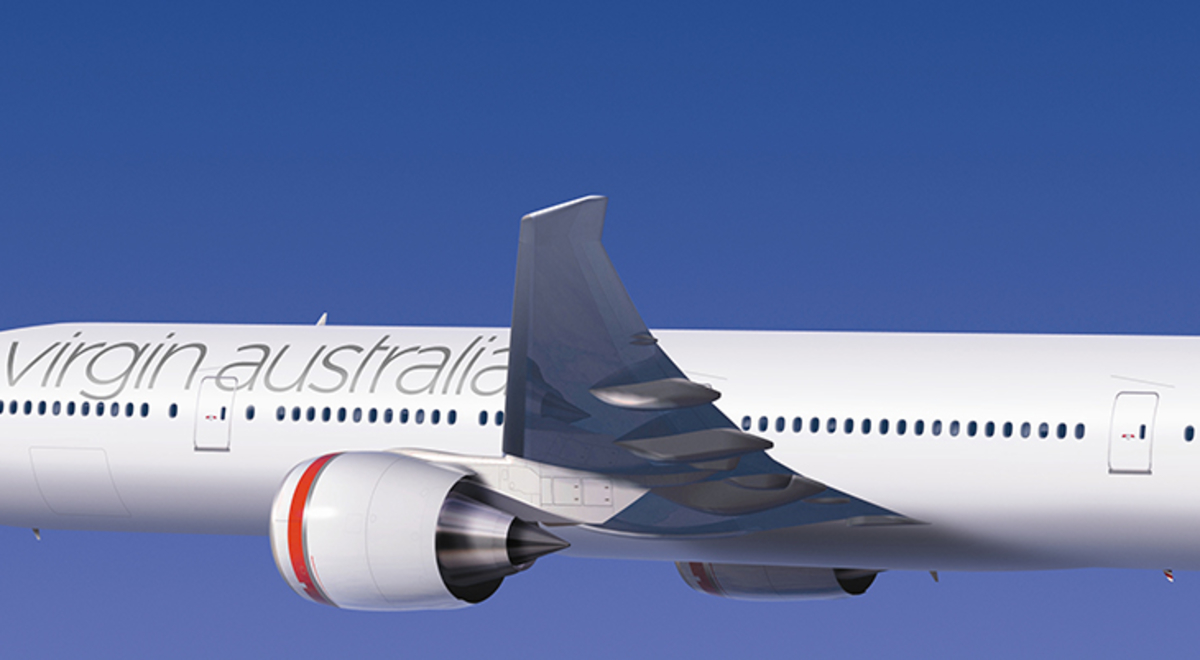 Los Angeles International Airport, better known as LAX, is the major US gateway for most Australian travellers, particularly those flying from east coast capitals Brisbane, Sydney and Melbourne. With plenty of often daily direct flights offered by a range of premium airlines, there's heaps of choice when it comes to carriers and price. More and more airlines are now offering premium economy seating, which provides that sweet spot between economy and business class cabins.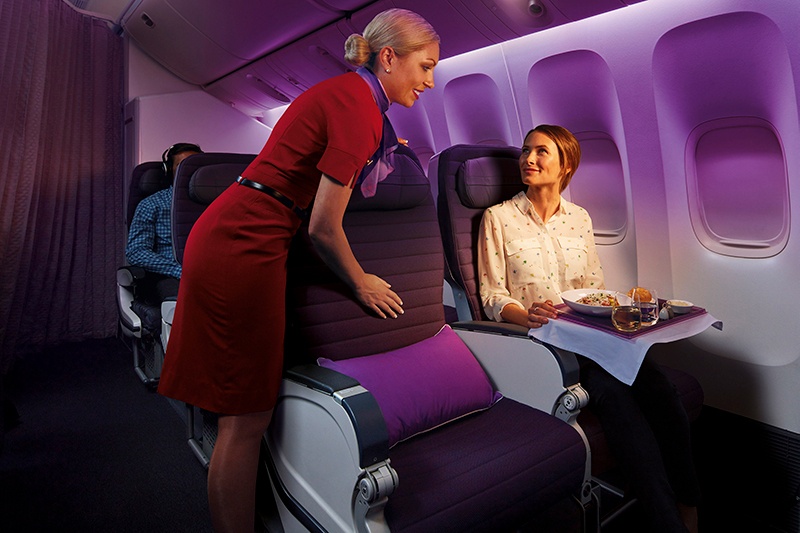 Virgin Australia's Premium Economy meal and beverage service is something to write about! (Image: Virgin Australia)
Virgin Australia offers Premium Economy recliner seats on all its five Boeing 777-300ER airplanes between Australia and LAX, with services from Brisbane departing six times a week, five flights a week from Melbourne and daily services from Sydney. My VA7 flight departed Brisbane at 11:05am and arrived in LA at 7:10am.
---
Quick Overview:
Route: Brisbane (BNE) to Los Angeles (LAX)
Aircraft: Boeing 777-300ER
Class: Premium Economy
Seat Number: 15A (window)
Duration: 13 hours, 5 minutes
Baggage Allowance: 2 bags at 32kg per bag (note: this will change to 2 x 23kg after 11 June, 2019) Increased checked baggage allowance is provided for Velocity Frequent Flyer Silver status members and above.
---
Related:
Flight Review: Sydney To LA With Virgin Australia. Flying Virgin Australia Economy To LA
Virgin Australia Luggage Allowances Explained. Know Your Luggage Allowances Before You Fly
---
Check-in
With Velocity Gold status, I was able to take advantage of priority check-in and boarding and use of the express lane for passport control and security on departure, which made for the most seamless airport transition I've had so far. While I had to queue for passport control as one of the scanners was down, it was still a hassle-free experience all round.
Lounge
My Lounge, Virgin Australia's brand-new international lounge at Brisbane International Airport, is due to open in July, 2019. Eligible passengers before this date (Business Class and Velocity Gold and Platinum members on eligible flights) have access to the Plaza Premium Lounge on the mezzanine level or partner airline lounges as indicated by staff.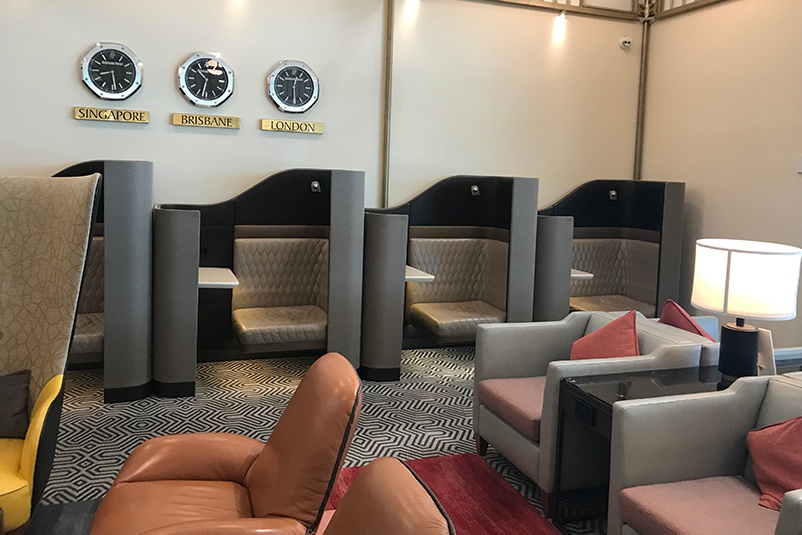 The comfy amenities at the SilverKris Lounge at Brisbane International Airport. (Image: Cassandra Laffey)
For my VA7 flight, I was able to use Singapore Airlines' SilverKris Lounge, located up the escalator on the mezzanine level near gate 81, which is open three hours before flight departures daily. The SilverKris Lounge is welcoming, light and airy with lots of comfy seating and private nooks for working plus Wi-Fi and plenty of power outlets available. Bar seating overlooks the concourse and there was a hot and cold breakfast buffet and full drinks services available. There's also a shower and toilet if you need to freshen up before you fly.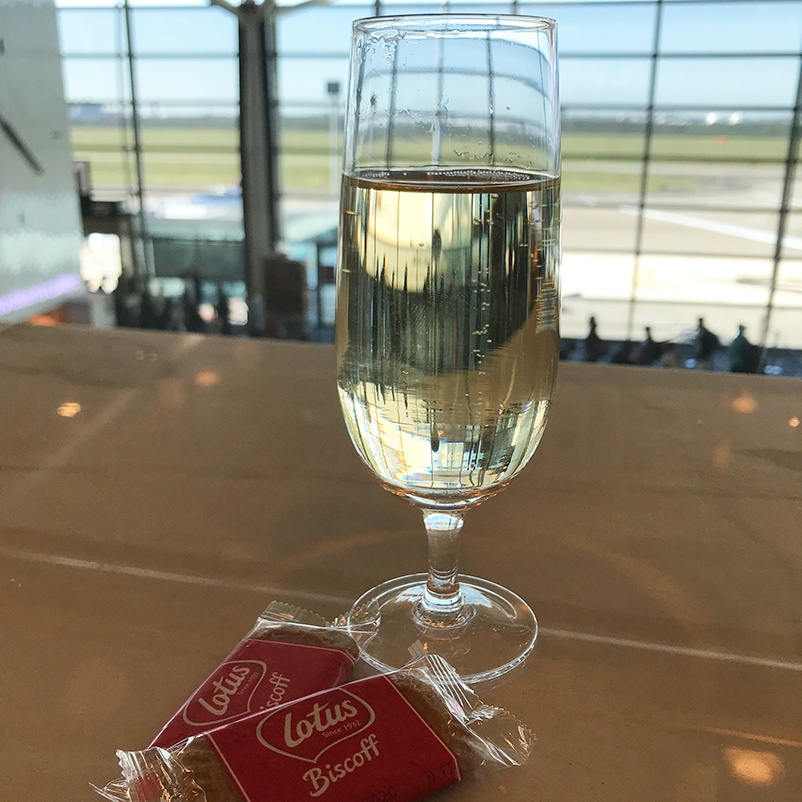 Enjoy a flute of sparkling while overlooking the concourse at the SilverKris Lounge. (Image: Cassandra Laffey)
Seat
Did I ever luck out with my seat! 15A was in the front row of the Premium Economy cabin and the bulkhead window seat offered plenty of legroom. Virgin Australia's international long-haul Premium Economy offering provides true recliner seats with a generous 41" (104cm) seat pitch, 19.5" (49.5cm) width and 9" (23cm) recline.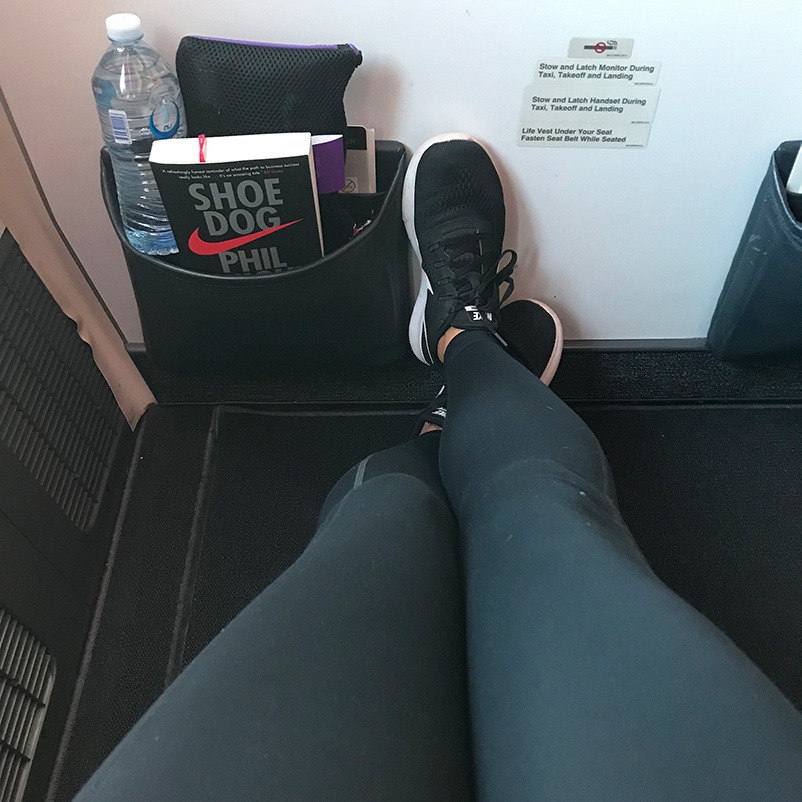 Check out the legroom in seat 15A! (Image: Cassandra Laffey)
There's 24 Premium Economy seats in a 2-4-2 configuration across three rows with two toilets at either side at the back of the cabin. There's also an in-seat electrical outlet and USB connectivity to stay connected when you fly. For the bulkhead seats at the front of the cabin, flight attendants offered a leg rest as well, which made for a super-comfy flight, along with a pillow, blanket and amenity kit (socks, lip balm, earplugs, eyemask and pen).
Entertainment
The entertainment offering for Premium Economy is the same as the rest of the airplane – movies, TV, albums, podcasts, games and books. For the bulkhead seats, a fold-out 10.6" (27cm) touchscreen is tucked away into the front of the armrest with complimentary noise-cancelling headphones – no need to bring your own, while other Premium Economy seats have seatback screens. The only drawback with the bulkhead seats is you'll need to stow your screen for take-off and landing, so you can't watch continuously from gate to gate.
The Premium Economy cabin configuration on Virgin Australia's B777 aircraft. (Image: Virgin Australia)
Service
The onboard service is where Virgin Australia Premium Economy definitely shines and is a real step above Economy. For just three rows, we had two dedicated flight attendants whose attentive service made the journey seamless and pleasant. From the welcome drink on boarding to the hot hand towel at the beginning and end of the flight, this was an enhanced version of the regular Economy cabin experience.
Food and Beverage
The long-haul international menus available for Premium Economy passengers really showcase the Virgin Australia Premium Economy offering. I received a welcome glass (yes, glass!) of bubbles on arrival with bottled water provided at my seat.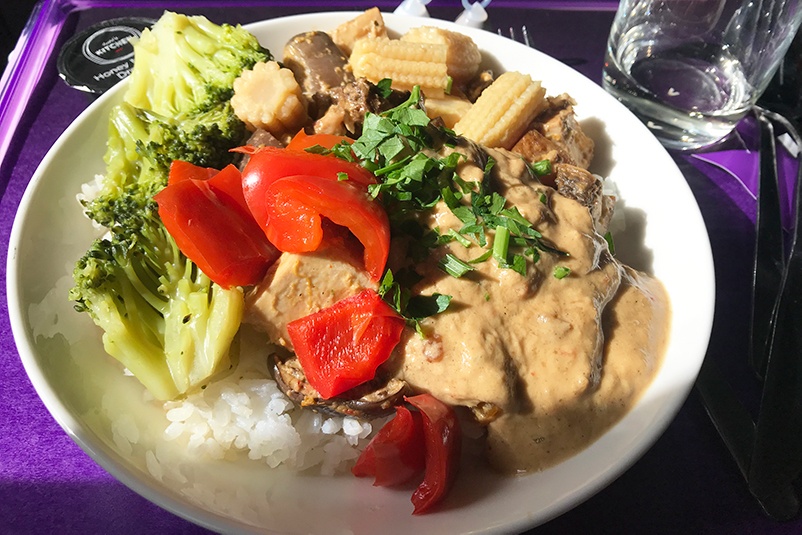 An example of a vegan main course meal in Premium Economy International. (Image: Cassandra Laffey)
Guests are served an a la carte three-course menu where the flight attendants take your order from a selection of two starters, three mains and the option of cheese or dessert. Breakfast orders are also taken at this time (with the option to opt out and stay asleep) and there is always a vegetarian option for each course as well. Passengers with dietary requirements as also catered for and my vegan meal was excellent. All a la carte meals are served on china with real cutlery with cloth napkins that really elevate the dining experience.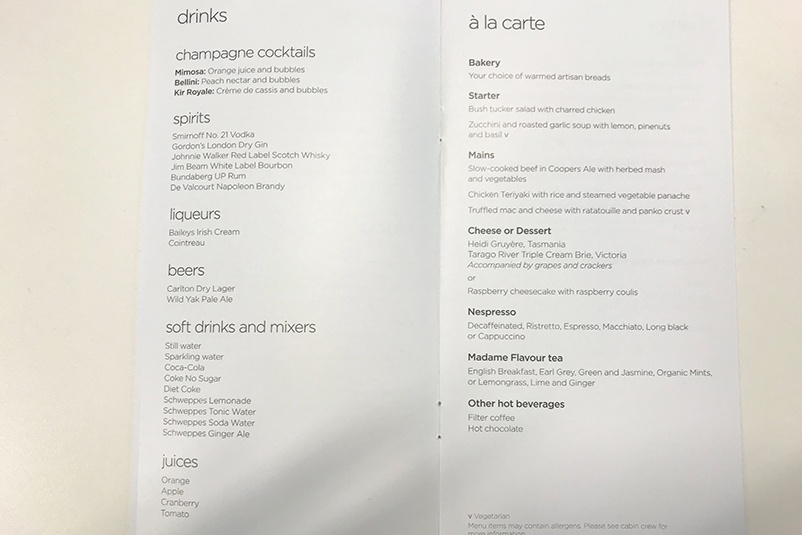 A sample menu for Virgin Australia Premium Economy to Los Angeles. (Image: Cassandra Laffey)
Throughout the flight, you can also help yourself to snacks in the pantry and there's a selection of alcoholic beverages available. Breakfast on this flight is served two hours before landing and you can make your selection of juice, bakery item, starter and main with tea or coffee. Really, you'll want for nothing in the food and drink department!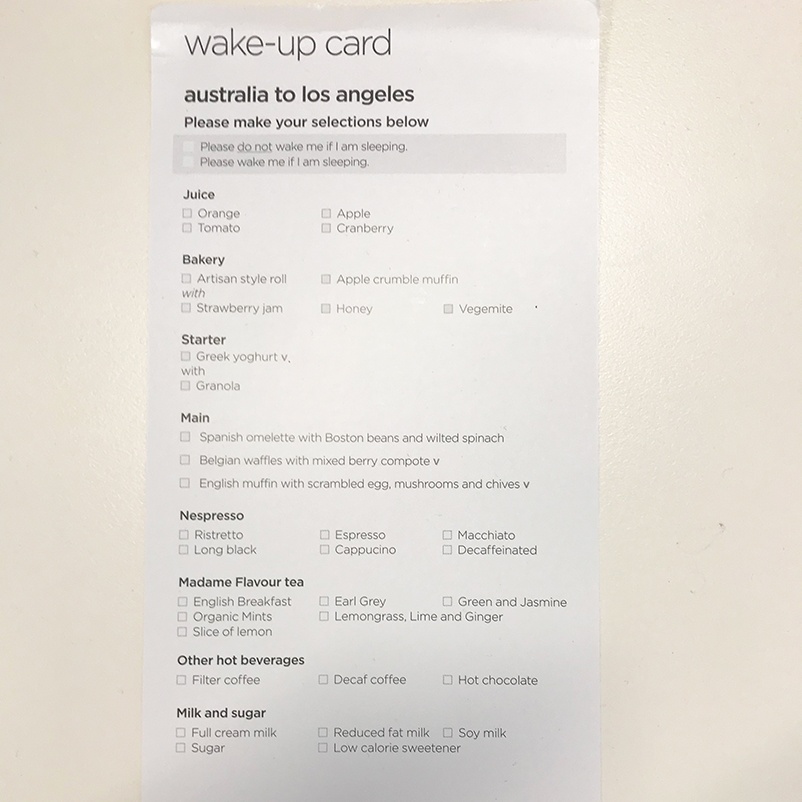 Don't want to be woken for brekky, let your flight attendant know! (Image: Cassandra Laffey)
Last Word
Factor in a generously proportioned recliner seat and footrest, enhanced onboard food and beverage options and attentive service in a cabin with two dedicated flight attendants and two bathrooms for 24 people and Virgin Australia's International Premium Economy cabin provides plenty of comfort and value that's worth the upgrade and the extra money when you fly to Los Angeles. Offering a high-quality product that's a big step up from Economy that you can really see and experience, I'm a convert – book me in Premium Economy for all long-haul flights, stat!
Main image: Virgin Australia
---
Get in touch with a Business Travel Expert today to start booking.
---
---
Flight Centre acknowledges the Traditional Custodians of Country throughout Australia.