An Expert's Guide: Tips For Your First Time In Singapore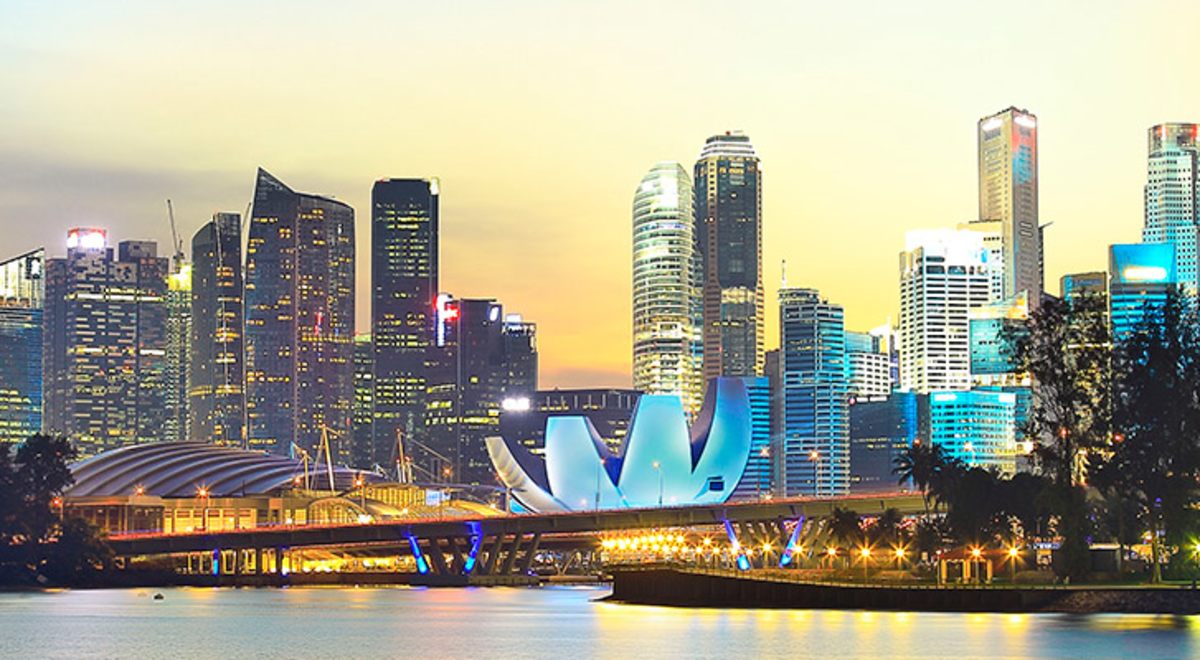 ---
---
First time in
Singapore
? We've got you. You've probably heard all the reasons why this city-state is a popular destination filled with tourist attractions for Aussie travellers.  
What will you find in this guide on Singapore? 
Things to know before you go like what to budget, what airlines fly there and local laws to follow. 

Where should you stay if you want to shop, eat your heart out or take the kids on an adventure to Sentosa Island.  

The top things to do from high end shopping and hawker centres, Universal Studios and Gardens by the Bay. 

There's the food, for starters. Eating is a national pastime in Singapore and there's no such thing as a bad meal when you can get the world's cheapest Michelin-starred dish in an unassuming hawker centre. Shopping is another popular drawcard, plus the nightlife is world-class, there are attractions galore and cool neighbourhoods – each with their own distinct vibe – to explore.
Even Singapore's airport, Changi, is a top attraction in its own right
.  
---
What should I know before going to Singapore?  
Whether it's your first time to the Lion City or just your first time in a while, there are some things you should know to prepare yourself for a stay in Singapore.   
How to get there  
Singapore Airlines is the national carrier, though many international airlines transit through here on the way to Europe and other parts of Asia. While you might be saving your pennies for when you arrive, the holiday does start as soon as you arrive at the airport right? We've reviewed both Premium Economy and Business Class on Singapore Airlines to give you a taste of what you might get if you choose to splurge from take-off. Hint: it's definitely worth it.   
Know your budget  
Singapore isn't cheap. Unlike many of its Southeast Asian neighbours that have a reputation for cheap stays and beach breaks, Singapore is a sophisticated, modern city with a price tag to match. One thing that is cheap, however, is the food. Talk to your travel agent about what attractions you should book in advance to get a discount, and what's more readily available on the ground.
Invest in travel insurance  
When travelling overseas, pandemic or not, travel 
insurance is essential
. As the saying goes 'if you can't afford travel insurance, you can't afford to travel'. Travel insurance protects you from exorbitant costs that can arise if you happen to get injured and end up in the hospital, for stolen items, cancelled flights, lost luggage and more.  
If you're planning on doing any adventure activities such as sky diving, skiing, surfing or the like, be sure to talk to your travel agent about including that too, as most base level insurance doesn't cover this.   
Know Singapore's laws  
Singapore is a very clean, beautiful place, the people are polite and friendly, and one of the reasons for this is because there are some very strict laws in place. You can get fined in Singapore for things that you might be able to do freely at home, such as spitting, jaywalking, and connecting to someone else's wifi. You can even get a fine for not flushing a public toilet.   
You'll need a power adaptor  
Singapore uses two types of electrical outlets. Primarily you'll find Type G electrical outlets (the same as you'll find in the UK), however, you may also find some Type C sockets (common in most European countries). The electrical voltage is 230V and the standard frequency is 50Hz, which is the same as you'll find in most other Southeast Asia countries as well as Australia and New Zealand.   
How many days do I need in Singapore?  
Singapore is geographically small, in fact, it's smaller than Lake Taupo on New Zealand's North Island! That said, it's not lacking in the things to do department. We recommend staying four to five days to give yourself time to explore all of the excellent food, the top attractions, get lost in the markets, do a spot of shopping and soak in some time in the beautiful green spaces. Keep scrolling for our list of must-dos.   
Where should I stay in Singapore for the first time?  
Singapore's small size (it covers an area of just 720 square kilometres) makes it easy to get around no matter what area you stay in. That said, each area offers a unique experience, and what you want to do while in town will dictate the best place for you to stay.   
Like shopping? Stay on Orchard Road  
This area, in the heart of Singapore, has accommodation options for all budgets. If you're keen to do a spot of shopping, this is the place to stay.   
Named after the plantations that once occupied this neighbourhood, Orchard Road is Singapore's premier shopping hub. There are 22 shopping malls on one street and exclusive high-end boutiques including Burberry, Armani, Prada and Balenciaga.  
Looking for beaches and theme parks? Stay on Sentosa Island  
Sentosa Island is Singapore's resort island, complete with manmade beaches, theme parks and relaxing resorts. While it's a little removed from the attractions in central Singapore, Sentosa is a great base if you're travelling with kids and want to visit Universal Studios or enjoy a more relaxed resort-style holiday.   
Are you fancy? Stay at Marina Bay  
Marina Bay is the first item on the itinerary for most visitors, as this is where Singapore keeps its iconic landmarks. Get your obligatory photos of the Merlion and the panorama from the Marina Bay Sands SkyPark, before taking a stroll among the 500,000 plants at the award-winning Gardens by the Bay.   
You can reach these from most areas of the city via public transport, however, if you're wanting to stay somewhere a little fancy, this is the district where you'll find most of Singapore's luxury hotels. Hotels here offer the best views of Singapore, including, of course, the instagrammable rooftop pool at Marina Bay Sands (only accessible to hotel guests). The hotels here are also home to upmarket restaurants, bars and shopping malls.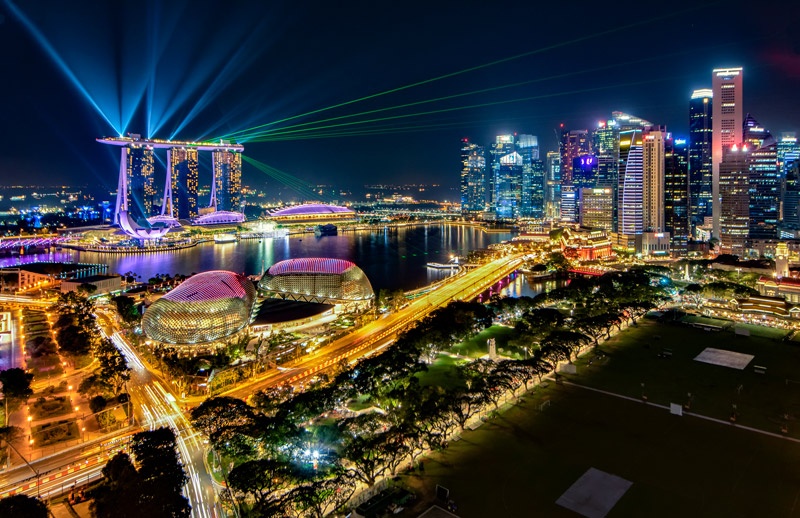 Laser light show at Marina Bay.
Other Neighbourhoods to know in Singapore  
Singapore is a truly multiracial city, and its colourful neighbourhoods offer immersion into different heritages and cultures.   
Chinatown  
One of Singapore's most colourful districts, Chinatown is eternally popular with tourists and savvy shoppers, who can find bargains on gold and jade jewellery, exotic therapies and souvenirs at traditional shops, markets and modern boutiques.  
If fashion is not your forte, you can join the many other tourists who flock to Chinatown for food. Chow down on all your favourite and less familiar menu items at street carts, chic restaurants and the serving windows along the covered Chinatown Food Street.  
Chinatown is also a perfect example of Singapore's cultural smorgasbord, where the Buddha Tooth Relic Temple and Museum stands alongside the Sri Mariamman Temple and Jamae Mosque (Masjid Jamae).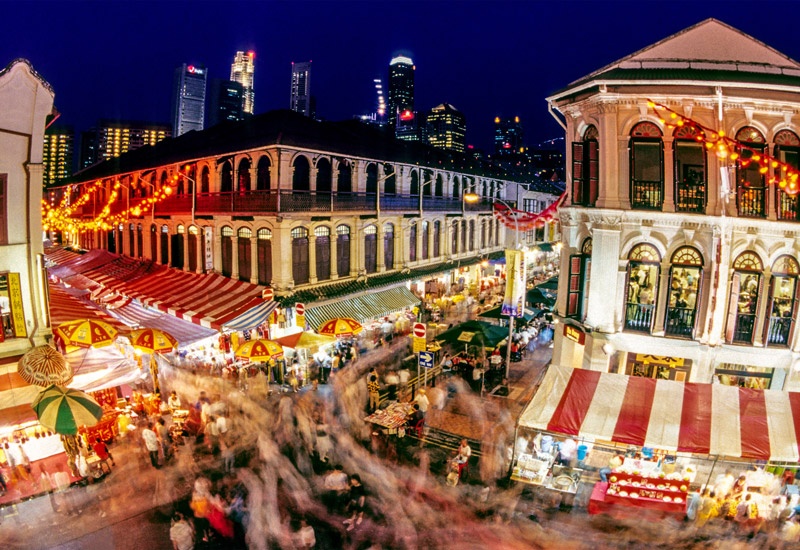 Singapore's Chinatown markets.
Kampong Glam  
Named after the native Gelam tree, Kampong Glam was Singapore's original Malay and Muslim district and is home to some of the city's oldest buildings. Among these is the Masjid Sultan, which was built in 1826 and remains Singapore's most significant mosque. Kampong Glam is also famous for its many shops and colourful boutiques.  
One of the narrowest streets in Singapore, Haji Lane is a super-hip retail stretch stocking designer labels, while nearby Arab Street s home to traditional textiles, perfumes and rattan handicrafts. This area is a must-see for art and culture lovers, with the street's facades decorated with bright colours and occasionally, stunning street art.  
Little India  
As its name declares, Little India is the heart of Singapore's Indian community and has a laid-back, bohemian atmosphere that feels a world away from the hectic city centre. If you're here for the food, you'll find a wide selection of local eateries and modern restaurants serving dishes from all over the subcontinent, as well as local delicacies like fish head curry.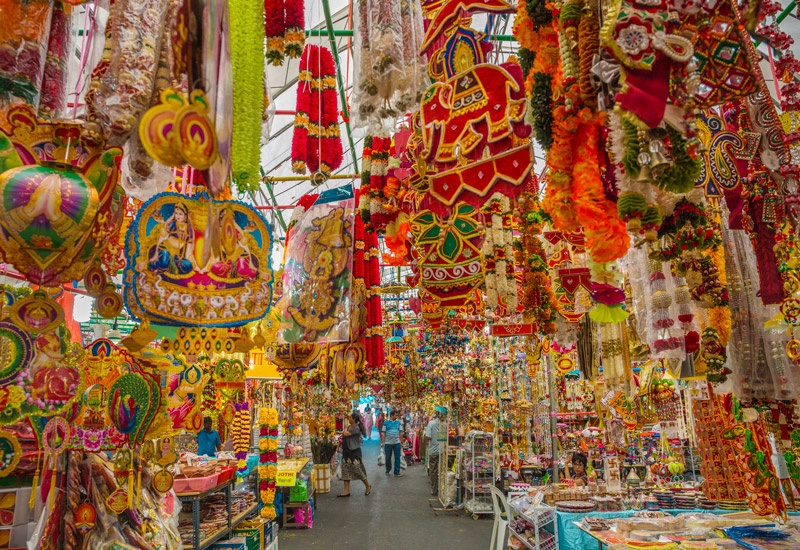 Little India market in Singapore.
Joo Chiat/Katong   
Get a taste of the Singapore of old by heading east of the city centre to Joo Chiat and Katong, the home of Peranakan culture where ornate shopfronts and terraced row houses date back to the time of plantations.  
Try favourite Nonya delicacies like kueh chang dumplings and laksa noodles at cosy cafes and coffee shops before browsing the traditional shops for authentic Peranakan handicrafts, clothing and artworks.  
Holland Village  
A popular hangout for ex-pats, who love the laidback vibe, Holland Village is known as Singapore's bohemian enclave with its mix of hipster cafes (the Monocle Shop is here), international eateries, beauty salons, crafty boutiques and a hawker centre along narrow Lorong Mambong street. Venture here after dark to sample ice-cream parlours or craft beer bars, depending on your vice of choice.  
Bas Basah Bugis  
Just outside the city centre, Bras Basah. Bugis is one of Singapore's original districts and has been a centre for the arts since its founding and is now home to the School of the Arts and other institutions.  
Today, it's perhaps best known for the lively shopping centres of Bugis Street and Bugis Junction, where hundreds of outlets offer major discounts on branded goods compared to the upscale malls of Marina Bay.  
For visitors, Bras Basah.Bugis is also the best place to learn the history of Singapore by visiting the National Museum, Peranakan Museum and local monuments such as the beautiful Armenian Church dating back to 1835.  
DID YOU KNOW? Most Singaporeans speak English as well as another language such as Mandarin Chinese, Malay or Tamil.  
What's the easiest way to get around Singapore?  
For getting from A to B, the MRT (mass rapid transit) is the fastest and most convenient way to get around Singapore and most of the top attractions are within walking distance of an MRT station. The public bus system is also well mapped out, and you need to use this to reach some locations such as the Singapore Zoo. If you've got the Google Maps app on your phone you can track bus routes and stops too.   
The most cost-efficient way to use the public transport system is to purchase a Singapore Tourist Pass. These are available in 1-day, 2-day or 3-day passes, and allow you unlimited access to the MRT and bus systems. The multi-day passes need to be used on consecutive days. You can purchase these on the Singapore Tourist Pass website.   
Taxis and rideshare services are also available and come in handy for hard-to-access areas, though to be expected, they are slightly more expensive than public transport.    
For your first time here, the good old Hop On Hop Off buses are also a great way to orient yourself in the city and tick off some of the must-see sights. These buses run all day long and you can, as the name suggests, hop on and off as many times as you like.  
DID YOU KNOW? Overseas visitors can register for a free public Wi-Fi account using your Aussie mobile number at any Wireless@SG hotspot.  
What are the must-do things to do in Singapore?  
Attractions, nightlife, shopping and food, there's so much to see and do in Singapore.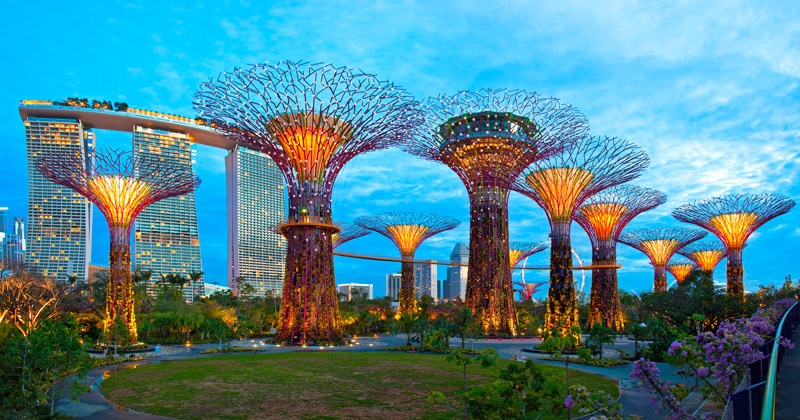 Gardens by the Bay.
Visit Singapore's top 10 attractions  
Explore Gardens by the Bay  

Hands down Singapore's most popular attraction, take time (we recommend half a day) to wander around and explore this unique display of horticulture that includes plant species from all around the world. Highlights include the giant Supertrees, the Cloud Forest and Flower Dome conservatories and the OCBC Skyway.   
Visit Universal Studios  

Located on Sentosa Island, this is a must-do for kids both big and little. There are 28 rides, shows and attractions in seven unique themed zones. You'll find exhilarating rides like Jurassic Park and Transformers,   
Visit Marina Bay Sands Skypark  

If you're not staying at Marina Bay Sands – and therefore can't take a dip in that famous infinity pool, the next best thing is to make a trip to the Skypark observation deck on the 57th level. From here you'll have some of the best views of Singapore.   
Visit the museums  

Singapore is home to a host of excellent museums including the National Museum of Singapore, National Gallery Singapore, Singapore Art Museum (SAM) and the ArtScience Museum. If, like us, you miss visiting museums, these are a must-do on the Singapore list; and if you're travelling with kids, the ArtScience Museum has some great interactive exhibits.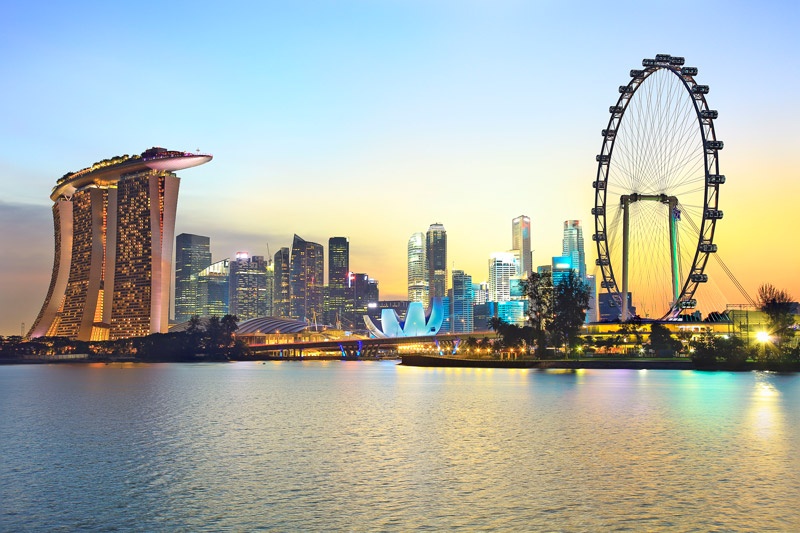 The Singapore Flyer at dusk.
Ride the Singapore Flyer  

At 165 metres, the Singapore Flyer is the highest Ferris wheel in the world and a 30-minute rotation in one of 28 air-conditioned carriages, makes it the perfect place to observe the busy city at any time of day or night. Singapore Cable Car offers 360-degree views of the city, the harbour and Sentosa, which you can visit on the same ticket. Choose to dine or just admire the view during a round trip in a sparkling Swarovski Jewel Box or a novel Angry Birds themed cabin.  
Relax in the Singapore Botanic Gardens  

Just five minutes from the Gardens by the Bay, the Botanic Gardens are open from 5am until midnight every day of the year and offer a beautiful escape from the city. Discover the National Orchid Garden, Bromeliad House, tropical rainforest and three lakes, including Symphony Lake, which is home to occasional live performances.  
Wander around the Colonial District  

Singapore's Colonial District, on the north of Singapore River, is home to the National Museum, The Asia Civilisations Museum, Peranakan Museum and Singapore Art Museum. Take a guided walking tour to learn about the impact of British colonisation on Singapore's governance, hear the stories of French missionaries, see churches and cathedrals, the Singapore Cricket Club, and finish it off with a Singapore Sling at the famous Raffles Hotel.
Make time for Changi Airport  

No, we're not kidding, Changi has been voted the best airport in the world, and it really is
a destination in itself
. Enjoy the nature walk; an open-air rooftop cactus garden, a bamboo garden, an orchid garden and the world's first Butterfly Garden in an airport. Swim, work out, watch a movie or book a beauty treatment.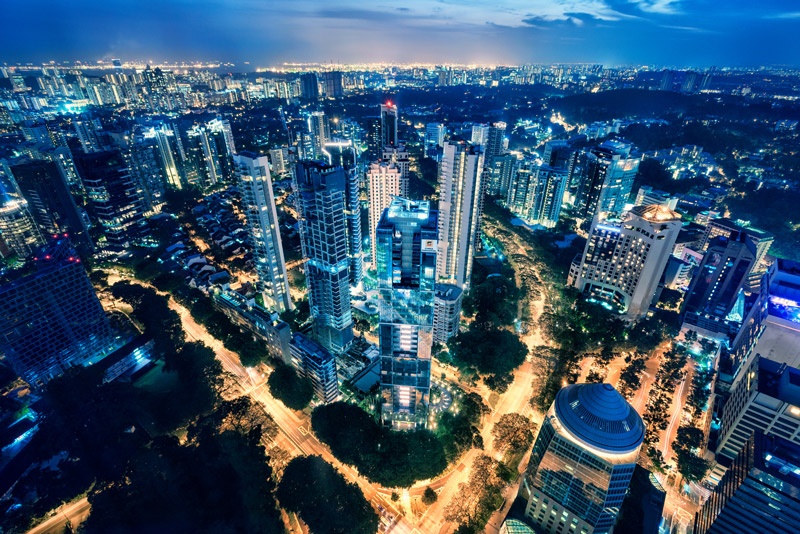 Orchard Road skyline.
Shopping in Singapore  
From wet markets to retail malls and luxury brand boutiques, there's no one-size-fits-all shopping experience in Singapore – the city-state has it all, even at Singapore Changi Airport.  
For a high-street shopping haul, hit Orchard Street where you'll find big shopping centres and international flagship retailers side by side. For straight-up luxe, The Shoppes at Marina Bay Sands resort is the place to splurge. Sentosa Harbourfront is another one-stop-shop or visit VivoCity, Singapore's largest shopping mall.  
For more bespoke buys, head to Singapore's hip neighbourhoods. You will find local crafts and one-of-a-kind souvenirs in Joo Chiat/Katong, the addictive array of products at Mustafa Centre in Little India, Chinatown's buzzing markets, and the hipster enclave of Haji Lane in Kampong Glam where you can browse unique boutiques. 
Experience nightlife in Singapore  
Looking for Singapore's hip nightlife? From rooftop bars to karaoke lounges, DJs and live music, there's plenty going on after dark. Head to Marina Bay for cocktails, rooftop bars and megaclubs; retro fun at Raffles Place (there's a Holey Moley mini golf venue here and an arcade bar); hit the beach (clubs) in Sentosa, or check out the world-famous Zouk club at Clarke Quay.  
What should I eat in Singapore?  
With Chinese, Indian and Malay influences, Singapore's foodie offerings are off-the-chart amazing. The best place to taste it all is at a hawker centre. Some typically Singaporean dishes to try include chicken rice (see the one Michelin-starred Liao Fan Hong Kong Soya Sauce Chicken Rice in Chinatown where you can get half a soya sauce chicken for 7 Singapore dollars) and pork noodle soup (see Hill Street Tai Hwa Pork Noodle where you can get a 1 Michelin-starred meal for SGD$5).  
Also try char kway teow, a wok-fried noodle dish; hokkien prawn mee noodles; kaya toast – coconut jam on toast; Singaporean chilli crab; Indian roti prata and Malay laksa for a feast of flavours.  
You can get a decent coffee in Singapore too, thanks to the influx of Aussie roasters and baristas setting up shop here. Head to Schibello Coffee Roastery in Chinatown, Sarnies in Tanjong Pagar and Common Man Coffee Roasters in River Valley, or try kopi, the strong local brew of coffee, at one of the thousands of kopitiams (coffee shops) and get your caffeine hot for less than one Singapore dollar.  
TO TIP OR NOT TO TIP? There's a 10 per cent gratuity added to your bill at some restaurants and hotels already, but it's also customary to tip for good service above this. 
---
---
---
Flight Centre acknowledges the Traditional Custodians of Country throughout Australia.