Majestic Princess In Asia: Fall In Love With Ocean Cruising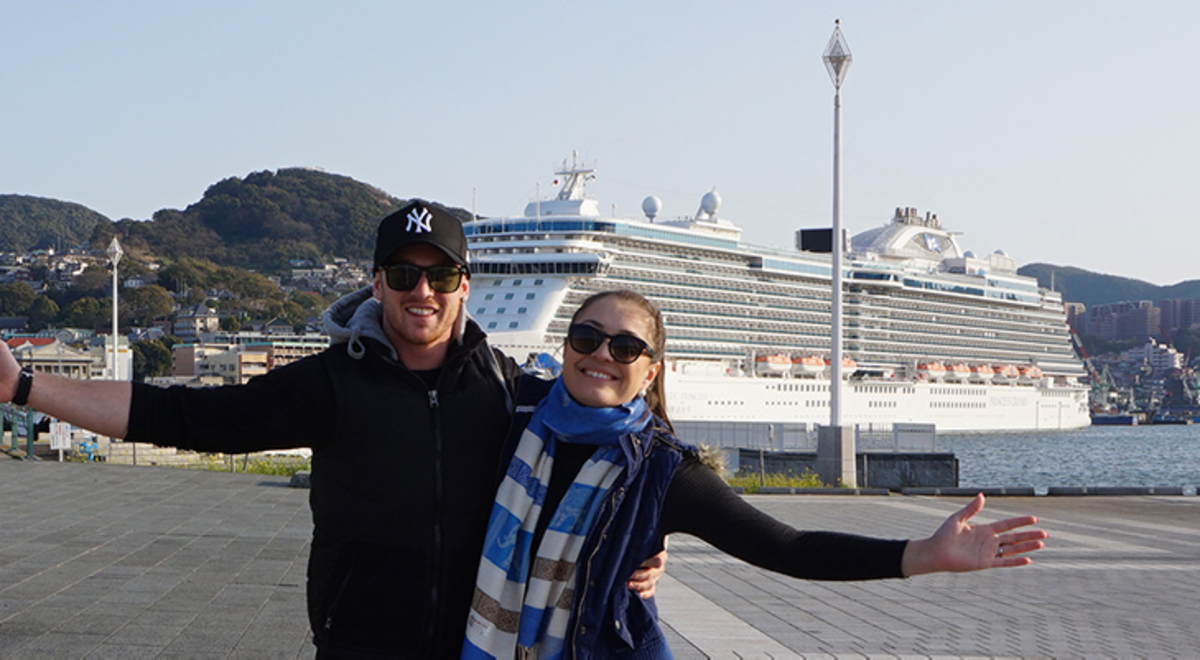 On a 14-night cruise from Singapore to Shanghai via Bangkok, Ho Chi Minh City, Hong Kong, Nagasaki and Busan, I really got a taste for cruising. Sailing on the Majestic Princess, the newest ship in the Princess Cruises fleet, was an experience in itself, as well as the opportunity to visit multiple ports in six countries.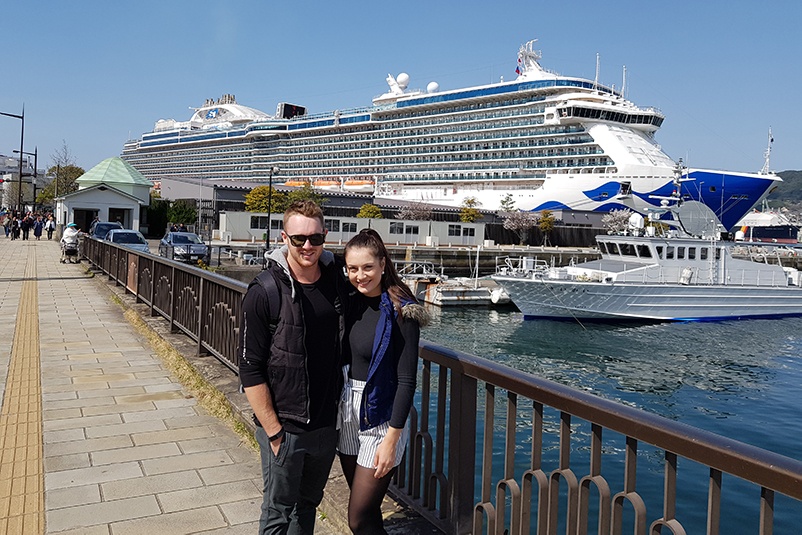 The Majestic Princess was built in 2017 and has the capacity to hold 3,560 passengers.
1. Unpack once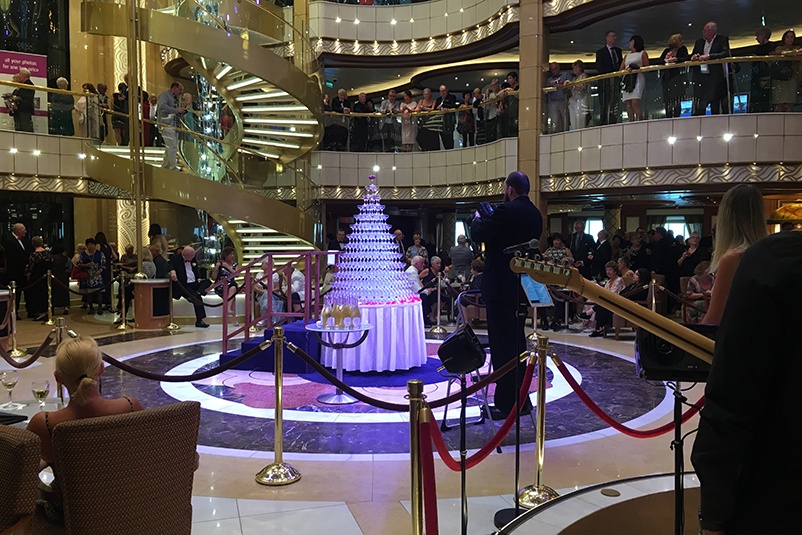 A Champagne tower aboard the Majestic Princess draws a crowd.
The best part of a cruise holiday is that you don't have to keep unpacking at each destination. Cruising gives you the option of unpacking once and enjoying your holiday without having to live out of your suitcase. You will also be guaranteed to meet a diverse amount of people from all different backgrounds who may become lifelong friends to share these memories when you get back home. I personally met two guys who were from Scotland and we ended up visiting the ports together because we became great friends. We all added each other on social media and now I have friends to visit in the United Kingdom!
The cruise also boasts a range of mixed age groups over 35, so you will be guaranteed to meet new people at dinner or shows each time. As it is quite a lengthy itinerary, families aren't very common on this cruise. This itinerary however, is still suitable for all age groups because Princess does offer kids clubs and activities tailored for everyone.
2. Visit multiple destinations on the one trip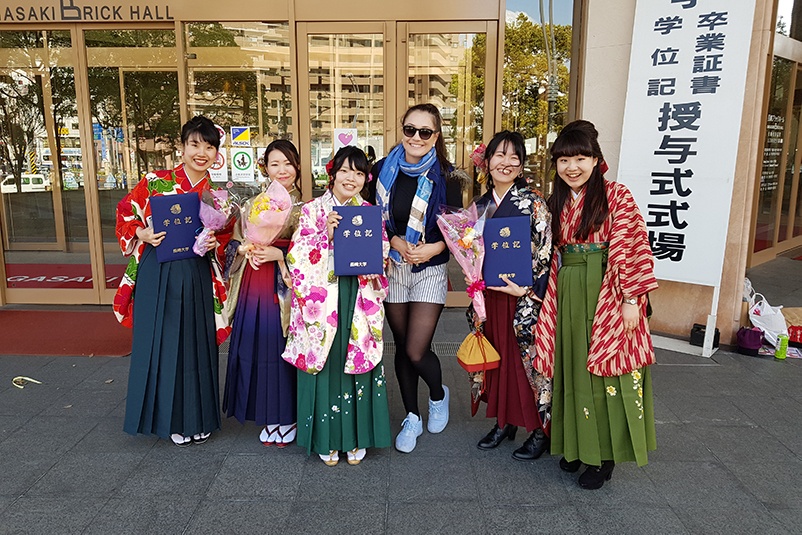 Meeting some locals outside the Nagasaki Brick Hall in Japan – one of Charlotte's favourite port stops.
Another benefit of going on a cruise is that you receive a teaser taste of each port destination. It can really determine if you would potentially return to each location and if you did, what other things you could do differently. I personally will be going back to Japan and Hong Kong to stay longer. It's also an easy and convenient way of ticking off multiple countries and cities off your travel wish list.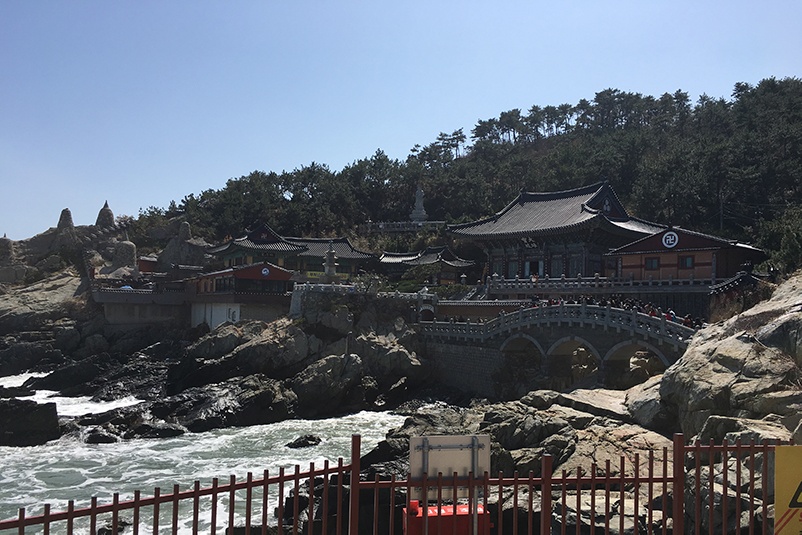 Haedong Yonggungsa is a stunning 14th-century Buddhist temple in the South Korean city of Busan that's also known as the Sea Temple due to its oceanfront location.
Visiting a port by cruise rather than staying there for a long time means you can save money to spend on souvenirs and shopping instead. This is because you don't have to pay for accommodation or meals on board (although you should try the great local cuisine in port). Cruise lines offer tours as well that can be booked directly so you won't have to worry about onshore excursions or making it back in time when you get there.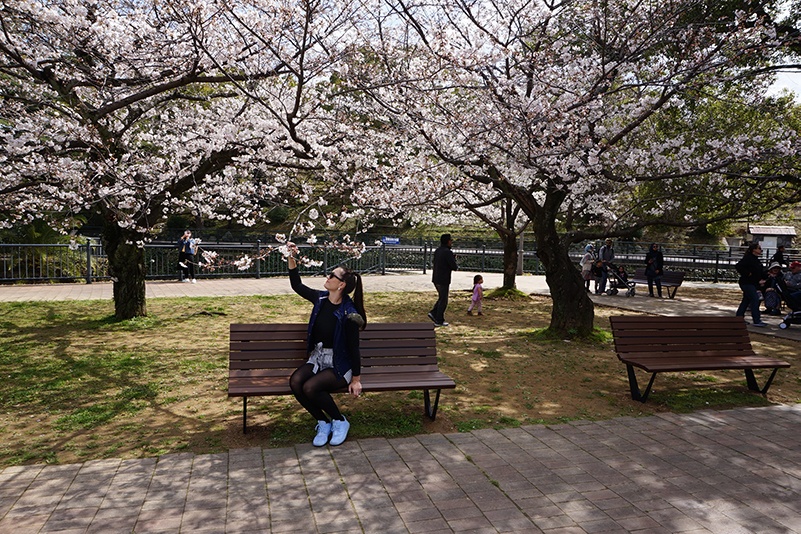 Perfect timing - spotting the cherry blossoms in bloom during the short season in Japan.
When your cruise ends in an international destination, it also opens a world of options to holiday there or continue elsewhere. My cruise itinerary offered the option to stay in Shanghai at the end, which meant I could jump on a plane or take a bullet train to Beijing and see the Great Wall of China as well. I never thought I'd one day go to China, but I am so glad the cruise gave this option for me to end there so I could learn about the history and culture before coming home.
3. Your ship is a floating hotel with all the amenities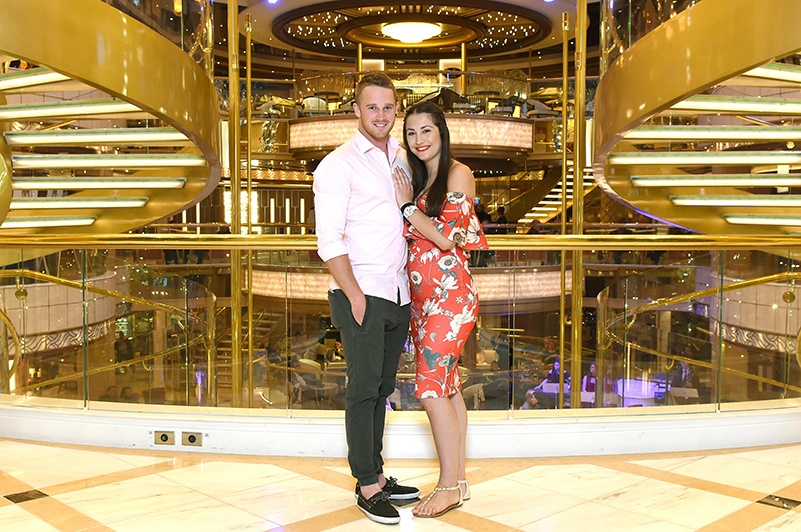 As the newest ship in the Princess Cruises fleet, the Majestic Princess is simply dazzling.
The Majestic Princess is a luxurious and beautifully designed vessel is a sister ship to the Regal and Royal. These ships are designed very similar to each other with many amazing onboard features. The highest deck offers two different pools with sun lounges and bars at your disposal. Every day there are films on the big screen for passengers to watch as they lounge. The Piazza is also a highly popular location on the ship as each evening there's live entertainment with dancers and entertainers all night long. The Piazza is also located right beside the 24-hour International Café for a late-night snack before bed.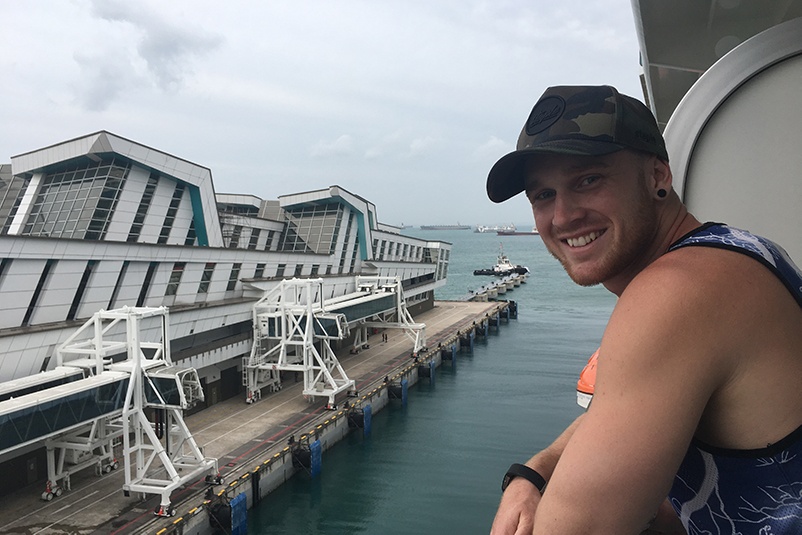 Checking out the view of Hong Kong from the balcony while cruising into the state-of-the-art Kai Tak Cruise Terminal.
The Princess Patter newsletter shows boundless amounts of activities daily on the ship to keep you entertained from trivia to games and competition nights. The Princess app also displays these activities which you can access and even create your own itinerary each day. Wi-Fi is also on board at a cost for those who want bragging rights for their families and friends back home. Life on board during sea days is mostly about relaxation and dining. The latest blockbuster films are also played on the top deck during sea days with bar staff waiting on you while you lounge in the sun. The Majestic Princess also includes basketball and table tennis courts, a gym and fitness classes for those who like to keep active during sea days. The Princess theatre generally has three shows per night and each night has something different to keep guests entertained.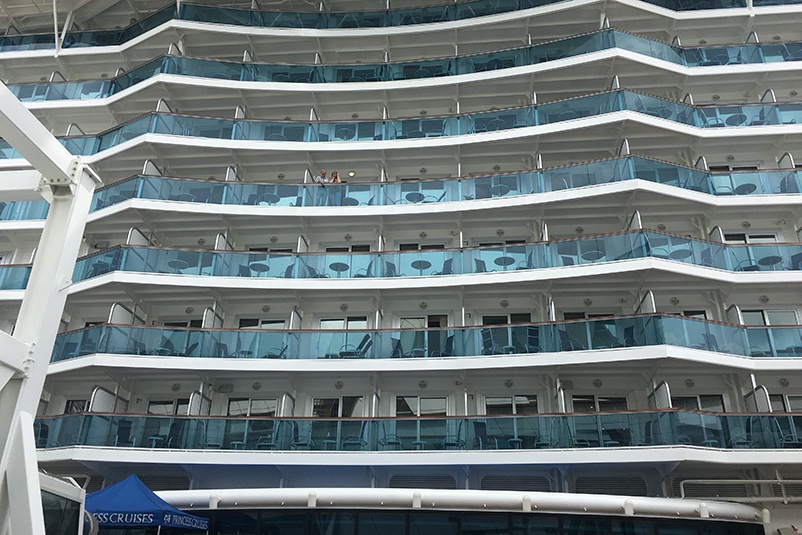 The Majestic Princess has a whopping 19 decks.
The Majestic Princess also offers an amazing onboard dining experience for lunch and dinner daily. There are restaurants that offer traditional dining before 8pm plus the anytime dining option, which is for anytime in the evening. The menu changes daily and offers desserts exclusive to Princess Cruises.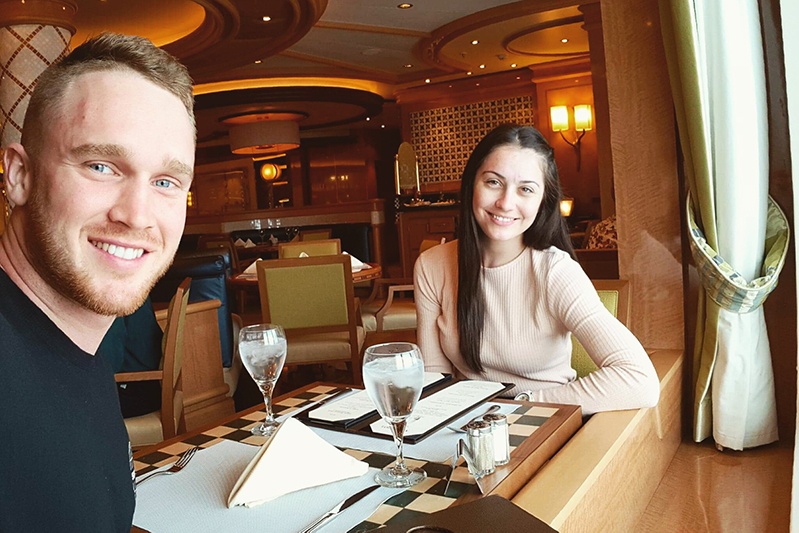 Majestic Princess has plenty of onboard dining options, including six specialty restaurants. This is Alfredo's Pizzeria - named the 'Best Pizza at Sea' by USA Today.
The customer service on board the Majestic Princess was outstanding. The staff are always willing to help passengers – Princess Cruises services your room twice a day and you have your own personal steward (almost like a butler) to assist you during your cruise holiday. The entertainers on board have outstanding customer service and eventually know you by name after you've been to a couple of their activities.
Fiera! is one of the Princess signature production shows offering Broadway-style entertainment at sea.
Really, onboard life is fantastic – you will never get bored and the most stressful thing is not having enough time to finish all the activities! I believe this 14-night itinerary would suit those who enjoy early nights, making new friends and prefer to relax on sea days at the spa or lounging in their rooms.
How I fell in love with ocean cruising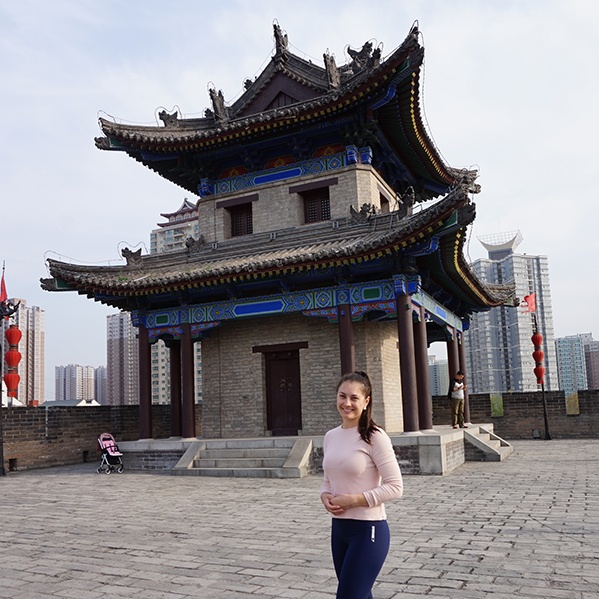 Visiting multiple countries on the one itinerary is a definite highlight of an ocean cruise in Asia.
This was my first cruise where I travelled for more than seven nights and I cannot recommend it highly enough. A balcony cabin is definitely a must on longer itineraries, this is because you have first access of seeing the port when you draw back the curtains in the morning or even relax in the sun on sea days with a book. It was just an incredible experience visiting different countries and meeting people who live all over the world on the cruise, not to mention the neverending supply of delicious foods and desserts on the Majestic Princess.
What surprised me the most about my Asia cruise experience is that I never intended to fall in love with cruising but I did.
All images: Charlotte Wells
---
Ready to cruise? Check out our deals on sale now!
---
princess cruises majestic princess asia japan singapore thailand vietnam hong kong china south korea
---
Flight Centre acknowledges the Traditional Custodians of Country throughout Australia.