All The Best Things That You Can Do On Kangaroo Island!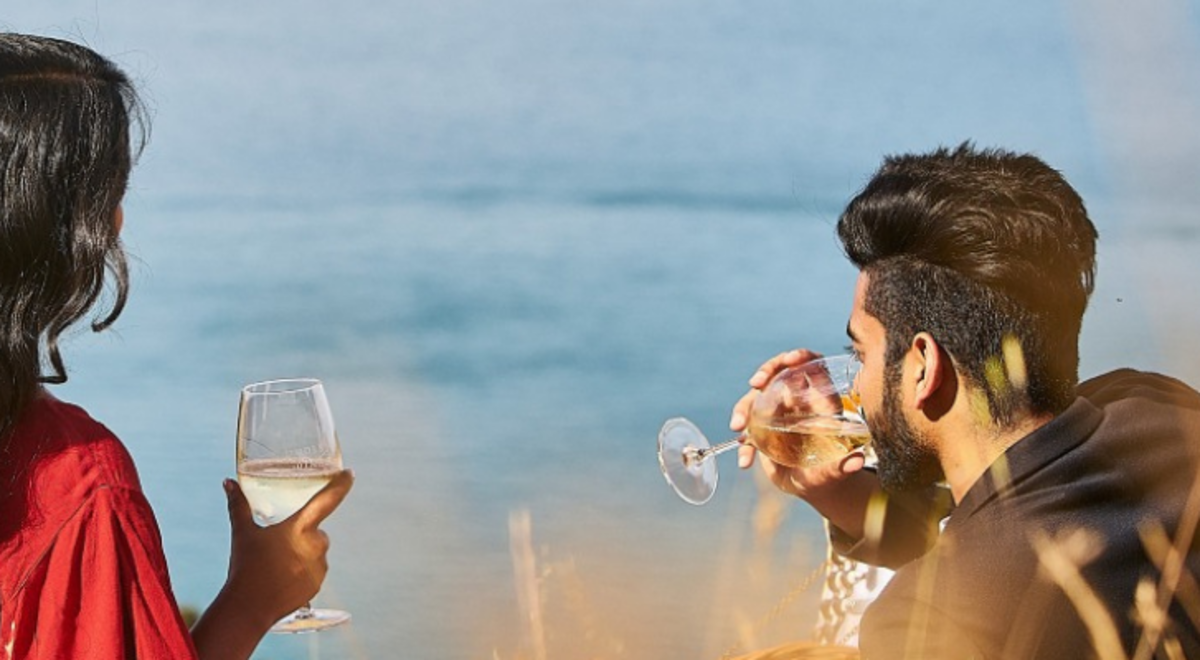 Kangaroo Island Must-Sees
Remarkable Rocks  

Emu Bay    

Vivonne Bay  

American River  

Seal Bay Conservation Park    

Kangaroo Island Wildlife Park  

Hanson Bay Wildlife Sanctuary  

Wild kangaroos & dolphins 

Penneshaw Penguin Centre  

Olives, oysters, honey, gin & beer  

Lavender fields  

Dinner under a giant fig tree  

All the wine!   
Kangaroo Island is an island that packs a punch! As Australia's third-largest island with 509 kilometres of coastline and seven times the size of Singapore – you'll always be able to fill your days with something different. The ultimate escape to nature, here you can traverse ancient landscapes shaped by time, explore postcard perfect beaches, meet an incredible array of rare and unique wildlife and dig into fresh local produce at every turn. They say you can never have enough time on Kangaroo Island.  
By the end of this list you'll be wondering what can't you do on Kangaroo Island?!  
Read on for all the juicy details!   
Remarkable Rocks
These wind-swept (rather blasted) boulders are surely one of the island's most famous landscapes. Formed from over 500 million years of wind, rain and sea slowly carving its way around these granite rocks to create these dramatic sculptures with commanding views over the Southern Ocean. Found within Flinders Chase National Park, aim to visit during the 'golden hours' of the morning and later afternoon to see the sun work its magic transforming the lichen covered rocks into radiating monuments of nature.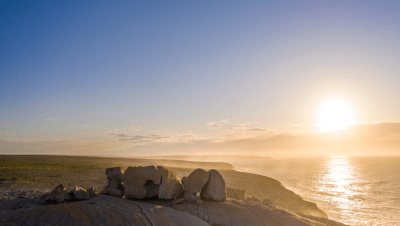 American River
Calling all fishing, sailing and seafood lovers! Oh, and bird watchers too! This charming village overlooks Eastern Cove, an outer bay with perfect conditions for fishing and sailing. The inner bay known as Pelican Lagoon is where twitchers (if you know, you know) can spot pelicans and black swans. Top it off with fresh oysters and you've got a day made!    
Emu Bay 
Four-and-a-half kilometres of clean white sand and turquoise waters, protected from the elements, Emu Bay is a beach lover's dream. There's also a nearby jetty for fishing enthusiasts and don't worry about getting a park, 4WDs can drive right up onto the beach! 
Stokes Bay
Another impressive beach destination, Stokes Bay has just been crowned Australia's best beach. Located on the North Coast of the Island near Lathami Conservation Park, the beach is perfect for family fun times, wading and snorkelling.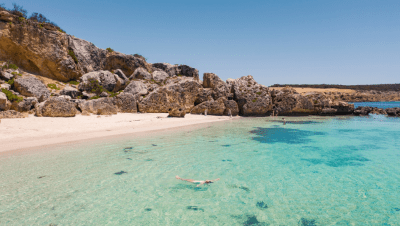 Little Sahara Desert
For more fun for kids, big or small, head to one of Kangaroo Island's best 'nature's playground' moments Little Sahara Desert. These wind-sculpted sand dunes stretch for two square kilometres and make not only impressive photos but the chance to try sandboarding or tobogganing! Brace yourself, the tallest dune reaches around 70 metres above sea level. 
Wildlife
Seal Bay Conservation Park
Like sea lions? (they're pretty fun to watch), well this is your opportunity to get up close with these puppy dogs of the sea. Take a guided tour onto the beach to see the sea lions on their home turf. Or walk the 900m boardwalk with ample viewing platforms and informative signs along the way and you'll be an Aussie sea lion aficionado in no time! Watching them surf the waves is a highlight!     
Kangaroo Island Wildlife Park
There's the thrill of spotting animals in the wild, then there's the joy of getting to (respectfully and responsibly) cuddle a koala and hand-feed kangaroos and wallabies! Kangaroo Island Wildlife Park can make that happen. Home to over 150 species of native Australian wildlife you can also observe wombats, penguins, echidnas, crocodiles and more!   
Hanson Bay Wildlife Sanctuary
Spread over 5000 acres, the sanctuary boarders the Southern Ocean and Flinders Chase National Park. A privately owned conservancy, the sanctuary was devastated by bushfires in January 2020, but has now reopened for pre-booked tours where koalas, kangaroos, tamar wallabies, possums and echidnas can be spotted.  
Wild kangaroos
You don't go to Kangaroo Island expecting not to see the island's namesake out and about! Kangaroo Island kangaroos are distinct to mainland species with their longer, darker fur. If you're a kanga fan (who isn't!) you can sign up for a tour exploring the beautiful bushland and coastal scenery alongside expert guides. The best places to spot them in the wild are Black Swamp in Flinders Chase National Park and around Stokes Bay.  
Swim with wild dolphins
Turn your nature experience up a notch by jumping in the ocean to swim with the local dolphins! Tours run all year round and you can often also spot seals, rays and sea eagles too!  
Penneshaw Penguin Centre
Penneshaw is the small town the ferry to Kangaroo Island arrives at, and it's a fitting first introduction that it's a) delightful and b) home to unique wildlife—enter the world's smallest penguins! Check these little guys out at the Penneshaw Penguin Centre on an evening guided walk illuminated by wildlife-friendly red-light torches.   
Eat & drink
Oysters
We mentioned seafood was a delicacy here, don't miss the Kangaroo Island Oyster Farm Shop in American River which harvests sensational Pacific Oysters in the calm waters of Eastern Cove.   
Honey
The Clifford family have been producing honey from the Kangaroo Island Ligurian Bee since 1973! At Clifford's Honey Farm you can learn all about how honey is harvested, taste the different flora and fauna in the honey and dig into Jenny's famous honey ice cream!   
Olives
Kangaroo Island Olives is where father and son duo, Michael and Dom, produce olives from a grove of 5000 trees. Sample flavourful olives and pick up some exceptional oils to take home!   
Emu Bay Lavender Farm and Café
Not only a delightful place for an impromptu 'field of flowers' photoshoot, the Emu Bay Lavender Farm is also a top spot for a bite to eat! Try the lavender scones —they taste as good as they smell!   
Dine under an Enchanted Fig Tree
Who doesn't love a good tree? Planted over 100 years ago, this magical fig tree is now a dining destination! From December to April, you can enjoy a delicious meal surrounded by gnarled branches and dazzling fairy lights.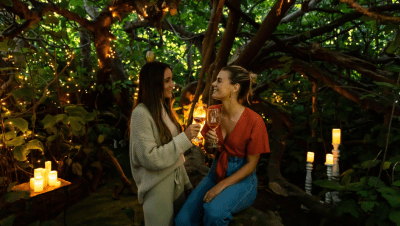 Try the local gin, juice or beer!
Kangaroo Island Spirits is the island's only boutique distillery. Sample its range of six liqueurs, three vodkas and it's much talked about premium gin. The cellar door is open Wednesday through Sunday.   
Kangaroo Island Ciders produce boozy ciders and a non-alcoholic sparkling apple juice. The cellar door is found at Emu Ridge Eucalyptus Distillery.   
For beer lovers, Kangaroo Island Brewery pours a wide range of house-brewed craft beers, and the Drunken Drone Brewery produces small batch beers including a Honey Wheat Ale made from Clifford's Honey Farm honey!   
Wine, wine and more wine
Bay of Shoals Wines has atmosphere, amplified! Overlooking Bay of Shoals and Reeves Point, you can try their hand-picked Rosé, Sparkling Rosé and late harvest Riesling with a view!    
Dudley Wines is one of the island's original wineries. The perfect post for an afternoon tipple and cheese platter on their deck overlooking Backstairs Passage (the section of water separating the island from the mainland).   
Established by Bordeaux winemaker Jacques Lurton after falling in love with Kangaroo Island, The Islander Estate Vineyard on the Cygnet River is the perfect place to try French-style wines paired with a platter of seasonal produce!     
False Cape Wines is the largest vineyard on the island, and they've got a new cellar door where you can try and buy their minimal intervention wines produced by sustainable and time-honoured wine practices. Again, what would a winery be without a view? False Cape looks out onto the banks of the Willson River flat, a classic Aussie setting.   
Then there's the smaller boutique wineries Hazyblur Wines, Lathami Wines and Snow Dragon Wines.    
Cheers to Kangaroo Island!  
---
Flight Centre acknowledges the Traditional Custodians of Country throughout Australia.