Love and Adventure: The Ultimate Guide to the Best Holiday Destinations for Young Couples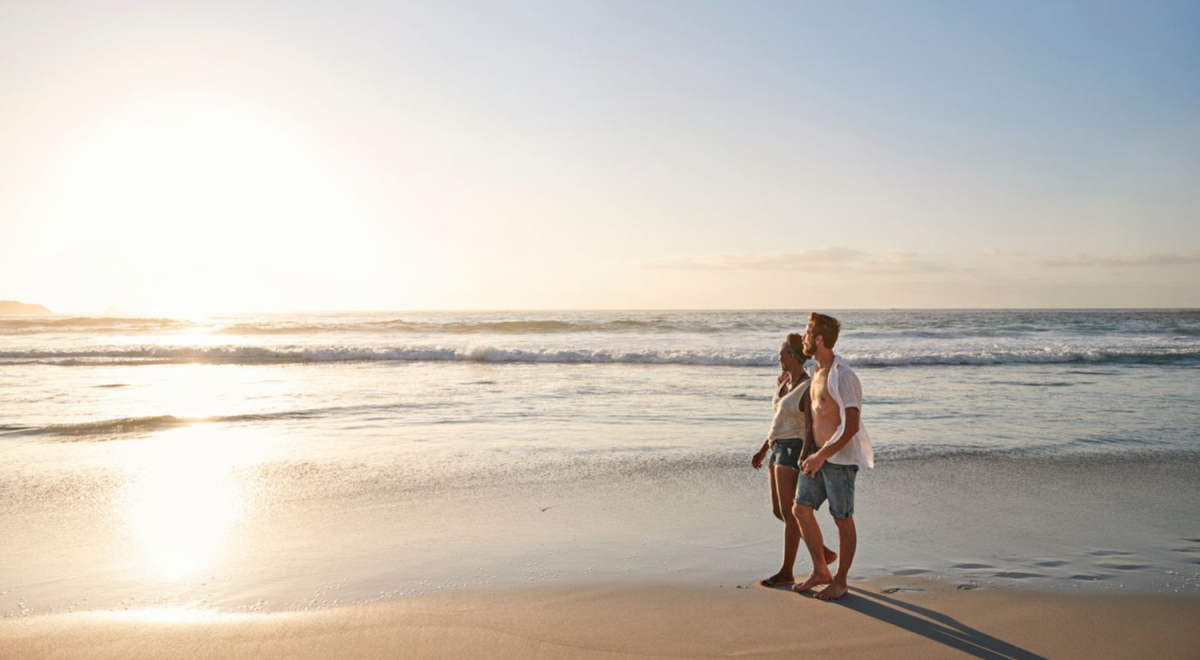 ---
---
Best Holiday Destinations for Young Couples
Combining love and travel is a bit like walking into Messina Gelateria. You know you're embarking on the most deliciously sweet and satisfying ice cream of your life BUT it might also get a little messy and unpredictable, especially on a hot day. So it's important to choose wisely (in flavour or destination) and make sure your partner in love and crime is also up for the adventure (melted ice cream or meltdown - hopefully neither).
Explore the 13 best romantic summer holiday spots for young couples (and those young at heart). When you combine love and travel, you get the ultimate experience. You get to explore new places, meet new people, and try new things. But most importantly, you get to share all of those romantic getaway experiences with someone you love and share the memories for years to come.
What are the most affordable holidays on this list for young couples?
Bali

Port Vila

Palawan

Queenstown
What are the top beach destinations for young couples?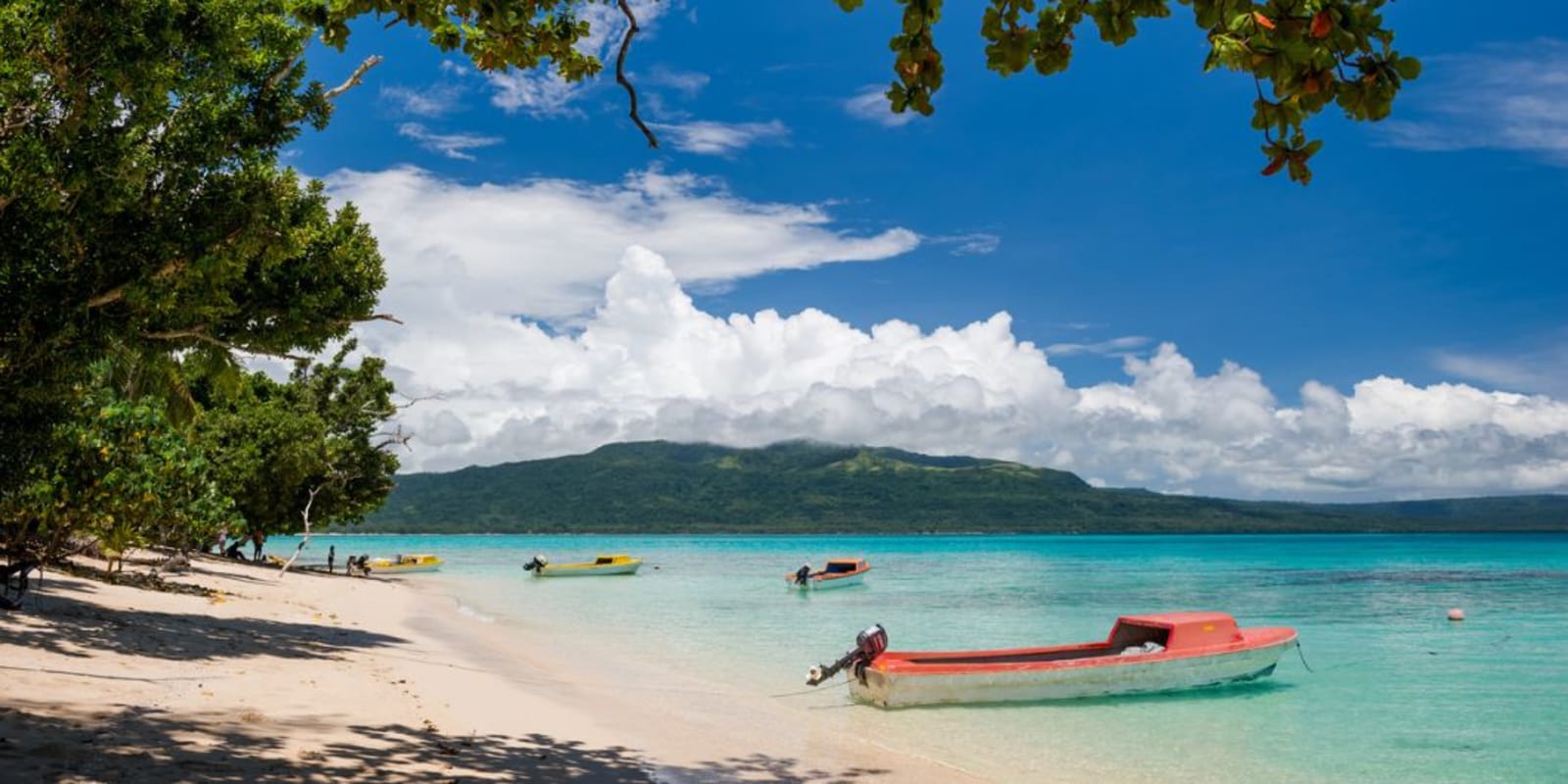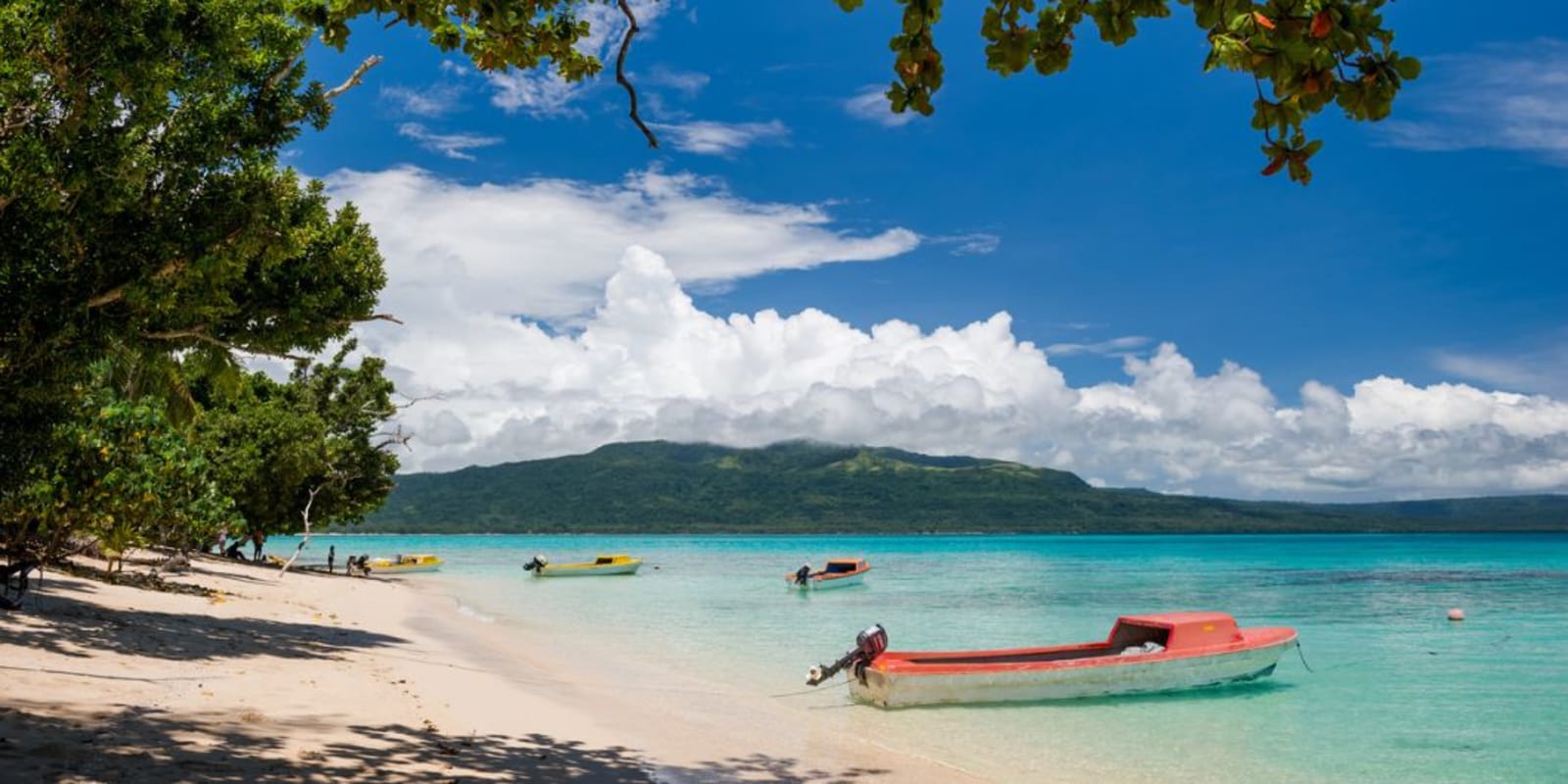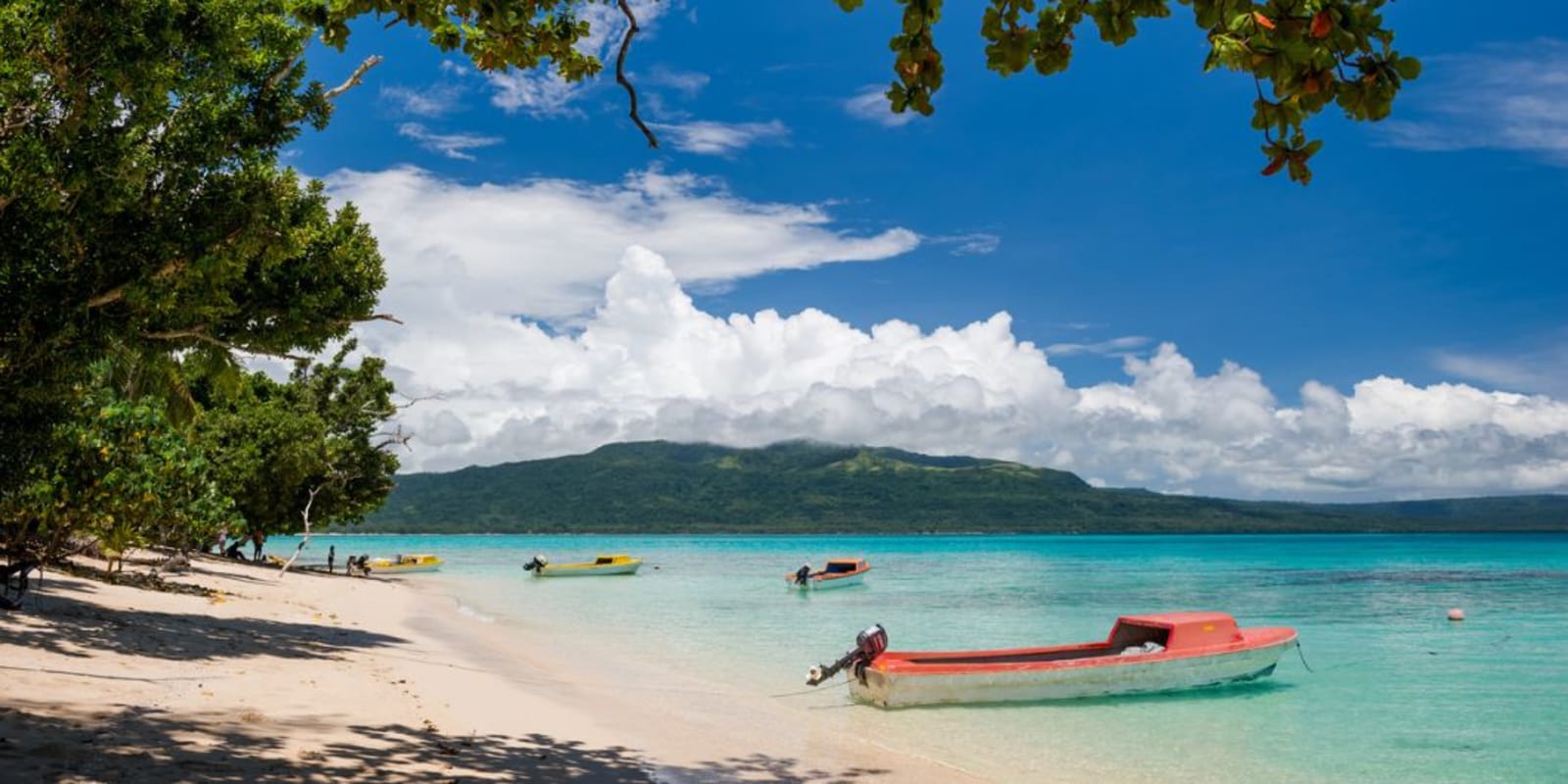 Port Vila, Vanuatu
Port Vila, the capital of Vanuatu, is a beautiful and romantic destination for many reasons. The islands of Vanuatu each offer stunning scenery, including lush rainforests, white-sand beaches, and crystal-clear waters. There are also plenty of opportunities for couples to relax and enjoy each other's company, such as swimming, snorkelling, diving, hiking, and exploring the local villages.
In addition to its natural beauty, Vanuatu also has a rich culture and history. Visitors can learn about the country's unique culture by visiting traditional villages, attending cultural performances, and trying local cuisine.
Vanuatu is also a relatively affordable destination, making it a great option for couples on a budget. With so much to offer, it's no wonder that Vanuatu is a popular choice for romantic getaways.
Best things to do in Port Vila
Take a walk on the beach. Port Vila is located on a beautiful bay, and there are many stunning beaches to choose from. Take a walk hand-in-hand along the beach, or find a secluded spot to relax and enjoy the scenery.

Go snorkelling or diving. The waters around Port Vila are home to a variety of marine life, making it a great place to go snorkelling or diving. You can explore coral reefs, swim with turtles, and see all sorts of other amazing creatures.

Visit the markets. Port Vila has a number of markets where you can buy souvenirs, handicrafts, and local produce. This is a great opportunity to experience the local culture and pick up some unique gifts for your loved ones.

Have a romantic dinner at a waterfront restaurant. There are many great restaurants in Port Vila with stunning views of the water. Enjoy a delicious meal with your loved one while taking in the beautiful scenery.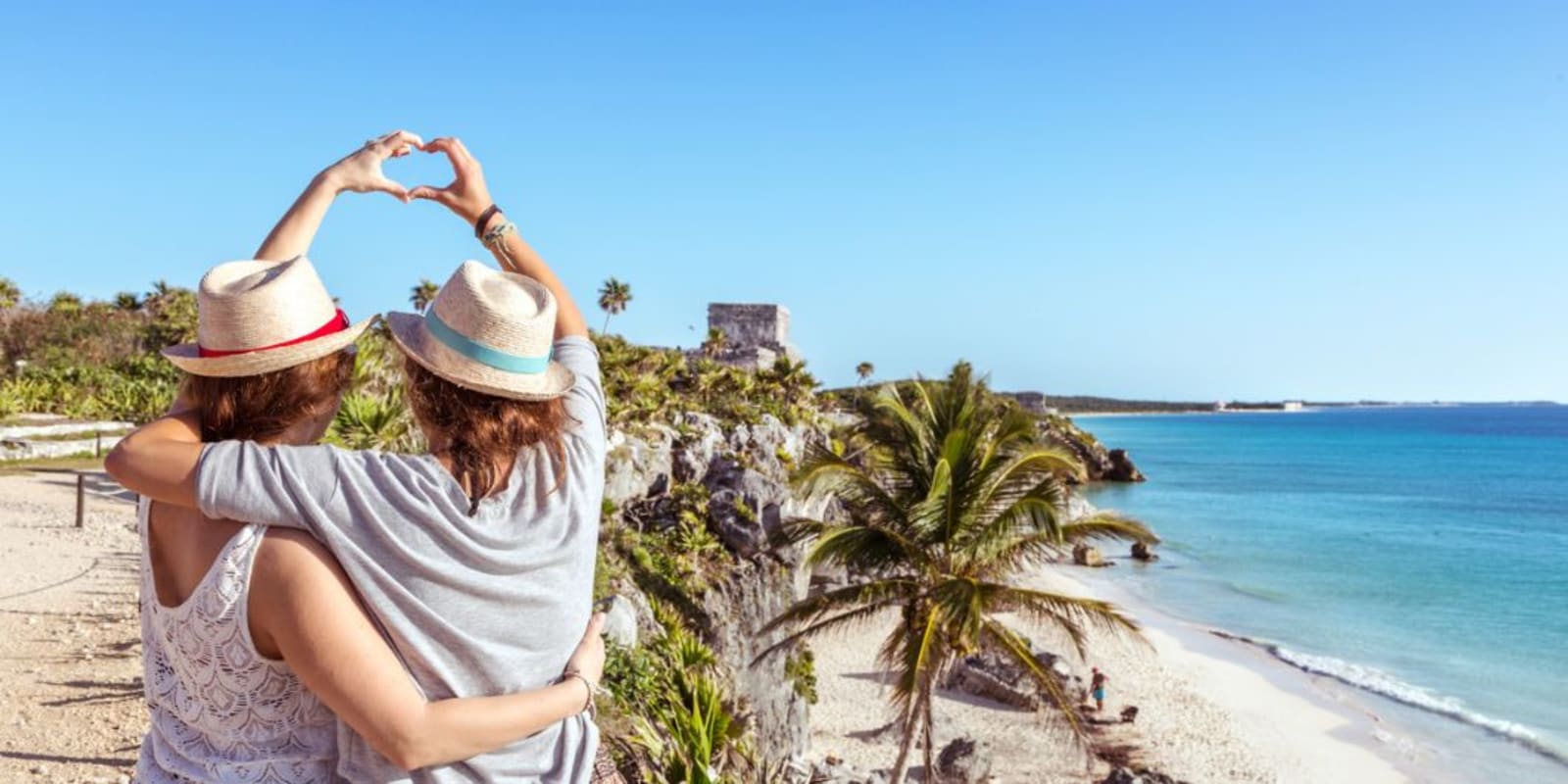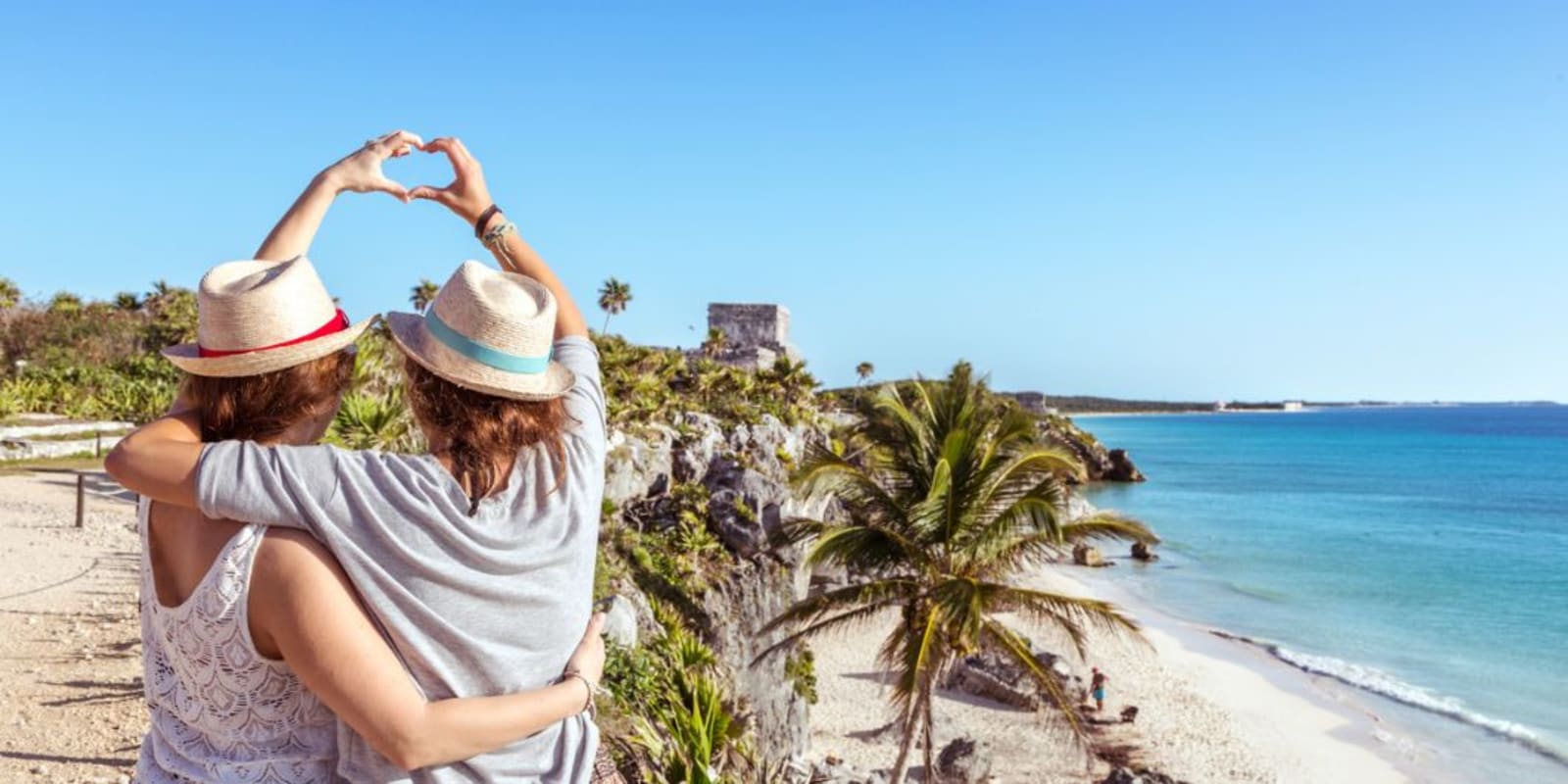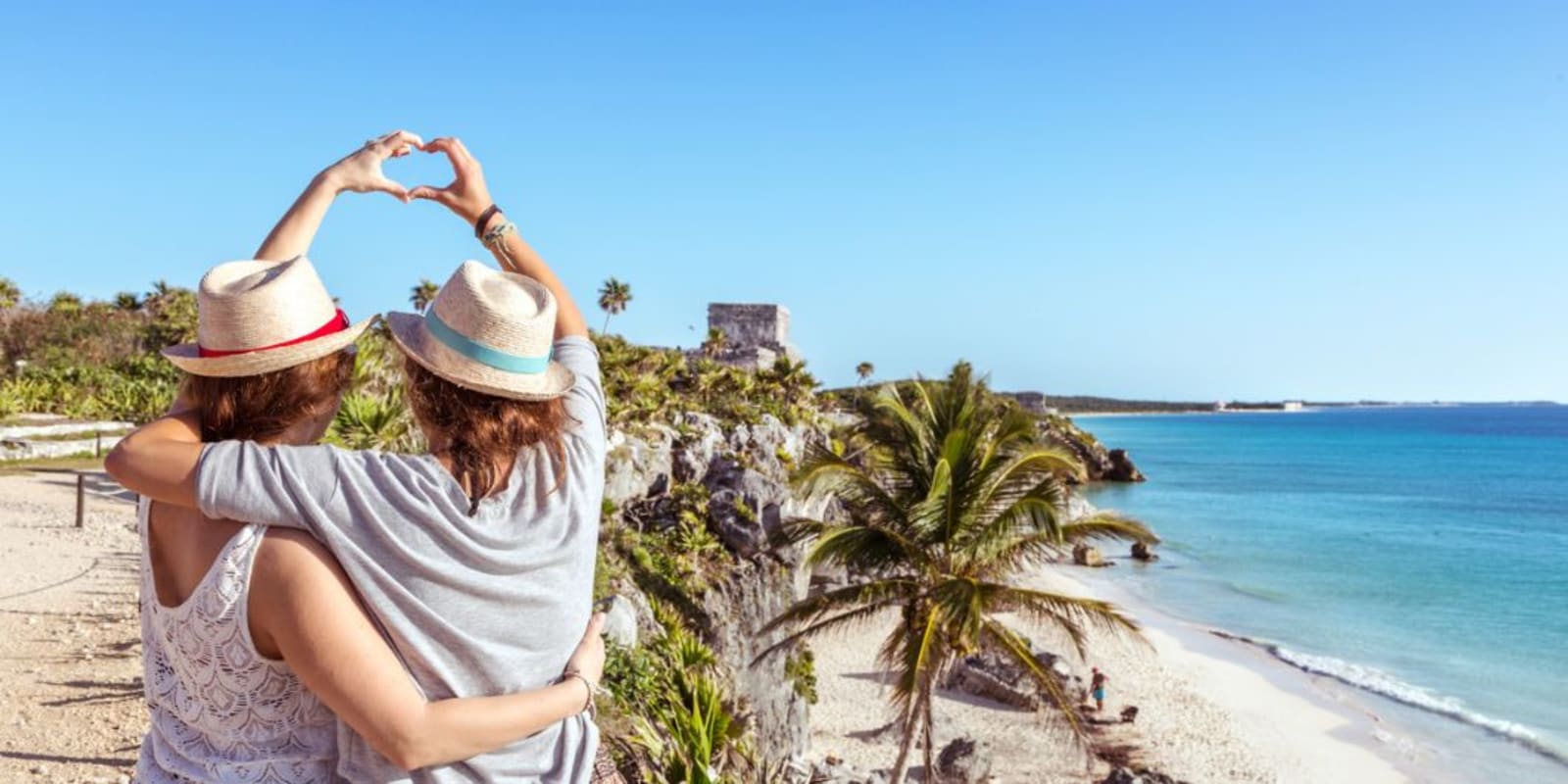 Tulum, Mexico
Tulum is a small town located on the Yucatán Peninsula in Mexico. It is known for its sandy beaches, ancient Mayan ruins, and relaxed atmosphere. Only an hour and 45 min drive from Cancun you will find one of the world's most Instagramable vacation destinations. Tulum is a popular destination for couples looking for a romantic getaway and is especially popular with American tourists looking for a close-to-home beach destination.
There are plenty of activities to enjoy in Tulum, including swimming, snorkelling, diving, hiking and dining at authentic Mexican seafood restaurants and cool bars. Tulum is also home to the ancient Mayan ruins of Tulum. These ruins are popular tourist destinations and offer stunning views of the Caribbean Sea. The most affordable time to visit Tulum is from May to August.
Best things to do in Tulum
A morning at the Tulum Ruins.

Relax at a spa.

Yoga on the beach.

Ride around Tulum.

Swim in magical cenotes.

Take a cooking class.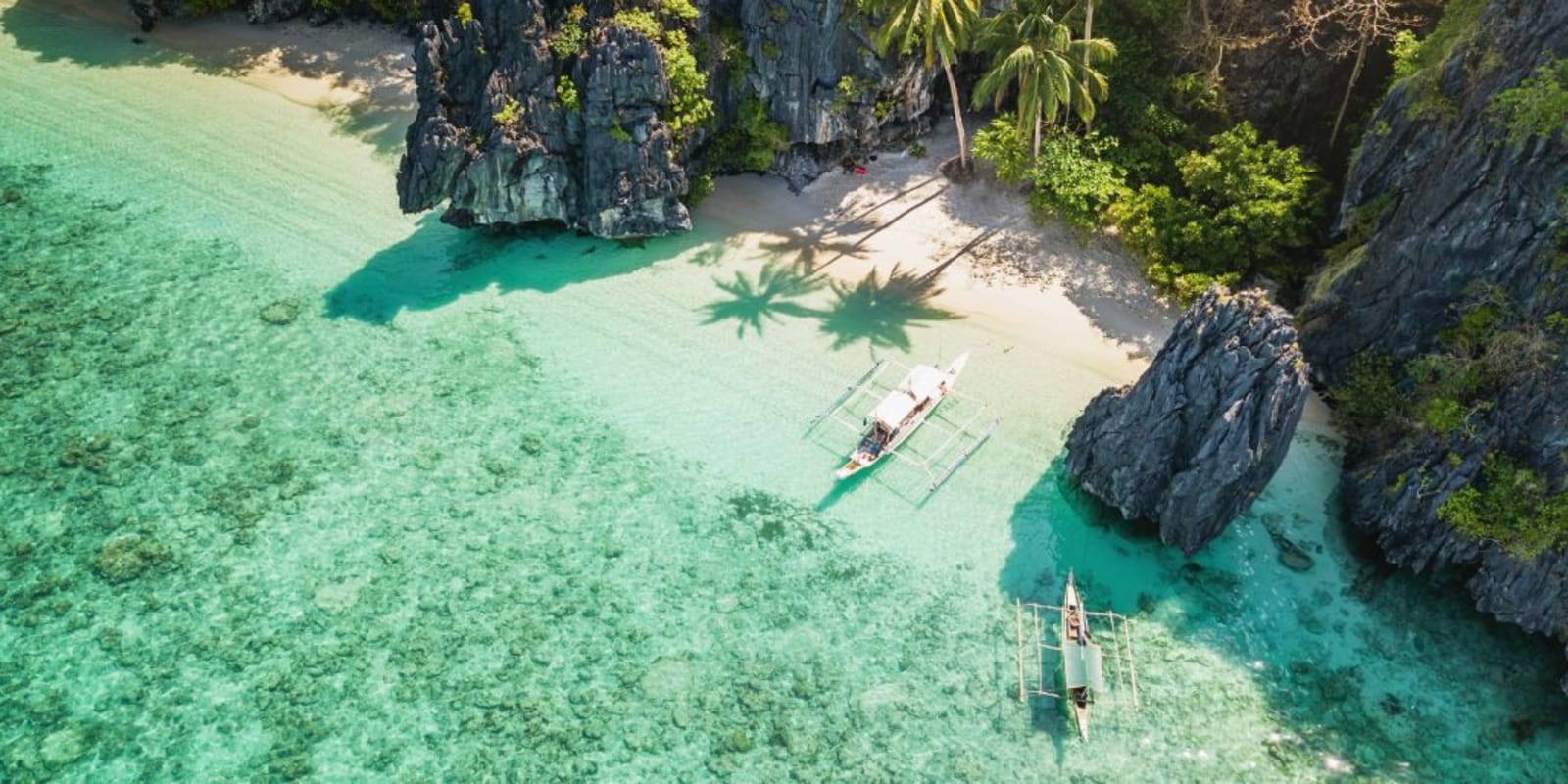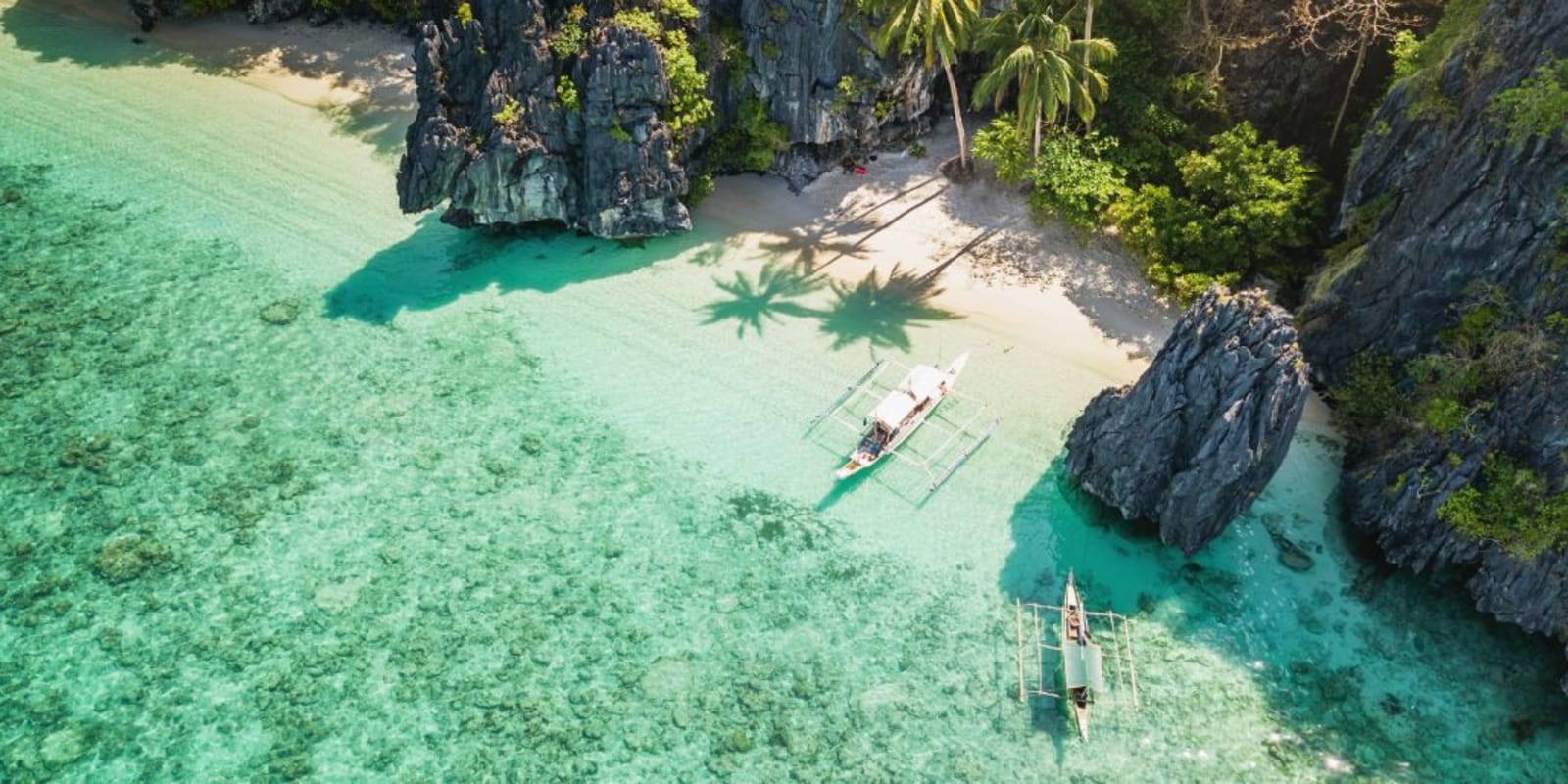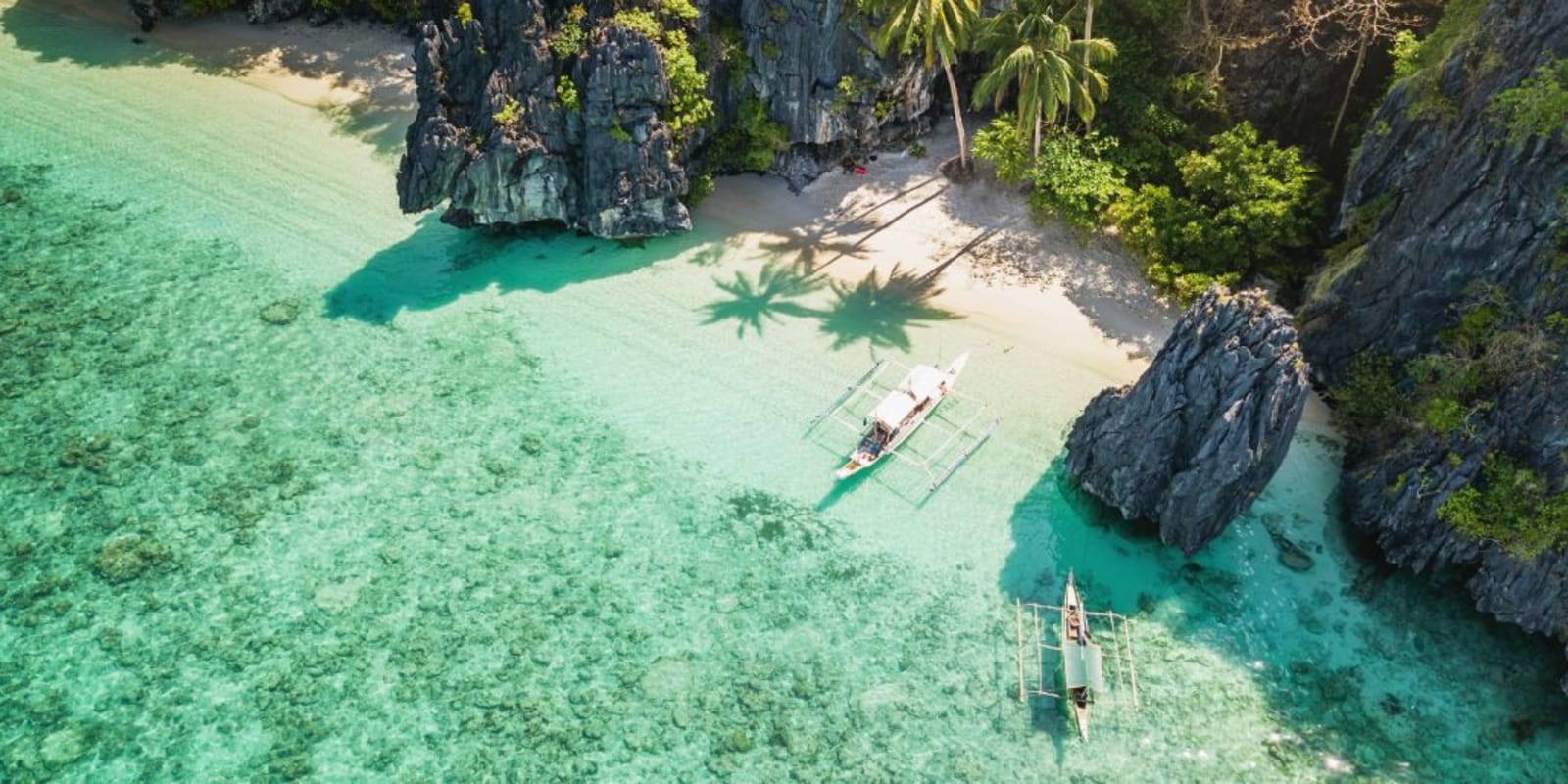 Palawan, The Philippines
An island destination with jungle romance and beach life written all over it. Introducing the Palawan Islands in the Philippines. After travelling to Palawan in 2019, we were absolutely mesmerised by the beauty of the island. The other parts of South East Asia are equally gorgeous though far more touristic. Palawan offers captivating island scenery with an unexplored nature feel. Jet off to Manila and then on to Palawan for an extended vacation of relaxation, boat trips, walking and slumbering on the desert island. Mix it with reggae at the beach and an island nightlife scene. It's the perfect combination of adventure and relaxation on an all-round vacation.
Best things to do in Palawan
Visit El Nido: El Nido is a small town located on the coast of Palawan. It is known for its stunning beaches and limestone cliffs. Couples can enjoy swimming, snorkelling, and kayaking in the area.

Go on a boat tour: There are many boat tours available in Palawan that will take you to some of the most beautiful spots in the province. You can see limestone cliffs, hidden beaches, and even snorkelling spots.

Go hiking: Palawan is home to many hiking trails that will take you through lush rainforests and up to stunning viewpoints.

Go diving: Palawan is home to some of the best diving in the world. You can see a variety of marine life, including sharks, turtles, and fish.

Visit the Puerto Princesa Subterranean River National Park: This park is home to a 24-kilometre-long underground river that is one of the most popular tourist attractions in Palawan.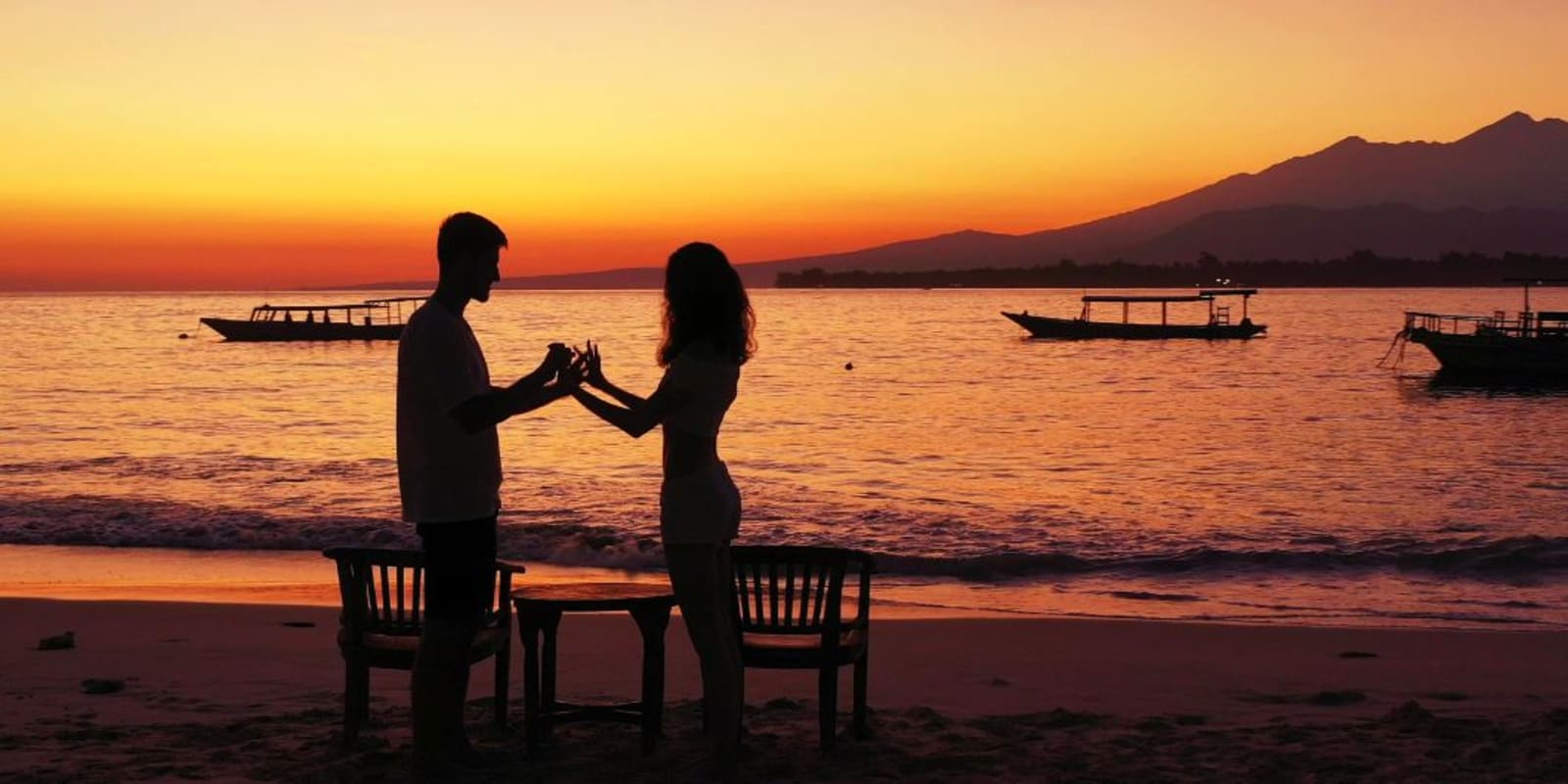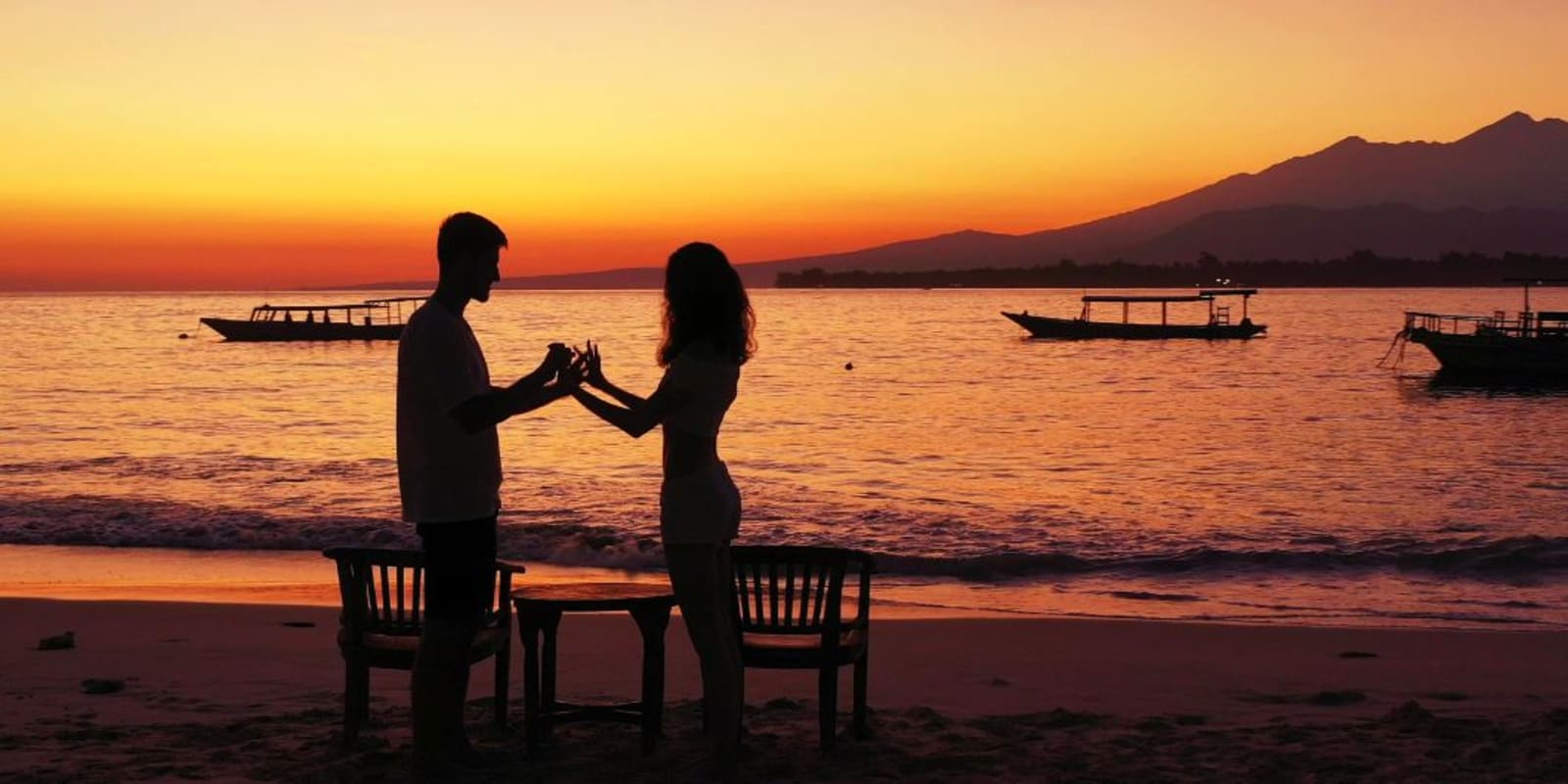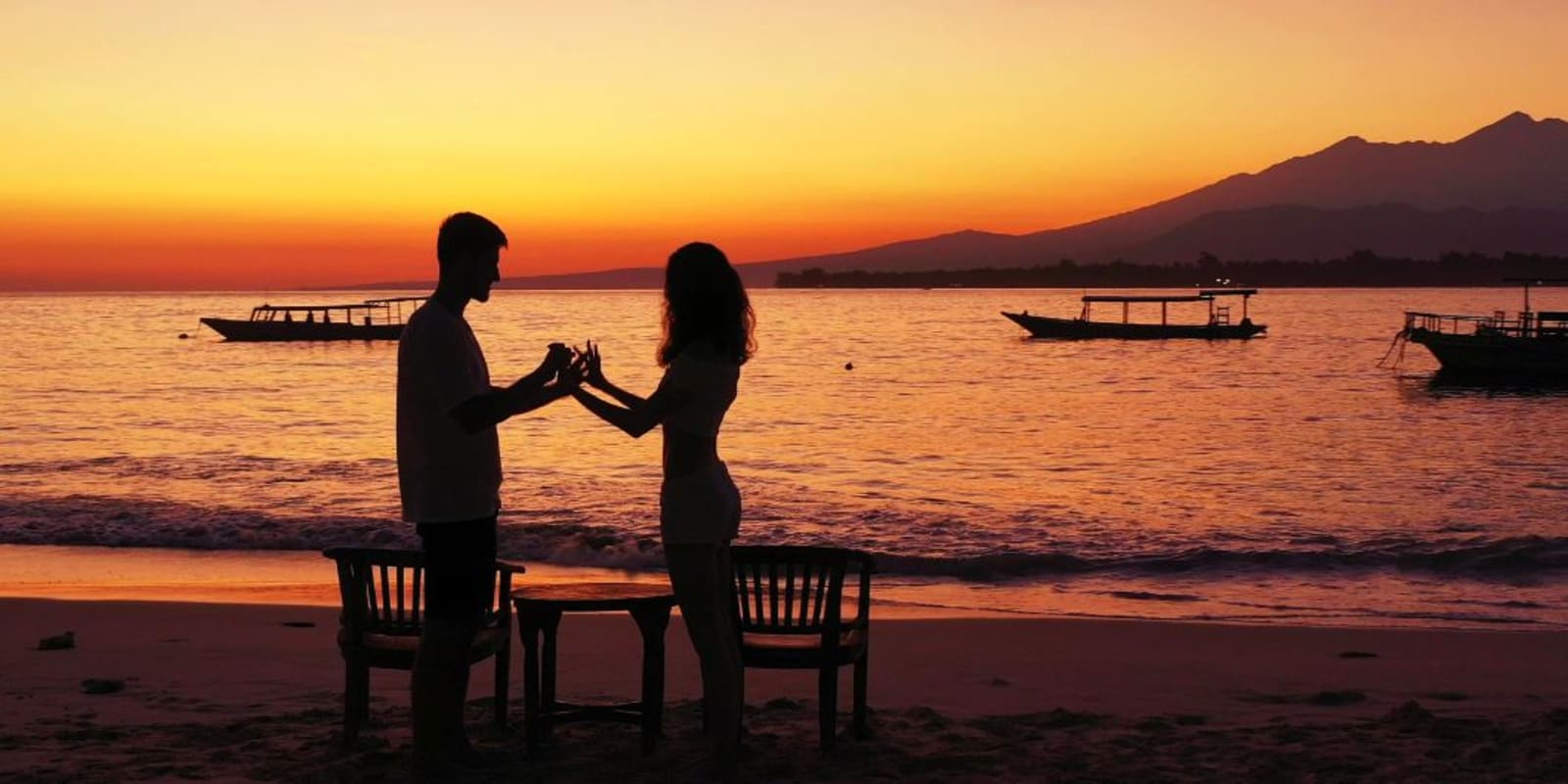 Bali, Indonesia
Another Instagrammers' paradise on this list is Bali. Bali is a tropical island paradise with stunning beaches, lush rice paddies, ancient temples and affordable shopping. It's no wonder that it's a popular destination for couples looking for a relaxing romantic getaway. Famous for its refined arts, volcanoes, picturesque mountains, sacred temples, diverse wildlife, rice terraces, and friendly Balinese – Bali has you and your partner covered.
Views of beautiful temples and forests surround each corner of the island and of course the beaches are spectacular, not quite Aussie beach spectacular but still perfect to sit and enjoy a Bintang on. Couples can also enjoy a variety of romantic activities, such as taking a cooking class, going on a sunset cruise, or visiting a traditional spa.
Best things to do in Bali
There are many couples' activities to enjoy in Bali, including:
Spa treatments

Yoga retreats

Hiking

Cycling through rice paddies

Local cooking classes

Temple visits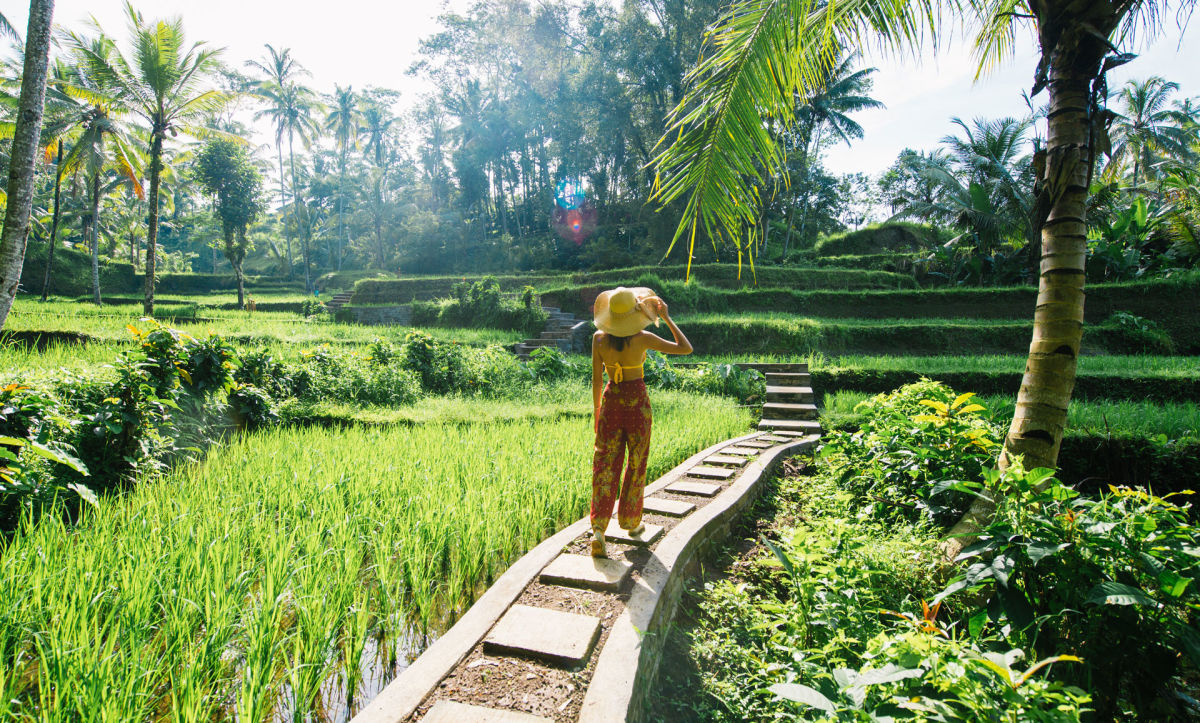 Expert tip
Keep your eyes peeled for restaurants with high service taxes as it can add up quickly and they don't all charge the same.
What is the top food and adventure holiday for young couples?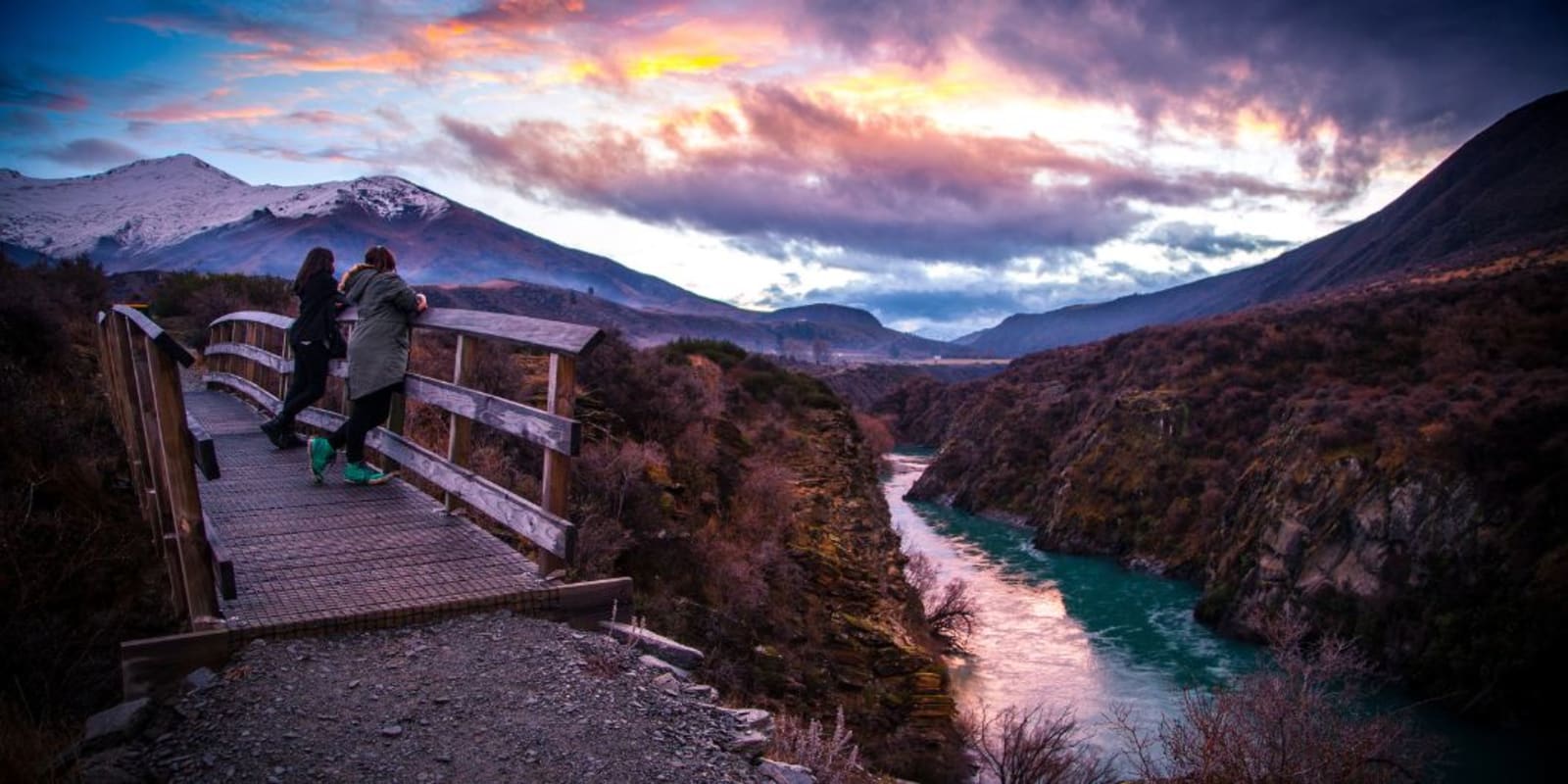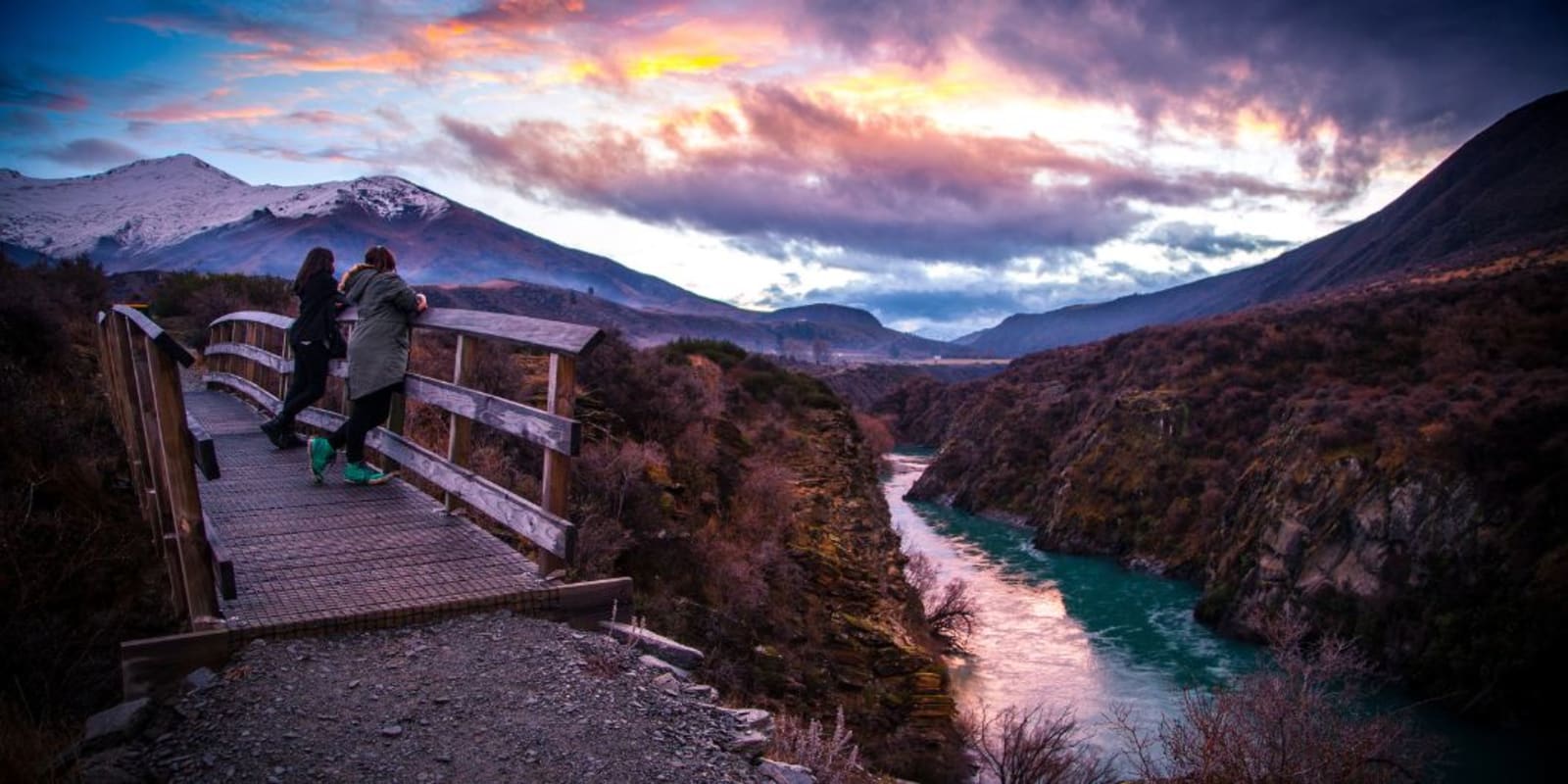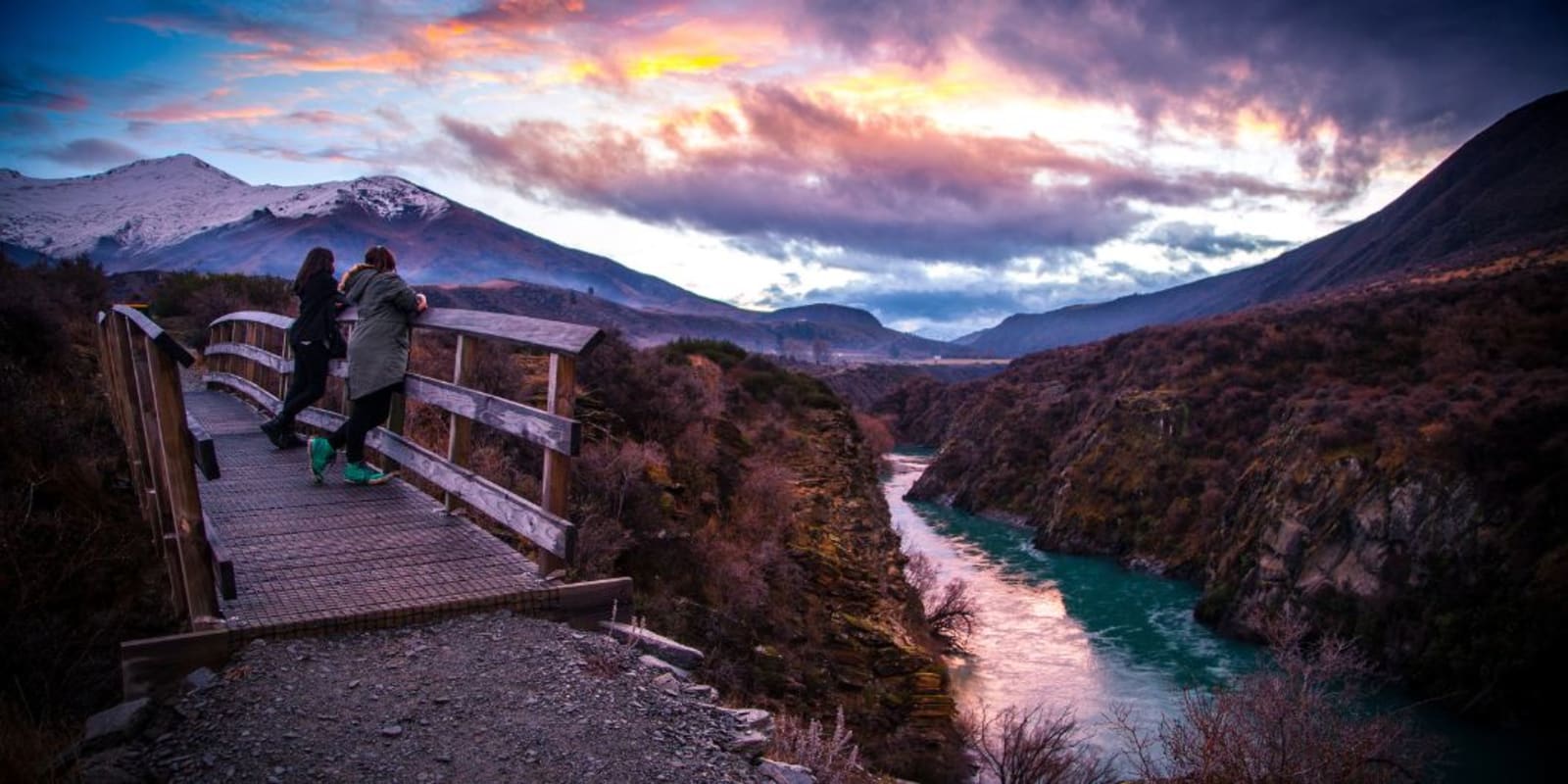 Queenstown, New Zealand
Queenstown is perched on the shores of New Zealand's Lake Wakatipu on its South Island. Set against the dramatic Southern Alps it's known for its stunning scenery, adventure activities, and romantic atmosphere - especially in winter when you can bundle up by a cosy fire.
Couples can enjoy a variety of activities in Queenstown, from hiking and mountain biking out in the mountains to wine tasting and dining in the city. There are also many opportunities for couples to relax and enjoy each other's company, such as taking a boat cruise on Lake Wakatipu or visiting one of the many spas in the area.
Best things to do in Queenstown
Queenstown has something to offer no matter what you're looking for in a romantic getaway.

Bungee jumping off the Kawarau Gorge Suspension Bridge.

Jet boating on the Shotover and Dart Rivers.

Skiing and snowboarding at The Remarkables and Coronet Peak.

Hiking and biking in the Remarkables Mountains.

Take a scenic flight over Lake Wakatipu.

Go wine tasting in the Gibbston Valley.

Visit the Skyline Gondola and take the luge.

Go shopping in the Queenstown Mall.

Have a meal at one of Queenstown's many restaurants and enjoy a night out on the town.
What are some romantic cities for young couples to visit?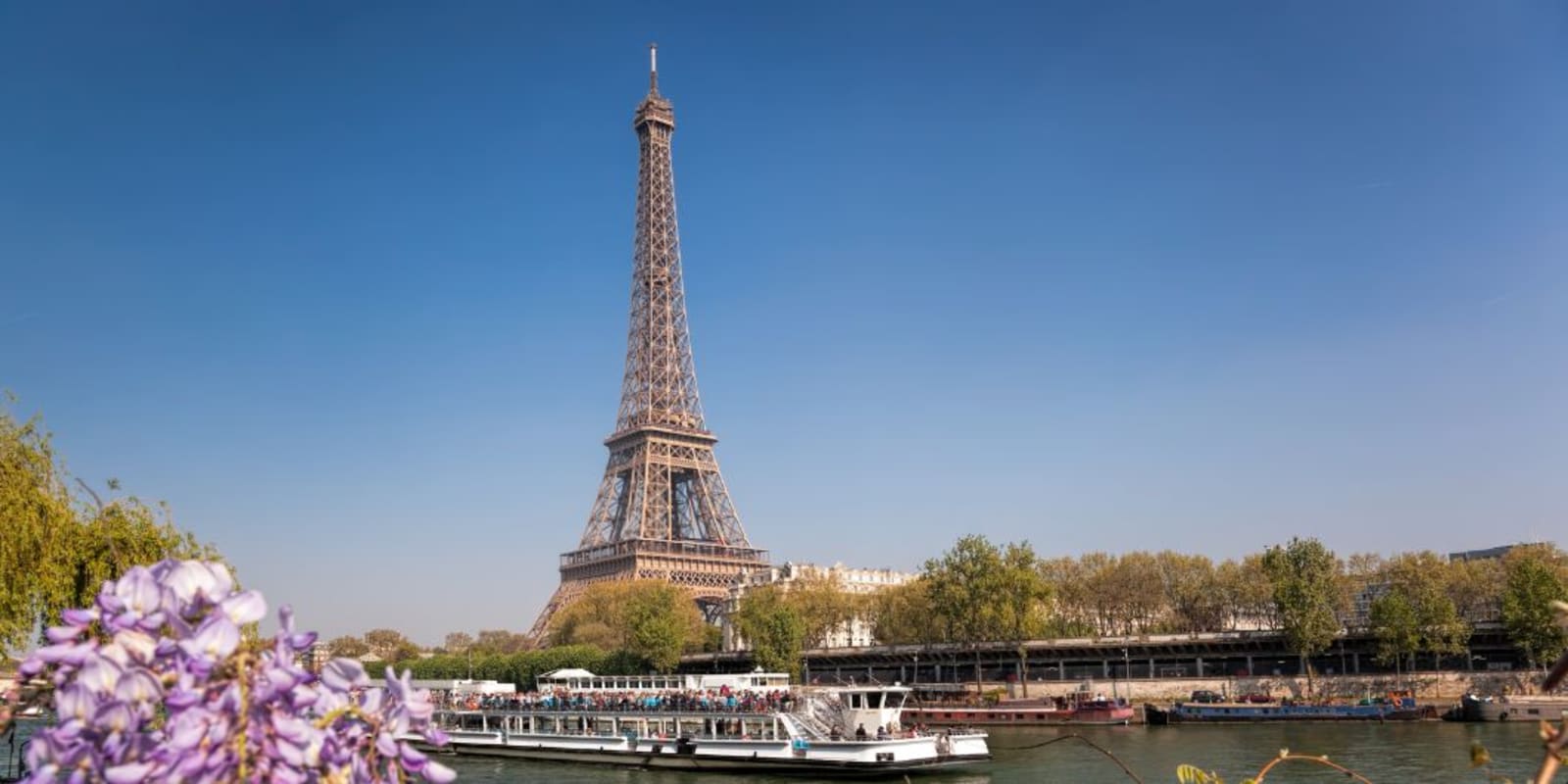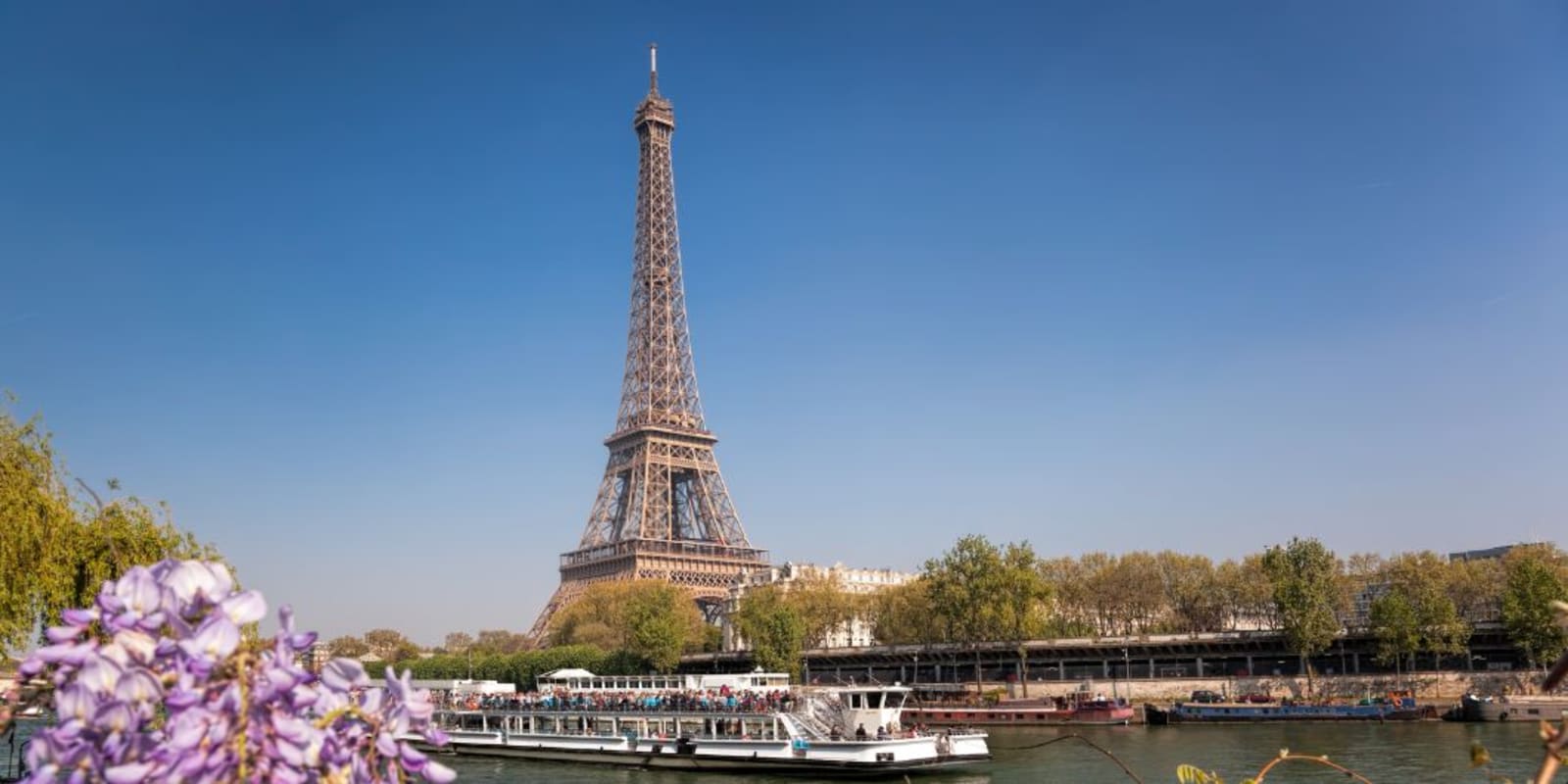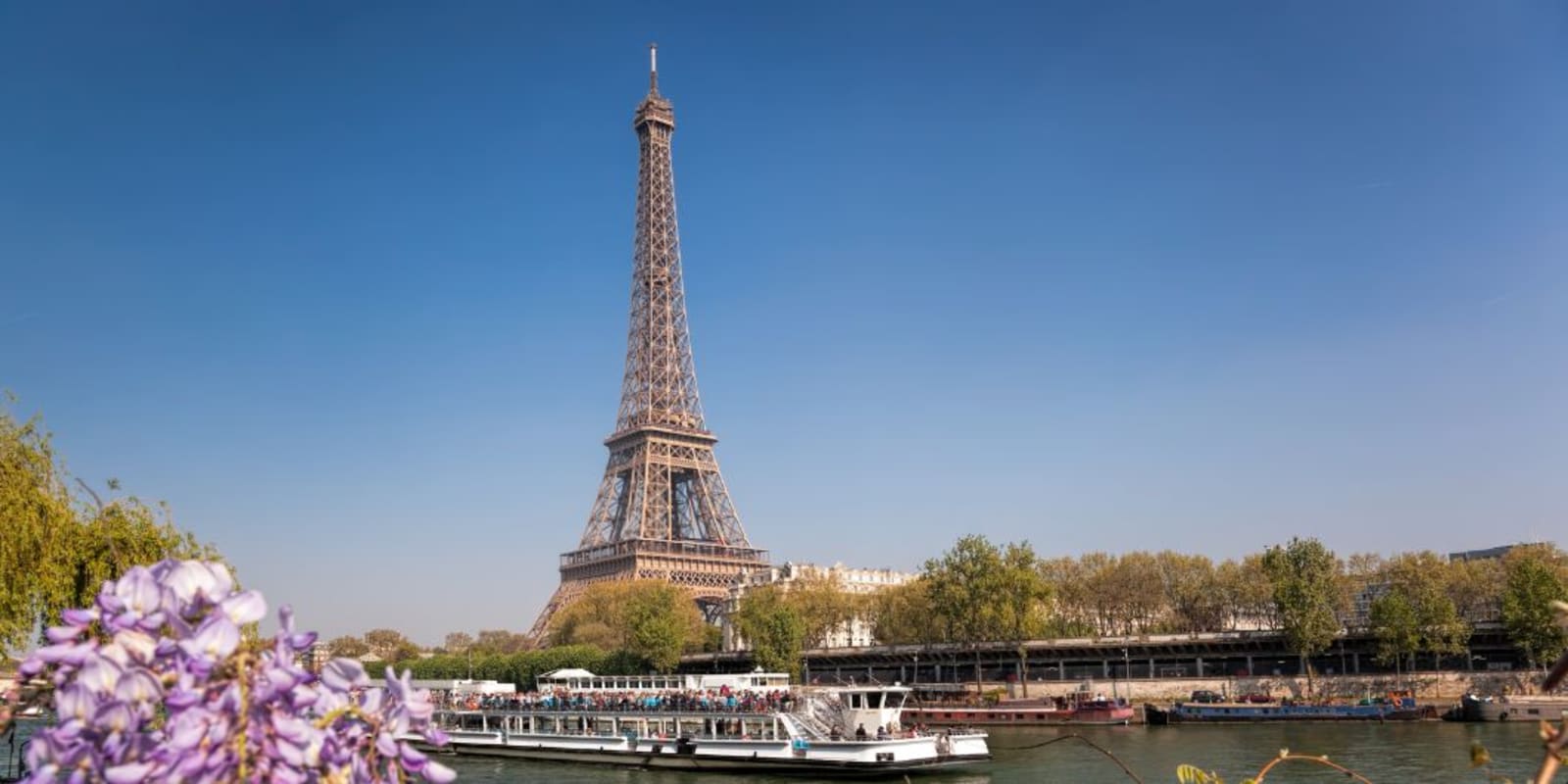 Paris, France
A romantic destination guide couldn't be complete without mention of the City of Love itself, Paris. Let your very own Moulin Rouge romance come alive by visiting the most iconic French city. Writers, artists, and filmmakers have used the stunning backdrop of Paris for inspiration for hundreds of years. People have written songs about this incredible city. It is a city meant for lovers and favoured by honeymooners year-round. 
Fun fact: The oldest romance novel set in Paris is believed to be "La Roman de la Rose" (The Romance of the Rose), written in the 13th century by Guillaume de Lorris and Jean de Meun. It is a long allegorical poem that tells the story of a young man's quest for love, with city streets of Paris as the backdrop for much of the action. Sigh.
Paris has many spectacular historical landmarks and cultural events year-round to impress romantics. Those interested in history should visit this breathtaking Avenue des Champs-Elysees in Paris. The cultural hotspot offers theatre, exhibitor venues, art galleries and annual national events.
Best things to do in Paris
Enjoy the best view of the Eiffel Tower.

Experience the show at Moulin Rouge.

Take your blanket for a romantic picnic in the park.

Window shopping on the Champs Elysees.

Go along the Seine for a romantic cruise at sunset.
Oahu, Hawaii Cruise
Couples looking to bask in the most beautiful surroundings nature has to offer should look no further than Hawaii. But planning a romantic trip to Hawaii can be daunting: There are over 100 islands in the Hawaiian archipelago, and at least six of them are major destinations for beach lovers.
So, how can a savvy traveller ensure their once-in-a-lifetime journey to Hawaii covers all the bases? The answer may surprise you: Book a cruise. Find a cruise itinerary that ticks off your main points of interest and from there, you don't have to worry about anything other than spending quality time together and picking out excursions.
Best things to do in Oahu
Visit Pearl Harbor: A historic site home to the USS Arizona Memorial, which commemorates the attack on Pearl Harbor in 1941.

Go snorkelling: Hawaii has some of the best snorkelling in the world. You can see a variety of fish, coral reefs, turtles and other marine life.

Go hiking: Hawaii has a variety of hiking trails to choose from, ranging from easy to challenging.

Go surfing: Hawaii is a world-renowned surfing destination. You can surf at beaches that are suitable for beginners or experienced surfers.

Experience a luau: A luau is a traditional Hawaiian feast and show. You can learn about Hawaiian culture and enjoy a delicious meal.

Relax on the beach: Hawaii has some of the most beautiful beaches in the world.
Amalfi Coast, Italy
Ahhhh Italy, the home of hearty food and dramatic romance. The Amalfi Coast is known as Italy's ultimate beach and luxury sailing location, and for good reason. It is home to towns perched between craggy cliffs forming a speckled and colourful coastline and picture-perfect beaches. It is extremely romantic and has of course become a popular honeymoon destination among celebrities. So keep your celeb-spotting eyes peeled when you're there.
Visit the towns of Amalfi, Positano, and Ravello: These three towns are the most popular destinations on the Amalfi Coast. They are all located on the coast and offer stunning views of the sea. Amalfi is the largest town and has a lot to offer visitors, including a historic centre, a cathedral, and a landmark beach. Positano is a smaller town that is known for its beautiful beaches and pastel-coloured houses. Ravello is a hilltop town that is known for its gardens and villas.
Best things to do on the Amalfi Coast
Take a boat trip to the Blue Grotto. The Blue Grotto is a natural cave located in the town of Capri. It is known for its bright blue waters and its otherworldly beauty.

Hiking in the Amalfi Coast National Park. The Amalfi Coast National Park is home to stunning hiking trails that offer breathtaking views of the coastline.

Swim in the crystal-clear waters of the Mediterranean Sea. The beaches on the Amalfi Coast are some of the most beautiful in the world.

Enjoy the local cuisine. The Amalfi Coast is home to some of the best food in Italy. Be sure to try the fresh seafood, pasta, and limoncello.
Best food and culture holidays for young couples:
Mykonos, Greece
Mama Mia! Mykonos is a Greek island known for its whitewashed houses, cobblestone streets, and vibrant nightlife. But it's also a top destination for couples looking for a romantic getaway. Mykonos, known for its party atmosphere, is the perfect destination for the couple who likes to go out dancing in the evening and lay by their own lagoon pool during the day.
Mykonos Town is a charming village with narrow streets, whitewashed houses, and traditional tavernas. There are also several other charming villages on the island, such as Ano Mera and Little Venice. There are plenty of romantic activities to enjoy on Mykonos, such as taking a sunset cruise, going for a walk on the beach at night, or dining at a cozy restaurant.
Best things to do in and around Mykonos
Visit the windmills: Mykonos is famous for its windmills, which are a UNESCO World Heritage Site. The windmills are located on a hilltop overlooking Mykonos Town and offer stunning views of the island.

Explore Mykonos Town: Besides shopping, there are several churches and museums in the town, including the Archaeological Museum of Mykonos and the Folklore Museum of Mykonos.

Relax on the beach: Mykonos has some of the most beautiful beaches in the world. Some of the most popular beaches include Paradise Beach, Super Paradise Beach, and Elia Beach.

Take a boat trip: There are several boat trips available from Mykonos, including day trips to nearby islands, sunset cruises, and boat parties.

Enjoy the nightlife: Mykonos is known for its vibrant nightlife, with bars and clubs open late into the night. Some of the most popular nightclubs include Cavo Paradiso, Amnesia, and Super Paradise.

Go hiking: There are several hiking trails on Mykonos offering stunning views of the island and the Aegean Sea.

Visit Delos: Delos is a UNESCO World Heritage Site and was once a sacred island to the Greeks. The island is now uninhabited, but it is home to ancient ruins of temples, houses, and other buildings.

Go island hopping: Mykonos is a great base for an island hopping day trip, with several other islands nearby, such as Santorini, Paros, and Naxos. Boat trip adventures are aplenty.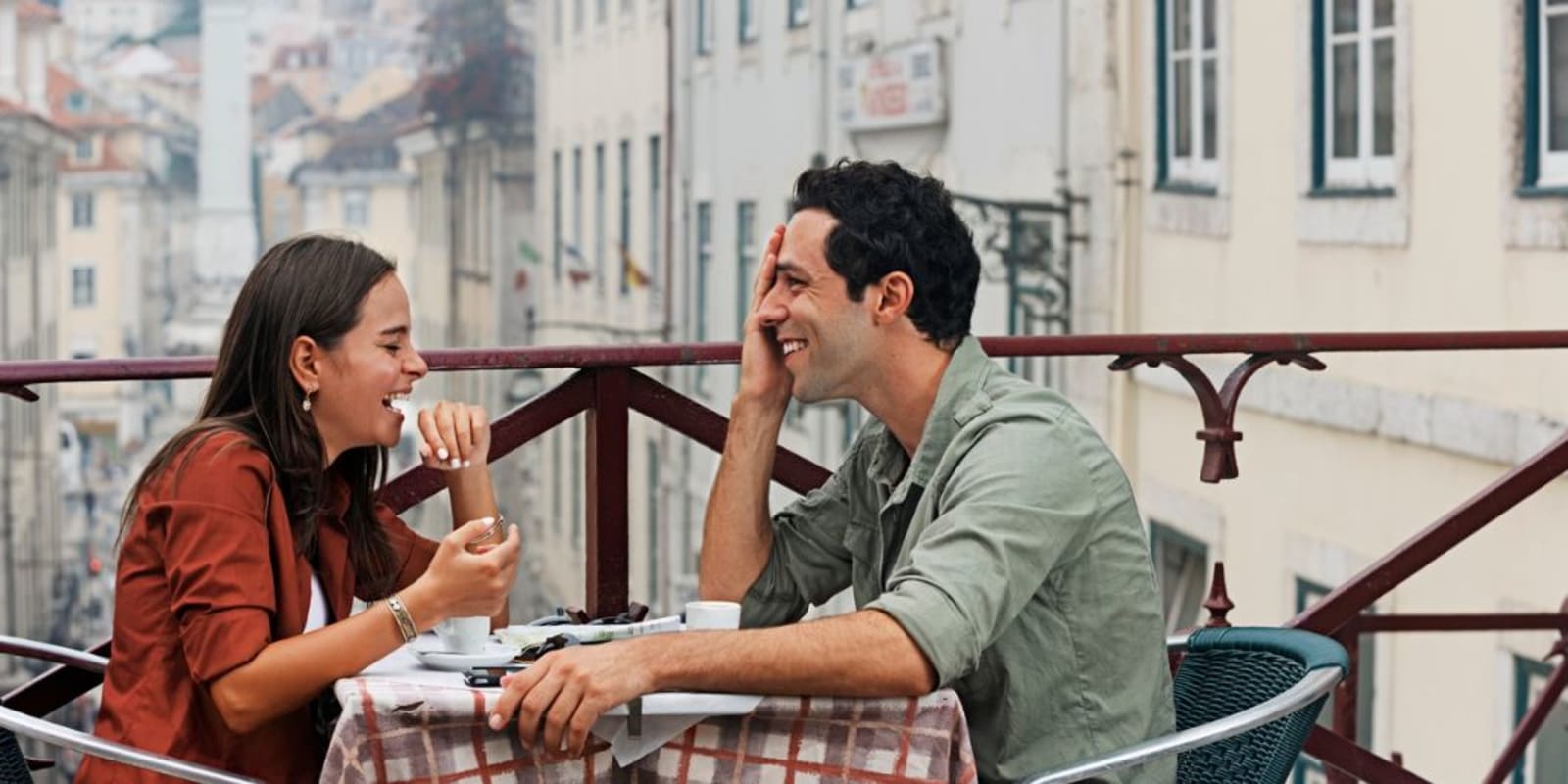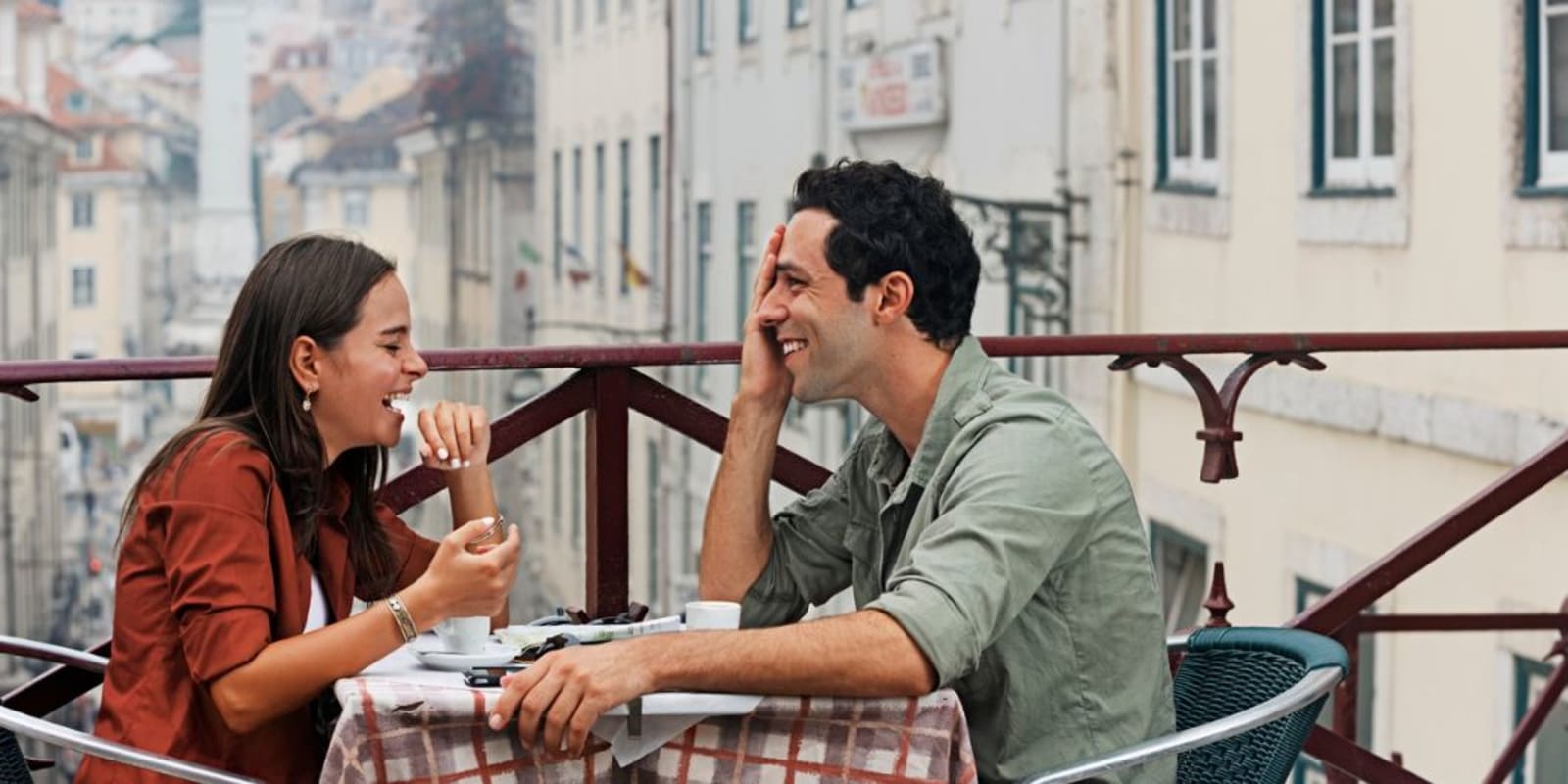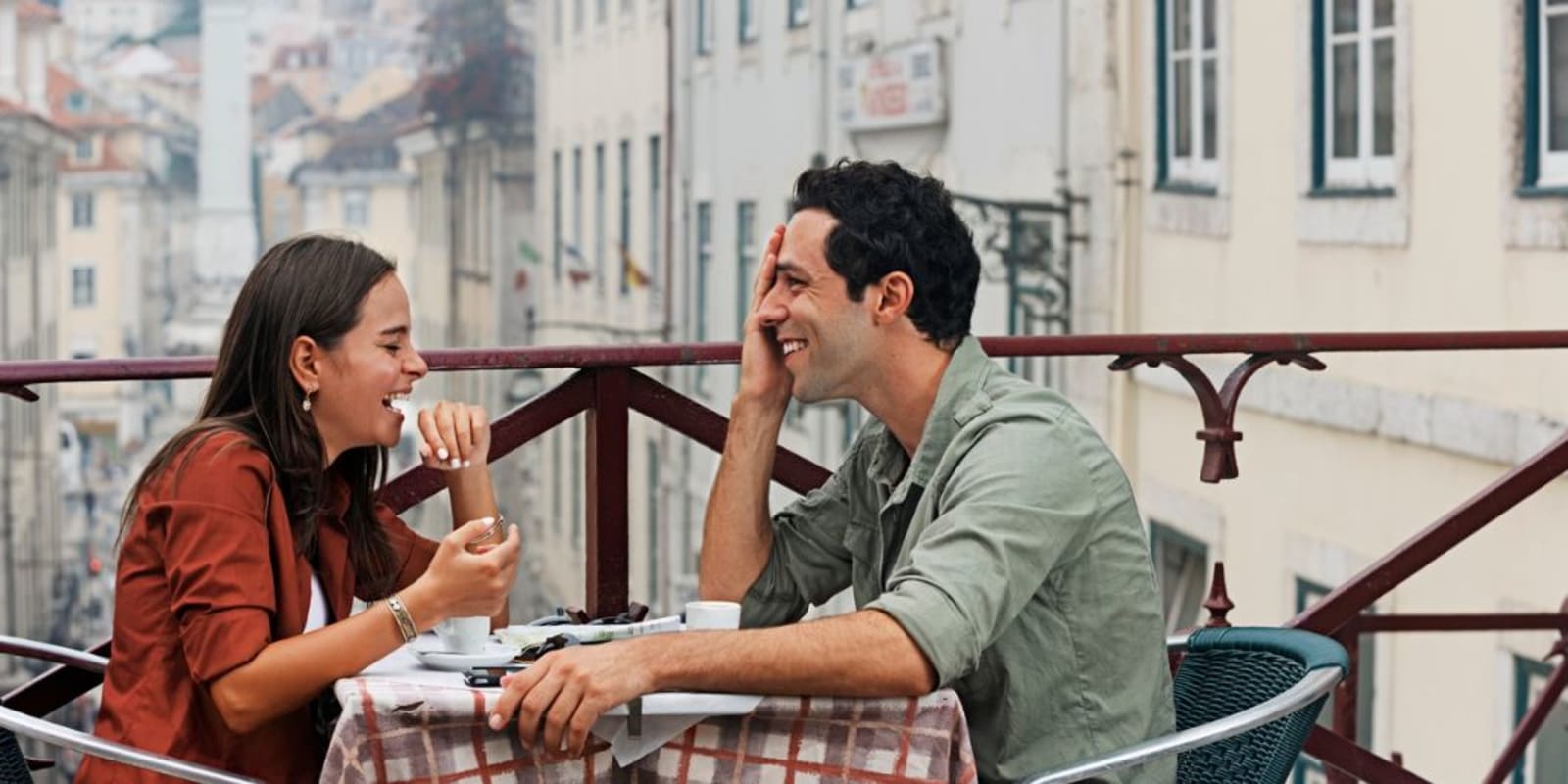 Lisbon, Portugal
Lisbon is a city that is made for romance. With its beautiful architecture, charming streets, and delicious food, Lisbon is the perfect place to escape with your loved one. One of the features that make Lisbon a top romantic holiday destination is the city's stunning architecture. From the iconic São Jorge Castle to the 17th-century Jerónimos Monastery, there is something to admire around every corner. Lisbon is also a city that is made for wandering.
With its narrow streets, winding alleyways, and charming hidden squares, there is always something new to discover. That also includes exploring its delicious food. From fresh seafood to traditional Portuguese pastries, there is something to tempt every palate. Finally, Lisbon is also a city that comes alive at night. With its lively bars and clubs, there is no shortage of things to do after dark.
Best things to do in Lisbon
Here are some additional tips for planning a romantic trip to Lisbon:
Stay in a quaint hotel: There are many charming hotels in Lisbon that are perfect for couples.

Take a romantic walk along the Tagus River: One of the best things to do in Lisbon is to take a romantic walk along the Tagus River. The riverfront is lined with beautiful gardens, cafes, and restaurants, making it the perfect place to stroll hand-in-hand with your loved one.

Visit the São Jorge Castle: The São Jorge Castle is one of the most iconic landmarks in Lisbon. The castle offers stunning views of the city, making it the perfect place to take a romantic photo.

Have dinner at a traditional Portuguese restaurant: There are many traditional Portuguese restaurants in Lisbon that serve delicious food. Some of our favourites include the O Trevo, the Adega da Sé, and the Solar dos Mouros.

Take a sunset cruise: There are many companies that offer sunset cruises on the Tagus River. A sunset cruise is a great way to see the city from a different perspective and enjoy a romantic evening with your loved one.
How to Plan Holidays as a Couple?
Travelling for the first time as a young couple can certainly be thrilling. Planning is essential to ensure you and the couple have a wonderful time together and don't end up crying over melted ice cream. Here are some additional tips for planning a romantic trip:
Choose the right time of year: Research the best time to visit your chosen romantic destination(s).

Book your accommodations early: Most of the cities and islands on this list are quite popular, so it is important to book your accommodations early, especially if you are travelling during peak seasons.

Plan your activities: There are many couples activities to enjoy in each of these places so it is important to plan your activities in advance and make the most of your trip. It's also a good idea to plan them in advance so both parties feel like they're contributing to the planning and that both partners' different interests are equally explored.

Relax and enjoy: Each of these locations is beautiful, relaxing and adventurous in its own way, so make sure to relax and enjoy precious time with your partner.
---
Flight Centre acknowledges the Traditional Custodians of Country throughout Australia.