More Than Casinos: The Ultimate Guide To Uncovering Macau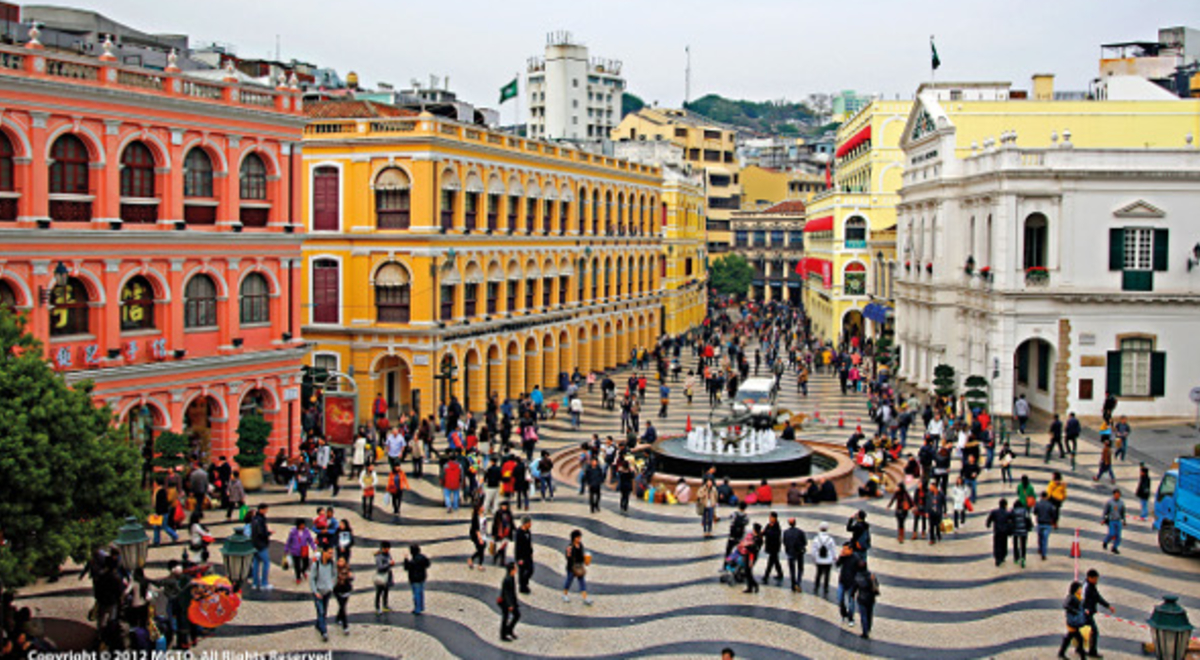 This former Portuguese enclave has a lot more going for it than its famous casinos. There are pretty pastel-coloured colonial buildings, dragons parading down the streets, foodie delights, and luxury and affordable hotels.
Macau might be famous for its gaming, but there are countless other reasons to spend time here. The charming territory, strategically positioned at the mouth of the Pearl River Delta, is also a fascinating destination for foodies, families, adrenalin junkies, history buffs, culture vultures – and even nature lovers.
Get Your Bearings
Macau's World Heritage-listed historic centre is set on a peninsula. Ferries from Hong Kong also terminate here. Three road bridges connect the peninsula to the 'islands' of Taipa and Coloane.
Land reclamation has joined Taipa, with its quaint cobbled laneways and lantern-lit piazzas, to lush Coloane, also known as the 'lungs' of Macau. The land link, known as the Cotai Strip, is home to integrated resorts such as Sands Cotai Central, City of Dreams and Galaxy Macau.
Macau On A Plate
With Macau's fascinating East-meets-West history that stretches back to the 16th century, it's no surprise to learn it serves up the planet's oldest fusion food.
Track down one of the restaurants specialising in these intriguing Macanese dishes. Bustling A Lorcha on the peninsula is a whitewashed restaurant located near the spot where Portuguese traders first made landfall (the lorcha is a hybrid boat).
Macanese specialties include fried rice studded with black olives, and spicy African chicken – a dish thought to have been inspired by Portugal's Moorish history (with a touch of the former Portuguese colony, Goa, in the coconut‑milk sauce).
African chicken is also on the menu at the romantic Miramar Restaurant on Coloane's black-sand Hac Sa Beach. Its menu also includes bacalhau stew for two, octopus rice, beef on hot stone and suckling pig.
Save room for sweets – the jaw-dropping dessert cabinet includes Macau's iconic serradura (sawdust pudding) and light-as-air egg clouds. Cafe Litoral in Taipa village also serves Macanese specialties such as saffron pork.
For a bite-sized taste of Portugal, head to Lord Stow's Bakery, just off Coloane Town Square, and buy half a dozen warm, wobbly, slightly charred Macau egg tarts with crunchy pastry.
These tiny delicacies are famous even beyond Macau's shores (with franchises in Hong Kong, Japan and the Philippines). The bakery also has an outlet within the Venetian hotel complex.
Cosy O Manuel, in Taipa village, is a family-run Portuguese restaurant that serves tasty mussels, prawns, bacalhau and sardines – the walls also feature Portuguese football memorabilia.
Hankering for a more substantial taste of Portugal? Head to Taipa's Antonio – a cosy eatery run by the flamboyant Antonio Coelho. The menu includes warm goat's cheese drizzled with olive oil and acacia honey, garlicky prawns and fish stew.
Wash it down with a glass of the famed vinho verde – an effervescent green Portuguese wine – and finish with crepes suzette (watch for the fiery performance that accompanies the dish).
Macau also dishes up delectable Chinese food. Coloane Town Square, overlooking the waterway that separates Macau from the Chinese mainland, is filled with restaurants spilling from the colonnaded archways.
Pull up a stool at Nga Tim Cafe: its hearty fare includes mussels in black bean sauce, curry crab, grilled sardines and 'sauna' prawns.
Foodies who like to spare no expense can head to City of Dreams' Michelinstarred Cantonese fine diner Jade Dragon.
Macau boasts two eateries with three Michelin stars. Robuchon au Dome and The Eight are both within the lotus-shaped Grand Lisboa hotel on the peninsula.
The Eight specialises in two of China's cornerstone cuisines (Cantonese and Huaiyang) while celebrity chef Joel Robuchon's establishment, Robuchon au Dome, is haute French all the way.
Work It Off
So you've just eaten some of the tastiest food of your life. Now for the good news: Macau is a brilliant place to walk off those extra calories.
The territory's historic centre isn't a mere tourist attraction but part of the fabric of everyday life. The 20-plus historic monuments and urban squares woven into the city's heart are considered so remarkable that in 2005 the historic centre earned World Heritage status.
Set out to explore the historic centre and you'll find pretty pastel-coloured colonial buildings with elegant arched colonnades, hand-painted blue-and-white mosaic tiles, a fortress, China's oldest lighthouse and streets paved in a black-and-white wave pattern.
The wave paving, one of Macau's most distinctive features, pays homage to the territory's seafaring heritage. Macau's most famous landmark is the Ruins of St Paul's – a 17th-century Jesuit church that burnt down in 1835, leaving behind just a facade dramatically perched at the top of 66 stone steps.
Today, ever-expanding Macau covers about 30 square kilometres – more than enough for several days of serious footwork. Visitors can follow eight self-guided walks around the former Portuguese enclave that, since 1999, has been a special territory of China (just like Hong Kong, a one-hour ferry ride away).
Macau's Historic Heart
If you do only one of the suggested walking tours, make it the stroll around Macau's historic centre (you'll probably also find yourself snacking on samples of honey-glazed meats along the way). It takes about half an hour to cover the centre's main attractions.
From Avenida da Praia Grande, head into Senado Square. Admire the neoclassical Leal Senado building, built in the 16th century as Macau's first municipal building, and the General Post Office dating from 1929.
The fountain is the square's centrepiece and a popular backdrop for photos. Follow the wave paving to St Dominic's Church, originally built out of timber boards by the Dominican Order from Spain.
Swing past Kuan Tai Temple – a shrine to both the god of wealth, and the saint of war and righteousness – that's intertwined with Chinese business associations.
Pop into the recreation of a traditional pawnshop business before swinging into Rua de Camilo Pessanha, a neighbourhood once famous for producing opium pipes so distinctive that they were exported to Beijing.
Peek into Happiness Street (Rua da Felicidade) – the former heart of Macau's red-light district is now home to fabulous Chinese restaurants – before tracking down Cheng Peng Theatre, which once presented Cantonese theatre to locals.
Trace Rua da Caldeira – the evocatively named street once contained a typhoon shelter (its name references the foams that would be whipped up along the coast).
The street leads to the historic inner harbour, home to Opium House – a fine example of the harbour's 19th-century\golden years. Finish the stroll at the Placa de Ponte e Horta where opium was once imported. Today this spot, considered the cradle of the Opium Wars, is a serene plaza.
Seven other suggested short walking routes cover themes such as the bygone days of Taipa village, nostalgia in Coloane, arts and culture, the crossroads of China and Portugal, and creativity – just remember to carry an umbrella to fend off the sun's glare.
Macau also has plenty of shady parks that provide respite from the heat. Camoes Garden, named after the Shakespeare of Portugal, Luis de Camoes, features an 1886 bronze bust of the poet secreted within a boulder-framed grotto.
Residents come to the garden to practise tai chi, play chess or walk their songbirds in wooden cages. Camoes Garden neighbours the Old Protestant Cemetery where gnarled trees shade the graves of merchants, missionaries and other colonists.
---
Need retail therapy? Shopping In Macau, Where All That Glitters Is Gucci
Need a place to stay? Top 8 Hotels For Holidays In Macau
---
Ready, Set, Action
Fitness fanatics can head to green Coloane to take a hike. Macau's highest mountain is crowned with a monumental statue of the A-Ma Goddess, said to protect fishermen and merchants who sailed to Macau. Carved from Chinese white jade, it took 120 sculptors eight months to complete.
Take time to soak up the panoramic views from this spot before descending to Coloane Town Square. The square's centrepiece is the Baroque-style St Francis Xavier church.
Also look for the Combatting Pirates Monument, which commemorates a 1910 incident in which pirates held more than a dozen Guangdong students for ransom.
Portuguese soldiers intervened and, while the students were saved, dozens of villagers died. The monument commemorates the villagers and celebrates the ousting of the pirates. Also worth a visit on Coloane is the Macau Giant Panda Pavilion, which houses two rare giant pandas.
Macau Tower is another one of Macau's high points. Adrenalin junkies can bungy off the tower, thanks to Kiwi bungy pioneer AJ Hackett, who established the planet's highest bungy jump (at 233 metres above ground) at the tower. Those who want to add an extra twist to their high-altitude adventure can do a night bungy off the tower on Fridays and Saturdays.
If plunging from the tower isn't your style, try the tower's Skywalk. Walkers are attached to the building through two points of contact and can sit, lean or pretend to fly their way around the tower. The 20-minute circumnavigation has no age restrictions – kids as young as two have completed it.
For an old-fashioned spin around the historic centre's quaint streets or the waterfront areas of Nam Van and Sai Van lakes, settle back in a tricycle rickshaw (also known as a pedicab). Hire a rider near the ferry terminal or from a stand near the Grand Lisboa. Settle the price before climbing in.
Looking for indoor entertainment? Watch The House of Dancing Water – an aquatic extravaganza playing at a 2000-seat theatre within City of Dreams.
The storyline involves a beautiful princess, an evil stepmother and a mysterious stranger but the show's real attraction is the extreme aquatic skills of the performers. Visitors can also take an indoor gondola ride while being serenaded under painted blue skies at the Venetian hotel.
Also on the entertainment radar is Studio City – a Hollywood-themed resort due to open this year. The art deco-inspired complex will include Asia's highest Ferris wheel, a virtual-reality Batman-themed motion ride and a Warner Bros fun zone.
Shop Until You Drop
Macau offers diverse shopping, with fashion ranging from cute boutiques stocking one-off items to high-end global fashion stores.
Source beautiful hand-painted tiles from the Portuguese Corner Shop, which also specialises in traditional goods such as sweets, soaps and salt imported from the mother country.
The store is in the Albergue SCM complex of shuttered villas, surrounding a peaceful courtyard in the St Lazarus District, near the Ruins of St Paul's church.
Want to splash the patakas on a statement timepiece, pair of shoes, or fancy new threads? Stroll the shopping arcades of the entertainment complexes: they're lined with high-end luxury stores such as Rolex, Armani, Dior, Gucci and Burberry.
Rehydrate
Looking for a spot to relax over a drink? Pop into MGM Macau's Lion's Bar to try its signature cocktail – the Long Lion Iced Tea is given a local twist with the addition of green tea.
The MGM claims to mix the world's most-expensive cocktail: the Winston, which costs about $15,000, includes two nips of Croizet 1858 Cuvee Leonie – one of the world's rarest vintages.
Beer lovers hankering after a pint of ale can pull up a stool at the English-style Old Taipa Tavern. High-rise bars offer views over Macau's dazzling night sky. Grab an outdoor table at Sky 21 (which also serves lunch, afternoon tea and dinner).
Rest Easy
Macau is home to hotel complexes of all shapes and sizes. One of the most memorable places to stay is the Venetian Macau, which pays homage to Italy's Venice with replicas of architectural icons such as St Mark's Square, the Doge's Palace and the Campanile Tower.
The 3000-suite hotel on the Cotai Strip features gondoliers poling along indoor canals lined with luxury stores while singing operatic favourites. The hotel features four outdoor pools including the adults-only Murano pool.
The Venetian might sound super-sized, but Macau's largest hotel brand is across the road within the Sands Cotai Central complex.
The Sheraton Macau boasts 3896 rooms and sits alongside the Holiday Inn Macau Cotai Central – guests staying at either property can sign up for Shrekfast.
The fun breakfast experience begins with a Dreamworks character performance on stage – afterwards, favourites such as Shrek, Fiona and Puss in Boots make their way through the room where diners are tucking into dishes such as Shrek's Donkey pop cakes with swamp fillings and dragon eggs cooked sunny side up.
The 636-room Conrad Macau is part of the same complex. Its Chinese eatery, Dynasty 8, is helmed by chef Wong Man who recently headed the Michelin-starred Tim's Kitchen in Hong Kong. The Conrad also features a drawcard spa: the Bodhi Spa menu incorporates Aboriginal, Asian and Ayurvedic treatments.
Away from the glitz of the Cotai Strip, the peninsula offers plenty of distinctive accommodation. To find MGM Macau, just look for the wavy glass exterior in gold, silver and bronze.
Inside, under a domed skylight, the hotel has re-created a grand European plaza complete with a facade modelled on Lisbon's 19th-century central train station.
The Holiday Inn Macau, located between the Grand Lisboa and the Guia Fort and Lighthouse, has an ornate colonial facade, an impressive chandelier in the lobby and a heated indoor pool.
The 408-room Sofitel Macau at Ponte 16 is on the waterfront. The hotel's outdoor swimming pool offers views across to China, while the luxury rooms fuse French design with Macanese accents. Guests can enjoy French classics in the Prive restaurant, or Cantonese fine dining in Le Chinois on the top floor.
The Grand Emperor, a block from the Grand Lisboa, channels the romance and glamour of European royal palaces. As for decadence, it takes things to a whole new level with the lobby's Golden Pathway – a trail of 78 one-kilogram gold bars set into the floor.
A replica 18th-century gold carriage sits outside the hotel entrance, where a daily 'changing of the guard' ceremony takes place.
Time It Right For Some Extra Fun
Macau is a year-round destination but it is even more fun during one of its major events. Chinese New Year celebrations are always an over-the-top affair, with a 238-metre-long golden dragon, 18 lions, animals from the Chinese zodiac and the gods of fortune, prosperity and longevity parading from the Ruins of St Paul's through Senado Square and beyond.
Chinese New Year is also a good excuse for fireworks: the Macau Tower and Taipa waterfront provide brilliant vantage points for the display. On New Year's Eve, head to the A-Ma Temple dating from 1488 – it will be filled with dragon dancers, drummers, fortune tellers and the haze of incense.
The Macau night sky also lights up in spectacular fashion during the annual Macau International Fireworks Display Contest. Over five nights (starting mid-September and culminating on October 1, the National Day of China), more than 100 international teams (including Australia) engage in spectacular pyrotechnic battles from the Macau Tower shorefront.
The 62nd Macau Grand Prix will take place from November 19-22 this year. Last year's high-octane event, which attracted 213 drivers and riders from around the world to participate in seven races, drew 80,000 motorsport enthusiasts to the street circuit. At other times of the year, motorsport enthusiasts can visit Macau's Grand Prix Museum.
---
Visit your local Flight Centre store or call 131 600 for more advice and the latest deals on travelling to Macau.
---

---
Flight Centre acknowledges the Traditional Custodians of Country throughout Australia.