Sound UP: A Muso's Guide To CMC Rocks Festival Queensland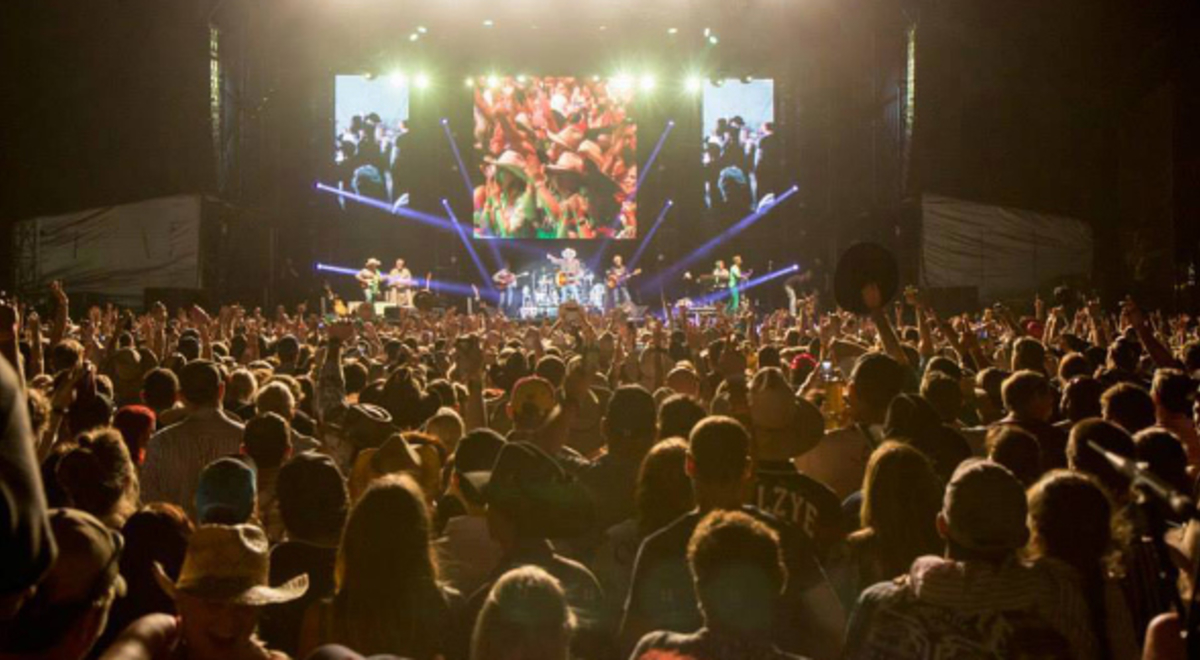 ---
---
The move from the wide open spaces of the scenically stunning Hunter Valley to it's new location about 1000km North to Willowbank Raceway in Ipswich, Queensland, caused quite a stir amongst the NSW country crowd.
And I must admit, since the previous venue had been just an easy drive down the freeway for me and festivals this big are never local for me, I was a little put off also. But I get it.
Queensland has a large (and growing) country music following and the means to expand was never going to happen in the costly Hunter Valley.
They had no room to grow and though NSW is also an amazing place to tour as a country artist, there is a huge following in the Queensland area for our type of music. They live it, they love it and they pay the money to come out and see it.
In the past when international acts would tour Australia, they would just sell one night in Sydney and be lucky to sell it out, where as Queensland has to put on two after the first concert sells out so fast.
The proof is in the pudding and I get why, as a business, they made the decision to move it to sunny Queensland.
For the NSW folk like me, there are very reasonably priced flights up to the sunshine state and even driving is a nice option with coastal views and the new freeways.
So, next year, 2015, we are off to Queensland for CMC Rocks and I myself, cannot wait.
I will be launching a new album in 2015 so getting a spot on this festival was a good get for me but I also knew that, due to previous years, this was a festival worth being a part of and going to as a fan also.
International Acts
The line up is majority American with headline acts like Lady Antebellum, Big & Rich and Chris Young all making their way Down Under for the festival. There aren't many country festivals in Australia where you get to play alongside such high standing international acts, but Rob Potts and his hard working team have changed everything with CMC Rocks.
The International line up includes: Lady Antebellum, Big & Rich, Chris Young, Lee Brice, Kristian Bush (one half of Sugarland), Laura Bell Bundy, Maddie & Tae, Charlie Worsham, Jeffrey Steele and many more.
And the local acts are: Troy Cassar-Daley, John Williamson, Adam Brand, Adam Harvey, The Wolfe Brothers, Adam Eckersley Band, Harmony James and Myself plus loads more also. The full festival line up and schedule will be provided on the website.
All-Day Action
The dates are Friday 13th, Saturday the 14th and Sunday the 15th of March and you can purchase your tickets and get all the festival information from the CMC Rocks website. It's a packed full festival that runs from morning till night and there is always something going on somewhere all day long.
As a performer, it's loads of fun hanging out backstage with all the other performers, watching them side of stage perform for the big crowds and above all of that, it's really cool when it's your turn to get up there yourself and play.
The feeling is electrifying and there's something going on at this festival that money can't buy, a vibe.
This festival has plenty of it and more. It's friendly, it's safe, it's a non-stop party and it's all while watching some of your favourite artists perform their hearts out.
Trust me, they are all as excited as you are to be there and are going to put on the best show of their life because they want to impress the other performers and most of all, you!
It's Party Time
I haven't ever seen any of the international artists coming out this year other than Big & Rich who put on a crazy fun show that is very entertaining and will never leave you bored, just wanting more and I have heard amazing things about the rest of them also.
They all know how to put on a great show and some of them really know how to party. At a festival like this, it's a very good thing to see them up there having as much of a party as you are down below.
The local acts, however, I have seen plenty of times and I can vouch for.
They have all been friends of mine for years and I know they all bust their ass year round just to have a career here in Australia in Country Music, so you know that the cream only rises to the top.
Discover Catherine Britt's country playlist. Catherine Britt's Driving Songs For A Country Journey
Catherine Britt highlights America's best country music bars. Best Country Music Bars In The USA
Tent, Vans And Rooms
I used to have the privilege of heading back to the comfort of my own bed when CMC was in the Hunter Valley, but next year instead, I will be staying near by at a hotel, only because I need amenities to get all dressed up and look purty.
But if I were going as a punter and just hanging out, I personally would be camping.
I love to camp and I cannot imagine a better way to soak up the atmosphere and enjoy the campfire camaraderie than setting up for the weekend in the camping grounds.
If you aren't a camper, there will be plenty of options for accommodation near by so head to the website and find what works best for you.
For the first time this year, for those who like the idea of camping but also like some luxuries too, they are offering Glamping this year in what they are calling "tent city", so check that option out as well if it sounds more up your alley.
An extensive range of food and drinks will be provided on the festival grounds and from past experience they are really good options and awesome tasting food.
The festival is also fully licensed so alcoholic beverages will be available to purchase and if you forget your cash, no worries, there will be ATM's provided on the grounds as well.
A Festival Like No Other
I have played CMC Rocks several times over the years and actually performed at the original one hosted in the Snowy Mountains. It's a festival I look forward to every single year. It's like no other out there and I always know that I'm in for a great weekend when I am attending.
Tickets range from $269 - $219 for a three-day pass for an adult and $134 - $84 for a three-day pass for the juniors.
You can also purchase one and two-day passes if you can't make the whole weekend.
If you don't like country music, it doesn't matter, because you will still enjoy this festival and the music it has to offer, I promise you that.
If you do like country music, why the hell haven't you bought your tickets yet!
How to rock at CMC Rocks QLD
Where is CMC Rocks held?
CMC Rocks QLD will be held at Willowbank Raceway, Ipswich (about 40–50 minutes from Brisbane).
When does CMC Rocks get rocking?
CMC Rocks Queensland will run from March 13–15, 2015.
How do I get to CMC Rocks QLD?
Turn off the Cunningham Highway at Champions Way. Parking on site will set you back $5.00.
Where do I stay at CMC Rocks?
There are several camping options on site, from small two-person sites ($150, BYO tent), to Tent City ($650, tents provided), and powered sites (starting from $300).
You can only enter the campsite if you have a valid 3 Day Event Wristband and Camping Wristband. Both wristbands must be kept on for the duration of the event.
You may also choose to stay in the greater Ipswich Area, however accommodation will book out quick.
How do I get my CMC Rocks tickets?
You can buy your event and camping tickets online. Your wristband is your ticket and must be worn the entire time. Wristbands will be sent out prior to the event in February, 2015.
How much do tickets cost?
General admission 3 Day tickets cost $269 for adults and $134 for children (aged 4–14). Limited allocation 1 and 2 Day tickets cost $159 for adults and $79 for children.
Who is playing at CMC Rocks QLD?
Thirty-six of the best country music artists and bands in the world! These include headline act Lady Antebellum, Troy Cassar-Daley, Adam Brand and, of course, our very own Catherine Britt.
---
Flight Centre acknowledges the Traditional Custodians of Country throughout Australia.