Take A Hike: Our Favourite Weekend Hiking Spots in Australia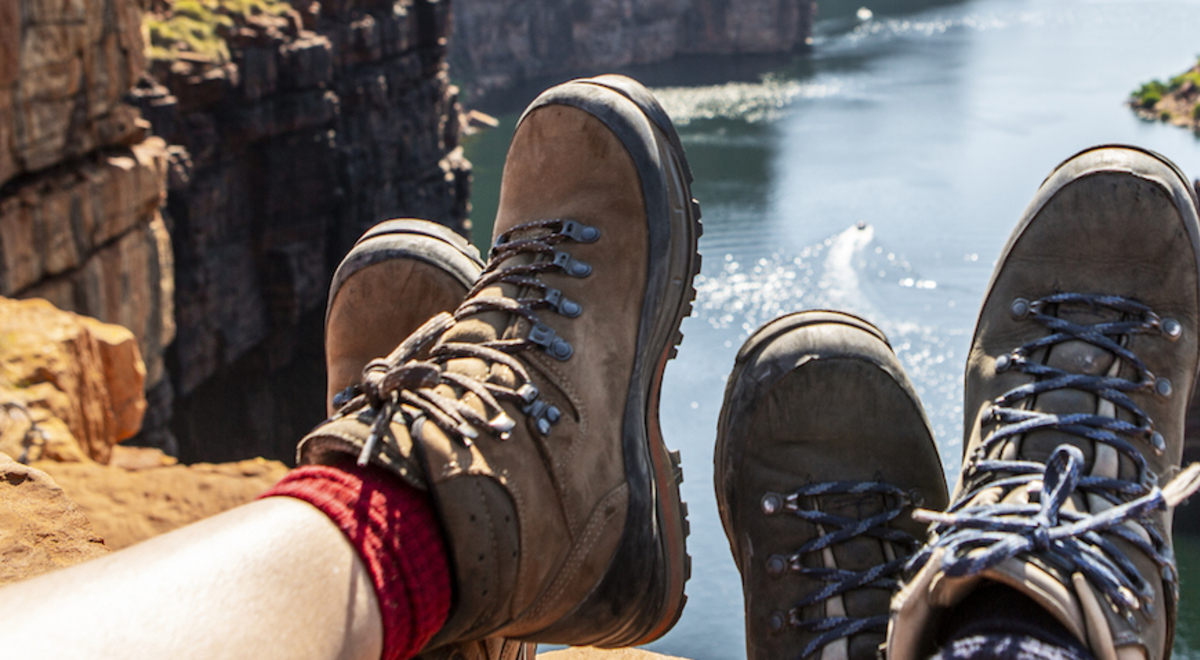 Our Favourite Weekend Hiking Getaways Around Australia
If this year has taught us anything about Australia, it's that there is a heck of a lot to see and do here. All clouds have their silver lining and one of 2020's is that Australians can take the time to see the country without the influx of international crowds. And what better way to see some of our bucket list spots, national parks, white sandy beaches and lush wilderness regions, than a hike. No matter your skill or fitness level, there is a trail to suit, and many of which can be done over a weekend break. Here is a round up of some of our faves, no matter where in Australia you're based.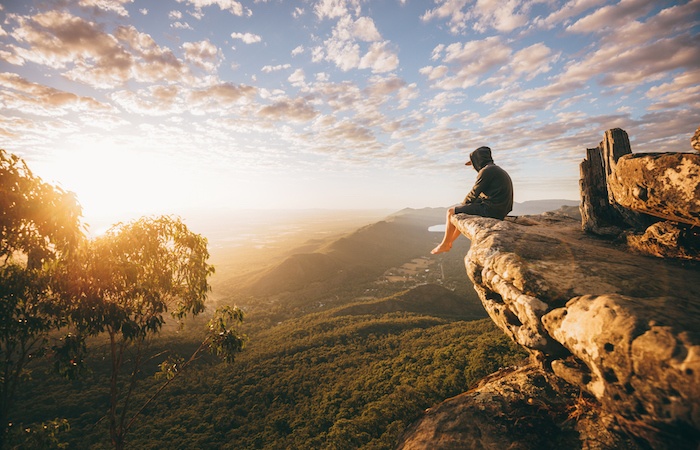 The best part of a hike - stopping to enjoy the view!
From Brisbane
The Scenic Rim
Covering significant ground, the Scenic Rim is full nature to get amongst. Lamington National park is a good place to start, with two sections to explore: Green Mountain and Binna Burra. Covered mostly in dense rainforest, you can expect beautiful waterfalls and rainforest walks ranging from a few kilometres in length for beginners, to multi-day tracks like the 2-day Scenic Rim Trail. Check out O'Reilly's rainforest retreat, which offers camping, retreats, and activities. Alternatively, head to Mount Barney or the Lower Portals for beautiful walks, clean swimming holes, and overnight stays. And there's always picturesque Mount Tamborine, where you'll find Mount Tamborine and Witches Falls wineries, chocolate stores, breweries, and a short, family-friendly walk which will take you to Curtis Falls, a beautiful waterfall and rockpool.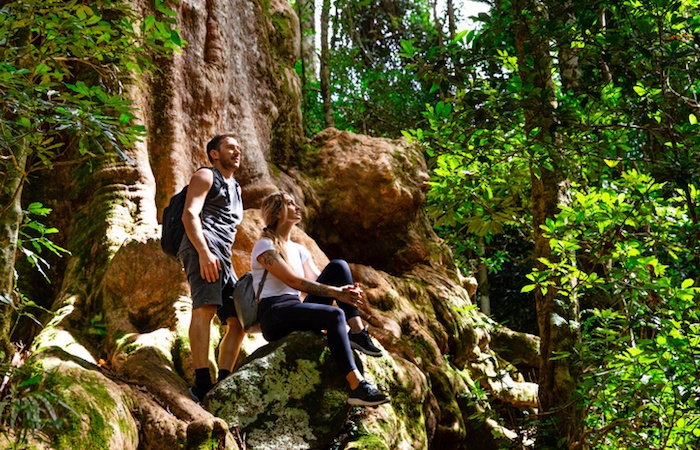 Lamington National Park
Springbrook National Park
A crowd-pleaser for all levels of hikers, Springbrook has plenty of options from short family hikes to full-day challenges. Due to its mountain location in, there are excellent lookouts, views over the Gold Coast, waterfalls, and rainforest of course. Try Twin Falls (4km) or Purling Brook Falls (5km) for a nice family walk, or the 17km Warrie Loop Trail for something a little more challenging. 
The Glass House Mountains & Sunshine Coast Hinterland
Visible from parts of Brisbane, the Glass House Mountains are unmissable jagged rocks towering up from the surrounding rolling hills. Ancient volcanic plugs, these mountains provide challenges for avid hikers and climbers. Start with Mount Ngungun (pronounced Noo-Noo), for a great 3km hike, before advancing to the more challenging Mount Beerwah, where rock scrambling is required (3km over three hours).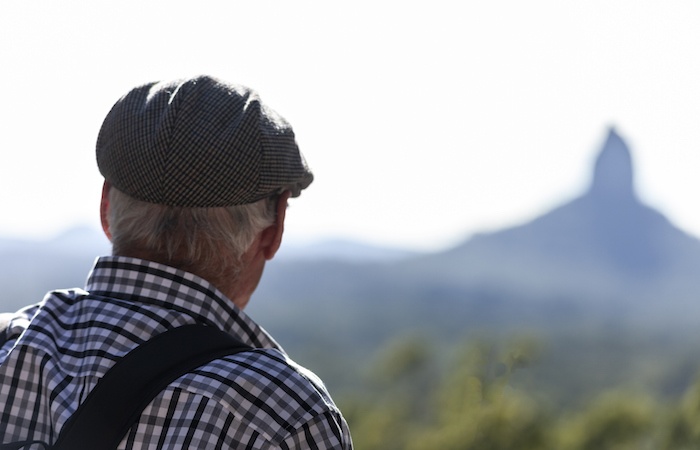 The Glasshouse Mountains
From Sydney
Royal National Park
If you've only got a morning, make a beeline through The Shire for the Royal National Park. Walk to the famous Wedding Cake Rock (3km one way) or the Figure Eight Pools (4km one way), or, for a full day adventure, take in both sites and more on the Coast Track, a 30km trail that traces the cliffs from one end of the park to the other. 
When you're finished hiking, drive 20 minutes south to Stanwell Tops and enjoy a meal at Uluwatu Blue, a popular cafe serving Mexican and classic cafe fare. Or for lunch and a cold one, the Scarborough Hotel further south is a pub with unrivaled views.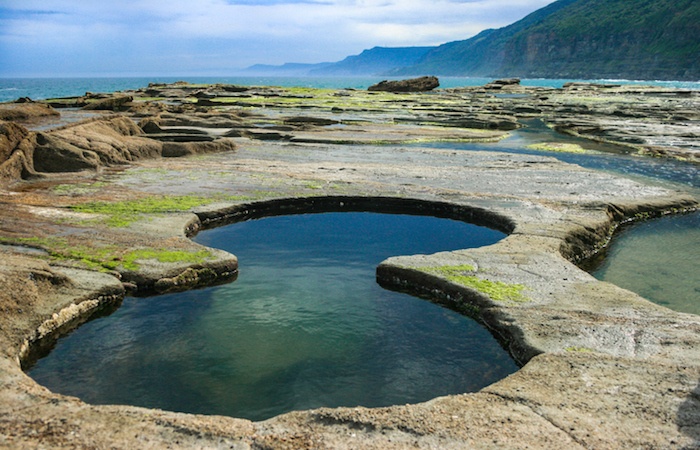 Figure 8 Pools, Royal National Park
Blue Mountains
There are too many hikes to mention in the Blue mountains, so make a weekend break of it, complete with brekky in one of Katoomba's quaint cafes, antique shopping, and dinner at a wine bar. Then you can tick off a couple of beauties, and still fit in some R & R. If you're an avid hiker, be sure to add the Grand Canyon hike (6km over three hours), and Ruined Castle (6.6km over four hours) to your itinerary.
For those looking for something more gentle, there are lovely leisurely walks near Wentworth Falls, including the Charles Darwin Walk (5.6km over three hours), and Princes Rock Track, (an easy 1.8km, 45-minute walk).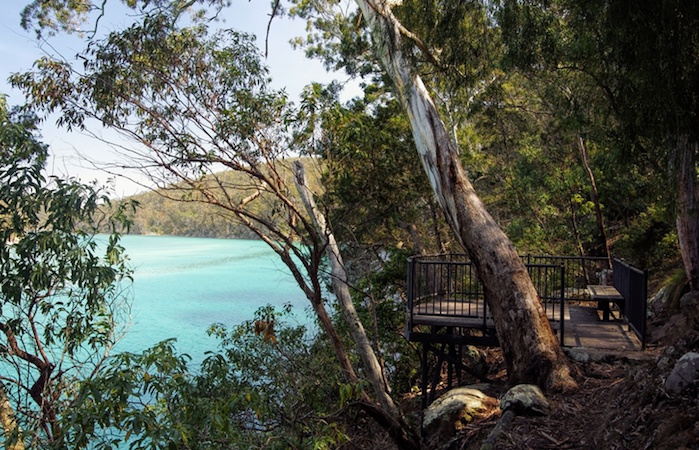 Pambula River walking track, Ben Boyd National Park
From Canberra
NSW South Coast
The South Coast has national parks and reserves peppered with hiking trails for all skills and types. From the white sands of Jervis Bay, though Batemans Bay, the mountains around Tilba and Nowra, all the way to Ben Boyd National park south of Eden, where you'll find clifftops, woodlands and rugged rock formations. 
Keen to take the whole family on a hike? Pigeon House Mountain, near the south coast town of Ulladulla, is a great 5km return trail (three hours) that rewards fantastic views. The walk is steep in parts, but certainly achievable with kids. Afterward, head to Ulladulla or Milton for a bite to eat at one of the many excellent local eateries. 
Snowy Mountains
You'd of course know these mountains as a Mecca for Australian winter sports, but did you know that in the warmer months, the alpine villages of Thredbo and Perisher become hot spots for mountain biking, climbing, and hiking? You can even do a day walk to the highest mountain in Australia (yes you read correctly, I in fact did it as a seven-year-old). Mount Kosciuszko might be our highest mountain at 2,228m, but due to its lack of towering rocky cliffs or sharp ridges, it's a reasonably accessible summit to conquer. The 18km return hike passes through fields of wildflowers and Australia's highest lake, Lake Cootapatamba. You'll need about 8 hours and a reasonable level of fitness.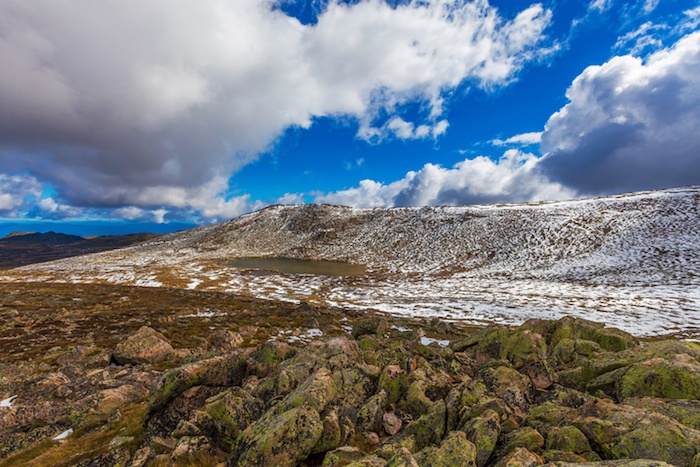 Lake Cootapatamba, Mount Kosciuszko Summit walk
From Melbourne
Werribee Gorge
You've probably heard of the Grampians and Wilson's Promontory, but did you know there are plenty of hiking destinations close to Melbourne? Werribee Gorge, just an hour north west of the city is a great 10km, or roughly 4-hour hike that provides a decent challenge with rock scrambling, views, and depending on the time of year, a swimming hole! 
Mornington Peninsula National Park
An hour and a half south of Melbourne, you'll find this Peninsula that's known for its great surf beaches and cute holiday towns. It's also home to a national park, where you'll find a few excellent hikes and leisurely walks. The Fingal Beach Walk is a relatively easy 1.5-2 hour walk, but you can make it harder by doubling it at low tide and looping back along the shoreline via Gunnamatta Beach further along. Another easy walk is the Bushrangers Bay Trail, which winds along the clifftop, providing a great vantage point to spot whales. When you've worked up an appetite, head 20 minutes up the road to Merchant & Maker, a cafe across the road from McCrae Beach. Serving local coffee and inventive food, it's the perfect place for a post-hike refuel. 
Gunnamatta Beach, Mornington Peninsula National Park
Multi-day Hikes
If you're after a multi-day hike challenge, there are plenty of those around Victoria too. You can head to the alpine region to tackle the Mount Cobbler Plateau Circuit (27.2km over two days), past Ballarat into Raglan for the 20.6km Beeripmo Walk, or head to the Cathedral Ranges for the North and South Circuit (24km over two days), just to name a few. 
From Hobart
Mount Field
Just an hour and a half drive from Hobart, Mount Field is a beautiful natural wilderness area with a range of hikes for all types of hikers. Families and those looking for an easy, flat stroll can opt for the Russell Falls walk, an easy 2.1km loop through rainforest. Lady Barron Falls is a moderate hike, covering 6.8km, which takes about 2 hours. Then the more avid hikers can tackle Lake Dobson (24km), Lake Webster (16km), or Mount Bridges (9.5km), all requiring a moderate level of fitness. Keep your eyes peeled for birdlife, wombats and even platypus which can all be spotted early in the morning at the campground. 
Wineglass Bay, Freycinet National Park
Freycinet National Park
It's iconic, but it's worth it. The most famous part of the park is of course Wineglass Bay. You can take the short, gentle walk to the lookout for a glimpse of the breathtaking bay, or for more of a challenge, summit Mount Amos (approx 3 hours return) for more uninterrupted views. For avid hikers, there's also the three-day Freycinet Peninsula Circuit, which is a fairly moderate hike covering just over 30km in total. 
If you still want more, try one of these solid Tassie hikes:
Three Capes Track, Tasman Peninsula

Overland Track, Cradle Mountain - Lake St Clair National Park

South Coast Track, Southwest National Park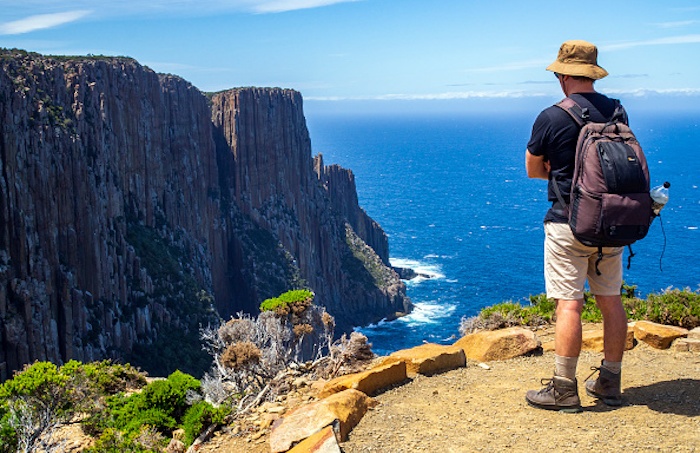 Cape Raoul on the southern reaches of the Tasman Peninsula, Three Capes Track
From Adelaide
Adelaide Hills
Every man and his dog in South Australia has probably done the Waterfall Gully to Mount Lofty trail, but did you know there are plenty more hikes in the region? In fact there are no fewer than 140-odd hikes in the Adelaide Hills alone! So why not opt for the path less travelled, and tackle somewhere new. 
Mount Barker Linear Trail is a 6km route (approx two hours), or there's the Belair National Park Loop that covers 10.4km in about three hours, both great places to start. For the more serious hikers, there is the Lavender Federation trail, a 325km trail that traverses through the Mount Lofty Ranges, Barossa and Clare Valleys. You can tackle the full thing in about 16 days, or try a smaller multi-day hike with one section of the trail.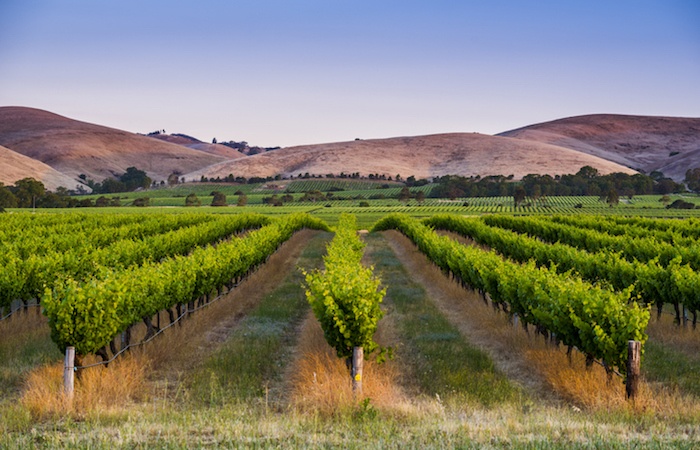 Barossa Valley, one of the regions along the Lavender Federation Trail
Onkaparinga River National Park
Just a 40-minute drive south of Adelaide, this national park surrounds the Onkaparinga River, South Australia's second longest river. The park has multiple walking trails from lookout walks to wetlands walks and gorge hikes. Beginners and families with kids can try the Wetlands Loop Trail (4.5km over two hours), or the Punchbowl Lookout Hike (2km over one hour). There are lots of options if you're looking for something a bit longer, like the 3.5km Echidna Hike (two hours) and the Gorge Hike (5.8km over four hours). For a full-weekend challenge, there's also the Onkaparinga Gorge Trek, which covers 21km over three days. 
From Perth
Coral Coast
The Coral Coast covers quite a large section of the coastline, but you don't need to venture too far to reach some of the state's incredible natural wilderness. Just a two and a half hour drive from Perth is Nambung National Park, where you'll find the Pinnacles rock formations and Lake Thetis, which is one of only a few places in the world with living marine thrombolites, otherwise known as living fossils. The Lake Thetis Loop trail is an easy 1.5km walk, that takes in both the rock formations and lake. 
The Pinnacles, Nambung National Park
A few hours further north at Kalbarri National Park, you'll find myriad walking trails that boast both inland gorges and coastal vistas. Don't miss the Z Bend River trail (2.6km over two hours), and Nature's Window (an easy 1km return walk) for incredible sights, and the Mushroom Rock Trail (1.5km approx two hours), for an incredible view of the unique coastline. 
Margaret River
Where better to head on a weekend than somewhere with oodles of natural beauty and walking trails, excellent food, wine, and surf breaks. Margaret River, which produces 15% of Australia's wine, might just be the perfect place to escape. If you're really serious about hiking, the Cape to Cape Track (135km over eight days no less!) is quite the challenge, or you could opt for the Hamelin Bay to Cosy Corner walk (13km over four hours). For something more like a warm up to the wining and dining of the region, try Wardanup Trail (6.3km over three hours), or the cruisy Bunker Bay Loop (3.6km over an hour and a half). 
The beach side of the Margaret River region
From Darwin
Mary River and Kakadu
Just an hour's drive from Darwin is Mary River National Park, where walking trails will take you through monsoon forest and wetlands, so keep your eyes peeled for birdlife and crocodiles! Fogg Dam is the closest point to Darwin and has a lovely short walk through the wetlands, while further south Mary River runs into Kakadu, where you'll find the Maguk Walk, a 2km, one and a half hour return walk to the Maguk pool, a beautiful swimming hole. Or you could try the Yurmikmik walks, a group of tracks that take in waterfalls, creeks and lookouts, best experienced in the wet season.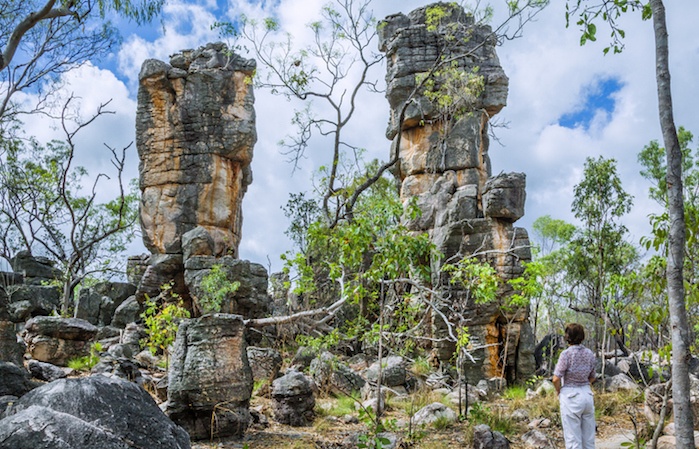 Lost City in Litchfield National Park
Litchfield National Park
A popular weekend or day escape from Darwin, Litchfield is home to plenty of interesting walks to waterfalls and swimming holes. The Tabletop Track is a hiking-lovers challenge, covering 39km over three to five days. If you want to experience some of it, but not all, the track is split into three sections, the shortest of which is about 8km and takes around eight hours. So you can dabble before committing to the full thing.
For a more leisurely walk, there's the 1km Florence Falls track (though it does have 160 stairs!), or the 1.6km Tolmer Falls lookout walk, which is mostly flat. 
---
Flight Centre acknowledges the Traditional Custodians of Country throughout Australia.