From The Pointy End: Our Review Of Scoot Business Class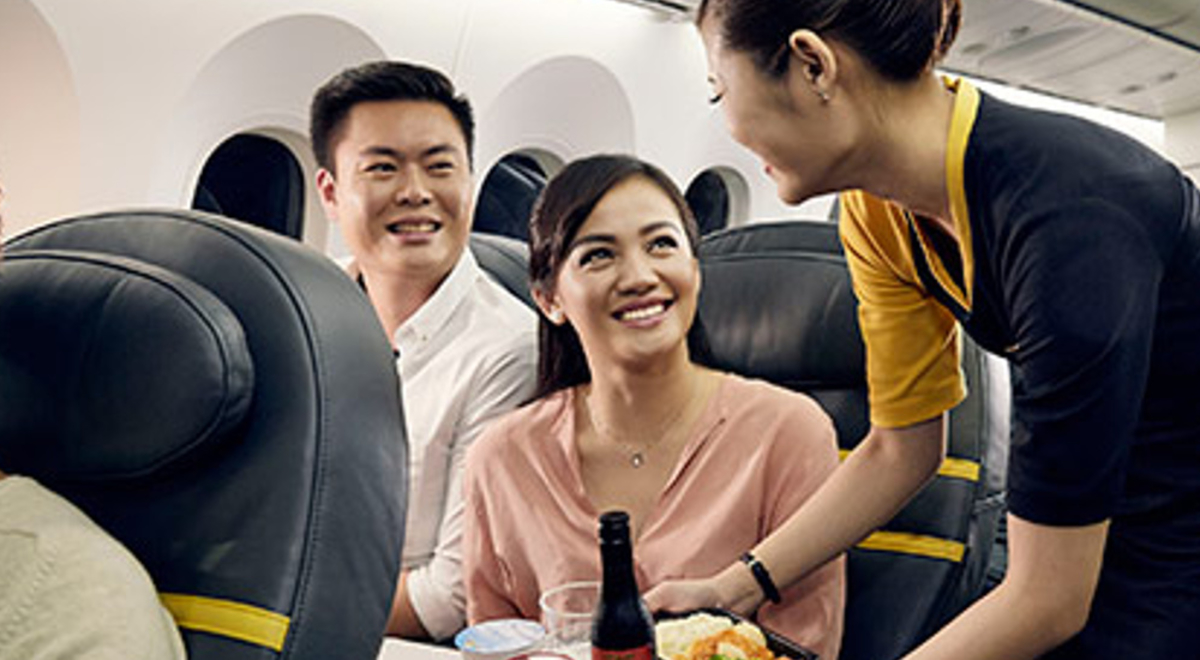 Words by Joanna Hall
Owned by Singapore Airlines, Scoot Airlines entered the market in 2012 as a modern, low cost carrier, operating medium and long haul routes from the Asian hub of Singapore.
The first flight between Singapore and Sydney took off in June the same year; fast forward to 2016, and the airline now services 16 popular destinations with an all-Dreamliner fleet, including Gold Coast and Perth in Australia, along with Hong Kong, Bangkok, and Taipei. Commencing in May 2016, the growing line-up will include destinations in India (starting with Chennai and Amritsar).
As a low cost carrier Scoot doesn't have its own loyalty scheme, but in 2015 it joined Singapore Airlines' KrisFlyer frequent flyer program, allowing members to redeem them on Scoot flights.
Quick Overview:
Route: Sydney to Singapore
Aircraft: Boeing 787 Dreamliner
Class: ScootBiz
Seat Number: 1A (window)
Duration: 7 hours 20 minutes
Baggage Allowance: 2 bags up to 30 kgs
Check-in
If you're booked into ScootBiz and flying from Sydney, you check in at a dedicated ScootBiz counter at Sydney's Kingsford Smith Airport. The process is quick and simple, and you're allowed a generous checked luggage allowance of to 30 kilograms, which is up from 20 kilograms when Scoot first launched. You are also allowed two pieces of carry-on luggage up to 15 kilograms.
As Scoot is a low cost carrier, however, even travelling as a ScootBiz passenger, you don't get the usual business class perks on the ground, which include using the Express Path to clear security, or use of an airline lounge in Sydney.
---
Looking for more business class reviews?
Cathay Pacific Business Class Review
---
Lounge
Outside of Singapore, Scoot doesn't currently operate any of its own airport lounges, nor does it have any reciprocal arrangements with any other airlines. For flights departing from Singapore, however, all passengers including those booked in ScootBiz can use the SATS Premier Lounge located in the Departure Transit Hall in Terminal 2 if they add a Scoot-in-Style package to their ticket for $39AUD.
Besides lounge access, the package also comes with First-on-Board priority check-in and boarding, and if you forget to buy it when purchasing your ticket, you can do it at the ScootBiz/Priority check-in counter at Changi Airport when you check in for your flight. And if you don't want, or need, lounge access, you can buy First-on-Board only for approximately $6AUD.
Seat
The 787 Dreamliner aircraft currently being used on all the Australia routes to Singapore are configured with 35 ScootBiz seats, organised in a 2-3-2 layout. I was assigned to seat 1A for the flight, a window seat in the first row of ScootBiz.
The first thing to note is that this isn't a true business class seat; forget any notions of a lie-flat experience, as it's more akin to a premium economy product, or the business class of a bygone era.
The seat is comfortable though with a generous 96 centimeter pitch and a width of 56 centimeters. There is also a leg rest operated by a switch, which extends from the bottom of the seat to prop up your legs. Being short in stature, I missed the leg rest not having a fold-out flap at the bottom that I could rest my feet on, and I had to get down my carryon bag to do the job.
The seat had an adjustable head rest, and a decent arm rest separating me from my neighbour. The angle of recline is 20 centimeters if you want to rest or sleep. And if you want to work, there is a universal AC power point between the seats, so no adaptor needed. Unfortunately, there are no USB sockets.
There's no personal air vent if you start to feel the heat; I found the cabin was quite a warm, which became hotter still when the sun came through the windows.
If you are flying overnight (which you have to on the return leg from Singapore to Sydney), you can add a Snooze Kit to your flight for $18AUD, which includes a blanket, eye mask and neck pillow.
Entertainment
Scoot doesn't have any personal screens or wall mounted screens, even in ScootBiz. Instead, entertainment, including movies and TV shows, is beamed to your smartphone, tablet or laptop by way of an app that you need to download before you fly. This means you also need to have your own headphones on hand. Unfortunately my iPad's OS was too old for the app to work, and I didn't have my new MacBook with me on this trip, so I had to forgo the entertainment.
Observing my fellow ScootBiz passengers, most appeared to be doing their own thing too, either reading or snoozing. Scoot's Dreamliners do have satellite-fed in-flight Wi-Fi that you can pay for in blocks of hours from one to 24 should you feel the need to get online.
Service
Although I had First-on-Board as part of my ticket, boarding in Sydney was a free-for-all, possibly due to the staff being slightly behind. I was also directed into the economy section of the plane instead of business. After that, however, everything went smoothly.
On boarding the 787, and after I found my way into the ScootBiz cabin, I was greeted with plenty of friendly smiles from the young flight attendants, called "Scootees". Shortly after settling into my seat I was offered the first of my two free drinks, and one of the "Scooters" (aka pilots) shared information about the route we were flying and the weather. The crew quickly and efficiently prepped both plane and passengers for the flight, and we eventually left close to on-time.
Throughout the flight, the Scootees were polite and on-hand if you needed anything, although they didn't come around the cabin offering top up refreshments after my second free drink. You had to ask and pay. Priority de-boarding is also part of the ScootBiz deal, and this was carried out effectively in Singapore.
Food And Beverage
As Scoot's flight from Sydney to Singapore departs in the early afternoon, I was served lunch shortly after take-off along with my second free drink, which happened to be water. It's the only meal included, and you can pre-order from a choice of several when you book your flight.
The Singapore Signature Chicken Rice I pre-ordered came with carrots and Asian greens with chilli. The portion was quite small even for a small female. It was adequately cooked and was accompanied by a basic small salad, a chocolate bar and a small tub of ice cream.
Everything came at once on a tray, which was bigger than the fold-out table. I opted to drink just water for the flight, and had brought my own bottle on board from the departure lounge; however, from a quick glance at the menu I could see there was a selection of beers, wines and spirits on offer. My advice if you have a hearty appetite is to bring your own snacks.
Last Word
ScootBiz is clearly more of a premium economy than a business class service, but if your priority is a comfortable seat with plenty of legroom, and you're not picky about the usual business class perks or the food, it's worth considering.
Just remember that beyond the basic cost of the flight, which is extremely competitive, you will need to pay for plenty of extras if you want them. However another major bonus is the Dreamliner aircraft, which is incredibly quiet and has cleaner and slightly more moisturised air. 
---
Flight Centre acknowledges the Traditional Custodians of Country throughout Australia.