Premium Economy vs Business Class On Singapore Airlines A380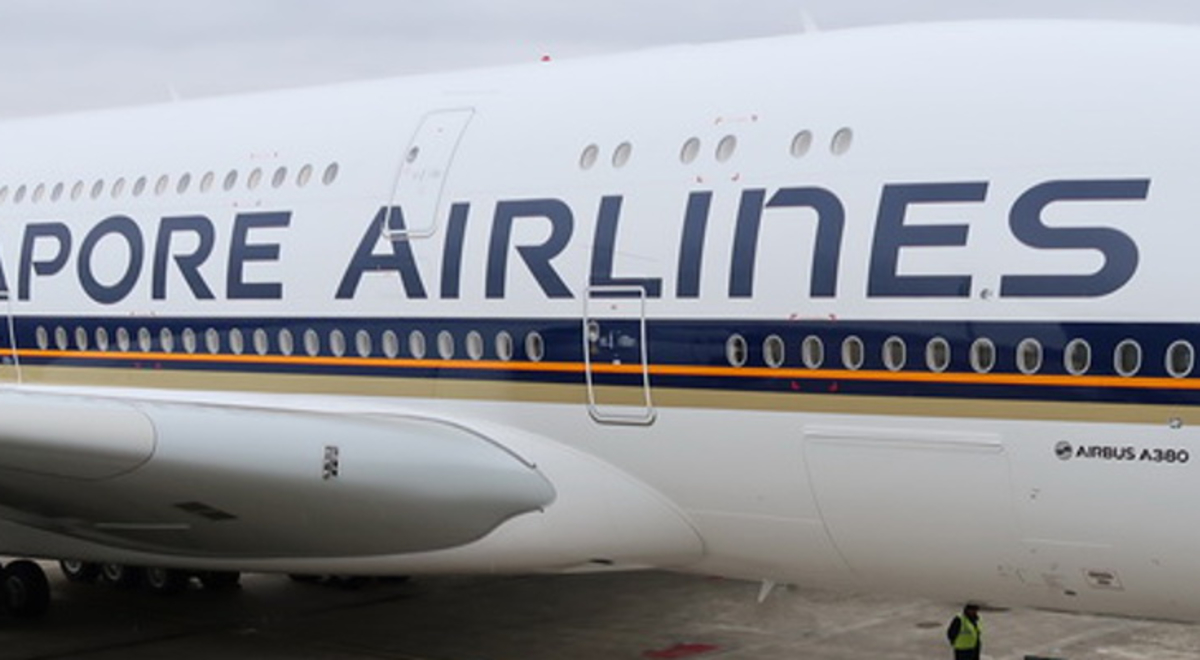 Celebrating more than a decade in the skies, the A380 remains the world's largest and most spacious aircraft. But in the last few months, Singapore Airlines has upped the ante by giving this iconic plane a $1,100 million makeover.
The first carrier to take delivery of the cutting edge craft back in 2007, in a timely move the award-winning airline has unveiled the first of five brand spanking new upgraded A380s for the A380s 10 year anniversary in December. And just as Australia was the country for its flight back then, we're also the launchpad for the newly revamped plane this time around - and I'm on one of the first on board.
Experiencing both the Business Class and Premium Economy Class offering, read on to get an overview of what's new, from soft furnishings and amenities, to entertainment and tech.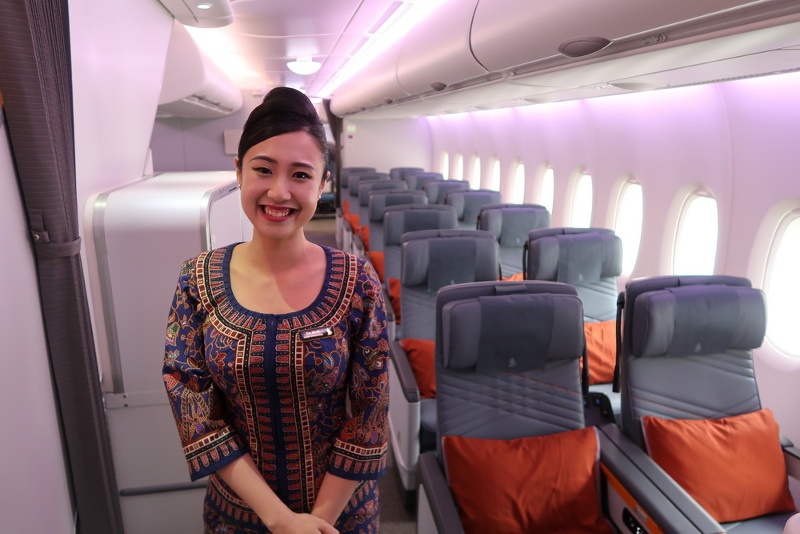 Expect premium service with a smile in Premium Economy.
Pre-Flight 
Premium Economy 
Arriving at the gate in Sydney's Kingsford Smith International airport for the maiden voyage, there's a full-on party going on: champagne corks pop, trays of canapes circulate and commemorative gift bags are bestowed on passengers as they board. Glimpsing the plane through the gate windows, there's minimal changes on the outside - aside from a few windows that have moved - to old model A380s, on the inside however, it's a completely different story. 
Business
Promptly through security, I make my way to the Singapore Airlines business class lounge and it's big - very big. Though it admittedly lacks the personal service (and a la carte dining options) of the smaller sister SilverKris lounge in Sydney, there's ample food and drink to galvanise yourself for a long flight. I sink a few glasses of iced Charles Heidsek bubbly, snack on a mix of hot and cold, western and asian snacks, and then end with a cheeky tub of Hagen Daz ice cream.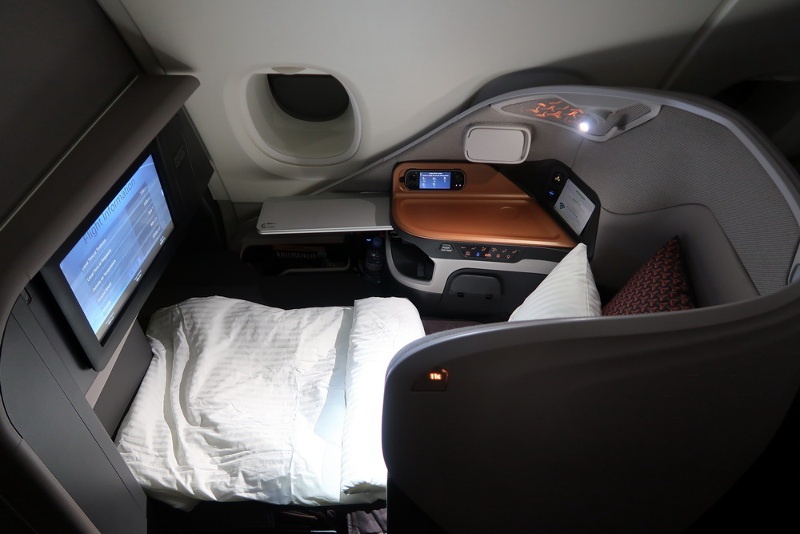 Business Class.
Seats
Premium Economy
The new A380 seating allows for 471 passengers in four classes of travel: six Suites, 78 Business Class seats, 44 Premium Economy Class seats and 343 Economy Class seats. On the outward journey to Singapore I'm in Premium Economy and the upgrade from economy becomes immediately apparent with the legroom - lots of legroom. Seats are 19.5-inches wide and have a pitch of-38 inches. Reclining eight inches at the touch of one button, another button raises a comfy leg rest.
Clearly a lot of thought has been put into the needs of passengers - reading lights with adjustable brightness level, an enlarged dining table designed for both eating and working, as well as heaps of stowage space. Excluding the large storage lockers overhead there's an alcove or niche for everything, from the roomy, expandable seat back pockets, to the cup holders and mini cocktail tables.
Business
Business Class seats are arranged in a forward-facing, four-abreast(1-2-1) configuration that offers all passengers direct access to the aisle. Measuring 25-inches wide and flanked by two 'wings' for additional back support, perhaps the most unique feature of the new Business Class seat is its carbon fibre composite shell structure (conventional aircraft seats use metal as the primary support) which allows for increased seat optimisation. This shell also creates a cocoon-like feel for additional privacy.
Fully adjustable using an electronic control side panel, the seat reclines to a pre-programmed flat bed of 78 inches and a comfortable 'sun-deck' position for movie watching.  The carbon fibre shell structure also means that there's even more under seat stowage, in addition to built-in storage compartments. Another nice touch is the personal vanity mirror with light, allowing you to touch up before you touch down.
Lastly, in an airline first, all of the centre 1-2-1 configuration seats have a middle divider, which can be lowered to form double beds, making it ideal for families or couples travelling together.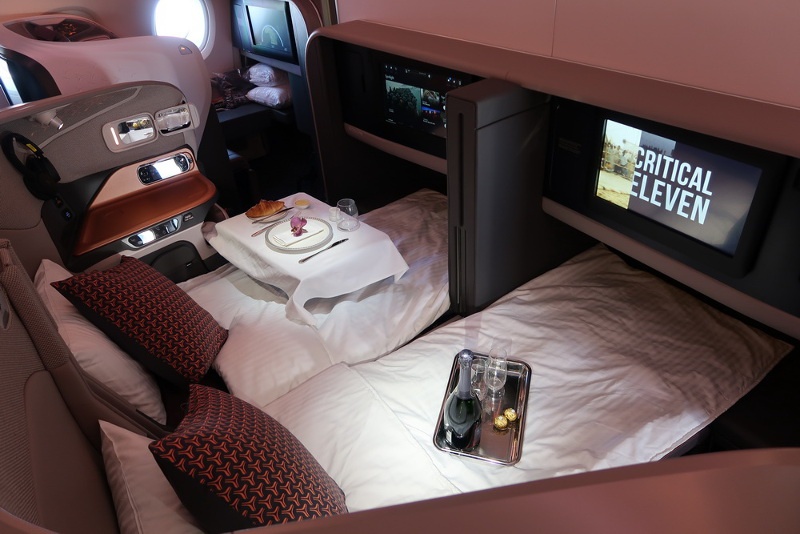 Business Class.
Entertainment
Premium Economy
New touch sensitive, 13.3-inch full HD screens are paired with fancy noise-cancelling headphones to make movie or TV show watching a real joy. The KrisWorld In-Flight Entertainment System - and its 1,000-plus entertainment options - are already award-winning, but customers flying on the new A380s will have even more control over their entertainment with the newly launched myKrisWorld. An IFE interactive feature, this personalised feature allows KrisFlyer members to bookmark and pause content and Netflix-style content recommendations are based on preferences and viewing history
A free Companion app allows flyers to shortlist movies and TV shows prior to the flight and then transfer their selections to the onboard system over the A380's WiFi system. Also, by linking your smartphone to your seat, you can use it as a remote.
Business
The screen in business is, at 18-inches, much more sizeable, but other than this the entertainment offering is pretty much the same although Business Class passengers will have access to a slightly large selection of entertainment.
Tech
Premium Economy
Customers can experience high-speed in-flight WiFi service on the new A380 - which is the world's first GX-enabled A380 aircraft. There's also individual two USB power ports in the seat for easy charging.  
Business
Business Class seats boast a handy connectivity panel with universal AC socket and high-powered USB ports.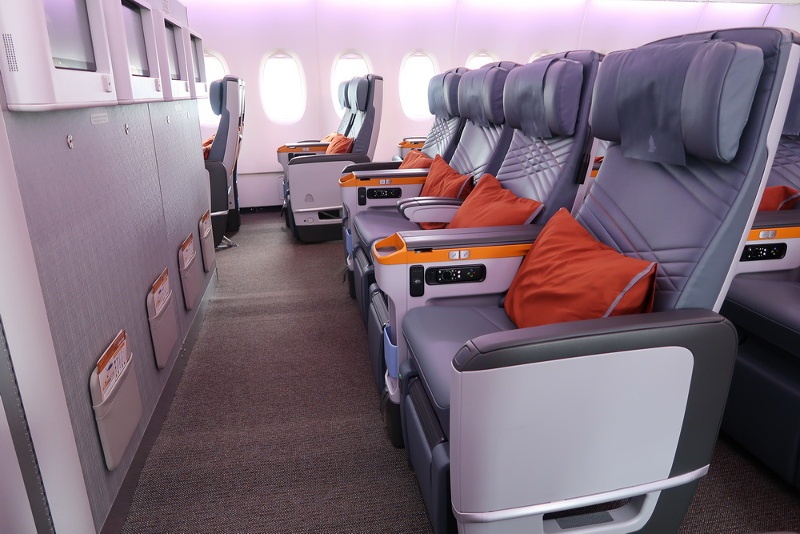 Premium Economy.
Service
Premium Economy
Thailand flaunts its 'land of smiles' tag, but perhaps the airline equivalent should be Singapore. Attendants beam at me from the moment I step on board and my every potential need is addressed. Promptly seated an iPad wielding attendant reconfirms my food order (see above) and all my questions about the new plane are expertly answered.
Business
The return journey saw attendants slightly more frazzles, but it was pretty much the same. Comfortably seated I'm given a glass of champagne and a smiley "welcome onboard Mr Ewart."
Creature Comforts
Premium Economy
Finishing touches are often the standouts. In premium economy a surprise for me was that the hot towels are actual cotton (there's something inexplicably indulgent about a steaming cotton towel, right?). Also, the large pillow is easily comparable with ones that you receive in most business classes, as is the thick blanket. Amenity kits are basic - toothbrush, toothpaste and anti-slip socks - but it's all you need.
Business
The pampering factor is really upped with the soft furnishings: padded bed sheets, a thick duvet, and not one, but two pillows. Also, a lovely pair of slippers instantly helps set the tone.
There aren't any amenity kits but moisturisers, facial spritz and fragrance from high-end toiletry brand, Penhaligon's, are standard in the new Business Class toilets and there's toothbrushes, razors and the like in the bathrooms. On night flights, eye masks and ear plugs are available upon request. 
Final Thoughts
Premium Economy
Touching down at Changi Airport the eight hour journey (literally) flew by. Well fed, entertained and with zero of the usual long-haul cramping that I usually suffer I as ready to explore the Lion City with gusto.
Business
Hitting the tarmac in the wee hours of the morning at Sydney Airport, though admittedly sleepy, the journey left this reviewer feeling like he was on cloud nine. Is it 100 per cent perfect? No. There's a few tiny wrinkles. But even including these, this is arguably Singapore Airlines' best-ever Business Class seat.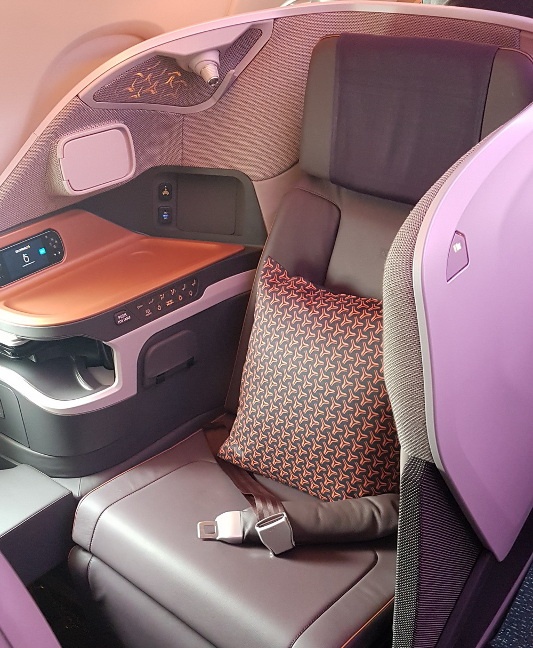 A glimpse at the new Singapore Airlines A380 Business Class.
Want To Know More?
Singapore Airlines new A380  is running daily between Sydney and Singapore. Four new A380s are expected to be in service by mid to late-2018 and the airline will also retrofit 14 A380s already in service with the new cabin products.
Singapore Airlines' A380s currently serve Auckland, Beijing, Frankfurt, Hong Kong, London, Melbourne, Mumbai, New Delhi, New York, Paris, Shanghai, Sydney, and Zurich.
---
Flight Centre acknowledges the Traditional Custodians of Country throughout Australia.