Scotland's Capital of Cool and Why You Should Visit Now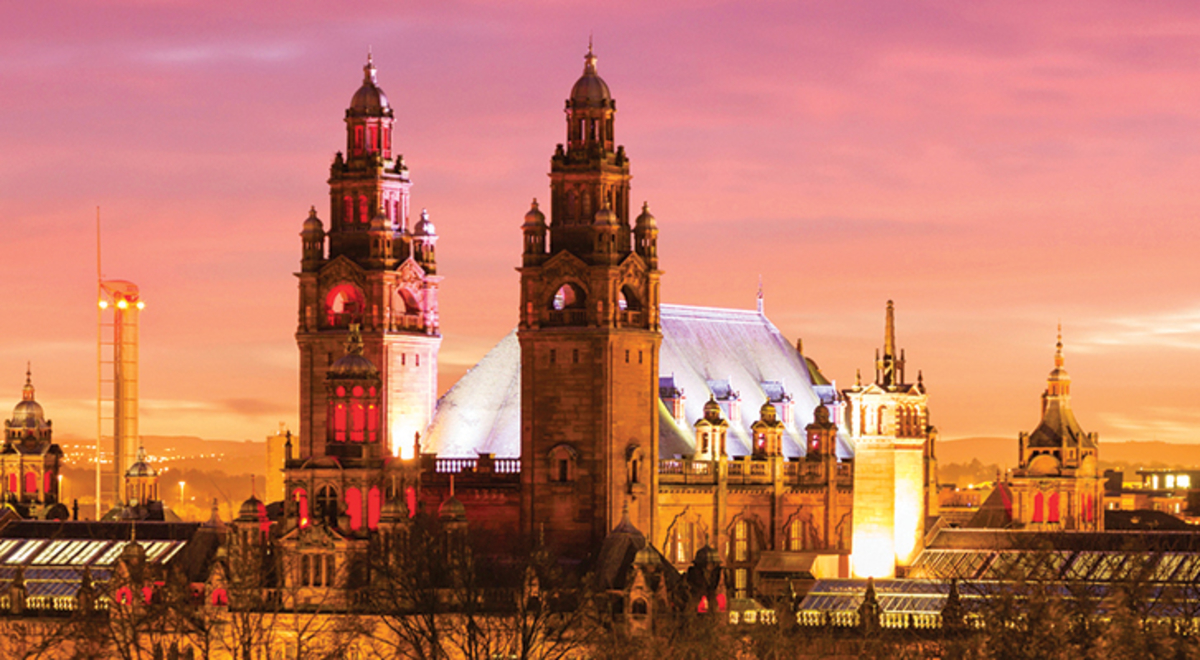 ---
---
Gritty charm abounds in Scotland's underrated gem.
Glasgow is a city that doesn't really care how cool you think it is. For years now, the city has been in a state of flux, shifting from a working-class hub to hip young ingénue with an edge of old-soul wisdom. It bubbles and bristles with an unpretentious charm, demonstrated in a typically Glaswegian, or 'Weegie' manner, which is due, in part, to its inhabitants' stoic yet irreverent philosophy on life. And it's an endearing approach to living, easily embraced by all who visit.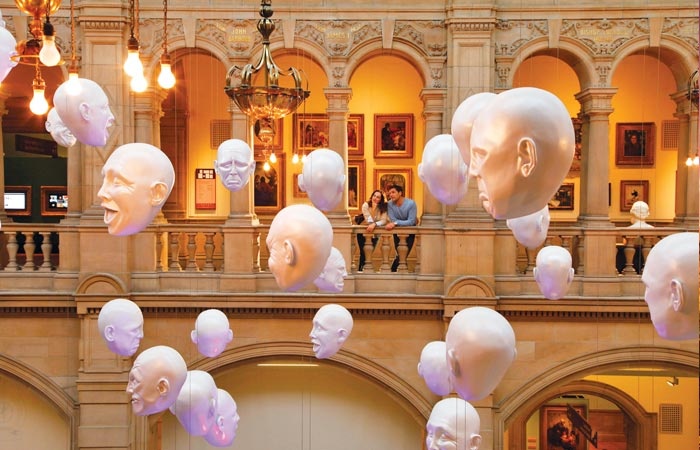 Modern art is just one of the many things to see at Kelvingrove Museum. Image: Getty.
The almost perfect counterpoint to refined Edinburgh, and just an hour away by train, Glasgow prefers to win hearts and minds with its rough-around-the-edges port city pedigree and accidental cool-kid approach to culture.
Through both concerted efforts and natural evolution, it's become a haven for musicians, artists and creatives to call home – thanks to lower rents and an open, inclusive community – and a city worth travelling to. The result is a city pulsing with an underground scene that's eccentric and electrifying, but also equally endowed with the usual trappings of a travel destination. The once-industrial hub, spliced neatly by the River Clyde, is a modern city filled with attractive parks and green spaces, cultural and architectural attractions (Glasgow was designated a UK City of Architecture and Design in 1999), as well as suburban pockets that provide a peek into the Glaswegian psyche.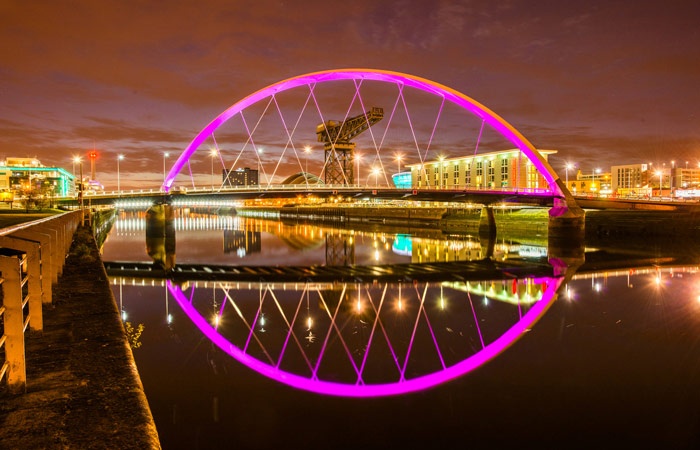 The Finnieston Bridge, also called the 'Squinty' Bridge by locals, straddles the River Clyde, one of the best areas to see glimpses of Glasgow's industrial history. Image: Getty
Luke Winter is a writer who goes by the moniker Petit Prance, and writes stories on demand for people in the street in cities such as Berlin, Barcelona and London. After living in Glasgow for four years to study and hone his craft, he believes the city is unlike any other precisely because it has flown under the radar for so long. "Tourists go to Edinburgh to see the beautiful sights. [Glasgow] feels different to London. People have time to play, and, thanks to the city scene during the past 100 years, lots of spaces to play in," Luke says. 
From its days as a religious centre, founded by Saint Mungo in the 6th century, to the influx of wealthy merchants and the emergence of the Glasgow Style, an architecture movement led by Charles Rennie Mackintosh, Glasgow's artistic community celebrated the freedom that comes with allowing experimentation.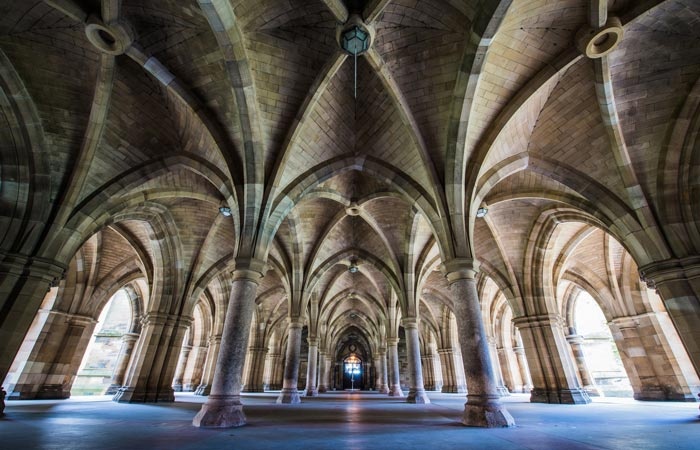 Glasgow University's quadrangle and it's gothic-style arched entrance were the backdrop of Hogwarts in the Harry Potter series. Image: Getty.
Traditionally a socialist city, Glasgow has defined itself through its inclusivity. "From the art and workers movements to the welcoming of refugees, people get along," Luke says. "That feeds into how art, music – everything – gets made there."
The cityscape of Glasgow may not be as well known as Edinburgh's, but the true heart of a city like 'Glasgae', as locals affectionately call it, isn't in any one attraction – though there are plenty of those. It's in the air, in the pubs and clubs, in the locals' attitude and in the haunts that everyday Glaswegians frequent.
"Edinburgh's like the wedding. Glasgow's like the party after the wedding," says Luke, when describing the difference between the two. It's also home to "the funniest people on Earth," he says. "Humour courses beneath all interactions. People use words sparingly, but enjoy talking to others. The result is a chatty, hilarious place."It's this sense of humour that makes Glasgow so distinct. Laughter almost bounces from the sandstone buildings; part dark humour, part optimism in the face of sometimes dreary weather, the streets are filled with an infectious energy. Equally, it's the kind of place that gets stuck in your very soul; as one of Glasgow's most famous sons, comedian Billy Connolly, has said: "My heart beats to the rhythm of Glasgow – it is in my blood."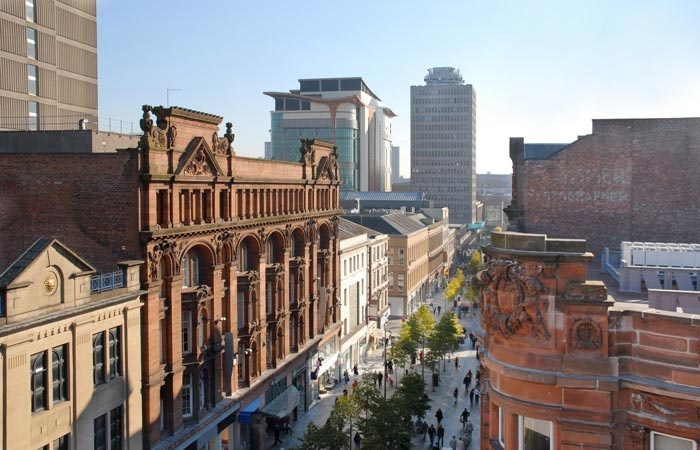 Explore Sauchiehall Street's mix of modern high-street shopping and historical buildings. Image: Getty.
Strike out on foot to explore, using the city centre as a starting point. Head west up lively artery Sauchiehall Street, ex-merchant houses peering from above, hidden bars' doorways and underground clubs peeking up from below. You'll pass some of Glasgow's most famous institutions from high-culture houses, such as the Glasgow Royal Concert Hall, to indie music venues 02ABC (temporarily closed due to a fire in June 2018), King Tut's Wah Wah Hut, the Glasgow School of Art – which was also gutted in the 2018 fire – and Glasgow's largest club, The Garage.
Continue on your westward trajectory and you'll find student enclave West End. Bisected by Byres Road, a stone's throw from Kelvingrove Art Gallery and Museum, Botanic Gardens and the University of Glasgow, the area oozes a gentrified bohemian vibe, with cafes, cosy teahouses, pubs and vintage shops tucked down cobblestone laneways.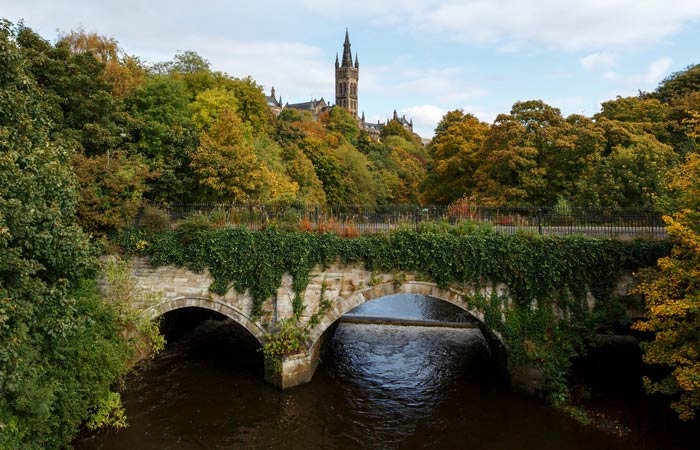 University of Glasgow seen from the lush surrounds of Kelvingrove Park. Image: Getty.
Just to the east of high-street shopping strip Buchanan Street, sits Glasgow's Gallery of Modern Art where you'll find living proof of the cheeky Glasgow approach to authority. Here, under the imposing shadow of the impressive stone building, sits a statue of the Duke of Wellington with a traffic cone askance on his head. After initial removal by the council, and repeated replacement by sassy locals, the cone has become a symbol for the city and its humour – the cone was painted gold during the 2014 Commonwealth Games.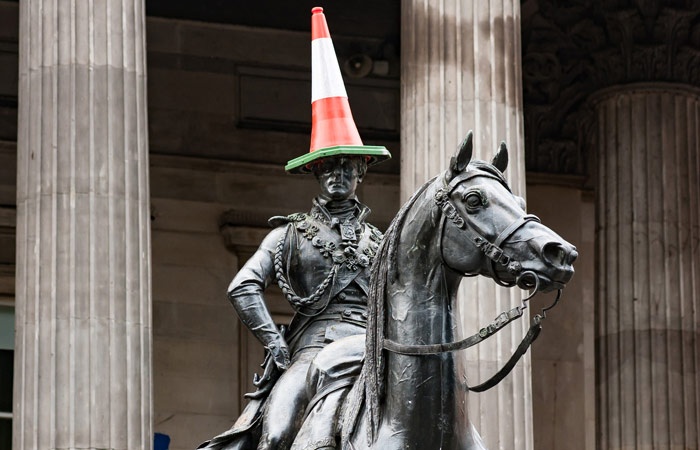 The Duke of Wellington statue, outside the Gallery of Modern Art, is a physical embodiment of Glasgow's cheeky spirit. Image: Getty.
The coming of age of Glasgow as a travel hotspot may be a semi-recent phenomenon but its streets have served as an incubator for the some of the world's most exciting artists, writers and musicians. Well before Glasgow was designated an UNESCO City of Music in 2008, a well-deserved nod to the city's musical impact, various bars and clubs have helped launch the careers of bands including Oasis (discovered and signed in King Tut's), Franz Ferdinand and Primal Scream. These days, you can find a gig, club night or performance of some kind on any night of the week, down the laneways and alleys from the southside to the East End and everywhere in between.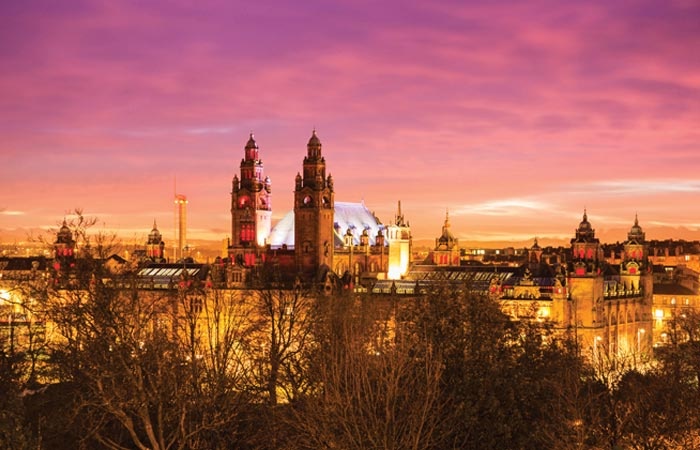 Kelvingrove Museum sits to the west of Glasgow's busy city centre and is home to a multitude of art, antiquities and exhibitions. Image: Getty.
Whether you choose to immerse yourself in the after-dark music scene or experience the everyday Glasgow by heading to the pubs, parks and lively eateries to mingle with the locals, the city's charms will disarm you just enough to leave a little bit of electricity buzzing in your veins long after you leave.
This article was originally published in Travel ideas: UK V2 magazine, which is available in stores and to read online.
---
Flight Centre acknowledges the Traditional Custodians of Country throughout Australia.