Take A Tasmanian Winter Road Trip - From Vines To Trails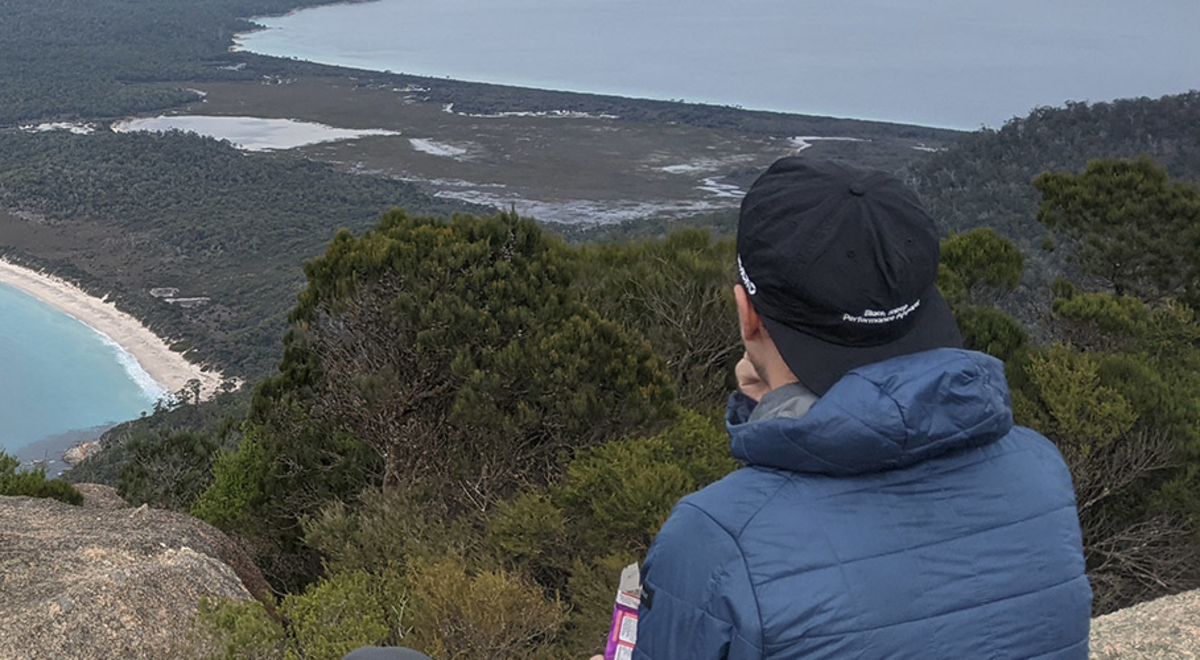 ---
---
Must-do stops on an East Coast Tasmania road trip
Hobart for food and art

Cranbrook for wineries

Wineglass Bay for hiking and views

Bicheno for the freshest seafood

St Helens and Bay of Fires

Derby for mountain biking

Launceston for truffles and gourmet delights
---
Detours are often a mistake, a waste of time, a hiccup on the journey. In Tasmania, a detour is an adventure. Road trips on this compact island offer the freedom to find the things you need – natural wonders, digital detox, calm, ocean fresh oysters – and more than you'll ever find on Google.
One of the best ways to discover more of Tassie is by campervan, motorhome or caravan.There are 'fee-pay' and free sites throughout Tasmania, driving distances are easy and there's a good range of campsites with every facility for each type of road trip.
Take in some of Tasmania's most beautiful wilderness on the below action-packed East Coast drive. Begin in Hobart before venturing north through spectacular national parks, along colossal coastline, and then finish if all off with some of the country's best mountain biking! Wintertime is play time in Tasmania, when snow transforms the mountains, winter swells rattle the coast and heartwarming adventures beckon. 
---
---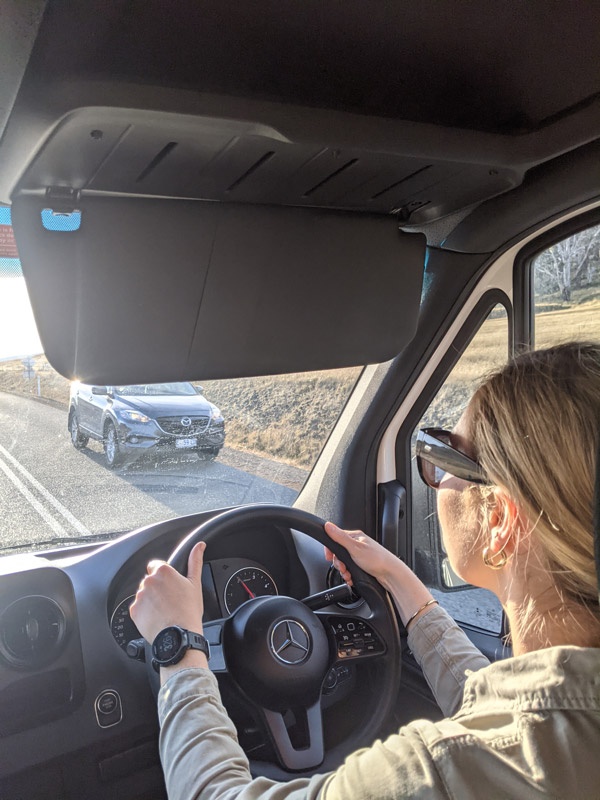 What to expect from an Off Season Winter Road Trip:
Indulge in local produce like fresh apples, pears and lemons, seafood, wine and truffles
Hike along Tasmania's most picturesque coastline, including Wineglass Bay
Food direct from the source - cheese, seafood & wine - it's all on the table
Fast facts:
Time: 6 days
Distance: 457 kilometres 
Transport: Maui 2-berth Ultima 
Nearest major city: Hobart or Launceston - fly into one and out the other to get the most out of the 6 days
Getting around:
Now, to kick off I knew I wanted to have a bit more space and comfort on this road trip than your typical backpacker style 'van-life', and when your partner is 6ft3 there's no compromising on space. 
So I opted to give Maui's Ultima 2-Berth a go for its king-sized bed. It also came with a decent kitchenette featuring a fridge, gas stove, microwave and even a shower/toilet. It was about as luxe as you could get on four wheels, plus we saved heaps on eating out each night with the convenient external BBQ.
---
---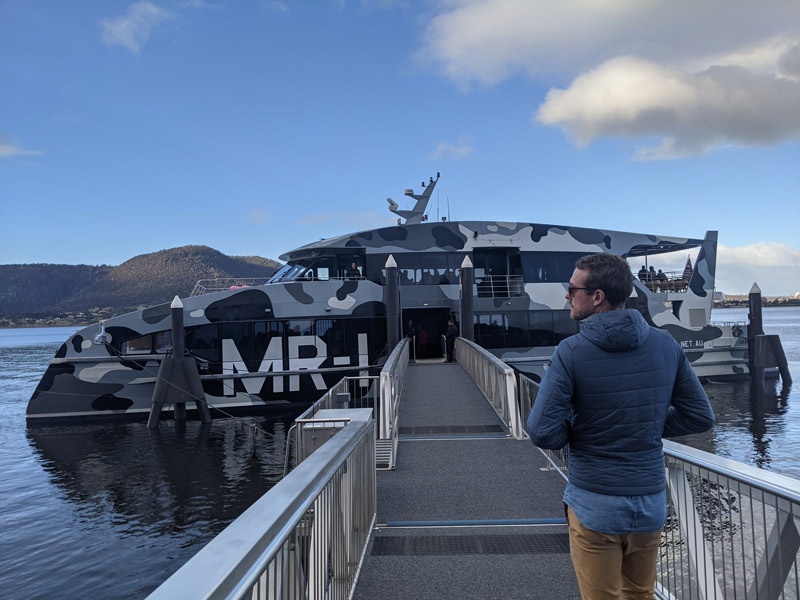 Day 1: Hobart 
Australia's smallest capital city punches well above its weight when it comes to fine dining, cultural attractions, and stunning natural beauty.
We started off our trip by jetting it into town (opting for a first night with a bit of Tassie luxury and picked up the motorhome on day two) for a stroll along Hobart's gorgeous waterfront at Salamanca Place, where rows of Georgian sandstone warehouses have been converted into galleries, theatres, restaurants and cutting-edge boutiques. The famous Salamanca Markets were also in full swing (8.30am-3pm each Saturday) spruiking everything from fresh local produce and handmade arts and crafts to antiques. I recommend browsing the works of designers and artists at the Spacebar Gallery in Salamanca Arts Centre.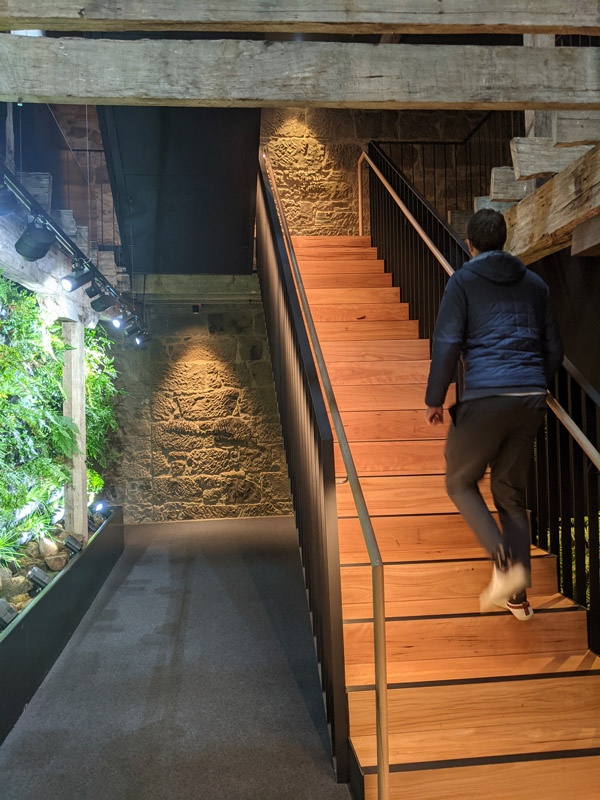 Moss Hotel Hobart
Next up was our ferry ride to Mona (Museum of Old and New Art), Australia's largest privately owned museum. The Mona ferry departs from Brooke Street Pier and takes roughly 25 minutes. Leave two to three hours to explore the provocative collection. The cavernous galleries are filled with controversial, thought-provoking works, and information and interviews with the artists are available via The O, an app available for all visitors. Afterwards we headed back to Hobart for a waterfront dinner at Rockwall, dining on fresh oysters and the sought after coffee rub eye filet. For a spot of indulgence we then rested our weary heads at Moss Hotel, housed in a converted warehouse on Hobart's waterfront.
Looking for some crisp outdoor air instead? Take the 30-minute drive up to the summit of Mount Wellington, 1,270 metres (4,167 feet) above sea level. From the lookout you can take in sweeping views over Hobart, Bruny Island and the Tasman Peninsula. Wellington Park is threaded with tracks and trails for bushwalking, bike riding and horse riding. Hike to Silver Falls along the Pipeline Track (40 minutes return) or follow the Lenah Valley Track (45 minutes return) to Sphinx Rock.
Day 2: Hobart to Coles Bay
June 2021 Temporary Road Closure: The Tasman Highway at Paradise Gorge, west of Orford is closed for several weeks from Friday 28 May 2021. For further information, FAQs on the emergency works, and how this may affect your travel through the region, visit www.transport.tas.gov.au
In the morning we picked up the motorhome and some groceries before making our way north to Coles Bay and Freycinet National Park. 
On the way, stop in and see one of Tasmania's most curious convict constructions. Spiky Bridge was made from field stones laid without mortar or cement and the parapet features upright stones, giving the bridge its spiky appearance.
Aim for lunch and a lazy afternoon at one of the winery cellar doors clustered around Cranbrook. Milton's cellar door commands a glorious spot overlooking the vines, and its ALM Restaurant is open for lunch Friday to Sunday. Craigie Knowe is the region's oldest vineyard, with a cellar door inside an old barn. The sleek contemporary design of Devil's Corner delivers gorgeous views of your Freycinet journey ahead, as well as wood-fired pizza, oysters and seafood.
Swing into the Freycinet Peninsula and settle in. For a luxurious options stay at Saffire Freycinet lodge with spectacular views across Coles Bay to the Hazards. Big4 Iluka on Freycinet has camping and cabins in the heart of Coles Bay, as does Freycinet National Park's campground (make sure to book ahead). We opted for the former campground so we could charge up the motorhome and use power. 
For dinner, it's a short journey to enjoy wood-fired pizza at Géographe Restaurant and Espresso Bar. Or have a meal with Great Oyster Bay views at one of Freycinet Lodge's two restaurants or lounge bar.
Motorhome Tip:
You can only use power in one of these vans when actually connected to power so bring along a usb car charger that plugs into the cigarette lighter to charge your devices while driving.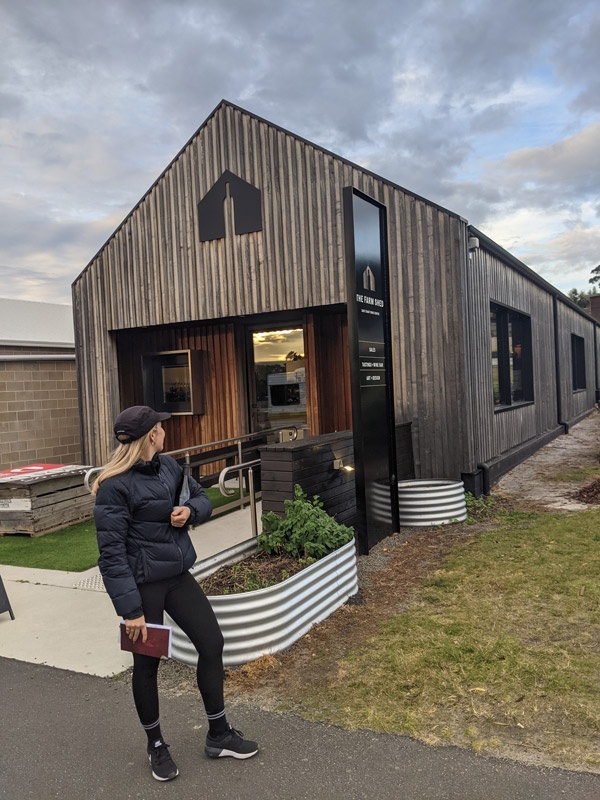 The Farm Shed East Coast Wine Centre, Bicheno.
Day 3: Coles Bay to St. Helens
Tasmania's oldest national park has a wealth of walking trails. We opted for the Mt. Amos hike, which offers the best view of Wineglass Bay and Hazards Beach. Though be warned this is not for those afraid of heights or a decent rock scramble.
Freycinet has the east-coast beach - Wineglass Bay - but it also has many other stunning bodies of water. Sleepy Bay's red boulders and sand light up at sunrise, while Honeymoon Bay, with its backdrop of the Hazards, is as romantic as its name suggests. For a seemingly endless line of white beaches, take a walk on the Friendly Beaches.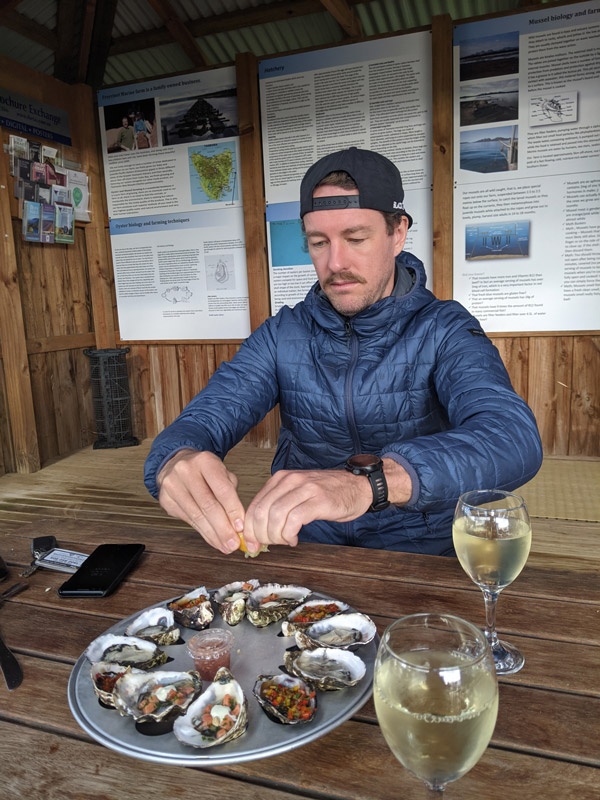 Marine Farm Coles Bay
Freycinet Aqua Taxi can transport independent walkers to Hazards Beach, Cooks Beach or Schouten Island. They call it Great Oyster Bay for a reason. Head to Freycinet Marine Farm for oysters and mussels direct from the farm leases. Sweeten the afternoon at the Ice Creamery in Coles Bay – count 24 flavours of Tasmanian-made ice-cream.
In the afternoon we made our way to camp at St. Helens, stopping in at Bicheno on the way. If the tide is low, it's often possible to walk across the exposed sandspit to Diamond Island at Bicheno's northern end, or if there's a swell you will find the Bicheno Blowhole making a splash. We instead opted to sample a couple of the region's finest drops at the well appointed East Coast Wine Centre, "The Farm Shed". The centre is run by the knowledgeable and fabulous owners Subi Mead and Helen Bain who are only too happy to dispense their pearls of wisdom (and wine).
The dictionary definition of "fresh seafood " could well be "right beside the boat ramp at Bicheno ". That's where you'll find dinner at the Lobster Shack before going the final stretch to St. Helens. Alternatively you can of course spend the night in Bicheno for the chance to view little penguins marching ashore with Bicheno Penguin Tours.
Peyngana Dairy Company.
Day 4: St. Helens and Pyenganna 
Swing into the forested hills and farmland of Pyengana Valley. At its head, set out on foot for the 15-minute walk to St Columba Falls, one of the tallest waterfalls on the island at 90 metres high.
Biking, hiking... it's surely time for eating, right? Pyengana Dairy Farmgate Cafe serves platters and meals starring its own farmhouse cheeses. Find a table on the deck and watch the cows wander in and out of the milking shed as you eat. The nearby Pub in the Paddock – literally, a pub sitting in a paddock – is one of the oldest hotels in the state and a good spot for lunch.
Wheels or water? Spend a day on St Helens Mountain Bike Trails - perhaps a mountains-to-sea ride on the 42-kilometre Bay of Fires trail, or view one of the country's most magnificent stretches of coastline, larapuna/Bay of Fires, from the water with Bay of Fires Eco Tours.
Follow water with wine at Priory Ridge Vineyard, where a 1920s shearing shed on the outskirts of St Helens plays host to this winery's cosy cellar door. Consider lunch at Lifebuoy Cafe & Quail Street Emporium, and dinner at any of the local restaurants.
Take an evening stroll along the cloud-white sands of the Bay of Fires.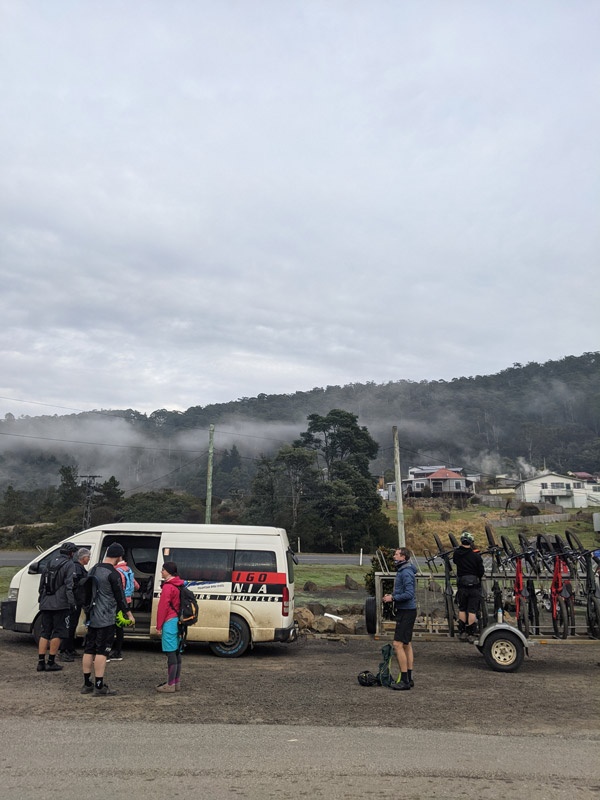 Shuttle with Vertigo MTB for Blue Derby Track.
Day 5: Derby
The dust has settled on Tasmania's position as one of the world's great mountain-biking destinations, and winter weather dampens the dust to create smooth and slick riding conditions across much of the trail network. So in the morning we got up early to head for Blue Derby, a network of mountain biking trails that surround the town of Derby. The world-class single track includes enormous granite slabs, dense tree fern forests, and breathtaking scenery. You can hire a bike or service your bike at the local bike stores in town. We opted to hire mountain bikes and do the all day Blue Tier and Atlas tour with Vertigo MTB.
The ride started off with the stunning (but technical - not for the beginner or faint of heart) Blue Tier trail in the morning, refuelled with lunch at the historic Weldborough Pub and then continued on to ride back to Derby following the technical Atlas trail in the afternoon. 
At the end of the day it was time to fuel up on delicious pizza next to a fire at The Hub Pizza and Beer before retiring at the well appointed and free Derby Park campground, which has coin operated showers and all new facilities.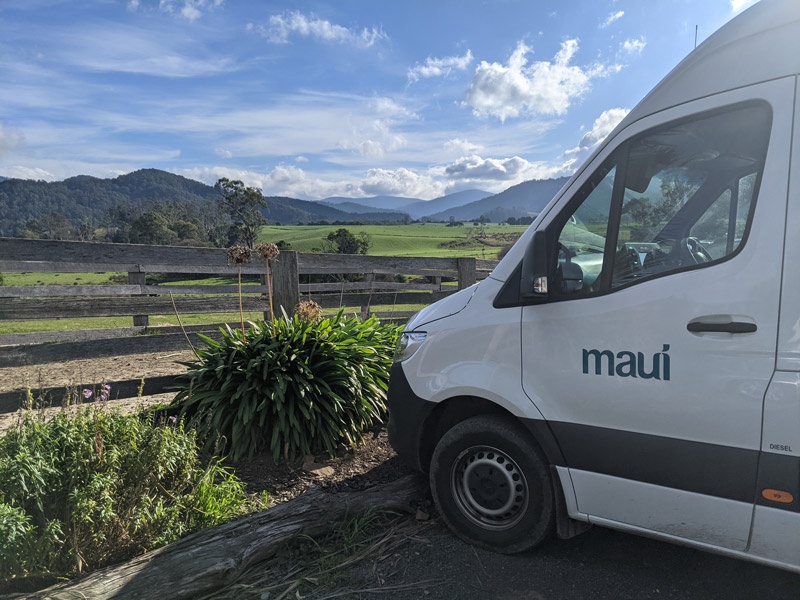 Day 6: Launceston
On our final day it was time to chill out and head into Launceston for our last stop. 
First up on the itinerary was a guided walking tour of the city. Go Walk Tas has teamed up with historians to unearth the city's early tales, while Wallaby Walkabout Tours sees Tasmanian Aboriginal historian Geoff McLean weaving colonial stories and Tasmanian Aboriginal cultural connections. Both companies run tours of the city and the gorge.
You can also explore the city by bike. Discover some of Launceston's best cycleways with On Your Bike's "ride the river" tour; combine cycling and tasting at Josef Chromy Wines' vineyard; or let the cycling be an excuse to further indulge on a tour that includes lunch at Stillwater and beer and bites at the James Boag Brewery Bar.
For those who can spend a bit more of their wintery trip in and around Launceston, I'd recommend checking out some of Tassie's buried treasure that can only be unearthed during the winter months. Yes you read that correctly. The truffle harvest begins when frosts draw out the distinctive aroma of the fungi, and there are tours that follow trained truffle dogs on the hunt. Follow up with a harvest lunch, of course. Extend the fun at a pair of farmstay cottages at The Truffledore, or in a three-night truffle indulgence at Stillwater Seven. Join the harvest at:
Long beaches, dramatic coastline, and the time and space to unwind. This is a journey of peace and pleasure in equal measure. Just when you've seen the longest, loveliest beach, the road sweeps around and another sparkling coastline stretches ahead. A journey along Tasmania's east coast takes in laidback hinterland towns and classic seaside villages, the perfect arc of Wineglass Bay, and national parks threaded with walking tracks and inhabited by fascinating wildlife. Embrace simple luxuries – take time to pull over and follow a beach track, order seafood at a fish shack, fall asleep with an ocean soundtrack. Be open to taking a detour on your next (or first) Tassie road trip adventure.
All images by Sam Aldenton.
---
Check out our Tasmania deals now on sale!
---

---
Flight Centre acknowledges the Traditional Custodians of Country throughout Australia.