Your Guide To Paradise: The Top 10 South Pacific Islands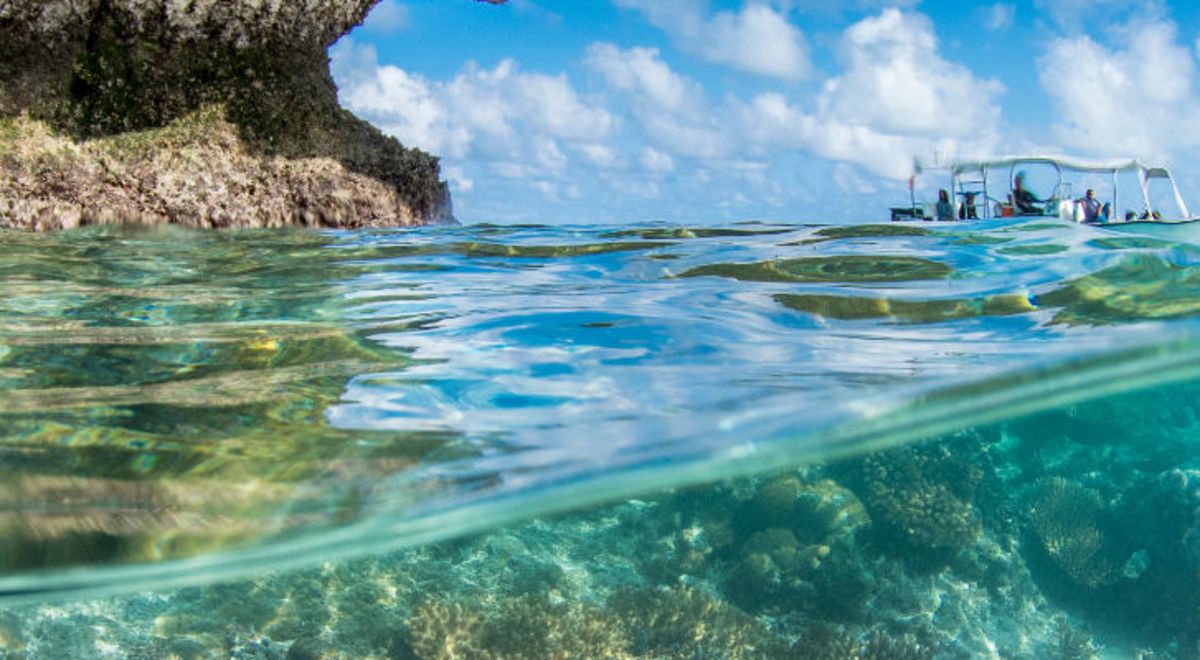 ---
What are the best South Pacific islands to visit?
Fiji

Palau

Bora Bora

Cook Islands

Norfolk Island

Vanuatu

Papua New Guinea

Easter Island

Hawaii

Samoa

Noumea

Solomon Islands
---
Romantic beaches, heritage and culture, world-class diving and natural wonders – whatever your preference, there's a South Pacific island for you.
01 Fiji & Palau
If you love… Beqa Lagoon
Renowned as the 'soft coral capital of the world', this Fijian island boasts some of the best scuba diving in the country. Surrounded by more than 300km of spectacular coral – making it one of the largest barrier reefs on earth – its lagoon consists of clear, warm water with visibility of more than 30 metres. Many dive spots (there are more than 100 in total) are only a short boat ride from the shore. While there's an array of marine life, the resident shark population is undoubtedly at the top of most divers' to-see lists. At least eight different species of sharks, including tiger, nurse and bull, call the lagoon home.
Then try… Palau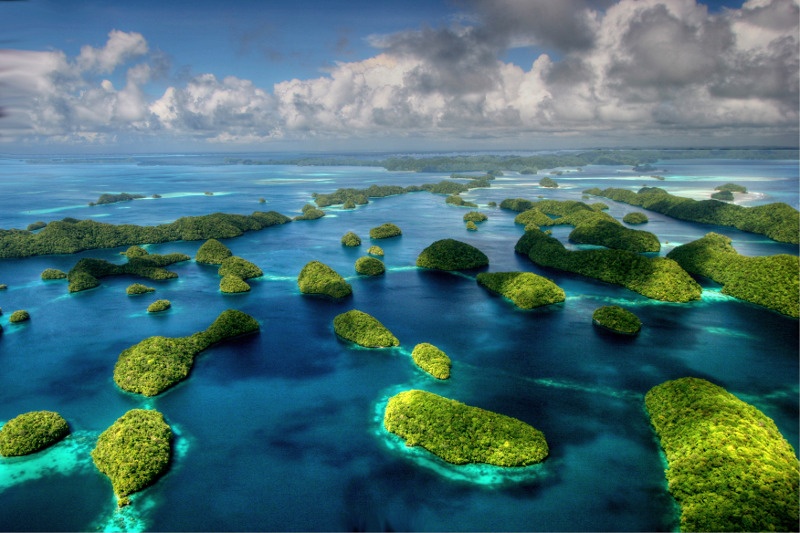 The Rock Islands of Palau are ancient relics of a coral reef. Image: Getty
A chain of some 500 islands in the western Pacific, Palau is recognised by divers-in-the-know as one of the best areas to scuba, thanks to three currents converging in its waters, bringing together some of the most varied aquatic life in the ocean.
Several of Palau's most popular dive sites are situated around the UNESCO World Heritage-listed Rock Islands (445 sheer limestone islands that dot more than 100,000ha of surrounding waters), including Blue Corner, where feeding sharks, eagle rays and turtles are all part of the underwater show. Wreck-diving enthusiasts will also be sated, as innumerable wrecks litter the sea floor. And while scuba is undoubtedly the main drawcard here, you can't leave without donning snorkel gear and exploring Palau's famed Jellyfish Lake. Unique to the area, a lack of predators has resulted in the resident jellyfish population evolving to the point of having no ability to sting.Taking the plunge with millions of these pulsating, soft-bodied creatures is an extraordinary experience. 
02 French Polynesia & Cook Islands
If you love… Bora Bora
Referred to as the 'Pearl of the Pacific' by James Cook, Bora Bora is at the top of many visitors' South Pacific hit lists. Known for its luxurious resorts and overwater bungalows, this French Polynesian gem is all pretty lagoons and azure waters – little wonder it's
a beacon for honeymooners.
Then try… Aitutaki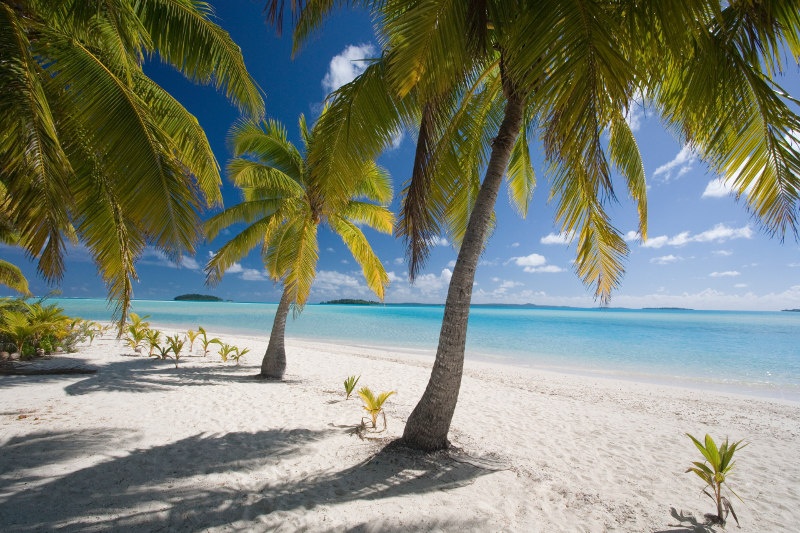 Relax in the natural, uncluttered surrounds of Aitutaki in the Cook Islands. Image: Getty
Infinitely less touristy than Bora Bora, the Cook Islands' Aitutaki looks across what is billed as the most beautiful lagoon in the world – how's that for an accolade? Check in to the plush Aitutaki Lagoon Resort & Spa – the only upmarket hotel that looks over the lagoon's dreamy waters – and spend lazy days soaking in the view from one of the hammocks strung up between palm trees. Action on this romance-sodden isle primarily involves doing, well, nothing, but when you're looking for more than serenity, you can go on an organised fishing or scuba trip, or take one of the many cruises that explore the lagoon's magical sandy islets. Whatever you do, the island's mash-up of romance, beauty and luxury is a winning combination.
03 Cook Islands & Australia
If you love… Rarotonga
Even after European settlement in the 19th century, this Cook Islands hub has successfully retained its Polynesian heritage. Today, there are no traffic lights, no McDonald's and no buildings taller than a coconut tree. Indeed, indigenous culture is celebrated everywhere through dance, music, art, and festivals commemorating the region's colourful past. The purpose-built
Te Vara Nui cultural village is the best place for visitors to glean
an understanding of this local culture.
Then try… Norfolk Island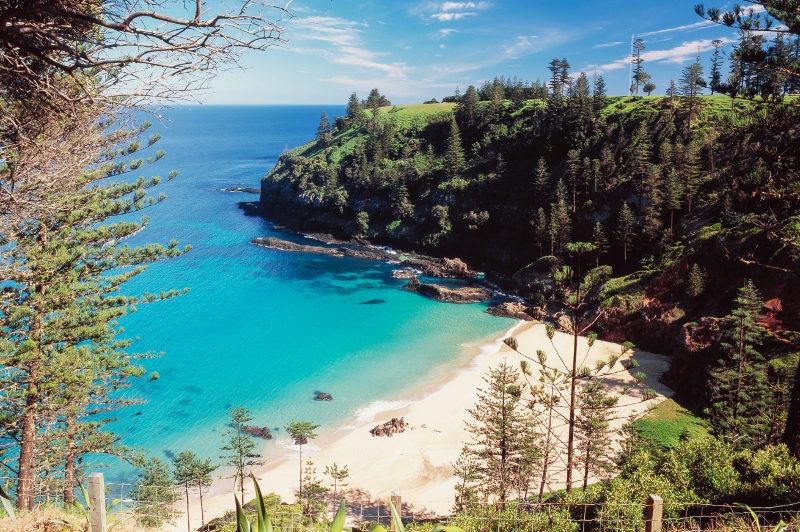 Want a stretch all to yourself? Deserted beaches aren't hard to find on Norfolk Island. Image: Getty
Located between Australia, New Zealand and New Caledonia, this tiny Australian island is brimming with history. Settled by the Polynesians, it was discovered by Captain Cook in 1774, and populated by the British in 1788. As a penal colony it would go on to be known as, 'Hell of the Pacific'. You can learn about its past at convict-era buildings in the World Heritage-listed Kingston and Arthurs Vale Historic Area. Among the standing structures and archaeological sites on the island there are four museums that tell the story of its past and today's local culture.
04 Vanuatu & Papua New Guinea
If you love… Port Vila
Vanuatu's capital and largest town, Port Vila, is an easy jumping-off point to a series of surrounding lagoons, beaches and offshore islands. It's from this lively city that countless adventure tours and activities depart, from deep-sea fishing and diving, to jetskiing and parasailing. For one of the island's most memorable adventures, trek through a coconut plantation to the massive waterfall- and bat-filled Millennium Cave.
Then try… Madang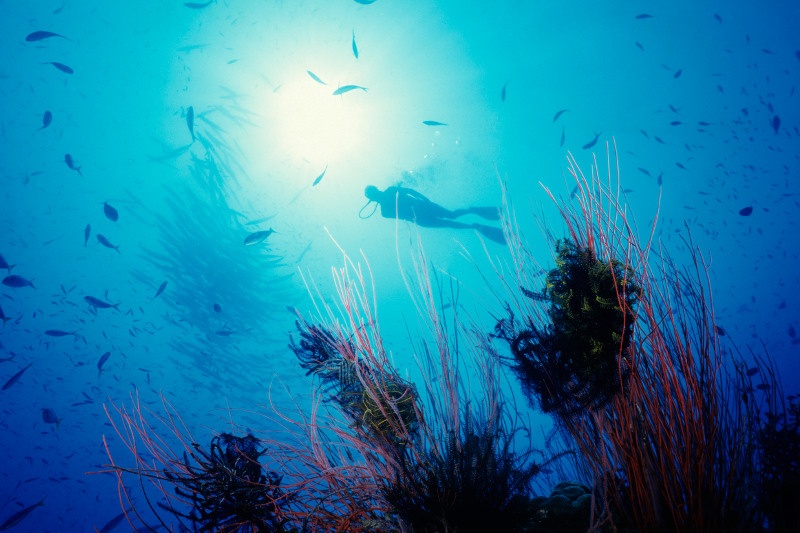 Madang offers some of the best diving in Papua New Guinea. Image: Getty
Backed by steep mountains, offshore volcanic islands and lush tropical vegetation, Papua New Guinea's Madang is an adventure-lover's paradise. It looks across a spread of idyllic islands, and its reef-fringed lowlands make it one of the most popular diving spots in the country. Colourful coral gardens, superb visibility and an abundance of wreck dives lure divers from all over the world. If you only do one dive, make it Planet Rock – an underwater mountain with a resident population of curious hammerhead sharks. There's also great snorkelling to enjoy, as well as fishing and parasailing. Landlubbers are well catered for, too, with hikes up an active volcano, rainforests to explore and off-road excursions.
05 Easter Island & Kiribati
If you love… Easter Island
Though technically part of Chile, this volcanic island in Polynesia is South Pacific through and through. Famed for its archaeological artefacts – around 900 mysterious giant sober-faced stone statues called 'moai' that dominate the landscape – this tiny speck of land is one of the most isolated places on Earth.
Then try… Malden Island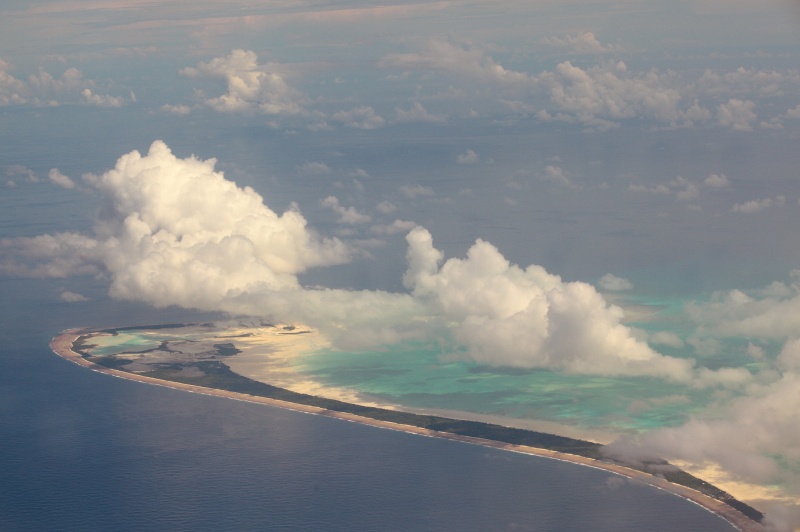 The Kiribati group of islands is widely scattered along the edges of the Equator. Image: Getty
Equally remote, and equally mysterious, Kiribati's Malden Island is a lesser-known South Pacific archaeological trove. Positioned right in the centre of the Pacific Ocean, the barren islet (its native islanders left before it was discovered by European explorers in the early 1800s) contains an assortment of ancient stone structures. You'll find platforms, houses, graves, step-pyramid temples and a network of basalt-slab pathways that cross the island and lead into the surrounding ocean. Just like the Easter Island statues, no one knows who built them or why they exist. As hard as archaeologists try to unearth the truth, it remains a mystery.
06 Hawaii & Samoa
If you love… North Shore, Oahu
The stretch of Hawaiian coastline located on the north side of Oahu attracts break-hungry surfers from all over the world. A capital for big-wave surfing since the 1950s, it's home to about 40 breaks. North Shore's Ehukai Beach (also known as the 'Banzai Pipeline') is the area's most notable surfing spot. If you're more comfortable watching the professionals do their thing, then make a note in your travel diary to hit the island from November to December, when the North Shore hosts the world-renowned Triple Crown of Surfing competition series.
Then try… Upolu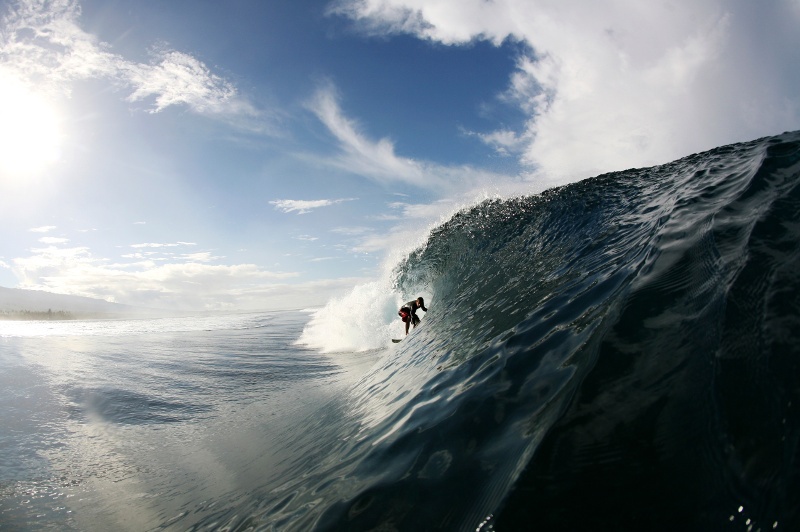 Surf's up off the coast of Upolu, Samoa. Image: Getty
For similarly awesome reef breaks – without the crowds – Samoa's Upolu should be on your radar. The country's main surfing destination, this wave mecca is entirely surrounded by coral reef, onto which ocean swells break. The surf is seriously diverse, and unlike Oahu where good swell occurs only in the winter, in Upolu you can surf year-round. Most hotels and surf camps are on the south coast, where the most consistent waves break. Beginners looking to hang 10 should be cautious: the breaks err on the dangerous side, and even experienced surfers should only tackle waves after chatting with locals in the know. 
07 French Polynesia & Niue
If you love… Papeete
The French Polynesian capital on the island of Tahiti might be the cultural and economic heart of the archipelago, but that has done nothing to lessen the natural beauty of the place. Crowned by majestic peaks, and covered with dense rainforest, waterfalls and lagoons, it's easy to see where the nickname 'The Island of Love' originated. Still underrated by travellers, Tahiti receives the same number of tourists in one year as Hawaii gets in just 12 days.
Then try… Niue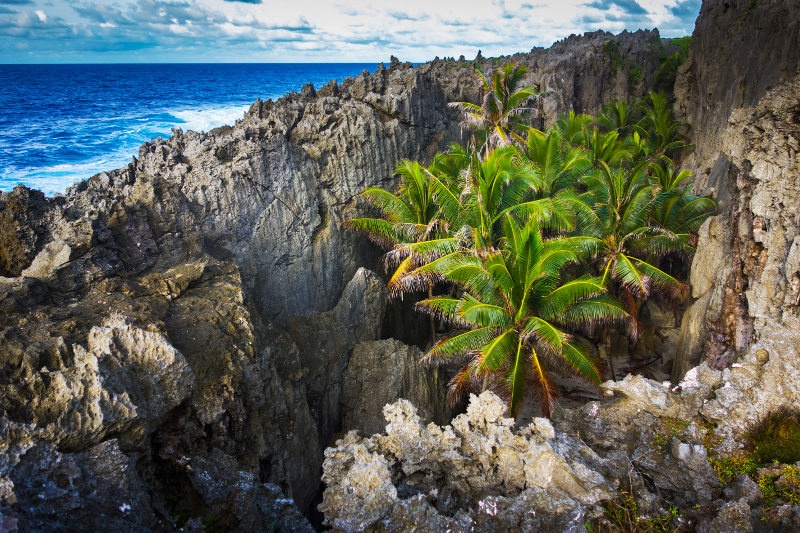 The wild, untamed coastal scenery of the tiny island of Niue. Image: Getty
Where to start on this paradise island gem? Untouched by development, at just 260sq km, Niue (which means 'behold the coconut') is the world's smallest independent nation. And, though small in size, it packs one hell of a punch. With fewer than 1,600 residents and just 123km of paved roads, there's no tacky commercial tourism, no crowds, no noise, no traffic, no shopping centres and barely any crime. Affectionately known as 'The Rock' by its inhabitants, visitors will be wowed by Niue's crystal clear waters, and its reefs, caves, coves, humpback whales (during migration season, from July to October) and almost 983ha of rainforest. The island's isolation means that you can explore its natural wonders with barely another soul in sight.
08 New Caledonia & Solomon Islands
If you love… Noumea
The capital and largest city in New Caledonia, Noumea is a blend of French and indigenous Kanak influences. A French penal colony in the 1800s, nowadays this colonial influence seamlessly coexists with traditional tribal life. Visitors can get their culture fix via the Noumea City Museum's collection of Pacific artefacts, while just out of town, the Jean-Marie Tjibaou Cultural Centre exhibits relics from around the region.
Then try… Solomon Islands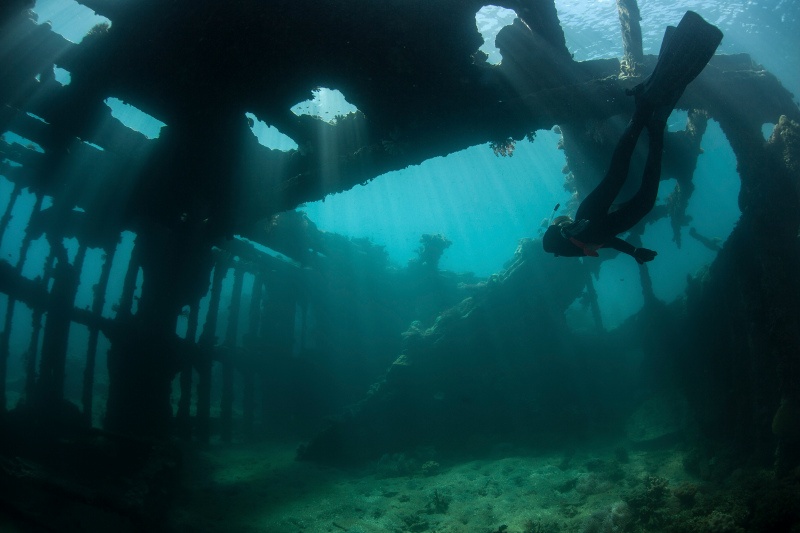 A shallow WWII shipwreck makes for fascinating diving off the island of Guadalcanal. Image: Getty
Also blending traditional tribal culture and European colonialism, the Solomon Islands are a bona fide cultural melting pot. Positioned to the east of Papua New Guinea, the 992 islands are populated by three of Oceania's main cultural groups – Melanesian, Polynesian and Micronesian – which combine to create the country's unique identity. Throughout the islands, kastom (a Pijin term derived from 'custom') is at the core of local life. This ethos sees ancient beliefs and clan practices remaining strong to this day; village life remains much as it has for centuries, including its traditional bartering systems and the production of cultural items, such as the famed bamboo panpipe. The curious can pay a visit to the macabre Kundu Hite, or 'Skull Island', a sacred place populated by shrines filled with the skulls of vanquished enemies. History buffs might also be keen on the World War II wreckages that are still scattered throughout the islands. Guadalcanal, in particular, is known for its numerous wreck sites, both on land and in the surrounding sea.
09 Fiji & Tonga
If you love… Castaway Island
One of the most popular resorts in Fiji, this family-friendly resort is situated just 30km off Fiji's main island, Viti Levu. Part of the Mamanuca Island group, Castaway's free kids club has ample activities to try out, from sandcastle-building competitions to coconut hunting, guaranteed to keep the little ones entertained. The return rate is high here (around 44 per cent), so they must be doing something right.
Then try… Atata Island
Tonga is a Polynesian kingdom made up of more than 170 South Pacific islands. Image: Getty
Situated just east of the International Date Line, locals say time begins in Tonga. Time is certainly warped here into a more relaxed pace, as you'll find if you visit Atata Island.
A tiny speck of land, with only a traditional village and the laidback Royal Sunset Resort, Atata appeals to both serenity-seekers and families with a craving for adventure. Bask in the sun by the pool or on the beach, or enrol in scuba diving, game fishing, kayaking, kneeboarding, beach volleyball, tennis and windsurfing. The resort also runs free daily village trips for a brush with local life.
10 Vanuatu & Samoa
If you love… Tanna
Rich in natural wonders, Vanuatu's Tanna is a medley of stunning waterfalls, underwater caves, ancient rainforests and pristine beaches. Take a 4WD trip up the fiery Mount Yasur – one of the world's most accessible active volcanoes – to see a magnificent lava display.
Then try… Savai'i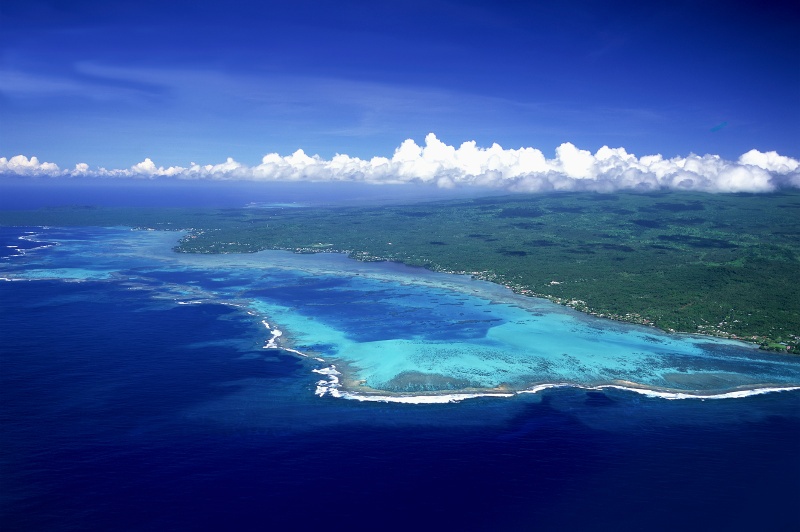 The landscape of Savai'i was formed by centuries of volcanic activity. Image: Getty
With lush tropical vegetation, rainforests, secluded beaches, blue lagoons, waterfalls and mountainous interior, most of Savai'i remains uninhabited, which means that its natural beauty has been retained. There's enough flora and fauna here to keep even the most hardcore nature-lover satisfied. Hike up mountains, visit remote coves, spot native wildlife, and plunge into aquamarine waters to snorkel with colourful marine life. The landscape of Samoa's largest island has largely been defined by centuries of volcanic activity and, with this in mind, arguably the greatest attraction is its lava tubes. Extending for kilometres underground, hire a car (the island's circumference is only 190km, so you can easily drive around it in one day) and check out some of the best, including Dwarfs Cave and Pe'ape'a Cave, where you can see white-rumped Polynesian swiftlet birds up close. 
For the latest deals to the South Pacific click here
---
---
Flight Centre acknowledges the Traditional Custodians of Country throughout Australia.