These Are The Top 12 Cruising Trends That Are Coming In 2016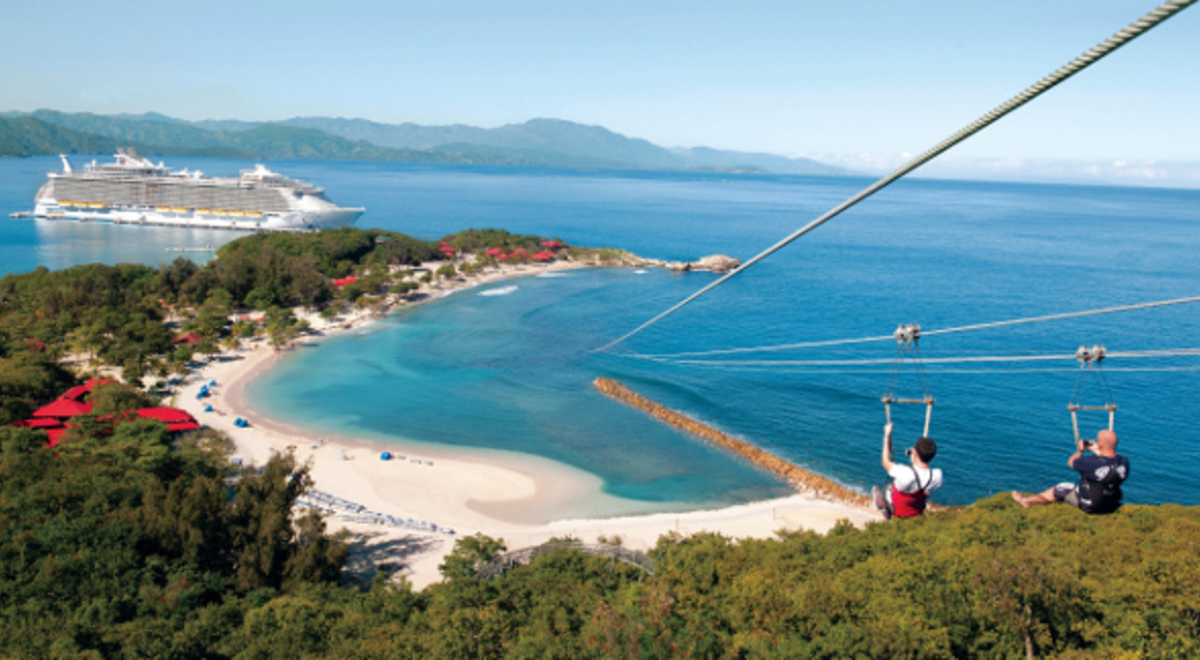 Smart ships, new itineraries, exotic destinations ... 2016 is already one of the biggest years for cruising and we're not even halfway through yet!
All the biggest cruise lines are bringing something new to the water this year, so let's take a look at what's new and what's hot in the world of high-seas holidays for 2016.
1. The Caribbean
Eastern Caribbean on Allure of the Seas
With turquoise waters and movie-set landscapes, it's easy to see why the Caribbean is a top cruise destination. The region enjoyed a 65 per cent increase in Australian visits in 2014, with one drawcard undoubtedly the chance to cruise on the world's largest operational cruise ship, Royal Caribbean's Allure of the Seas.
She stands 16 decks high, is four football fields long and carries up to 5,492 guests. She cruises from Fort Lauderdale, Florida to various destinations, such as the Bahamas, St Thomas, Puerto Rico, St Maarten, and Royal's private enclave of Labadee in Haiti.
If this floats your boat, explore...
Western Caribbean on Carnival Vista: Carnival's newest ship debuts in May 2016; during the northern hemisphere winter she'll cruise from Miami to Jamaica, Grand Cayman and Cozumel.
Eastern Caribbean on Norwegian Escape: Recently launched in Europe, Escape cruises from Miami to St Thomas, Tortola and Nassau.
2. Asian River Cruising
The Mekong on Scenic Spirit
Mystical temples, exotic landscapes, sounds and aromas; Asia is a rich experience for any traveller, and the best way to see it is from a ship. Rivers to explore include the Mekong in Vietnam and Cambodia, Myanmar's Irrawaddy, India's Ganges and China's Yangtze.
Scenic is expanding its fleet in Asia in 2016, introducing the contemporary 68-guest Scenic Spirit to cruise the Mekong with a seven-night Treasures of the Mekong journey from Ho Chi Minh City to Siem Reap, with an overnight stop in Phnom Penh.
If this floats your boat, explore...
the Lower Ganges aboard RV Ganges Voyager: Discover remote India on a seven-night round-trip cruise from Kolkata featuring a visit to Mother Teresa's House in Kolkata and Bengal's terracotta temples in Kalna.
the Upper Mekong aboard RV Laos Pandaw: New for 2016 is a seven-night cruise from Chiang Saen, Thailand to Jinghong, China, visiting Myanmar villages and the Menglun Tropical Botanical Garden.
3. The World At Your Feet
Sail on Sea Princess from Sydney
While most world cruises start from the UK or USA, Australians can join Princess Cruises' Sea Princess in May 2016 on a world cruise from Sydney. This 104-night round-trip voyage travels through Sri Lanka, the UAE and Europe, then crosses the Atlantic to the USA, Central and South America, followed by a Pacific crossing and New Zealand.
If this floats your boat, explore...
on Queen Mary 2 from Southampton: Spend 118 nights venturing around the world via South Africa, Australia, Asia, the Middle East and the Mediterranean.
on Silver Whisper from San Francisco: Visit 25 countries and 62 ports in 116 days. Highlights include the Hawaiian islands, Hong Kong, Egypt, Dubai and Athens.
4. Ultra-Luxe Cruising
Venice to Monte Carlo on Regent's Seven Seas Explorer
A flurry of new ship debuts in 2016 and 2017 are aiming to raise the bar in luxury cruising for Regent Seven Seas Cruises, Seabourn Cruise Line, Silversea Cruises and Crystal Cruises.
First is Regent's Seven Seas Explorer in mid-2016. Carrying 750 guests, her features include three specialty restaurants, a lavish spa, and all-suite, all balcony accommodation.
Seven Seas Explorer will traverse the Mediterranean, and on this 10-night cruise will call at Ravenna, Montenegro, Amalfi and Portofino.
If this floats your boat, explore...
Australia aboard Seabourn Encore: Launching in Singapore, the newest Seabourn ship will venture to Australia in her maiden season, making calls to Australian ports from Darwin to Geelong from December 2016.
Venice to Dubrovnik on Crystal Esprit: Crystal Cruises' Crystal Esprit, the world's newest all-inclusive super yacht, debuted in December 2015, and from April to October will be visiting happening Croatian ports such as Sibenik and Hvar.
5. Small-Ship Luxury
Australia on Azamara Journey
These cruises skirt the edges of luxury, offering a mix of a la carte services, boutique accommodation, unusual itineraries and more overnight stops – all for an affordable price tag.
Azamara's two ships, Azamara Journey and Azamara Quest, will undergo major refurbishments in 2016;Quest made her maiden visit to Australia at the end of 2015, while her sister ship debuts down under in 2017.
Cruises include a 15-night exploration of Australia and New Zealand from Sydney, calling at Melbourne, Port Arthur, Akaroa, Napier, Tauranga and Auckland.
If this floats your boat, explore...
Bergen to Istanbul aboard Viking Sea: Viking River Cruises' new 930-guest ship will cruise Scandinavia and the Baltic, and the western and eastern Mediterranean. Cruise for 14 nights in July 2016, taking in Paris, Lisbon, Valletta and Athens.
Honolulu to Papeete aboard Le Soleal: Ponant's boutique ship will explore Hawaii and French Polynesia on this 14-night cruise, with calls at Maui, the Big Island and Moorea.
6. Short Cruises
Cairns to Sydney on Pacific Eden
If you're short of time for a holiday, it doesn't mean you can't cruise. Short breaks of two to four days are a growing trend, offering cruise fans a chance to sample a new ship or just to kick back for a few days.
P&O Cruises has 84 Sea Breaks in its 2016-2017 season, from short hops to themed cruises. Join the new-to-the-fleet Pacific Eden for a four-night hop from Cairns to Sydney (various departures throughout 2016).
If this floats your boat, explore...
Melbourne to Sydney aboard Queen Victoria: Enjoy two nights on board a Cunard's Three Queens in March 2016, enjoying traditional English styling, two swimming pools, a lavish spa and fine dining.
The Great Barrier Reef aboard Coral Expeditions II: Three nights of discovery and adventure await on a return hop from Cairns, visiting Thetford Reef, Dunk Island and Fitzroy Island.
---
More cruise holiday inspiration
Romance At Sea With Royal Caribbean
Anyone Who Says Cruising Is Boring Is Doing It Wrong

---
7. New Cultural Horizons
Papua New Guinea on Dawn Princess
From the lesser-known Meuse River in Holland, to exotic Cuba and the frozen Arctic, new destinations are appearing on itineraries designed to lure adventurous travellers.
Join Dawn Princess in April 2016 as she explores exotic Papua New Guinea on a 15-night round-trip cruise from Sydney, and visits historic Guadalcanal in The Solomon Islands on the way home.
If this floats your boat, explore...
the Caribbean and Cuba aboard MSC Opera: New to the calendar are seven-night round-trip cruises from Havana between December and April, offering a chance to explore the region's vibrant culture and history.
Belgium aboard Avalon Artistry II: Avalon Waterways' new eight-day river cruise explores Amsterdam's canals, Dordrecht's harbours and Namur's medieval squares, as well as Ypres and Eastern Flanders.
8. Unmissable Tours
Alaska with Holland America
While Europe and Asia are popular, it's hard to beat a cruise tour in Alaska, especially if combined with a ride on the Rocky Mountaineer train. Combining the best of cruising and land touring in a single trip, this experience is offered by Celebrity Cruises, Princess Cruises, Royal Caribbean, APT and Holland America Line.
The latter has three ships to choose from for a week-long Inside Passage cruise; MS Amsterdam, MS Nieuw Amsterdam and MS Westerdam have various departures between May and September 2016, adding the train journey from Vancouver pre or post cruise.
If this floats your boat, explore...
the Kimberley aboard MS Caledonian Sky: This 20-night trip with APT includes a 4WD adventure and 10-night cruise. It starts in Broome and ends in Darwin; in between are explorations of Lake Kununurra, Purnululu National Park, Montgomery Reef and the King George River.
South America aboard Star Princess: New for Princess Cruises in 2016 is the Machu Picchu Explorer, a 23-day cruise-and-land tour in March, with six days on land visiting Machu Picchu, and a 17-day cruise from Valparaiso to Los Angeles.
9. Special-Interest Cruises
Melbourne Cup cruise on Carnival Spirit
Interested in food and wine, music, photography or the arts? Then you're likely to love themed cruises. You can also cruise to key sporting events, such as to Melbourne for the 'race that stops a nation' in November 2016 aboard Carnival Spirit.
The six-night cruise, a round trip from Sydney, has two days at sea, and three days in Melbourne to attend the cup and enjoy the festivities.
If this floats your boat, explore...
Australia Day aboard Pacific Aria: Take a three-night cruise in January 2017 to enjoythe best seat in the house in Sydney Harbour for the day's events and the evening fireworks.
beer tasting aboard Avalon Illumination: Explore the iconic Danube and taste local brews while cruising from Budapest to Nuremburg in November 2016. You'll visit Budapest, Passau and Vienna, and spend three nights in the 'Golden City' of Prague.
10. North America
Columbia and Snake rivers on Queen of the West
Cruising here isn't just about the Mississippi. Off-the-beaten-track locales include the rivers of Florida, historic Chesapeake Bay, the Hudson River, and the Maine Coast. There's also a cruise of the increasingly popular Columbia and Snake Rivers in the Pacific Northwest.
American Cruise Lines introduced American Pride in March 2016; she joins Queen of the West, which operates seven-night cruises between Clarkston and Portland year round.
If this floats your boat, explore...
the Mississippi aboard American Queen: The largest steamboat ever built, American Queen Steamboat Company's vessel embraces the opulence of the Victorian era, cruising the Upper and Lower Mississippi year round on itineraries between St Louis and St Paul, and Memphis and New Orleans.
New York to Montreal aboard Crystal Serenity: Explore the autumn foliage and the St Lawrence and Saguenay rivers on this seven-night cruise in September 2016, with highlights including Canada's Magdalen Islands, Baie-Comeau and Quebec City.
11. Cruises For All Ages
The Mediterranean on Norwegian Epic
This newly refurbished ship is perfect for large families, thanks to clubs and activities for junior cruisers, shore excursions for the whole clan and for adults a cigar lounge, an ice bar and an adults-only beach club.
Cruise the Mediterranean from Marseille for seven-nights with various departures in 2016, visiting Barcelona, Naples and Cannes.
If this floats your boat, explore...
the South Pacific aboard Pacific Aria: This seven-night island hopper from Brisbane is ideal for millenials, combining the French vibe of Noumea and the colour of Port Vila, with plenty of beach action.
New Zealand aboard Ovation of the Seas: If you're travelling with a group of friends and you're in your 30s, you have to consider the Royal Caribbean's Ovation of the Seas. A highlight of her maiden season is a 14-night jaunt from Singapore to Sydney in January 2017.
12. High-Tech Specs
Norwegian Fjords on MS Koningsdam
Cruise ships have evolved from mere ships into complex floating resorts, with new technology to reduce their environmental footprints as well as wow guests. Royal Caribbean's Quantum of the Seas was dubbed 'the world's first smartship' when she launched in 2014, boasting features including bionic bartenders and virtual balcony staterooms.
Holland America Line's MS Koningsdam launched in February 2016 with innovations of her own, particularly in entertainment. A highlight is the World Stage, a flexible space that surrounds the audience with a 270-degree LED screen.
Enjoy the show on a seven-night Viking Sagas cruise from Amsterdam, travelling through the Norwegian Fjords in May 2016.
If this floats your boat, explore...
Far Eastern Russia aboard L'Austral: One of the world's most environmentally friendly ship will cruise from Petropavlovsk to Japan's Kanazawa for 15 nights in September 2016.
the western Mediterranean aboard Harmony of the Seas: When she launches in 2016, Harmony of the Seas will be crowned the world's largest cruise ship as well as one of the most tech-savvy. Itineraries include seven night voyages from Barcelona with various departure dates.
---
Visit your local Flight Centre store or call 131 600 for more advice and the latest cruise holiday deals.
---
allure of the seas carnival cruises carnival spirit carnival vista crystal cruises crystal esprit cunard dawn princess holland america line le soleal norwegian cruise line norwegian escape p&o cruises pacific aria pacific eden ponant princess cruises queen mary 2 regent seven seas cruises river cruise royal caribbean scenic scenic spirit sea princess seabourn seabourn encore seven seas explorer viking viking sea
---
Flight Centre acknowledges the Traditional Custodians of Country throughout Australia.