There's A Reason Why Everyone Wants To Flock To Tasmania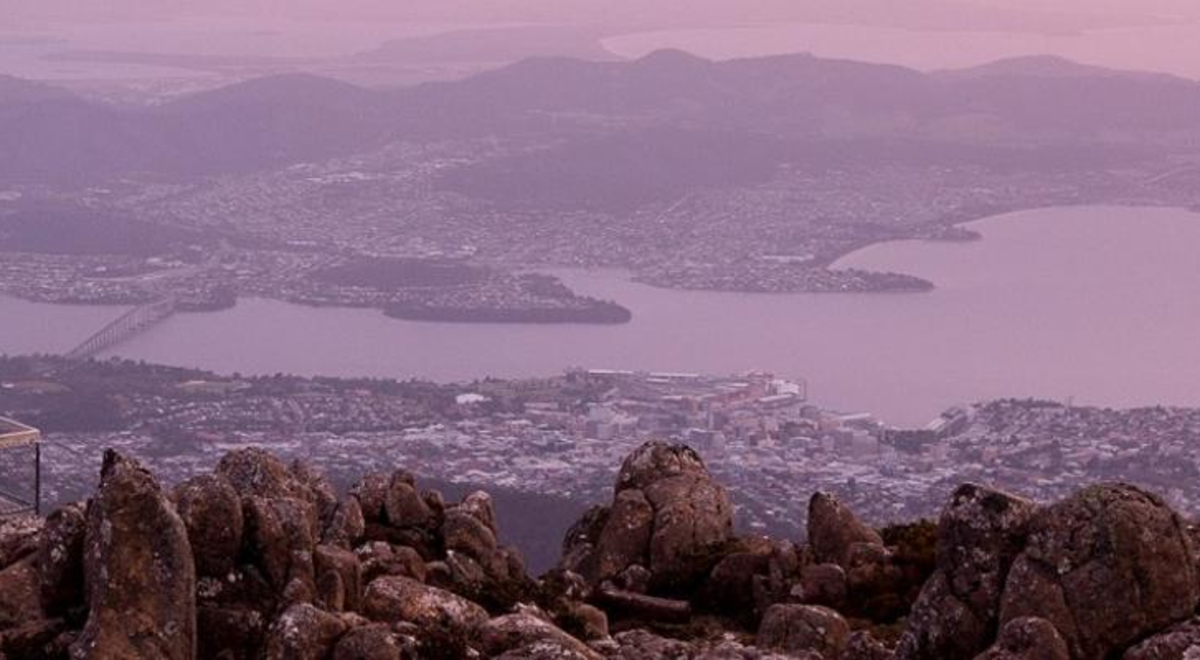 ---
---
Must-do things on a trip to Tasmania
Sample the delicious goods at Salamanca Market in Hobart

Take the Posh Pit Ferry option to explore art at Mona

Take a day trip to Wineglass Bay

Wine or whiskey tasting in the Coal River Valley or Tamar Valley

Drive to the top of Mount Wellington for epic views over Hobart
---
Everyone said I would love Tassie. Friends, my parents, work colleagues, everyone who had been before seemed to think of it as the bees knees. Tasmania is adventure travel, irresistible wilderness, wineries, local foods, whisky, art – it's the place that can do no wrong. 
Needless to say, on arrival my expectations are high. Looking out of the airplane window as the Australian mainland disappears into the distance, my eyes are peeled for signs of the Apple Isle.  Soon enough the deep blue ocean is broken by whitewash, lapping against rocky shores – Flinders Island, Cape Barren Island and then Tassie.
---
---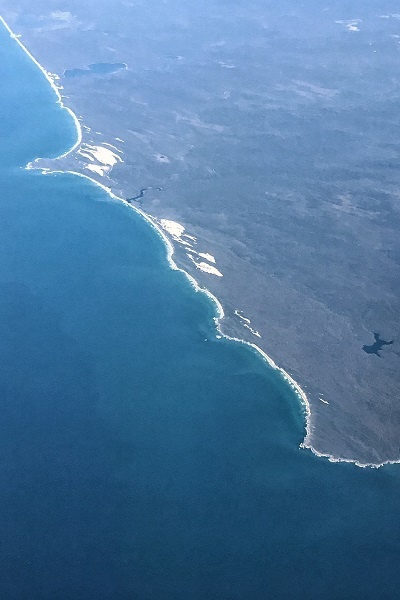 Watching the mainland disappear. (Image: @vickijanefletcher)

 @flightcentre.com>
Here for a long weekend, I've got lists of places to visit, things to see, foods to try and experiences to savour. We're off to a good start when, exiting through the terminal doors, phoning the rental car guy to inform him we're here, he answers and asks if that's me, overdressed in the black coat, on the phone, being followed by an equally overdressed guy in a hat. Yes, that's me, and the guy in the hat is my friend. "I hope you brought some lighter clothes love, it's going to be 24 today!" he greets us. I think I'm going to like these people, funny, friendly, tell it how it is.
Mount Wellington looms over the rows of sandstone storehouses on Hobart's waterfront. (Image: @vickijanefletcher)
Tassie locals are like this. They will ask if you're hungry and, regardless of the answer, will proceed to recommend a seafood restaurant overlooking the water just down the road, followed by detailed instructions of how to get there and what to order. They will ask where you're from then tell you all the things that are different here. What you must try, where you should go to see what, and that on Saturday mornings, there is absolutely nowhere to be but the Salamanca Markets, so put that into your schedule. Four workers at the Museum of Old and New Art (MONA) will admire your film camera and ask multiple questions about it and what you've photographed. The winemaker will tell you about a smoked meat place to eat at, the whisky distiller will tell you which cheese stalls are his favourite at the market where you can find samples and the cray fisherman unloading in the harbour will happily show you his catch of the day.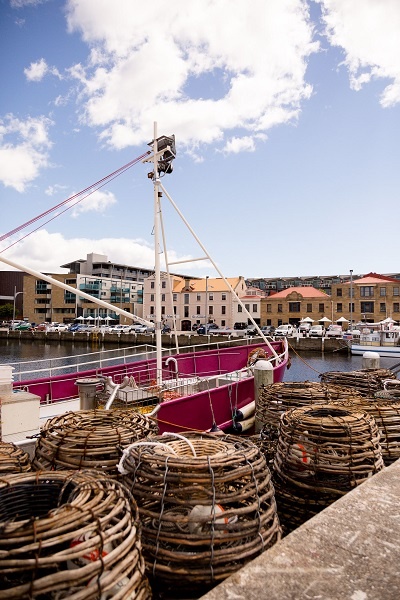 Even the colourful fishing boats and crayfish pots add to the charm of Hobart's waterfront. (Image: @vickijanefletcher)
Hobart isn't a big city by any means, yet it has the fluid energy of one. The calibre of art, the established culinary scene, the small but lively retail precincts and the appreciation of its natural beauty - Hobart takes it all in stride. Yet it still retains a small town charm where people chat in the street and someone is always willing to show you the way. Hobart is a beautiful, enticing city to visit, here's what I discovered over a long weekend.
Where To Eat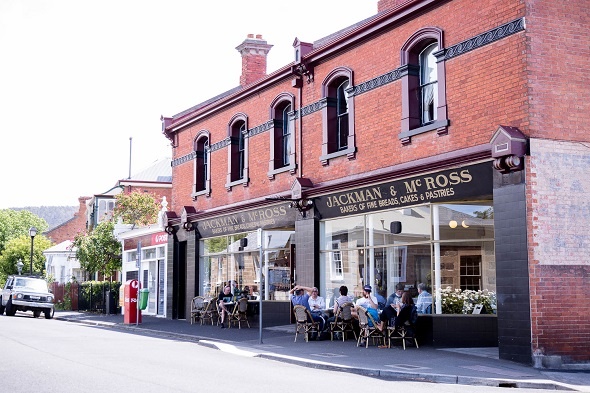 Jackman & McRoss is the perfect sustenance stop for wandering around the picturesque streets of Battery Point. (Image: @vickijanefletcher)
Good food and Hobart go hand in hand and the list is long, so I'll keep it short. For breakfast head to Jackman & McRoss. This bakery slash cafe serves a delicious array of quiches, tarts, croissants, sandwiches and all the rest. For lunch try Pigeon Hole Cafe. Almost everything comes from the cafe's very own sustainable farm, the rest from local producers and farmers. The house made pickles are pretty good too. For a cheerful dinner go for smoked everything at the Tickled Rib, or get a burger and local cider at Preachers, an old house turned pub with bus parked in the yard for cosy winter seating. If you're looking for somewhere a bit nicer, Rockwall Bar & Grill in Salamanca Place is a must. The coffee rub steak is one of the best in Australia. 
Where To Sample Local Wine And Whisky
Frolicking through the vines at Frogmore Creek, a must-stop on the Coal River Valley wine trail. (Image: @vickijanefletcher)
There is a long list of bars in the city centre serving local tipples, but it's much more fun frolicking amongst the vines that birthed the wine right? About a twenty minute drive from the city centre is the Coal River Valley, home to vineyards and cheese makers galore. Find excellent wine and a history of Tasmanian winemaking at Frogmore Creek. Enjoy lunch and creamy brie at the Coal River Farm. Then pick your own strawberries at Littlewood Berry Farm. When it's time for a nightcap, head back into town to Lark Distillery for a taste of Tasmania's first Single Malt Whisky. 
Where To Take A Day Trip To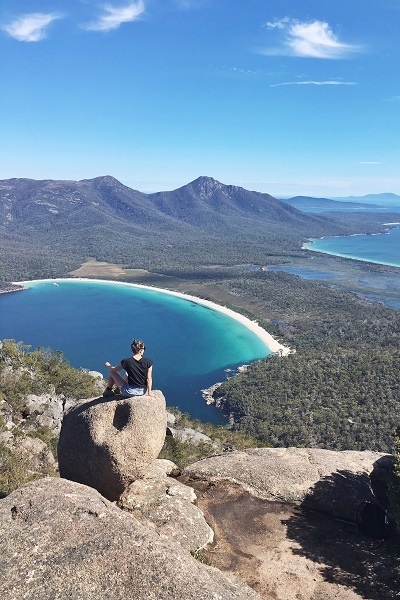 We had the view all to ourselves from the top of Mount Amos. (Image: Jacques Van As @sharkbite_aus)
Bruny Island is the obvious choice here. With stunning natural beauty, wildlife, cheese, wine, craft beer, beautiful (but cold) beaches, the list goes on – and it's all under two-hour's drive from Hobart. If you're prepared to drive a littler further, Freycenet National Park and the spectacular Wineglass Bay is a three-hour drive away. Avoid the crowds at the main lookout and opt for the more challenging, but oh so rewarding climb up Mount Amos. You'll get uninterrupted and human-free views all around.
Where To Find The Best Views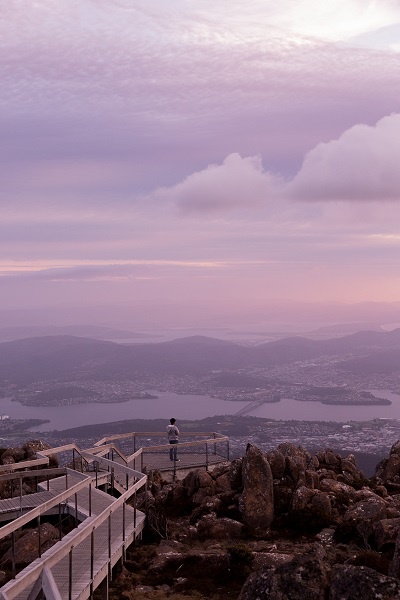 There was only one other person braving the cold when we went to the summit of Mount Wellington - but the sunrise was well worth it. (Image: @vickijanefletcher)
If you're prepared to get up before sunrise – and rug up, even in summer – you will get the best views in town, from the top of Mount Wellington of course. A twenty-minute drive from the city, the summit affords views over rocky outcrops down to the city and the archipelago of islands beyond. If mornings aren't your strong point, sunset is also pretty, but equally as cold. 
Where To Get Your Art And Culture Fix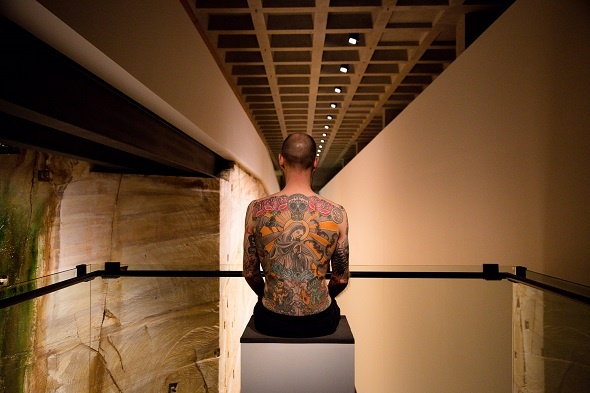 Whatever you expect from MONA, expect the opposite. This exhibit is of a living artwork - tattoos - which will continue to grow until the man's death. (Image: @vickijanefletcher)
Anyone you tell you're going to Hobart will respond with 'you must go to MONA', or something like that. As Australia's largest privately funded museum, built mostly underground on a little peninsula, in the middle of a vineyard, MONA is the destination in itself. Who doesn't want to sip wine on designer furniture then admire art while reading the interpretive information aptly titled 'art wank'? Then there's the actual art – everything from the weird and wacky (human digestive system machine, plaster casts of vaginas) to plain interesting (live painting, alternate reality rooms). Do yourself a favour and dedicate a day to this, starting with the ferry ride (get the cheese and wine package) and ending with drinks on the lawn.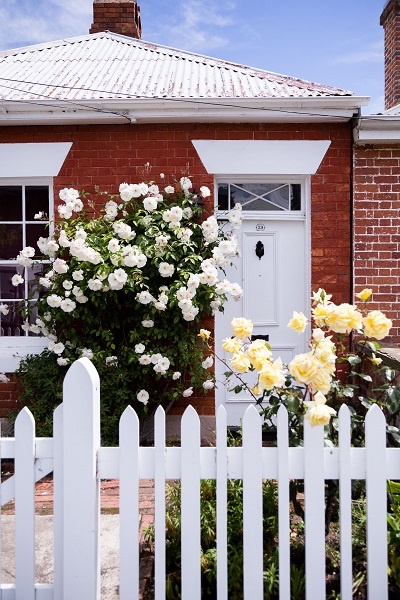 In springtime, almost every house in Hobart looks like this - the ultimate garden envy! (Image: @vickijanefletcher)
After five days in Hobart, I find myself safely in the 'Heck yes Hobart' camp. I've sampled local Tassie wines, been to Wineglass Bay, witnessed the strangest most intriguing art, and seen more perfect gardens than ever before. This trip is case in point for how a short getaway can feel a month long. I'm going home happy, refreshed and inspired – mostly to introduce flowers into my own garden.
---
---
---
Flight Centre acknowledges the Traditional Custodians of Country throughout Australia.