Worlds of Wellness: Zen Hotels that Will Help You Relax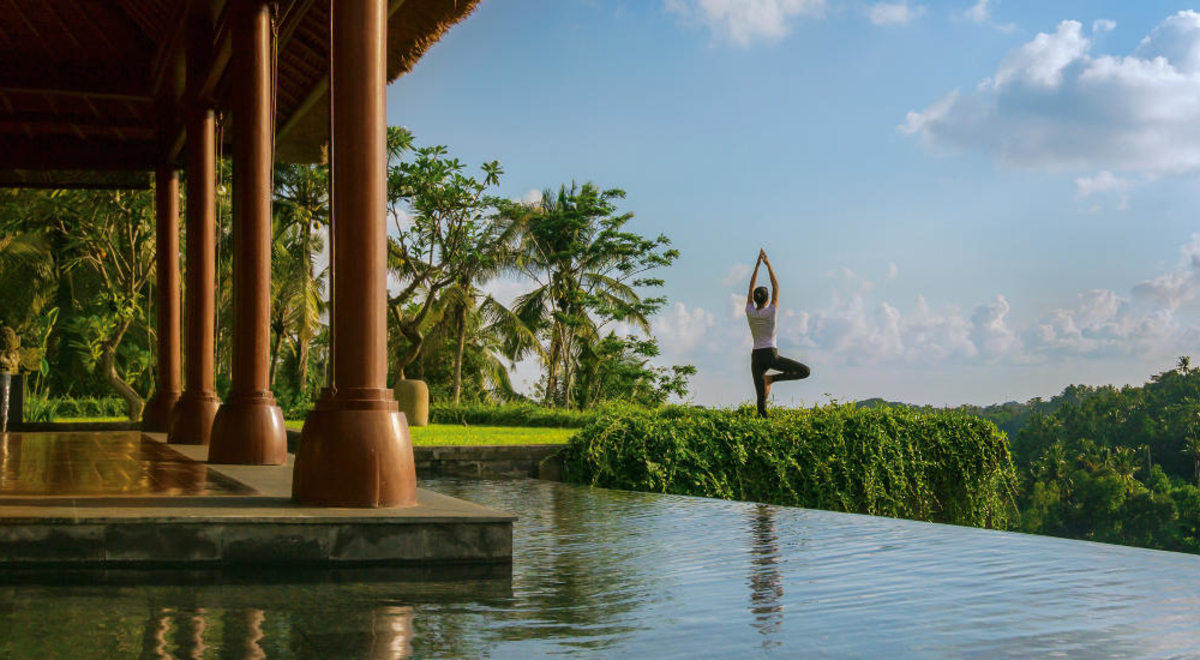 ---
---
It's the hot word on everyone's lips and is set to become a $US678.5 billion industry by 2017, according to the latest Global Wellness Tourism Economy report. Across the world, hotels are racing to embrace the latest mind, body and spirit wellness trends leaving travellers looking rejuvenated and relaxed and feeling their best.
It's simple to seek wellness and rejuvenation in your travels. Forget about a simple massage or facial in the hotel spa – these are switched-on revitalising wellness programs that are as much about empowering healthy eating as they are about engaging with nature, learning to switch off and improving natural sleep. From forest bathing and ice caves to indigenous treatments and even fresh juice bars, here are some of the hottest wellness trends to try this year. 
The Sleep Revolution
Zero-gravity nap pods and lighting schemes that change throughout the day are just some of the ways hotels are going the extra mile to optimise guest health and happiness and give jetlag the flick. At the Fairmont Scottsdale Princess in Arizona, a prescribed 30-minute power nap in the So Sound chair is all that's needed to reset the body clock, while the cocoon bed at Anantara The Palm Dubai Resort gently rocks guests up and down into a deeply relaxed state.
Want a restful night? Why not try:
Salty dreams
Great for respiration and improved mental clarity, halotherapy is being touted as a jetlag cure. At Anantara The Palm Dubai Resort, guests can sit inside a salt chamber being pumped with dry salt air and breathe in all the salty goodness of a day at the beach without the sand.
Counting sheep
Doctor and sleep specialist-devised programs at some hotels are helping to retrain and reset out-of-whack body clocks. In Switzerland, The Alpina Gstaad takes a Zen approach with wellness consultations, 'yogic sleep' retreats and detox programs, and London's Corinthia Hotel has a sleep retreat that's rich in tryptophan and magnesium-rich, sleep-inducing foods. Closer to home, Queensland's award-winning Gwinganna Lifestyle Retreat regularly holds specialty retreats based on sleep.
Wellness stays
A new wave in hotel design is reshaping the way we stay. The soothing Vitality Room at the Swissotel Zurich, designed in partnership with Wallpaper* magazine, features a neutral colour palette, fitness video wall, circadian lighting and bespoke bathroom. Meanwhile, Delos, a wellbeing design company with mind-body healing expert Dr Deepak Chopra on the board, has installed Stay Well rooms at the MGM Grand in Las Vegas and some Marriott hotels across the United States, which are fitted out with air purifiers and simulated dawn alarm clocks to deliver a better night's sleep.
Food Tailored Just for You
Healthy eating is on the menu like never before as hotels cater to the growing popularity in veganism, raw, gluten-free and Paleo diets. Overseas, Tokyo has specialty tofu restaurants and London's 5-star Claridge's hotel has a gluten-free high tea.
Meanwhile, in Australia, Asana by Pete Evans at Capri by Fraser in Brisbane has a Paleo-influenced menu showcasing local Queensland fare. Even cruise ships are changing what passengers eat onboard, with many, like Avalon Waterways, launching healthy meal options.
Have an appetite for health? Here's your chance to go crazy:
Juice bars
Cold-pressed, made to order or part of a spa detox menu, the hippest hotels, such as Miami's 1 Hotel South Beach, now have juice bars. At the Anantara Layan Phuket Resort and Evason Ana Mandara in Nha Trang, guests can detox with a raw-juice cleanse, and the fresh wellness juices at Como Shambhala hotels were designed by a nutritionist.
Eat your greens
Sprouting up in some hotels, meat-free restaurants are attracting ethically minded and health-conscious guests. At Aro Ha on New Zealand's South Island, guests can eat their way to active weight loss and better health with a nutrient-dense vegetarian diet that's Paleo-friendly and gluten-free. In Bali, the award-winning Fivelements Sakti Dining Room takes guests on an epicurean raw vegan journey, while the Evason Hua Hin holds weekend workshops and month-long courses for guests wanting to learn how  to 'cook' raw.
Like a bullet
In-room Nespresso machines, single-origin beans, almond and coconut milk, and baristas onsite: hotel coffee keeps going from strength to strength. In Singapore, Hotel Jen Tanglin regularly holds 'Barista Showdowns', while the QT Gold Coast is the place to go for a 'bulletproof coffee' (hello, pasture butter).  
Next-Gen Spas
Want to look good fast? Oxygenating medi-spa treatments at hotels like Per Aquum Niyama Maldives and Karma Kandara Bali are giving skin that fresh, just holidayed look in a flash. It's also in the hotel spa that you'll find the latest non-surgical cool-sculpting fat-removal machines.
Unwind on a whole new level:
Feeling hot, hot, hot
Dating back to Mayan times, temazcal (a sweat lodge) is the latest indigenous treatment to hit the spa menu. Led by a shaman, this authentic indigenous rebirth ritual uses steam, heat, aromatic herbs, chanting and ancient prayers to help purify the body and mind. Hit the El Dorado Royale and other luxury resort spas along Mexico's Riviera Maya for the best of these.
The big chill
Celebrities swear by it, and now hotels are tapping into cryotherapy's anti-ageing cool. In the 'snow paradise' room at The Dolder Grand in Zurich, guests can slather on an icy snow-like concoction, and both the Carillon Miami Beach and Banyan Tree Al Wadi in the United Arab Emirates have igloo rooms.
Make mine a double
Need a boost? Health takes to the road in 2017 with Reviv, a wellness company delivering B12 booster shots, CoQ10+ shots and a handful of signature IV nutrient infusions straight to your hotel room. A concierge service of trained medical professionals currently operates in locations around the world, including Copenhagen, Hong Kong, Ibiza, Johannesburg, Las Vegas, London, Los Angeles, Miami, New York City and Toronto.
Bespoke pampering
Face-mapping and custom aromatherapy treatments continue to transform and augment the standard spa menu. In Bath, the Thermae Bath Spa Tailor-Made Facial is a bespoke blend of pure essential oils and plant extracts, while Mexico's Grand Velas Riviera Nayarit creates custom massage oils for guests using herbs that are crushed to order from the hotel garden.
Zen of Nature
Adrenaline activities teamed with yoga and meditation and fully immersive back-to-nature experiences are bringing a new Zen to outdoor wellness. Meanwhile, hotels like the Vibe and Novotel are making it easier for guests to stay fit and relaxed without leaving their room, with dedicated yoga and fitness channels, and others, including the InterContinental's Even hotels, have in-room fitness zones.
Get ready to explore the (really) great outdoors:
Stop and smell the roses
Walk into a forest, breathe deeply and open all your senses. The Japanese healing practice of shinrin-yoku (forest bathing) is not only relaxing, it's restorative, with a host of benefits that include a boosted immune system, improved mood, lowered blood pressure and reduced stress. Blackberry Farm in the Great Smoky Mountains of Tennessee incorporates forest-bathing principles in its outdoor yoga sessions, while the mindful forest walk at Six Senses Douro Valley in Portugal ends in a guided meditation suspended in a cocoon-like pod. For the ultimate in forest soaks, head to Sweden's Treehotel and stay in The Mirrorcube treehouse suspended between towering pine trees.
Hang 10
Once the domain of gnarly surfers in search of the perfect break, surfing (and stand-up paddleboarding) has come of age. Women-only and family surf and wellness retreats are now the norm, with surfing just as likely to be paired with yoga and meditation as it is to appear as an activity at an exclusive beachside resort.
With miles of sandy beaches, consistent swells and good reef breaks, Sri Lanka is fast cementing itself as a surfing hot spot. On the southeast coast, Arugam Bay is known for its waves, while the southwest coast from Hikkaduwa down to Matara is full of hidden, empty reef breaks. Intrepid surfers are also venturing further afield to places like India, Japan, Iceland and Russia.
Take a hike
Why hike along a glacier when you can hike inside one? In Iceland, you can explore the breathtaking beauty of Langjokull glacier, a 550-metre network of magical ice tunnels and caves of ever-deepening blue ice that lead about 30 metres below the surface, to the glacier's heart.  
A Family Affair
Family wellness is squarely in the sights of hotels, with spa treatments, yoga sessions, immersive cooking classes and indigenous activities for adults and kids  all on offer. In Bangkok, The Siam has a kids' and teen spa menu, as well as one-day to one-week Muay Thai training sessions in the gym, while Camp at Mandapa in Ubud is where mini adventurers (and Mum and Dad, too, if they like) can take part in yoga, chocolate-making, daytime exploring and night-time safaris.
Sweet retreats who are doing it for the kids:
Kiddy-zen
Helping kids to switch off and relax, kids' clubs are focusing on more contemplative pursuits. The Six Senses Laamu in the Maldives has music meditation, organic gardening and tai chi for kids. Meanwhile, Plum Village, a monastery in the south of France, has a four-week summer mindfulness retreat each year where kids aged six to 17 can learn how to meditate.
Nature-nurture
Drawing kids away from iPads and video games, nature is the big-ticket item at some family-friendly resorts. Fiji's Jean-Michel Cousteau Resort has a full-time marine biologist on site to teach children about the ocean and buddies for fun activities like raft building, snorkelling and spearfishing.
At Australia's One & Only Wolgan Valley, the Greater Blue Mountains are a children's playground and the Rangers Activity program one of the ways they can explore it, with bush survival, yabbying, fossil hunting and orienteering just some of the activities on offer.
This article first appeared in Travel ideas – WOW List 2017.
---
Visit your local Flight Centre store or call 131 600 for more advice and the latest deals.
---

---
Flight Centre acknowledges the Traditional Custodians of Country throughout Australia.