Athens Flights
A land of great culture, great sights and great food, Athens is an ancient city that continues to move strongly forward into the future. Discover the history, take in the beauty and fall in love with Athens. Read more...
Imagine walking through city streets that date back not hundreds, but thousands of years. With a recorded history spanning 3000 years ago, history is still very much a part of modern day Athens. As one of the world's oldest cities, Athens is home to two UNESCO World Heritage Sites and an ancient city. It is famously referred to as the birthplace of democracy and the western civilization. In anticipation of the Olympics in 2004, Athens undertook a modern makeover with renovations helping to easily connect the city.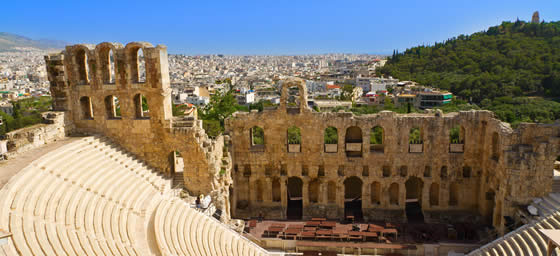 Since the Olympics, urban renewal has continued to make its mark on Athens. Tree-lined walkways now link the city's significant ancient sites, allowing for vibrant modern life to intertwine with historic scenery. As you can imagine, the sleek museums here are a goldmine of amazing exhibits. Even the most nonchalant historians will find the Acropolis and its accompanying museum to be an inspiring experience. The white-washed churches scattered throughout the city are also a highlight of Athens, with many of them providing spectacular views.
But there's much more to Athens than its past. The city's enduring passion for life is evident in its pulsating nightlife and eateries. The districts of Gazi and Psirri are the epitome of modern Athens. Modern taverns hum with chatter at all hours of the day and night while the area's vibrant nightlife pulsates from dusk til dawn. Much like the rest of Greece, food and celebrations are very much a part of Athen's DNA. Festivals see the city come alive, nightlife doesn't reach its peak until early in the morning and the city's love of olives, oil and souvlaki will ensure you never experience a hungry moment on your holiday.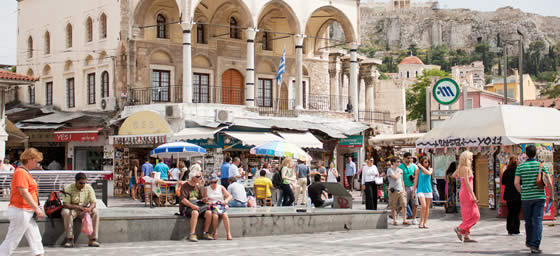 Athens Airport (ATH)
Flights from Australia to Athens will disembark at Athens International Airport.
Athens International Airport (ATH) is the international airport for Greece's capital and the wider Attica region. Also known as Elefthérios Venizélos, after the distinguished Greek statesman, Athens International has two terminals and is a growing hub for travel to Asia and the Middle East.
Airport Accommodation: There are a number of hotels located in close proximity to Athens International Airport. Book your Athens Airport accommodation.
Airlines that fly to Athens
Airlines that offer cheap flights to Athens from Australia include:
For more information on airlines that offer flights to Athens, have a look at our international airline page.
Looking for more than just a flight? An Athens holiday package includes flights, accommodation, and often other extras like tours or car hire. View our Athens packages.
ECONOMY
BUSINESS
Darwin to Athens

return from

$

1,583

*

return from

$

4,618

*

Melbourne to Athens

return from

$

1,638

*

return from

$

5,267

*

Sydney to Athens

return from

$

1,674

*

return from

$

5,278

*

Adelaide to Athens

return from

$

1,731

*

return from

$

6,999

*

Perth to Athens

return from

$

1,778

*

return from

$

5,255

*

Brisbane to Athens

return from

$

1,869

*

return from

$

5,271

*

Cairns to Athens

return from

$

1,912

*

return from

$

5,741

*
Choose from our range of Athens holiday packages below that each include your flights, accommodation, and often special bonuses like tours and free upgrades. If you can't find the package you're looking for, contact one of our friendly consultants on 133 133 and don't forget to ask about customising a package to suit your needs.
Talk to an Airfare Expert about flights to Athens
Our consultants:
Are Airfare Experts
Are based in Australia
Can answer your questions
about fare types and inclusions
Can find exclusive packages to
save you money
Ask an expert
Find a store
Instant call