Fiji Flights
Whether you seek adventure, relaxation or a romantic holiday for two, Fiji's tropical waters and friendly vibe will have you wishing that your holiday never ends. Read more...
Call an Airfare Expert 133 133
The islands of Fiji are home to a broad spectrum of hotels and resorts. There are numerous budget and mid-range options on the main island of Viti Levu as well as on some of the smaller islands offshore. There are also several resorts in close proximity to the airport, making them ideal for a quick weekend getaway. Many of Fiji's luxury resorts can be found in the gorgeous Yasawa Islands and Mamanuca Islands, some of which are private islands. Browse through our range of Fiji accommodation deals.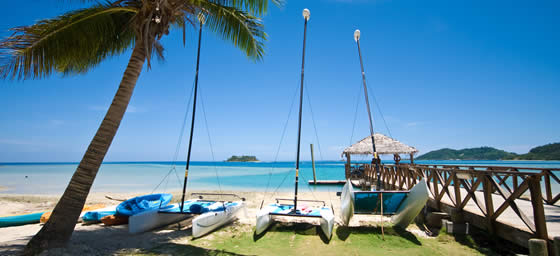 There's plenty to see and do throughout Fiji so make an effort to drag yourself away from the beach from time to time. For hours of family entertainment, visit the Arts Village Cultural Centre at Pacific Harbour and experience real Fijian culture. Adventure lovers will appreciate a rafting safari down the Upper Navua River, with class 3 rapids surrounded by some of Fiji's most breathtaking scenery. If you'd prefer to let someone else take care of your sightseeing, try one of our Fiji tours.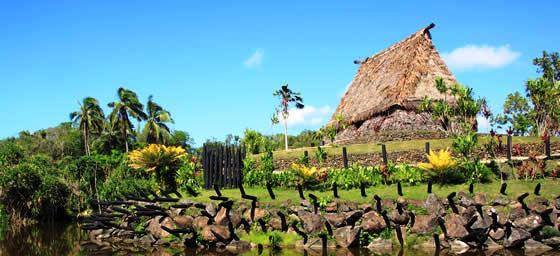 Fiji Airport (NAN)
Flights from Australia to Fiji will disembark at Nadi International Airport.
Nadi International Airport (NAN) is the main access point for travellers to the islands of Fiji. It is located a short taxi ride from the city of Nadi and consists of one relatively small terminal building.
Airlines that fly to Fiji
Airlines that offer cheap flights to Fiji from Australia include:
For more information on airlines that offer flights to Fiji, have a look at our international airline page.
For more on Fiji holidays check out our Fiji travel guide or view our range of Fiji holiday packages that include flights, accommodation and often other extras like tours or car hire.
ECONOMY
BUSINESS
Brisbane to Fiji

return from

$

499

*

return from

$

1,657

*

Sydney to Fiji

return from

$

555

*

return from

$

1,696

*

Melbourne to Fiji

return from

$

595

*

return from

$

1,822

*

Adelaide to Fiji

return from

$

895

*

return from

$

2,048

*

Cairns to Fiji

return from

$

1,055

*

return from

$

2,671

*

Perth to Fiji

return from

$

1,075

*

return from

$

2,174

*

Darwin to Fiji

return from

$

1,082

*

return from

$

2,560

*
Choose from our range of Fiji holiday packages below that each include your flights, accommodation, and often special bonuses like tours and free upgrades. If you can't find the package you're looking for, contact one of our friendly consultants on 133 133 and don't forget to ask about customising a package to suit your needs.
HOLIDAY PACKAGES

Coral Coast, Fiji packages

Coral Coast, Fiji Flights + STAY 5 Nights, PAY 4 - Departing Sydney
5 nights

Return from

$

845

*

Coral Coast, Fiji packages

Coral Coast, Fiji Flights + STAY 5 Nights, PAY 4 - Departing Brisbane
5 nights

Return from

$

849

*

Coral Coast, Fiji packages

Coral Coast, Fiji Flights + STAY 5 Nights, PAY 4 - Departing Melbourne
5 nights

Return from

$

979

*

Fiji packages

Fiji Flights + STAY 5 Nights, PAY 4 - Departing Adelaide
5 nights

Return from

$

1,109

*

Coral Coast, Fiji packages

Coral Coast, Fiji Flights + STAY 5 Nights, PAY 4 - Departing Perth
5 nights

Return from

$

1,319

*
Talk to an Airfare Expert about flights to Fiji
Our consultants:
Are Airfare Experts
Are based in Australia
Can answer your questions
about fare types and inclusions
Can find exclusive packages to
save you money
Ask an expert
Find a store
Instant call