LAX Fast Facts
Distance from CBD: 30 kilometres
Airport code: LAX
Number of airlines: 71
Destinations served: 156+
Terminals: 9
Runways: 4 parallel runways
Terminals At LAX
While there are nine terminals at LAX, flights from Australia have only one terminal as their hub: Tom Bradley International Terminal. Below you'll find a brief guide to all the terminals at LAX, key facilities, and what's going on at this buzzing airport.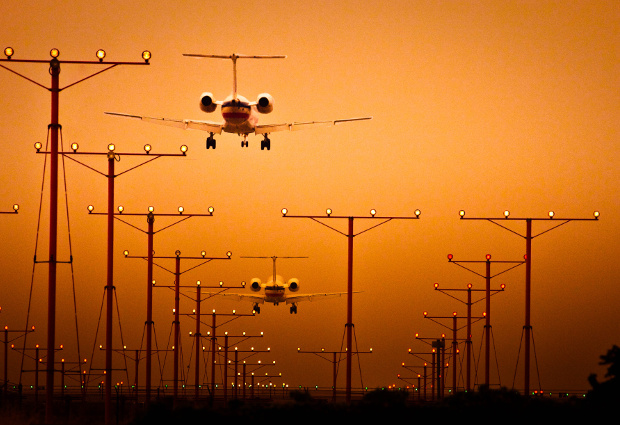 Terminal 1: Undergoing a $700+ million upgrade in 2018, the new terminal is set to wow passengers with a modernised concourse, expanded views, and new retail and dining options. Airlines which call Terminal 1 home are Southwest (Domestic Flights) and Southwest international check-in.
Terminal 2: Themed terminals is a quirk of LAX, with Terminal 2 designed around the concept of "LA in Motion", showcasing the energy of LA's 'on-the-go' culture. Airlines served by Terminal 2 include Aer Lingus, Delta Air Lines, Virgin Atlantic and Virgin Australia (check-in only).
Terminal 3: The new home of Delta, with a completely renovated terminal.
Terminal 4: This terminal is the home of American Airlines, as well as the 'Terminal 4 Connector' which links to Tom Bradley International Terminal and enables passengers to reach connecting flights from all of the south side terminals a lot more easily. Travellers who get the most benefit from the T4 Connector are those connecting from a domestic airline to a Qantas flight, such as from Chicago to Los Angeles with American Airlines, then onwards to Brisbane, Sydney or Melbourne with Qantas. If you're flying the route above, you'll be able to walk straight from arrivals at T4 to the departure gate at TBIT, avoiding another security check-in.
Terminal 5: Terminal 5 is the base for Allegiant Air, Frontier, Hawaiian Air, JetBlue, Spirit and Sun Country, as well some American Airlines flights and the bus to the American Eagle terminal. A $320+ million upgrade to the terminal has recently been completed, which includes a private entrance for celebrities and other elite travellers.
Terminal 6: Terminal 6 has also been the recipient of a major upgrade, with the 'Sunset Boulevard' theme and improvements fully complete. Airlines that are based at Terminal 6 include Air Canada and Alaska Airlines.
Terminals 7 & 8: Both undergoing a multi-million dollar renovation, which will include a new luxe United Club Lounge in Terminal 7. United Airlines and United Express are based at these two terminals.
TBIT: Tom Bradley International Terminal (TBIT) was named after the city's first African-American mayor and is the terminal at which most Australians will enter LA, with Qantas, Virgin Australia and Air New Zealand flights all arriving (and departing) here. A total of 41 airlines fly into TBIT, from Aeroflot to WOW Air (Iceland's low-cost airline) so you can understand why the city recently invested over 2.5 billion dollars in substantial improvements to the terminal.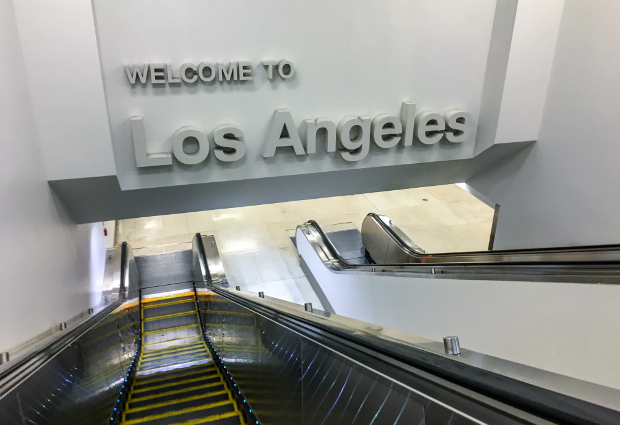 What Facilities Are At Los Angeles International Airport (LAX)?
With nine terminals, LAX has a vast number of services and facilities for travellers.
Check-in
Your check-in location will depend on your airline, and while the majority of Australian travellers will be arriving at and departing from TBIT, some airlines require passengers to check in at a different terminal. For example, check-in for Virgin Australia is located at Terminal 2. From here, passengers proceed to TBIT via the walkway or inter-terminal shuttle bus.
If you haven't already checked in online for your flight, you'll need to visit the relevant airline counter at LAX at least 3 hours prior to your flight's departure time for international flights, and 90 minutes before a domestic flight.
Baggage
Baggage storage is available at LAX should you need to drop your bags for a few hours or days. Although there are no longer any storage lockers at the airport, LAX Luggage Storage provides off-site storage starting at $10 per day for small, carry-on items. The company can arrange a kerbside pick up, and deliver items back to your terminal for a small fee.
Is there a currency exchange?
Currency exchange at LAX is dominated by International Currency Exchange (ICE) outlets which you will find on the Departures, Ticketing and Arrivals levels of TBIT, as well as at Terminal 2 (Departures and Arrivals), Terminal 3 (Departures), Terminal 6 (Arrivals and Departures) and Terminal 7 (Departures).
Pets Unstressing Passengers (PUP)
One of the most likeable facilities at LAX is the PUP program. Because travelling can be stressful for many people, the PUP program aims to provide comfort and stress relief by giving passengers the opportunity to interact with pets. The volunteers bring along their own dogs, are registered with Therapy Dogs Inc., and invite you to pat, hug, kiss and take pictures with the PUPs when travelling through LAX.
What are the other services and facilities?
ATMs
Complimentary Wi-Fi
Concierge Services
Currency Exchange
Nursing Room
Luggage Carts
Interactive visitors' centres
Airport Police
Lost and Found
Medical and First Aid
What lounges are at LAX?
There are more than 20 lounges at Los Angeles International Airport. Below you'll find a brief overview of some of the key lounges and what they have to offer. As with all lounge access, if you have any questions about eligibility, talk to your local Flight Centre Travel Expert.
Tom Bradley International Terminal (TBIT)
Star Alliance Lounge
One of the most impressive lounges at LAX, the Star Alliance Lounge is open to the 28 Star Alliance airlines, which include Air New Zealand and Singapore Airlines. The lounge welcomes passengers travelling Business or First Class on a Star Alliance flight, while First Class passengers also enjoy a separate First Class Lounge. The signature feature of the main lounge is its outdoor terrace, from which you can enjoy the views over the airfield and beyond to the Hollywood hills. At night, you can cosy up with a glass of excellent Californian wine and enjoy the relaxing ambiance around the gas-lit fireplaces. There are eight showers in the lounge if you wish to freshen up before your flight, and plenty of areas for you to catch up on work, or simply relax. The Star Alliance Lounge has loads of character with a contemporary '60s LA' style.
Qantas International Business Lounge
Inspired by contemporary Californian culture, the Qantas International Business Lounge is a stylish and luxurious place to await your flight. Features include a communal fireplace, a central glass atrium which floods the lounge with natural light, as well as Neil Perry-designed menus which put a local Californian-tasting spin on Qantas signature favourites. There's a cocktail bar, from which you can choose signature cocktails or premium wines, and in true Australian style there's a barista who can make you a coffee of your choice. The lounge also includes a play room filled with toys for kids, 16 shower suites with Aurora Spa amenities, loads of places to plug in and do some work – even chairs that are comfortable enough for taking a nap.
Qantas International First Class Lounge
For outstanding service, dining and ambience, the Qantas International First Class Lounge does not disappoint. Dining is a la carte, with a seasonal menu from Rockpool, and the bar menu includes four different Champagnes as well as premium wines and spirits. Coffee is very good, of course, freshly made to order by the barista.
Note: if you're wishing to work, wall sockets take US plugs only and there are no USB points. Keep that adaptor in your hand luggage.
Oneworld International Business Lounge
This lounge is operated by Qantas and has a sophisticated Australian vibe to it. The lounge welcomes 13 One World alliance airlines, including British Airways and Cathay Pacific. This lounge is very easy to relax in, with a choice of comfortable lounge chairs and recliners as well as business desks and tables. There is also a dedicated business suite in the lounge, with six Apple computers. Dining is buffet-style, and the bar offers premium beers, wines and spirits. If you're keen to freshen up before your flight, you'll be happy to know that the shower facilities rooms include rainfall showerheads and toiletries by Aspar.
Terminal 2
Virgin Atlantic Clubhouse Business Class Lounge
This lounge operates in two modes. In the morning, when Virgin Atlantic isn't using the lounge for its own guests, it is open to Priority Pass lounge members. This is from 5am to 10.45am, and lines up with Australians who may be arriving into LA via a Virgin Australia flight from Sydney, Melbourne or Brisbane and then catching a connecting flight from the same terminal. Then, from 12.30pm until the last Virgin Atlantic flight of the day closes for boarding, the lounge is open to Virgin Atlantic passengers. So if you're flying Virgin Atlantic to London, for example, you can use the lounge if you have lounge access, but note that this lounge is not open to passengers flying Virgin Australia. This lounge at LAX is the first-ever Virgin Atlantic Clubhouse within the airport, and interiors are inspired by the USA's West Coast landscape, with plenty of natural light streaming in through the expansive windows looking over the tarmac. Service and facilities in the second half of the day are a cut above the morning offering, with full a la carte dining and cocktail bartender service as opposed to a buffet offering.
What restaurants and bars are at LAX?
In LA you can find almost any cuisine you can imagine, and LAX does its namesake city proud. There are the classics, like Dunkin' Donuts, there are treats for foodies, such as The Kitchen by Wolfgang Puck, and of course it wouldn't be LA without plenty of healthy options such as Real Food Daily with its organic, plant-based cuisine. Below is a list of all the food and drink options at LAX, across all terminals, before and after security.
Restaurants and bars at LAX include:
Cantina Laredo
Dunkin' Donuts
Earl of Sandwich
Pinkberry
Planet Hollywood
Starbucks
The Coffee Bean & Tea Leaf
8oz Burger Bar
800 Degrees Pizza
Ashland Hill and Bar
B Grill
Barney's Beanery
BLD
BLU2o
Border Grill
BUILT Custom Burgers
California Pizza Kitchen
Campanile
Carl's Jr
Cassell's Hamburgers
Chaya
Chick-fil-A
Ciabatta Bar
Coffee Corner
Cole's
Corona Bar
Deli & Co.
Earthbar
Einstein Bros Bagels
Engine Co. No. 28
Farmers Market To Go
Food & Bounty
Ford's Filling Station
Fresh Brothers Pizza & Sandwiches
Homeboy Cafe
I Love LA
Ink.sack sandwiches
James' Beach
KFC
Klatch Coffee
La Familia
LA Life
La Provence Patisserie and Cafe
LAMILL Coffee
Larder at Tavern
Lemonade
Loteria! Grill
Monsieur Marcel Gourmet Market & Bistro
Nekter
Osteria by Fabio Viviani
P.F. Chang's
Panda Express
Peet's Coffee
PEI WEI Asian Diner
Petrossian Caviar & Champagne Bar
Pick Up Stix
Pinkberry
Point the Way Cafe
Real Food Daily
Reilly's Irish Pub
Rock & Brews Concert Bar & Grill
Rolling Stone Bar & Grill
Sammy's Woodfired Pizza
Scoreboard LA
SeaLegs Wine Bar
Shake Shack
Skewers by Morimoto
Slapfish Modern Seafood Shack
The Counter Custom Build Burgers
The Habit Burger Grill
The Kitchen by Wolfgang Puck
The Parlor
The Wine Bar by Wolfgang Puck
Treat Me Sweet
Trejo's Tacos
Umami Burger
Urth Caffe & Bar
Vanilla Bake Shop
Vino Volo
Wahoo's Fish Taco
Wolfgang Puck Express
Wpizza by Wolfgang Puck
Shopping at Los Angeles International Airport (LAX)?
LAX is a shopper's dream, with gift shops, newsstands, duty free shops, fashion brands and more.
Shops at Los Angeles International Airport (LAX) include:
Bartel's Harley Davidson Store
Be Relax
Bead Factory
Belkin phone accessories
Bliss spa
Book Soup bookstore
Brookstone
Bulgari
CNBC
CNN Los Angeles Newsstand
Coach
E! News
Emporio Armani
Fred Segal
The Hollywood Reporter
Hollywood Style
Hudson Booksellers
Hudson News
Hugo Boss
I Love LA
In Motion
iStore Boutique
Kiehl's
Los Angeles Times
MAC Cosmetics
Magic Johnson Sports
Market 8600
Mattel Experience
M.Fredric
Michael Kors
Moshi
New
People News
Pier No.7
Porsche Design
Relay
Rip Curl
See's Candies
SOL Surf
Soundstage Market by Hudson
Spanx
Sunglass Hut
Treat Me Sweet
Tumi
Univision
Victoria's Secret
Virgin Mobile
Travel + Leisure
USA Today Travel Zone
What's the best way to get to and from LAX?
Travelling to and from Los Angeles International Airport is not known as the easiest trip in the world, and it is really worthwhile to plan this part of your journey in advance. That said, the Landside Access Modernisation Program (LAMP) at LAX has already begun, with the aim of relieving congestion and improving the travel experience for people who are going to or from the 5th busiest airport in the world.
Under construction is a new electric train system which will run on an elevated guideway, with six stations in total, expected to be fully operational in 2023. It will be free, run 24/7, and is expected to carry around 30 million passengers a year. In the meantime…
You'll find that LAX is located around 30 kilometres to the southwest of Downtown LA. There are several options for getting to and from the airport, suiting all budgets and all kinds of travel requirements.
The Fastest: LAX FlyAway bus service offers a convenient service to and from each terminal at LAX, seven days a week. Each bus is marked with its individual service location, with destinations including Van Nuys (San Fernando Valley), Union Station (Downtown LA), Westwood (West Los Angeles/UCLA), Santa Monica, Long Beach and Hollywood. Travellers catching the bus from LAX should head to the lower / arrivals level of each terminal and look for the green 'FlyAway' bus sign. The non-stop service uses the regional 'High Occupancy Vehicle' lanes allowing faster travel between destinations.
The Cheapest: The Metro Rail system offers a complimentary shuttle between the airport and the Metro Green Line Aviation Station close to the airport. From here passengers can access stops all over the Greater Los Angeles area on the Green Line. Passengers wishing to use this shuttle bus service should wait under the LAX Shuttle & Airline Connections sign on the Lower/Arrivals Level islands in front of each terminal, and board the "G" Shuttle.
Buses, taxis and car hire: In a city famous for its extensive freeway network, car hire is a popular option for travellers to and from LAX. Rental Car offices are located away from the airline terminals and several rental car companies are authorized to pick up and drop off their customers at the airline terminals using courtesy shuttles. These companies include Alamo, Avis, Budget, Hertz and Thrifty, and will meet you under the purple sign "Rental Car Shuttles" on the Lower/Arrivals Level islands outside baggage claim. Shuttle buses are frequent and free, making this an easy option if you're keen to set out from LA by car.
Local bus is another option. To get to the Metro Bus Centre, take the "Lot C" Shuttle, which you'll find on the Upper/Departures Level, near the "Private Parking Lots Shuttle Zone" sign. Buses from here serve the Los Angeles area. There are also plenty of charter bus companies that will service a particular area, such as the Central Coast Shuttle (Ventura, Santa Barbara, Buellton and Santa Maria) and Mickey's Space Ship Shuttle which services Universal Studios and all Disneyland Anaheim resort hotels.
If you just want to get to your hotel as simply as possible, taxis are available. You'll find them curbside on the Lower/Arrival Level islands in front of each terminal under the yellow sign indicating Taxis. The major companies include Checker, Independent and Yellow Cab. A typical fare to downtown LA will cost around AU$70, and can take anywhere between 20-50 minutes depending on traffic conditions.
Uber and rideshare: From LAX, Uber and other rideshare services such as Lyft, Inc. and Opoli are authorised to provide pick-up services at LAX. If you're using one of these services, make your way to the signs that state "Ride Service Pick-Up", on the Upper/Departures Level.
Chauffeur/Door-to-door transfers: Door-to-door shuttle companies operate out of LAX with Roadrunner Shuttle being one of the most popular. Roadrunner Shuttle operates north of LA, and take passengers between LAX and Simi Valley, as well as Ventura and Santa Barbara counties. Shared ride van services also operate out of LAX. Super Shuttle is authorised to serve all Southern California counties, and will pick up passengers on the Lower/Arrivals Level in front of each terminal.
Picking up passengers: To reduce congestion in the Central Terminal Area, LAX also has a service called the 'Cell Phone Waiting Lot', which means that motorists can wait for free for up to two hours, but vehicles must be attended at all times. The waiting zone is at the northwest corner of 96th Street and Vicksburg Avenue and is offered 24 hours.
LAX Parking
Parking at Los Angeles International Airport includes two on-site options (Central Terminal Area parking and Economy Parking Lot C) as well as several off-site lots and garages near the airport.
Short Stay: The Central Terminal Area Parking Structures at LAX provide short term parking for picking up and dropping off passengers at a rate of $3 for the first hour and $2 for every 30 minutes after, capped at a maximum of $30 per 24 hours. The Economy Parking Lot C car park is an alternative place to park, with short term parking at $4 per hour and $4 for each additional hour, capped at $12 for 24 hours.
Long Stay: There are a few different choices of long term parking around LAX if you need to leave your car when you jet off from the airport. Long-term airport parking stations provide complimentary shuttles to and from the airport for you and your baggage. The 'Economy Parking Lot C' provides long-term parking for $12 per 24 hours close to the airport on the corner of 96th Street and Sepulveda Boulevard, with frequent free shuttles stopping at each terminal. The nearby Hilton is another popular long-term parking option, offering covered and secured parking, valet parking and plush transfers operating every 10-15 minutes 24 hours a day from the hotel to the airport. Rates start from $11 per day.
Business and valet parking: For the most convenient parking at LAX, the LAX Parking Curb Express service offers curbside valet parking. To use this service, simply drive your car to the LAX Parking Curb Express depot located on Sepulveda Boulevard, one block from the airport, and your personal valet will then drive you to your airlines departure terminal in the comfort of your own car. The valet will also assist with your baggage before safely parking your car at the depot. On your return the car will arrive to meet you. Rates for valet parking start at $18 per day / $99 per week for outdoor parking, and $22 per day / $120 per week for covered parking.
How do I transfer between terminals at LAX?
Frequent, courtesy shuttle service is provided between terminals and operates 24 hours a day, 7 days a week, and runs every 10 minutes. This is known as the 'A Route'. Shuttle service is also provided to and from the Metro Rail Green Line Aviation Station, and this is called the 'G Route'.  To use the shuttle service, look for the blue LAX Shuttle & Airline Connections sign on the Lower/Arrivals Level islands in front of each terminal.
What hotels are near Los Angeles International Airport (LAX)?
You'll find plenty of choice if you're looking to decamp for a night or two at a hotel near LAX. There's top end, neat and budget-friendly, business-oriented hotels, and a good selection in between. Here's a guide to just three of the hotels close to Los Angeles International Airport. If you'd like to book, find a hotel here or contact your Flight Centre Travel Expert.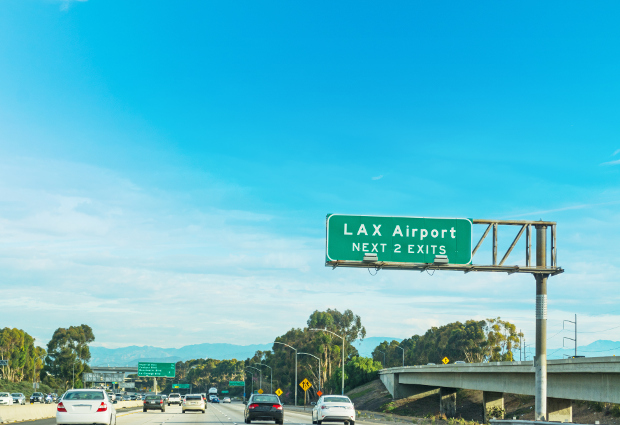 6101 West Century Boulevard, Los Angeles
You'll feel immediately welcome at Sheraton Gateway Los Angeles with a free LAX shuttle, excellent service, contemporary rooms – even pet-friendly rooms and suites if you need them. Every room features flat-screen TVs, marble bathrooms and comes with free Wi-Fi. There's a heated outdoor pool with cabanas, 24-hour fitness centre, and the hotel is located just over one and a half kilometres from the airport.
8620 Airport Boulevard, Los Angeles
The complimentary hot breakfast bar every morning is a huge drawcard at the Holiday Inn Express, just 3.7 kilometres from LAX. Guests are offered a free shuttle to the airport, can enjoy free high-speed internet in all rooms, take a dip in the outdoor pool or spa tub, or make use of the fitness centre. What's more, kids eat free.
5985 West Century Boulevard, Los Angeles
Around only 300 metres from Los Angeles International, Crown Plaza Los Angeles Airport is a firm favourite with many travellers, with a reputation for outstanding customer service. As a guest, you'll be welcomed to the hotel via complimentary shuttle, and have a choice of four different restaurants in which to dine and, if you're there on business, you can choose from 15 meeting rooms. There's a Fitness Centre, free Wi-Fi and same-day dry cleaning if you need it.