Cruises from Sydney
Sydney is the perfect city to commence a South Pacific adventure, an expedition to New Zealand and a trip up the east coast of Australia and on to Asia.
Whether you are looking for a short weekend break, or a trip of a lifetime, a cruise from Sydney is hard to beat! The biggest bonus about cruising from Sydney is the awe-inspiring view as you depart from Sydney's iconic harbour. Soak in the magnificent Sydney Harbour Bridge, the Sydney Opera House and the city's brightly lit skyscrapers, while you look forward to a holiday filled with adventure, entertainment and pure comfort.
To book any of the deals, or for more information, call one of our Cruise Specialists today on 13 70 79 or send us an email using the form below to get your quote.
Popular Destinations from Sydney
Cruises from Sydney will allow you to discover the wonders of your own backyard, explore the beautiful islands of the South Pacific, or soak up the beauty of New Zealand. But, you can also explore further horizons, such as Hawaii, Asia, Venice, or even a World Cruise!
Sydney Cruising Seasons
Cruiseffds depart from Sydney year-round, but the peak cruising season is from October to April.
Cruise Ships Departing Sydney
Cruise lines regularly deploy new ships to give customers new experiences. This normally coincides with the beginning of a new spring or summer cruising season.  They often then move ships on at the end of a summer cruising season.  The following ships either cruise from Sydney or call into Sydney. The number of ships has grown steadily over the last few years with at least 19 ships cruising from Sydney during 2019   
Explorer Dream
Maasdam
Majestic Princess
Noordam
Norwegian Jewel
Ovation of the Seas
Pacific Explorer
Pacific Adventure
Radiance of the Seas
Regatta
Ruby Princess
Seabourn Encore
Voyager of the Seas
Sydney Cruise Terminals
There is no doubt that the spectacular backdrop for Sydney Harbour makes it Australia's premier cruise destination, and it is the only port in Australia that has two dedicated cruise-passenger terminals. Both terminals are in the heart of the city, but it is important to take note of which one your cruise departs from.
Overseas Passenger Terminal – Circular Quay
Sydney's Overseas Passenger Terminal on Circular Quay is the principal terminal for cruise ships docking at the Harbour City. Interestingly, Circular Quay is also the point where the First Fleet landed to establish a British colony in 1788.
The OPT (Overseas Passenger Terminal) is located on the edge of the CBD of Sydney, and the entry to the terminal is located off George Street onto Argyle Street, Circular Quay. While a cruise vessel is in port, passenger drop off and pick up is available in the terminal precinct, but parking is not available on-site. Circular Quay train and ferry platforms are a two minute walk to the terminal, and it can also be accessed easily by bus or taxi. It is approximately a 30 minute drive from the airport to the terminal but allow 60 minutes during peak traffic times.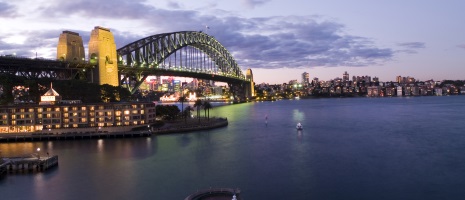 Approximate travel times and costs
By car/taxi
10 minutes from Sydney Town Hall, George St, CBD (taxi

$

7.07 -

$

14.15)
35 minutes from Sydney Airport (taxi

$

28.30 -

$

42.45)
By train
9 minutes from Central Station to Circular Quay Station
The Overseas Passenger Terminal is located approximately 150 metres from Circular Quay Station.
Departing passengers should refer to their itinerary regarding what time they need to be present at the terminal as check-in times do vary and are sometimes staggered by deck number. Bag drop facilities are available on the forecourt for the majority of ships from 9.30am. Only travelling passengers with valid tickets will be allowed to enter the terminal. 
Arriving passengers will need to reclaim their luggage and clear customs and immigration before exiting the terminal.
Terminal facilities include passenger lifts, escalators, wheelchair access, toilets, ATM and an on-site restaurant. There is no short or long term parking available on-site.
White Bay Cruise Terminal
White Bay Cruise Terminal is Sydney's newest port located near the iconic Anzac Bridge and best accessed from James Craig Road in Rozelle. Located 6km from the CBD and 17km from Sydney Airport, the easiest way to reach the terminal is by taxi, private vehicle or with a cruise line transfer. Passenger drop off and pick up is available in the terminal precinct and short-term parking for passengers with a valid itinerary is available on-site. The nearest public bus stop for passengers is located on Robert Street.
Terminal facilities include toilets, a food and beverage kiosk, wheelchair access, on-site short-term parking, public payphones and an ATM.