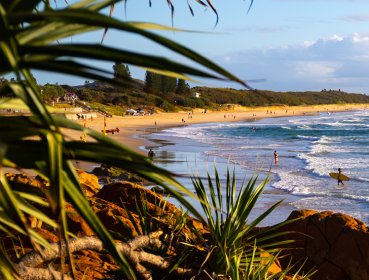 Sunshine Coast
Travel Guide
From family-friendly Caloundra, all the way up the coast, past Noosa to the Great Sandy National Park, you have Queensland's naturally beautiful Sunshine Coast. There's a lot to discover, with the Sunshine Coast encompassing delightful towns and villages in the hinterland too, such as Montville and Maleny. This laid-back region gives you stretches of unspoilt beaches, pristine national parks, cosy mountain chalets, fine dining in places like Hastings Street – and a great coffee is never hard to find.If you're planning a visit, explore our Sunshine Coast travel guide and find out how to make the most of your time here. We've collected the best tips from our travel experts, and have all sorts of suggestions for things to do, the best time to travel, where to stay, how to get around the Sunshine Coast and more.
Sunshine Coast quick facts
Beverages
Bottle of Coke/Pepsi (330ml)
AUD $3.23
Eating out
Restaurant meal (casual dining)
AUD $22.50
Electricity
Plug type: I
3 pins • 230V
Where to stay in Sunshine Coast?
Deciding where to stay on the Sunshine Coast comes down to what kind of a holiday you're looking for. Staying near the beautiful beaches of Noosa and Caloundra, you can divide your time between the ocean and the hotel pool. Travel west and you can pass time eating at cafes, picnicking at lookouts, and shopping in the cool higher areas of the hinterland. You may also choose to be strategic, basing yourself in Mooloolaba or Maroochydore. From here, you can travel to surrounding hinterland areas when you're not immersing yourself in beach culture.
Noosa, slightly less than two hours' drive from Queensland's capital, Brisbane, is renowned for its luxury resorts and holiday apartments. Cruise or canoe down the Noosa River or hike across the forests of Noosa National Park. Swim in the ocean or relax on the area's golden beaches and spend your downtime perusing stores and shopping on trendy Hastings Street.
---
Drive for an hour and 15 minutes from Brisbane and you'll discover Moffat Beach, a great place for anyone who loves walking. There's also a great coastal path that runs straight to Kings Beach, and the area boasts a strip of restaurants and cafes bustling with both tourists and locals. Moffat Beach has great surf and some beautiful accommodation.
---
In the heart of the Sunshine Coast, charming Maroochydore is a pristine place designed for morning strolls, leisurely paddles, and rock pool exploration. When you're tuckered out after an active day in the sun swimming and fishing, wind down with a beer or wine at the surf club or with a meal at one of the many restaurants in the area.
---
Coolum Beach, about 90 minutes from Brisbane, is home to a variety of restaurants and cafes run by locals. This is a great place to stay if you love to shop and dine in, with the added bonus of stunning views of the ocean and majestic Mt Coolum. Enjoy a beautiful coastal town with leafy backstreets and a great sense of serenity.
---
Caloundra, around a 75-minute drive from Brisbane, has a laidback '60s feel to it. Laze about by your hotel pool or sit on your balcony or on the beach to spot whales and watch ships go by. Venture out to enjoy the second-hand stores in town, the eateries right by the beach, and the breathtaking views from the headland at sunset.
---
Peregian Beach, just south of Noosa, is home to beautiful, safe beaches and excellent walking trails. There's a real community feel to Peregian Beach, as it doesn't see as many tourists as some other major towns on the Sunshine Coast. Spend some time in the local park, as well as the many cafes, shops, and markets.
---
Things to do in Sunshine Coast
The Sunshine Coast offers myriad activities for the most active to the most relaxing of holidays. Explore beautiful beaches, walk to waterfalls, stop at scenic lookouts and picnic in lush rainforests in the hinterland, you could spend weeks exploring everything this region has to offer. For the less outdoorsy amongst us, there are plenty of hip boutiques in Noosa, emerging and established culinary institutions and an evolving artistic community to explore. You're spoilt for choice with hundreds of aquatic experiences available at the beach and adventure activities in the Glass House Mountains.
Sunshine Coast Hinterland
It's no wonder nature is integral to the lives of locals. The hinterland area is one of the most beautiful places in Queensland. Walk one of the many peaceful nature trails, observe the plant and animal life along the way, and reward yourself with a paddle under a cool rainforest waterfall. You can easily make a day of the hinterland, enjoying the varied landscapes and galleries, pottery studios, and cafes of Maleny and Montville.
---
Australia Zoo, the world-renowned vision of The Irwin Family, is a wildlife park with animals from all over the planet. Hand-feed kangaroos in 'Roo Heaven', see Sumatran tigers in the 'Tiger Temple', or get a taste of the African savannah with rhino, giraffe and zebra enclosures. You can also see roving wildlife at the zoo, the famous 'Crocoseum', and tropical creatures on 'Bindi's Island'.
---
Underwater World SEA LIFE Sunshine Coast
Underwater World SEA LIFE Mooloolaba is an aquarium that houses over 10,000 creatures of the sea and rivers, as well as Australia's largest collection of jellyfish. With nothing but a bit of glass to separate you, you'll get to see sharks and stingrays like you've never seen them before. You'll also get to learn about rare creatures such as sea dragons and, if you're lucky, meet the resident seals and otters.
---
The Glass House Mountains, once used as navigational landmarks by Aboriginal people, are defining features of the Sunshine Coast landscape. Hike, rock-climb or abseil the mountains and you'll experience a stunning view over surrounding plantations and eucalyptus forests. If you're up for a challenge, Mt Beerwah and Mt Tibrogargan have steep tracks that require a good half-day to conquer.
---
Climb Mount Coolum for spectacular views of the Sunshine Coast. While it's a challenging climb, taking around 30 to 40 minutes each way, it's well worth the hard work. From the top, you'll experience 360° views of the Sunshine Coast, from Noosa to Point Cartwright and the expanse of the hinterland. At the right time of year, around May to October, you may even see whales.
---
Flights to Sunshine Coast
Sunshine Coast food and drink
With so many choices of where to eat along the Sunshine Coast, you could easily spend your whole holiday eating your way through esplanade cafes, beachfront restaurants, and health food pop-ups. The region has exceptional world cuisine, with mouthwatering Italian and modern Asian dishes prominent on many menus. If your meal hasn't come straight from Sunshine Coast waters, then it's probably Australian-grown or sourced from fruit and vegetable farms in the region or gardens onsite at the restaurant. Sunny coasters take pride in their home, with many local chefs drawing inspiration from the region's produce and landscapes.
Head to Noosa's Hastings Street by day for smoothies, ice-cream and fine-dining, and by night for a peaceful stroll along the fairy light-lined streets. For dinner, make your way to Noosa Heads, a seafood hot-spot, where you can enjoy Mooloolaba prawns, North Queensland reef fish, and Moreton Bay bugs. If you're looking for something a little more low-key, walk the stylish strip of Alexandra Headland, home to a diversity of take-away shops, friendly cafes, and great seafood restaurants.
---
Where to find the best coffee in Sunshine Coast?
The Sunshine Coast has a unique coffee scene, with many cafes doubling as roasters and gift shops. Sit back and relax as you're served up an exotic blend. Then stock up on sweet treats, bags of tea leaves, coffee beans, and handmade cups and teapots. Great coffee spots on the Sunshine Coast include Noosa's Hastings Street, Maroochydore's Ocean Street, and in the hinterland towns of Melany and Montville
---
Enjoy stunning views of the river and hinterland at one of Noosaville's waterfront bars, or enjoy a cocktail in the bustling nightlife of Maroochydore. On a warm summer afternoon, enjoy a glass of wine in Hastings Street – a mecca for all things food and drink. Alternatively, head to one of the coast's many surf clubs for a cold beer and a good-value meal.
---
Sunshine Coast through your eyes
Where to shop in Sunshine Coast?
Sunshine Coast shopping precincts are made up of both independent shops and bigger chain stores. Between unapologetically dated Caloundra with its second-hand bookshops and charity shops, and upmarket Noosa with its elegant boutiques, you're bound to find the perfect shopping experience. Drive west of the coast and you'll soon find the hinterland shopping precincts, which have a completely different atmosphere. Here, the focus is around arts, crafts and unique designer pieces. The sleepy, European-style streets of these small towns are lined with galleries, antique emporiums, confectionary shops, and cafes.
Markets in Sunshine Coast
Sunshine Coast markets are great places to connect with the culture of the region. At the Bulcock Street Markets, you'll find arts and crafts inspired by the surrounding landscape, as well as entertainment and local produce. For fresh fruit, vegetables and meat, head to Noosa Farmers Markets, or visit the famous Eumundi Markets in the hinterland to explore hundreds of stalls with clothing, toys, musical instruments, food, furniture, and everything in between.
---
Shopping centres in Sunshine Coast
Sunshine Coast shopping centres are perfect places to unwind after a morning in the sun. The Sunshine Plaza Shopping Centre in Maroochydore is a stand-out with over 200 specialty stores, a cinema complex, and several restaurants and bars. Other centres in the region include Kawana Shoppingworld, which has around 100 stores, and Stockland Caloundra, a centre with a variety of fashion, food, homewares, and gifts.
---
Best shopping precincts in Sunshine Coast
From the laidback charm of boutique fashion and homewares retailers at Peregian Beach to the beachwear stores of Maroochydore and high-end retailers of Noosa's Hastings Street, you're bound to find a shopping strip to suit your interests. Once you've shopped beachside, escape to the cooler air of Maleny and Montville for something a little different: hinterland scenery, organic cafes, bookstores, boutiques, and galleries.
---
When is the best time to travel to Sunshine Coast?
Weather on the Sunshine Coast is warm year-round, with some of the highest sunshine levels in the world experienced in the area. Seasonal variations are minimal, so it's an ideal place to holiday any time of year. The best time to visit Sunshine Coast towns is spring (September to November). This time of the year sees minimal rainfall and comfortable temperatures of around 24°C to 27°C. Keep in mind that one of Queensland's holiday periods starts in late September, so you may need to book well in advance or travel outside of this time entirely to avoid crowds and steep prices.
What is Summer like in Sunshine Coast?
December to February temperatures on the Sunshine Coast average 17°C to 28°C and there's a large degree of daytime sunshine. Provided you're sun safe, this is a great time to visit the beaches in the region. The water is toasty warm yet refreshing (around 26°C) in summer months. You'll need to expect some setbacks – summer sees crowded beaches, higher levels of rainfall, and on humid days, crackling evening storms. Appropriate clothing: Lightweight t-shirts and singlets, dresses, shorts, and skirts. Don't forget: Swimwear, a hat, a water bottle, sunscreen, aloe vera gel, a pair of sunglasses, and a beach towel.
---
What is Winter like in Sunshine Coast?
Sunshine Coast seasons are consistent year-round, so you won't experience the harsh winters that many other holiday destinations face. From June to August, temperatures are around 7°C to 22°C, so on cooler days you may find you have the beach to yourself. In the hinterland, it can get very cold in the mornings and evenings, so if you're seeking log fires and cosy cabins, winter is a great time to head west into the hinterland. Appropriate clothing: T-shirts and shorts (or jeans if you feel the cold) and a light jacket. Don't forget: Warm pyjamas.
---
What is Autumn like in Sunshine Coast?
In autumn (March to May), temperatures fall between 13°C and 25°C. This is a great time to head out to the hinterland, as the trees in the area have striking colouration and flowers will be in bloom. Appropriate clothing: Lightweight clothing. Don't forget: Swimwear, enclosed shoes (for walking), a hat, sunscreen, a backpack, insect repellent, and your camera.
---
What is Spring like in Sunshine Coast?
Spring on the Sunshine Coast is mild with temperatures sitting at around 13°C to 25°C. The waters of the ocean and hotel swimming pools may still be on the cooler side, but this is a great time to soak up some sun on the beach or read books on a deck chair by the pool. Appropriate clothing: Lightweight clothing. Don't forget: Swimwear, sunscreen, and a good book.
---
How to get around Sunshine Coast
Sunshine Coast transport is affordable and fairly straightforward, with buses and trains running seven days a week and service very friendly. The Sunshine Coast spans a huge area encompassing multiple towns, the hinterland, and a long stretch of scenic coastline. In many cases, you'll need to take a few modes of transport to get to your destination, whether that be a taxi, connecting bus and train, or a hire car for longer journeys.
Sunshine Coast taxis are easily accessible, as they can be booked electronically or over the phone. Alternatively, you can wait at one of the coast's many taxi ranks. These are located mainly in the major towns, with a rank on Minchinton Street in Caloundra, a rank between Noosa Parade and Hastings Street in Noosa, and one also outside Oceans on the Esplanade in Mooloolaba.
---
There aren't many places in the world where you get natural sights and tranquillity quite like that of the Sunshine Coast. Sightsee at your own pace by renting a bike, available to hire from bike-hire stores in Coolum Beach, Peregian Beach, Sunshine Beach, Noosaville, and Noosa Heads. Pedal away and enjoy the ocean air.
---
Getting around Sunshine Coast towns is best done by car, as this gives you the freedom to explore the sights with ease and at your own pace. There are many great spots spread across the region, with some of the best trails and lookouts a long distance from town centres. If you plan to stay in a few different areas, hire a car, as there is a sizeable distance between some major towns. The drive from Caloundra to Noosa, for example, takes at least 45 minutes.
---
Most bus services on the Sunshine Coast are provided by Sunbus and are available seven days a week, with some regional links also available in the hinterland provided by private companies. Trains are run by Queensland Rail, with some major hot-spots on the Sunshine Coast included on the Sunshine Coast line (Eumundi, Nambour, Landsborough, and Glass House Mountains Station).
---
Walking Sunshine Coast streets, trails and beaches, particularly at sunset, is a wonderful way to enjoy the natural environment and laidback atmosphere of the area. You can do most beachside destinations and hinterland towns on foot and there are also many well-maintained tracks in the region if you're after more of a challenge. For experienced bushwalkers, the Sunshine Coast offers walks between major towns.
---
What are the best beaches in Sunshine Coast?
If day-to-day life has left you needing a relaxing getaway, Sunshine Coast beaches will be the perfect places for you to unwind. Go for a swim, try surfing, or hire a paddle board and enjoy the sights and sounds of the ocean. Your body will thank you for the refreshing salt water and vitamin D. If you're not a fan of the ocean, set up camp on the beach, read a book or have a snooze, then retire to a nearby cafe for an ice-cream or afternoon drink.
The clear, calm waters of Noosa Main Beach, paired with its warm white sand, are truly postcard-perfect. With lifeguards on duty and paddle boards available to hire, you're sure to have a relaxing day out. If you don't want to swim, you can stroll along the wooden boardwalk running the length of the beach, or shop on nearby Hastings Street.
---
Coolum Beach is a surfing and golfing mecca. The golf course in the area has both coastal holes and fairways surrounded by native bushland, and the beaches are a perfect place for a surf. Coolum Beach has a carefree atmosphere. Here, you can spend days strolling along the boardwalk, swimming, and shopping at nearby boutiques
---
Situated at the northern end of Kawana Beach, Point Cartwright is an unpatrolled beach at the base of coastal cliffs. From here, there are amazing views of Mooloolaba, Mount Coolum and the mouth of the Mooloolah River, so it's a great place to sit back and relax, spot whales, and watch ships leaving the Port of Brisbane. The slopes covered in lovely green grass are perfect places for a picnic. Plus, there's great fishing nearby on the banks of the Mooloolah River.
---
If you're looking for a quiet alternative to Noosa Main Beach, walk a little east and you'll soon arrive at Little Cove. The houses overlooking the beach, paired with the surrounding forest, make Little Cove feel like a private beach. The sun isn't as intense here, so it's the perfect place to spend a few hours fishing and exploring rock pools.
---
Mooloolaba Beach has all the qualities you're looking for. It's scenic with beautiful clear waters and clean beaches that rarely get too crowded. Laze about on the soft sand, or spend hours exploring the rock pools for shells and creatures. There are also plenty of dining options a stone's throw away, so when it gets too hot you can duck indoors for a cold one or an ice-cream.
---
Moffat Beach has some of the best surf around, making it a popular spot for jet-skiing, surfing, stand up paddle boarding and kite-surfing. It's not just for the active-holiday makers however, with a great strip of cafes and a brewery, it's also ideal for a long lunch or a picnic on the grass. From here, you can take a breezy, scenic walk along the headland all the way around to Kings Beach, a particularly beautiful walk at sunset.
---
Sunshine Coast Frequently asked questions
What to take on holiday to Sunshine Coast?
Your swimmers, sunnies & loads of sunscreen - it's swimsuit season year-round on the Sunshine Coast. We also recommend lip balm to combat the windy sea breezes!
---
Where to go on holiday in Sunshine Coast?
Noosa is perfect for high-end dining & shopping or head to Mooloolaba for family-friendly waves, cafes & resort style accommodation.
---
How do I go about cancelling my Sunshine Coast holiday package?
Life happens - we get it! Contact your Flight Centre Travel Expert to reorganise your travel plans, or read more here.
---
When is the best time to visit Sunshine Coast?
The Sunshine Coast is a great destination year-round, but if you want to avoid the busiest crowds, try to visit outside of the June-July and September-October school holiday periods.
---
What is there to do in Sunshine Coast?
Take a day trip out to the Glasshouse Mountains, visit the iconic Australia Zoo or head up to Eumundi Markets for some hand-made knick knacks!
---
How to find the best holiday package to Sunshine Coast?
We've got that covered too! Sign up to get the hottest deals sent straight to your phone & emails here.
---
Talk to a Sunshine Coast Travel Expert
Our dedicated team of experts know all the ins and outs of travel and love sharing their knowledge. If you're looking for help planning specific sections of your trip or full itinerary planning, our team is ready and waiting to help create your perfect holiday.
Enquire now