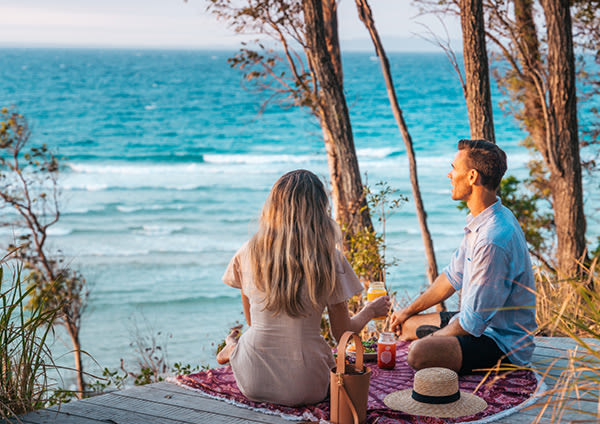 Sunshine
Coast
Holiday
Deals
Boasting more than 100km of pristine beaches and just over an hour's drive from Brisbane, the Sunshine Coast is one of Queensland's shining gems and has recently been dubbed the craft beer capital of Australia. If you're desperately craving the chance to cool off in crystal clear waters, eat delicious food, try a new tipple and surrender to a laid-back lifestyle, then the Sunny Coast is the perfect place for you. The team of Travel Experts at Flight Centre are more than happy to assist with planning the ideal itinerary for your Sunshine Coast holiday. From sipping your way through cafes and breweries, shopping at beach-inspired retailers on Hastings Street, exploring the lush national parks and Glass House Mountains or simply relaxing by the beach or hotel pool, our Sunshine Coast holiday packages have everything you could ask for. So, will it be Noosa, Mooloolaba, Caloundra or Maleny?
Deals with your name on them...
Explore holidays by interest
Explore Sunshine Coast
Where to stay in Sunshine Coast
Where to stay in Sunshine Coast
Deciding where to stay on the Sunshine Coast comes down to what kind of a holiday you're looking for. Staying near the beautiful beaches of Noosa and Caloundra, you can divide your time between the ocean and the hotel pool. Travel west and you can pass time eating at cafes, picnicking at lookouts, and shopping in the cool higher areas of the hinterland. You may also choose to be strategic, basing yourself in Mooloolaba or Maroochydore. From here, you can travel to surrounding hinterland areas when you're not immersing yourself in beach culture.
Read travel guide

Noosa
Noosa, slightly less than two hours' drive from Queensland's capital, Brisbane, is renowned for its luxury resorts and holiday apartments. Cruise or canoe down the Noosa River or hike across the forests of Noosa National Park. Swim in the ocean or relax on the area's golden beaches and spend your downtime perusing stores and shopping on trendy Hastings Street.
Coolum Beach
Coolum Beach, about 90 minutes from Brisbane, is home to a variety of restaurants and cafes run by locals. This is a great place to stay if you love to shop and dine in, with the added bonus of stunning views of the ocean and majestic Mt Coolum. Enjoy a beautiful coastal town with leafy backstreets and a great sense of serenity.
Moffat Beach
Drive for an hour and 15 minutes from Brisbane and you'll discover Moffat Beach, a great place for anyone who loves walking. There's also a great coastal path that runs straight to Kings Beach, and the area boasts a strip of restaurants and cafes bustling with both tourists and locals. Moffat Beach has great surf and some beautiful accommodation.
Caloundra
Caloundra, around a 75-minute drive from Brisbane, has a laidback '60s feel to it. Laze about by your hotel pool or sit on your balcony or on the beach to spot whales and watch ships go by. Venture out to enjoy the second-hand stores in town, the eateries right by the beach, and the breathtaking views from the headland at sunset.
Maroochydore
In the heart of the Sunshine Coast, charming Maroochydore is a pristine place designed for morning strolls, leisurely paddles, and rock pool exploration. When you're tuckered out after an active day in the sun swimming and fishing, wind down with a beer or wine at the surf club or with a meal at one of the many restaurants in the area.
Peregian Beach
Peregian Beach, just south of Noosa, is home to beautiful, safe beaches and excellent walking trails. There's a real community feel to Peregian Beach, as it doesn't see as many tourists as some other major towns on the Sunshine Coast. Spend some time in the local park, as well as the many cafes, shops, and markets.
Frequently asked questions
What to take on holiday to Sunshine Coast?
Your swimmers, sunnies & loads of sunscreen - it's swimsuit season year-round on the Sunshine Coast. We also recommend lip balm to combat the windy sea breezes!
---
Where to go on holiday in Sunshine Coast?
Noosa is perfect for high-end dining & shopping or head to Mooloolaba for family-friendly waves, cafes & resort style accommodation.
---
How do I go about cancelling my Sunshine Coast holiday package?
Life happens - we get it! Contact your Flight Centre Travel Expert to reorganise your travel plans, or read more here.
---
When is the best time to visit Sunshine Coast?
The Sunshine Coast is a great destination year-round, but if you want to avoid the busiest crowds, try to visit outside of the June-July and September-October school holiday periods.
---
What is there to do in Sunshine Coast?
Take a day trip out to the Glasshouse Mountains, visit the iconic Australia Zoo or head up to Eumundi Markets for some hand-made knick knacks!
---
How to find the best holiday package to Sunshine Coast?
We've got that covered too! Sign up to get the hottest deals sent straight to your phone & emails here.
---
...loading
Popular holiday destinations
---
Flight Centre acknowledges the Traditional Custodians of Country throughout Australia.