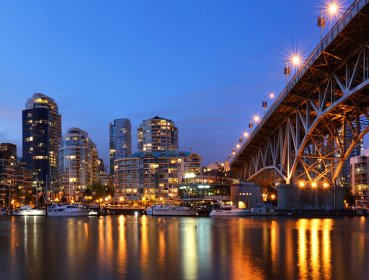 The snow-capped mountains less than a 30-minute drive away and the stunning harbour which fronts the city are just two of the reasons why travellers and locals alike love Vancouver. Oh then there's the progressive food scene, the outstanding craft breweries, the green city oasis of Stanley Park, the neighbourhoods like Gastown, Yaletown and Chinatown, and the Granville Island Public Markets – all of which are just the tip of Vancouver's must-do iceberg. If you're planning a visit, explore our Vancouver travel guide and find out how to make the most of your time in Canada's west coast metropolis. We've collected the best tips from our travel experts, and have top suggestions for things to do, the best time to travel, where to stay in Vancouver, getting around and more.
Vancouver quick facts
Beverages
Bottle of Coke/Pepsi (330ml)
AUD $3.67
Currency
Canadian dollar
AUD $1.00 = CAD $0.89
Eating out
Restaurant meal (casual dining)
AUD $29.05
Electricity
Plug type: A
2 or 3 pins • 120V
Where to stay in Vancouver?
When thinking about where to stay in Vancouver, the most important consideration is locality – how close is your hotel to the things you want to see and do most? Choosing accommodation with this in mind will help cut down on your overall transport costs, leaving you with more money to enjoy your holiday and buy some great souvenirs. The value of being able to leave your hotel in the morning and only having a short walk to the day's destinations cannot be overstated. To get you started, here's a short list of our favourite areas to stay in Vancouver.
Downtown is one of the best areas to stay in Vancouver if you plan to spend a lot of time exploring museums, galleries, and other indoor activities. Sites like Science World and the Vancouver Art Gallery are all within walking distance of most Downtown hotels, and the area is littered with some of the best cafes in the city.
---
Vancouver's West End is the perfect place to stay if you're looking to spend time exploring the urban jungle. Parks and walking trails are the biggest pulls here, along with a great selection of cafes and shopping opportunities. It's also quite close to the harbour so those with a love for maritime history will have a great time here.
---
Welcome to one of the most dense and diverse suburbs in the city. Choosing a room in Granville will provide you with countless things to see and do for the duration of your stay, from shopping to hiking to galleries and more. This is quite a popular destination, however, so make sure you lock in your accommodation early.
---
Two of the oldest parts of town, Gastown and Chinatown are also two of the best places to stay in Vancouver – especially if you have a love for heritage-listed Victorian era architecture. Filled with wonderful parks, galleries, bars, cafes and high fashion, staying in Gastown or Chinatown gives you a little bit of everything right at your hotel doorstep.
---
Yaletown will put you only a short walk from several major sporting locations, so if you're excited to go to a real hockey match then this is the area for you. If you're getting out and about, gardens and walking trails abound, including the historic Seawall. It's easy to catch the ferry to Granville at any time as well.
---
Things to do in Vancouver
When you're looking for things to do in Vancouver, you'll be spoiled for choice. A diverse, multicultural city, Vancouver is home to beautiful natural scenery and a booming arts scene. While you're here, treat your taste buds to some of the most incredible seafood in the world. There's also a wealth of unique historical sites to explore.
Capilano Suspension Bridge Park
Created as a matter of practicality by a Scottish engineer in the late 1800s, the Capilano Suspension Bridge Park has remained a popular Vancouver tourist attraction ever since. Linking each side of the Capilano River with a beautiful (and sturdy!) suspension bridge, the park provides a great day of adventure in tranquil, natural surrounds without requiring a trip too far from the city.
---
Vancouver sightseeing doesn't get much more iconic than the famous Vancouver Harbour. A port city since birth, Vancouver's harbour is one of the most impressive in the world. Especially if you're interested in maritime history, this is a must-visit attraction. Even if you're not, Vancouver Harbour will provide a fascinating glimpse into one of the industrial pillars of modern Canada.
---
Ranked among the most familiar Vancouver landmarks, the historic Vancouver Aquarium is one of the most well-respected and animal-friendly conservationist organisations in the world. Both a living record of Canadian sea life and a determined effort to protect them, animal lovers need look no further than the Vancouver Aquarium for a life-affirming day out.
---
The largest art gallery in western Canada, the Vancouver Art Gallery is dedicated to the preservation and proliferation of Canadian art and artists, modern and historic. Located in Downtown close to the historic Vancouver Police Museum, the Vancouver Art Gallery enchants and delights visitors of all ages. Brand new exhibitions are rotated in every few months.
---
Vancouver Maritime Museum
Virtually next door to the Space Centre, you'll find the Vancouver Maritime Museum, a hub of information on the city's enduring history as a busy seaport. If you love the sea and the amazing craft that ride its waves every day, this wonderful place is not to be missed. It's an incredible time capsule of technology from not so long ago.
---
Located to the city's north, Grouse Mountain is a popular destination for those who love exploring the great outdoors but aren't looking to go as far as Whistler. The mountain offers everything from holiday shows to guided eco-tours for those who want to know more about the native flora and fauna. Hikers won't be disappointed either with plenty of camping grounds and hiking trails to the summit.
---
Let's say you're less interested in what's on the water and more what's in the water. For anyone with an interest in whale-watching, Vancouver will be your new favourite place. Daily tours depart from several ports around the city, taking excited crowds out onto the Strait of Georgia in search of orcas, humpbacks and more. Perfect if you're staying in Gastown!
---
Located on the grounds of the famed University of British Columbia, the Museum of Anthropology is considered one of the world's foremost authorities on natural history. Lauded for their many exhibitions, both permanent and rotating, the museum will leave you with a greater awareness of the natural world around you. This is a must-visit.
---
Are you fascinated by astronomy and space travel? Prepare to spend some hours of your holiday in the Vancouver's HR MacMillan Space Centre. Filled with exhibits, theatres and tours for space geeks of all ages, the Space Centre seeks to entertain and educate everyone who walks through their doors. Dive into the wonder of outer space and discover our planet's place in the galactic community.
---
Science World British Columbia
If you haven't expanded your mind enough yet, there's also the amazing Science World British Columbia to explore. A candy land for the curious, this museum is a monument to the simple act of asking a question and finding the answer. Science World is open year-round, and a journey through its exhibits is one of the most enriching ways to spend a day in Vancouver.
---
Vancouver travel tips
Travelling to Canada, much like travelling to the United States, is a fairly simple process for Australians looking to visit. We have a certain amount of shared history with Canada, so the desire to explore its natural wonders – so different from our own – is a powerful one. What if you've never been before though? Not to worry, we've put together a few Vancouver travel tips that we think will serve you well on your trip to the true north. Don't forget to speak with your Flight Centre Travel Expert prior to departure to make sure you've got everything organised.
As with travelling to the United States, Australians visiting Canada don't need to obtain any tourist visas – unless you intend to stay for an extended period or look for work. If you're planning to simply tour the country, you only need to apply for an eTA (Electronic Travel Authorisation) online. Print this out and keep it with your passport for when you pass through customs in Vancouver.
---
Used to living in their colder northern climate, Canadians are big on warm, hearty comfort food. Most sit-down restaurants, no matter how fancy, will offer some variation of the humble Mac and Cheese (try it at least once – what the Canadians do with this simple dish is amazing). Of course, no visit to Vancouver would be complete without indulging in a Tim Hortons coffee and doughnut combo, or the region's renowned seafood.
---
Electrical Plugs and Voltage
Canadian electrical plugs and voltage are the same as what you'll find in the United States, which is great news because it means a simple Australian-to-US power adapter will solve the vast majority of your problems. This one adapter will cover all your major devices like laptops, smartphones, tablets, cameras, and portable batteries. You'll need to check voltages if you're bringing anything more powerful with you.
---
Vancouver International Airport is the primary airport for travellers arriving into Canada's south from the west coast of the United States and across the Pacific. A sprawling terminal that sees hundreds of inbound and outbound flights both domestic and international, its website is also a great hub of useful Vancouver travel advice that may help point you in the right direction once on the ground.
---
The Canadian dollar is quite similar to the Australian dollar in that it typically sits below the US dollar in terms of value. This is good for Australian travellers because it means we don't lose much, if any, of our travel money when converting to Canadian dollars. Since Canadian currency works the same as Australian currency, it's very easy to know which coins and notes to use!
---
Tipping in Vancouver, and throughout Canada, is much like tipping in the United States. You'll only need to tip for personal services like drivers, waiters, busboys and the like. If you're getting fast food, you won't need to tip (though there may be a tip jar to contribute to if you're impressed with the staff and food). We recommend getting a free tip calculator app for your phone, but the gist of it is: Tip 10% of your total bill for average service, 15% for good service, and 20% or more for great service.
---
When travelling to Vancouver, as with anywhere in Canada, it doesn't hurt to have an English-to-French phrasebook or translation app with you. While the primary spoken and written language in Canada is English, many Canadians know French as a shorthand. You never know when having some phrases in your pocket may come in handy.
---
Vancouver food and drink
Vancouver food and drink is one of the things the city prides itself on. A delightful restaurant or quaint cafe is never far away here. As a port city, Vancouver is particularly known for its incredible seafood and well-established restaurant districts. From East Vancouver to Kitsilano, you'll find something delicious to eat no matter what you're in the mood for and no matter the time of day. Below, you'll find some of our top recommendations for Vancouver dining. However, your favourite Canadian dish may just be the one you order from the understated diner next to your hotel – you never know in Vancouver!
When it comes to Vancouver food markets, few are as popular or well-known as the Granville Island Public Market. The wonderful food continues into the neighbouring South Granville, home to the city's artiest denizens. These markets offer some of the freshest produce from many local farmers and vendors. If you're the sort of person who prepares their own meals, even on holiday, you'll feel right at home here.
---
One thing to remember when in Vancouver is that Canadians love craft beer. Vancouver's bars and nightlife revolve around amazing craft beer taverns that offer not only a relaxed place to socialise but also the opportunity to sample some delicious local brews. Take the long-standing Alibi Room off Main Street for instance – a more low-key, friendly atmosphere on a relaxed night out is hard to find.
---
If you favour fine-dining when eating abroad, Vancouver restaurant precincts like Gastown and Yaletown have you covered. Gastown, the oldest neighbourhood in Vancouver, is now a cultural hub filled with high-end restaurants and shopping. Yaletown is a former warehouse district given a new lease on life as a thriving gallery and bistro precinct. Don't forget Vancouver Chinatown, the city's hub for Asian street food!
---
Where to find the best coffee in Vancouver?
There are plenty of Vancouver cafes that will swear to you that they make the best coffee in Vancouver, but the truth is this is a city filled with fantastic coffee. Veer off the main drag into narrow city lanes and even in the suburbs, you're likely to find a decent cup wherever you go here.
---
Vancouver through your eyes
Where to shop in Vancouver?
Vancouver shopping is a unique experience. As a hub of art and industry in equal measure, it's possible to find everything from locally made fashion to one-of-a-kind Canadian antiques here. With the Canadian dedication to ice hockey, even sports memorabilia fans will be well-served. Where to start, though? To answer that, we've put together a list of just a few of our favourite spots in the Vancouver shopping guide below. Adding a little retail therapy to your itinerary is easy when you're on holiday in Vancouver, and so is finding the perfect souvenir.
Chinatown is one of Vancouver's oldest districts, well known for its wide-ranging variety of stores and eateries, but it's also one of the centres of Vancouver fashion. From simple family-owned dress shops to prestigious high-end boutiques, Chinatown should be high on any fashion-conscious traveller's list of places to visit. If you want a unique new look to take home, start your search here.
---
Located in Vancouver's West End, Davie Village is the home of the city's vibrant LGBTQ+ community. Loud and proud about its dedication to home-grown small business, Davie Village is one of the best Vancouver markets for one-of-a-kind fashion and souvenirs. Make a visit the world-famous LGBTQ+ bookshop Little Sisters on Davie Street.
---
Not to be confused with Granville Street, the nearby Granville Island is home to one of the most eclectic and artistic communities in Vancouver. From handmade watches to custom-built furniture, the crafty denizens of Granville Island can do it all. If you're looking for a unique gift or keepsake to remember your trip by, this is the area in which to start your search.
---
Another area known for its retail, restaurants and street markets, Kitsilano is located in Vancouver's west on the English Bay's southern shore. An energetic suburb known for its small, out-of-the-way stores, Kitsilano is a great place to find that small but significant gift from abroad you've been searching for. This is a must-visit for anyone who loves supporting local businesses.
---
Considered Vancouver's very own Little Italy, this area is home to a strong contingent of European migrants. With this influx of diverse nationalities came all sorts of new local businesses, from fashion to furniture, and all of it can be found on Commercial Drive. If you find yourself wondering what to buy in Vancouver, take a walk down The Drive. Chances are, you'll find it before long.
---
If you're thinking of shopping in Downtown Vancouver then there's probably already a name that's leaping to mind: Granville Street. The city's leading entertainment and shopping district, filled with prominent Vancouver shopping centres, Granville Street should be your first port of call if you're looking for the boutique shopping experience. It's centrally located and packed with fabulous fashion.
---
The settlement out of which Vancouver eventually grew, Gastown is an old-world time capsule that offers a modern-day shopping experience. The area has undergone a reinvention in recent years, its Victorian architecture repurposed as storefronts for local fashion boutiques and eateries. Gastown locals love their suburb and work hard to provide craftsmanship that visitors will cherish for years to come.
---
When is the best time to travel to Vancouver?
Positioned on the south-western corner of the Canadian continent, weather in Vancouver is actually far more temperate than that of other Canadian cities. Its winters are cold, but less so than somewhere further north like Edmonton. The summers mirror an Australian autumn, warm enough to remain comfortable without being blazingly hot. Overall, however, Australians unused to cooler climes should make sure they bring enough warm clothes.
What is Summer like in Vancouver?
Many locals will tell you the best time to travel to Vancouver is during the summer and, if you love the outdoors, they might just be right. The local temperatures sit at comfortable highs of 21°C and overnight lows of about 6°C. The sun is out, the weather is clear and, better yet, the hockey season is reaching its climax and the whole city will be buzzing. Appropriate clothing: Shirts and jeans, but also warm clothes in case of cold changes. Don't forget: Go Canucks! (That's the Vancouver hockey team.)
---
What is Winter like in Vancouver?
Winter is when the Vancouver temperature will remind you of how close you are to the Arctic. A fabulous time of year for those who prefer the indoors, winter in Vancouver is almost constantly cloudy, very foggy, and often rainy. The Vancouver rainfall frequently takes the place of any serious snow, though snowfalls of up to 10cm are to be expected as the temperature will struggle to break 5°C. Also, winter is when hockey season begins so the whole city will be pumped! Appropriate clothing: Cold weather gear and wet weather gear. Don't forget: Outdoor activities are not advisable. Once again, go Canucks!
---
What is Autumn like in Vancouver?
Vancouver is one of the few Canadian cities to see a genuine autumn. As is the norm for Vancouver seasons, the warmer temperatures decline after summer, starting with highs of 19°C in September, dropping quickly during October, and settling around highs of 9°C in November. There is rather patchy rain throughout this period, which may hamper any day trips you have scheduled. Appropriate clothing: Jackets, jumpers, jeans, thermal underwear – layers! Don't forget: An umbrella.
---
What is Spring like in Vancouver?
Like autumn, Vancouver is blessed with a genuine spring. The temperature lifts to around 10°C and keeps climbing as June and summer grow nearer. The local flora bursts back to life, leaving the countryside a riot of colour. This is the perfect time to get out into nature, provided you don't mind still being a touch chilly. Appropriate clothing: Stick to warm clothes, unless travelling close to summer. Don't forget: Sunscreen – just because it's still chilly doesn't mean you can't get burnt.
---
How to get around Vancouver
Using Vancouver transport, even when you aren't very familiar with the area, is extremely easy. Between its simple grid-like streets that allow traffic to move freely and the reliable public transport, getting from Point A to Point B is typically painless. Unlike a lot of other global cities, getting around Vancouver is one of the easiest and most enjoyable parts of any visit. There's so much to see as you pass through town, whether you're taking a taxi, riding the train, on board a ferry, cycling, or even just walking.
Vancouver is home to a number of taxi companies, all competing on price and level of luxury. Vancouver taxis are the most direct way to get around the city and are at their most beneficial on those occasions when you're in a hurry. Remember also that ridesharing companies like Uber operate in Vancouver if you're looking to save a few dollars.
---
It seems every major city has a bike sharing program these days, and Vancouver is no exception. Vancouver Bike Share allows you to rent a bicycle from a rack owned by the city, ride it wherever you like, and deposit it at a rack close to your destination. This is a great way to see the city at your own pace and on a budget.
---
Vancouver public transport is the most affordable and reliable way to get around town. A wide-ranging (and fully automated) train network can get you into or out of the city in no time, and a fleet of buses will pick up the slack from there. Further, there are plenty of ferries to help you cross the many bays, rivers, and inlets throughout the city.
---
Getting around Vancouver on foot is still one of the most enjoyable ways to see the city, set your own tempo, and stay healthy all at the same time. Walking Vancouver allows you to take in the city street by street, stumbling upon the many gems the city has hidden just off the beaten path. Take the time to go for a walk – you never know where you'll end up!
---
What are the best beaches in Vancouver?
The city of Vancouver may be close to ski fields but that doesn't mean it can't have a stack of awesome beaches too, right? (How amazing is Canada?) Granted, water temperatures are going to be fresh, but the payoff is that not all beaches in the world come with a stunning mountain backdrop, so soak up the scenery. Here are some of our favourite Vancouver Beaches.
Talking landscapes, some of the best views of the north shore mountains can be had from Spanish Banks Beach. This beach is located along the shores of English Bay in the West Point Grey neighbourhood. The beach itself is sandy and flat, and at low tide the water goes waaaay out so if you're travelling with small children, this is a fun time to come and explore the shoreline. Spanish Banks Beach is also Vancouver's home of beach volleyball, with over 20 volleyball courts in the area.
---
Further east—getting closer to Vancouver city now—is Kitsilano Beach. This buzzing city beach, known as 'Kits' is a bit like the Venice Beach of Vancouver. In summer it's the place to be, with all kinds of sports and cultural activities, for people of all ages. Kits even comes with a salt-water, outdoor pool, open from late May to mid-September.
---
Another west-facing, downtown beach on the Vancouver coastline is English Bay Beach—also known as a top spot for sunsets. The beach is located along the seawall right at the edge of a tiny strip of Stanley Park, which follows the Stanley Park Seawall Path. English Bay Beach is a must-visit, lined by cafes, restaurants and cantinas, not to mention the English Bay Craft Beer Market.
---
And let's not forget Vancouver's clothing optional beach: Wreck Beach. This beach has a laid-back vibe with some people taking the opportunity to sunbathe naked, but not everyone does, it's absolutely up to you. It's worth visiting for the wide stretch of golden sand, clear waters and again, incredible sunsets. The beach is located at the bottom of about 500 stairs so be ready for a cardio workout—but it's worth it.
---
To the east of Spanish Banks Beach is Jericho beach, another beautiful beach with soft sand and more great mountain views, located on the edge of the huge Jericho Beach Park. Swim, have a picnic on the grass, play a ball game on the beach or go paddle-boarding.
---
Across the Burrard Street Bridge and close to downtown Vancouver is Sunset Beach. This sandy beach is a popular spot and has a large grassy area for picnics. Because it faces west, it's also one of the best places in Vancouver to watch... you guessed it, the sunset. Grab an ice cream, claim your bench and watch the sky light up as the sun dips below the shimmering horizon.
---
If you're looking for a beach in Stanley Park, slightly to the north, you have two to choose from: the curiously named Second Beach and Third Beach. Both of these beaches are sandy beaches, with spectacular views to the mountains.
---
What are the best parks in Vancouver?
During the warmer summer months is when Vancouver parks and beaches are at their most beautiful. Yes, it's true, Vancouver isn't just cold year-round. Particularly if you're outdoorsy, exploring Vancouver's many parks and beaches will make for a great way to unwind and leave the hustle and bustle of the city behind for a moment. You might even see a moose! If you visit Vancouver in winter, the parks are still gorgeous for a stroll and the beaches are still lovely to look at. Perhaps don't worry about packing your swimmers though.
By far Vancouver's most popular inner-city park, Stanley Park has been designated a Natural Historic Site by the Canadian Government. With 400ha of land surrounded on almost every side by Vancouver Harbour, the park attracts thousands of visitors every year. Don't miss your chance to take in its many gardens, trails, and historic landmarks including the famed Stanley Park Seawall.
---
A short walk from Davie Village, Sunset Beach is a popular swimming and surf destination during the warmer months from May through to September. When the colder weather rolls in, the attached Sunset Beach Park remains a picturesque spot to spend a relaxing afternoon. This is a great spot for winding down after shopping in Davie Village all morning.
---
Pacific Spirit Regional Park
Some of the very best hiking Vancouver has to offer can be enjoyed in the Pacific Spirit Regional Park. Doubly entertaining for those who prefer to go their own way, the park recommends that visitors grab a map, pick whichever trail looks good, and head off to explore. Located towards the south of the city in West Point Grey, the park is open all year long.
---
Butchart Gardens, located on Vancouver Island north of Victoria, is a gorgeous botanic garden that is open to the public year-round. Filled with gardens to explore, trails to walk and plenty of shopping and dining to sample, the Butchart Gardens are the perfect place to spend an afternoon no matter what time of year you're visiting.
---
Kitsilano Beach and the adjoining Kitsilano Beach Park lie almost directly across False Creek from Sunset Beach. The park offers many of the same attractions and services as its northern twin, including walking trails and plenty of areas for barbecues and gatherings. If you're staying in Kits or Granville, this will be the beach for you.
---
Vancouver Frequently asked questions
What to take on holiday to Vancouver?
Don't forget your universal power adaptor, passport & the most comfortable pair of shoes you own to explore. For main character vibes, we recommend headphones & a great playlist!
---
Where to go on holiday in Vancouver?
We'd count places like Stanley Park, Science World and Capilano Suspension Bridge Park as must-do locations.
---
How do I go about cancelling my holiday package?
---
When is the best time to visit Vancouver?
During a Vancouver Summer, you won't often get temperatures higher than 22°C - which means Summer can get busy. We'd opt to travel either side of the peak season in April-May or September-October.
---
What is there to do in Vancouver?
Some of our favourite things to check out include whale watching, strolling botanical gardens, visiting Vancouver Aquarium and shopping the day away at Granville Island.
---
How to find the best holiday package to Vancouver?
Sign up to get the hottest deals sent straight to your phone & emails here

You can also check out our deals online, or speak to one of our Travel Experts
---
The current requirements for travelling to Vancouver
Talk to a Vancouver Travel Expert
Our dedicated team of experts know all the ins and outs of travel and love sharing their knowledge. If you're looking for help planning specific sections of your trip or full itinerary planning, our team is ready and waiting to help create your perfect holiday.
Enquire now