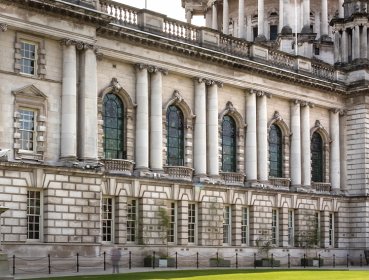 With its turbulent past behind it, Belfast is an exciting, progressive city with buckets of charm and a welcoming buzz. Despite its compact size, Belfast manages to give travellers lots to see and do. There are world-class museums, castles, cathedrals, Michelin-starred restaurants, cosy traditional pubs, loads of live music, shopping strips, galleries and parks. You can also take in the spectacular surrounding countryside and views across the Belfast skyline along the Black Mountain ridge trail.If you're planning a visit, explore our Belfast travel guide and find out how to make the most of your time in this Northern Irish city. We've collected the best tips from our travel experts, and have all sorts of suggestions for things to do, the best time to travel, where to stay in Belfast, getting around and more.
Belfast quick facts
Beverages
Bottle of Coke/Pepsi (330ml)
AUD $3.46
Currency
Pound sterling
AUD $1.00 = GBP £0.52
Eating out
Restaurant meal (casual dining)
AUD $34.31
Electricity
Plug type: G
3 pins • 230V
Where to stay in Belfast?
While not a particularly large city, Belfast is divided into four major quarters – the Titanic Quarter, the Cathedral Quarter, the Queen's Quarter and the Gaeltacht Quarter – in addition to the city centre itself. Each of these areas boasts unique locations, landmarks and activities for visitors to check out, but they're also home to some of the best places to stay in Belfast.
The Belfast city centre is home to many of the best restaurants in the city, as well as some of its best shopping complexes. Filled with luxurious, five-star hotels and new developments, it's one of the best areas to stay in Belfast if you're looking to keep things central. Staying in the city centre puts you close to a little bit of everything, including transport hubs for when you want to visit other quarters.
---
The Cathedral Quarter, so named for the many churches it contains, is a developing district in Belfast. Home to some of the city's oldest and most revered buildings, it nevertheless works hard to eschew any stuffiness that its historic architecture might suggest. Now filled with interesting new hotels and accommodation, this area is perfect for anyone looking to stay in an area with history but also a modern cultural vibe.
---
If you really want to steep yourself in Irish culture, Belfast's Gaeltacht Quarter is where you do it. Home to hard-core practitioners of traditional Irish life and language, this is where you should stay if you want an authentic experience. Bring a translating dictionary with you if you don't speak Gaelic because the locals can and do speak it fluently.
---
Named for the ill-fated ocean liner that was originally built in Belfast, the Titanic Quarter has become one of the city's primary entertainment districts. Home to trendy hotels, bars, theatres, galleries, museums and more, this district is for those who crave an understanding of Belfast's modern history while still enjoying a casual time out with locals.
---
The Queen's Quarter is the cultural hub of the city. Art galleries, museums, parks, fine-dining, trendy nightlife, incredible shopping… the Queen's Quarter doesn't mess around. For those looking to tour Belfast's many beautiful and well-appointed museums, this is absolutely where you should be staying. History on your doorstep.
---
Things to do in Belfast
While one of the more compact capital cities in the world, there are far more things to do in Belfast than you might think at first. From tourist attractions like the Northern Ireland Science Park and historic Crumlin Road Gaol, to the gorgeous countryside surrounds beyond the city limits, there's so much on offer. Here are a few ideas to help get your itinerary started.
Belfast Castle is an integral part of the city's landscape and history. Though the building that sits on the site today is a beautiful castle-like mansion constructed in 1811, the original structure (and the one for which the site is named) was built in the 1100s by Normans before being destroyed by fire in the 1700s.
---
West Belfast Black Taxi Tours
Belfast's famous Black Taxi Tours are a local institution and a great way to see the city. Guided by a knowledgeable driver, you'll take in the city's many sites by road. From the SS Nomadic to the Albert Memorial Clock, from St Anne's Cathedral to the Clonard Monastery, this is the most efficient way to see the city. The real highlight, however are Belfast's political murals and the Peace Line – an incredible part of the city's turbulent history.
---
Located in Donegal Square, Belfast City Hall was built in 1910 on the site of the old White Linen Building (from which structure the Linen Quarter, where the current building resides, takes its name). While the building remains the operational home of the Belfast city government today, it's also open for guided tours.
---
It's difficult to escape the RMS Titanic in Belfast, so proud is the city of its creation of the 'Unsinkable Ship'. The Titanic Quarter is the name given to the dry dock area where the ill-fated ocean liner was built, now a vibrant entertainment complex filled with museums, galleries, and film studios.
---
Grand Opera House Belfast
One of Belfast's grand old dames, the Grand Opera House Belfast is one of the finest surviving old-world theatres anywhere in the world. Opened in 1895 and renovated in 2006, the theatre is still operational today, home to regular productions, as well as restaurants and cafes on its ground and third floors. This is a must-visit for anyone with a love of the theatre.
---
The SS Nomadic was a transfer vessel built originally to help ferry both mail and passengers from the White Star Line's major vessels, the RMS Olympic and the RMS Titanic. Restored to her former glory in 2012 and placed on permanent display in what is believed to be the very dock she was built in, the SS Nomadic represents an important part of Belfast's maritime history.
---
Carrickfergus Castle is another Norman castle by Belfast Lough constructed in the 1100s, this one still in remarkably good condition. A verified ancient monument, it has the distinction of being one of the world's longest-standing military structures, continuously garrisoned for some 750 years before the British Army transferred ownership of the castle to the Northern Ireland government in 1928.
---
Operational for 150 years and known in its day as the Alcatraz of Europe, Crumlin Road Gaol (also known as HMP Belfast or by the locals simply as The Crum) is another of Belfast's great architectural accomplishments. Home to thousands of prisoners over the course of its life, The Crum was still operational until it was officially closed in 1996.
---
Stormont, the common name for Belfast's Parliament Buildings, lies east of the city in County Down. Surrounded by parklands and forests, the area is the home of the Northern Ireland Assembly, the body that answers to the UK government. The building itself has not changed much in the years since its completion in 1932, and is still operational and providing guided tours to this day.
---
Ulster Museum is Belfast's largest and most popular museum and gallery, filled with hundreds of exhibits and artworks from the Emerald Isle and abroad. Originally established in 1929, it has been a fixture in the city ever since, dutifully collecting and recording its history for future generations and educating those here now on everything that came before.
---
The Ulster Folk Museum is really two museums in one. On one side you have the Ulster Folk Museum, which seeks to educate visitors on what traditional Celtic life in the area was like and the Irish traditions that survive today. On the other you have the Transport Museum, which chronicles the proliferation of transport in Northern Ireland. It also contains one of the most authoritative exhibits on the construction of the RMS Titanic in the world.
---
Belfast travel tips
If you haven't travelled to the UK before, there are a few Belfast travel tips to help you prepare for an enjoyable holiday here. Belfast is located in Northern Ireland, which is part of the United Kingdom. This is different to the Republic of Ireland, which accounts for the rest of the Irish mainland. So if you plan to head from Australia to Belfast, you should expect the same entry procedure through customs as you would find at any airport in the UK.
Generally, Australian travellers to the UK don't need to seek any visas unless they intend to stay for longer than six months or be actively looking for work. This is great for you, especially after such a long-haul flight, because it means getting through customs and onward to your hotel will be that much easier.
---
Many Australian travellers will be well familiar with most traditional Belfast food as it's not dissimilar to that of British cuisine. Largely what Australians might consider comfort food, Irish cuisine tends toward warming dishes – stews, casseroles, and roast meals. Belfast is also home to plenty of international food as well, so if you don't find the local menu to your taste, you won't go hungry.
---
UK electrical plugs and voltage
Taking your Australian devices with you to Belfast thankfully won't be an issue thanks to very similar plugs and voltage. Northern Ireland uses the same power sockets as the UK, which means all you'll need to charge laptops, phones, cameras and portable batteries is a regular UK power adapter purchased from your nearest electronics retailer or the airport.
---
Belfast International Airport is located a little out of the city itself, around a 20-minute drive to the northwest. It is a fairly simple airport and as such won't be any trouble to find your way around. International flights arrive and depart quite regularly.
---
Currency is another area that may cause confusion among Australian travellers heading to Northern Ireland. As a UK territory, Northern Ireland's primary currency is the pound sterling. This may create problems if you are coming up from Dublin in the Republic of Ireland, where the primary currency is the euro. Save yourself the conversion fees and have some cash in both currencies ready if you plan to tour Ireland in full.
---
While neither enforced nor expected in Northern Ireland due to a reasonably high minimum wage, some service workers may take a tip if offered for truly exceptional service. Generally though, they will not ask for one and you are not expected to provide.
---
As a part of the United Kingdom, the primary language in Belfast is English. While you may struggle to understand the heavy Northern Irish accent at first, most locals will be happy to repeat themselves when asked. You may see the odd road sign in Gaelic but rarely will it be without an English translation.
---
Belfast food and drink
After a few hours in the city, you'll likely find yourself in search of some quality Belfast food and drink. Good news: your search won't take long. No matter where you are in the city or its many quarters, amazing food abounds – and who could pass up the opportunity to try an authentic, home-cooked Irish stew? The city centre delivers plenty of choice, but also consider letting your taste buds explore other dining districts like the Titanic Quarter and Queen's Quarter. From familiar international standards and fine-dining to authentic, hearty Irish favourites, there's something to suit every taste and budget in Belfast.
For those who want to sample some of the best Belfast restaurant precincts beyond the city centre, you should make sure to investigate the quarters – specifically the Queen's Quarter and the Titanic Quarter. In both areas, amazing locally owned restaurants, takeaways and gastropubs abound. Try a new place each day of your holiday and let them show you how a proper Belfast meal is prepared.
---
Where to find a good coffee?
In a working-class town like Belfast, the value of a good cup of coffee cannot be overstated. It's the local businesses that will brew you the best cup. The home-grown Belfast coffee scene ranks among the best on the entire Irish isle. Cafes are found all throughout the city. Coffee not your thing? Try tea – ask for the Irish Breakfast and thank us later.
---
There aren't many cities in the world where you can duck into a bar from the 1600s for a quiet pint, but Belfast pubs allow you to do just that. Belfast bars and nightlife are a reflection of the city's blue collar history – perfect for a casual evening in comfortable surrounds after a long day. You'll find most of the best establishments on either Queen Street or Donegall Street.
---
What are the best food markets?
A port city and a busy trade hub since its inception, Belfast loves a good market. Belfast food markets are among the most diverse and vibrant in the world, filled with many different kinds of food brought in from the surrounding towns and from the trawlers in the bay. Sites like St George's Market are popular destinations, but they aren't open every day so check ahead before you leave.
---
Belfast through your eyes
Where to shop in Belfast?
Home to sprawling shopping centres and small designer boutiques alike, Belfast shopping makes bargain hunting a breeze. Several streets of the city centre are almost exclusively dedicated to shopping centres, precincts, squares, and markets. From high fashion to homemade keepsakes to remember your northern adventure by, there's a great souvenir waiting for you in Belfast. If you aren't sure where to start, take a trip to the CastleCourt shopping centre, the Queen's Arcade, or consult a Belfast shopping guide to see when and where markets are being held during your holiday.
If you're on the hunt for that special, one-of-a-kind keepsake, you will find yourself spoiled for choice. Belfast markets are everywhere, from the docks to the hinterland. Double check their hours before you go, though – some are only open on specific days of the week. The Belfast Flea on Library Street, for example, operates on the first Sunday of each month.
---
Shopping centres in Belfast
There are plenty of Belfast shopping centres, but few are as well-known or well-appointed as the huge CastleCourt shopping centre. Located in the north of the city centre, CastleCourt is home to everything the Australian traveller in Belfast could possibly need, from travel essentials to fun souvenirs. Wondering what to buy in Belfast? Chances are you'll find it here.
---
Best shopping precincts in Belfast
A short walk from CastleCourt lie both the upmarket Queen's Arcade shopping district and the massive Victoria Square. The twin homes of Belfast fashion, these two locations rank among the most popular and long-standing Belfast shopping districts. For the fashion-forward, both locations are absolutely unmissable. Spend some time exploring their halls and find your new favourite outfit.
---
When is the best time to travel to Belfast?
While the weather in Belfast is the subject of much bemoaning among the locals, if you were to ask them when they thought was the best time to travel to Belfast, they'd probably suggest you visit during the summer. We tend to concur with this – Belfast in the summer brings comfortable temperatures, more daylight hours than any other time of year, and even a dip in the amount of rainfall. This isn't to suggest that there isn't tremendous value in visiting Belfast during any other season. But if you're unaccustomed to UK weather (almost the polar opposite of the Aussie climate), summer will deliver the least shock to your system.
What is Summer like in Belfast?
The clouds begin to clear, the Belfast temperature climbs into the high teens and low twenties, the fields seem greener than ever, and the local mood lifts. For those who love to get out and about while on holiday, tackling walking trails and hikes and exploring the city on foot, summer is the perfect time to visit Belfast. Appropriate clothing: Summer clothes, but with a light jumper or jacket Don't forget: Sunscreen.
---
What is Winter like in Belfast?
If you want to hear some truly amazing Irish grumbling, get one of the locals started on how they feel about winter. Yes, it's the coldest, darkest and wettest of all the Belfast seasons, but it's also a very special time of year. Northern Ireland is a deeply religious country; to be in Belfast during the Christmas holidays is to experience a contemplative yet joyous atmosphere. Appropriate clothing: Long trousers, warm shirts, and jackets Don't forget: Your gumboots.
---
What is Autumn like in Belfast?
The average Belfast rainfall begins to rise once more and the temperature slowly dips toward the low teens by late October. Never is Ireland more beautiful than it is in autumn though. The typically vibrant green hillsides and woodlands give way to autumn oranges and browns as the trees prepare for the winter chill. It's dazzling – see it if you can. Appropriate clothing: Warm clothes, wet weather apparel Don't forget: Your umbrella.
---
What is Spring like in Belfast?
Another beautiful time of year in Ireland, spring sees the Emerald Isle's famous green landscapes come roaring back to life, filling the hills and farmland around Belfast with lush scenery. Spring also has the distinction of being the driest time of year in Northern Ireland, and sees the temperature steadily climbing back up to around 15°C by the time summer begins. Appropriate clothing: Layers, including a warm jacket Don't forget: Your hiking boots.
---
How to get around Belfast
While not the largest city in the world, plenty of Belfast transport is still on hand to help you get from A to B that little bit faster. In a city built on industry, good transport infrastructure is important and Belfast exemplifies this with on-time public transport and minimal road traffic. Whether you prefer taking taxis, relying on busses, hiring a bike or just walking the streets at your own leisure, you'll be in your element here. There's no wrong way to get around in Belfast.
Home to a surprising amount of cab companies, Belfast taxis are everywhere. The most direct way to arrive at your destination, taking a cab is perfect for those days when you end up running late for a tour. Taxis are generally more expensive than other modes of transport, but there are ride-sharing options available in Belfast too.
---
Like many cities around the world, the city council has implemented a Belfast bike hire program to help visitors and locals get around efficiently and without a carbon footprint. You can sign up for BelfastBikes through the city's website, pay for your hire, pick up a bike at any of the racks around the city, and drop it off at a rack close to your destination.
---
Belfast public transport is one of the easiest methods of getting around Belfast. One of the first things you should do upon arriving in Belfast is pick yourself up an iLink card from your nearest convenience store. A prepaid transport card like the Opal or Myki cards we have in Australia, iLink will give you access to every train and bus in the city and will be particularly useful if you're staying in the city for a week or more.
---
Rain is a regular feature on the Emerald Isle throughout the year, but this doesn't mean you can't enjoy the city on your own two feet – just keep an umbrella on standby. What it does mean is that nobody appreciates a nice day like the Irish. Making the most of a nice day and walking Belfast is one of the best ways to see the city.
---
What are the best parks in Belfast?
Located in one of Northern Ireland's leafiest areas, Belfast parks rank among the finest anywhere on the Irish isle. From the gorgeous hills overlooking the city and bay to the east, the rolling fields to the city's west and the many public parks and squares that dot the city, Belfast has a space for nature lovers of every stripe to explore.Start your nature journey in the delightful Botanic Gardens, pack a picnic lunch for the Lagan Valley, or spend time musing at the statues of CS Lewis Square. Alternatively, head to Ormeau Park for a workout with picturesque views.
Opened in 1828 and still operational to this day, the Belfast Botanic Gardens are a haven of greenery and tranquil walking trails in the heart of Queen's Quarter. The park's multiple glass houses are home to plant life both native to Ireland and brought in from abroad, and its many lawns are popular with tourists and locals alike during the summer months.
---
The oldest and largest municipal park in Belfast, Ormeau Park has been a huge draw for locals and visitors alike since it opened in 1871. Ormeau is filled with activities, from sports to BMX trails, walking tracks, and even a hiking trail for those who want to do a bit of orienteering.
---
Sir Thomas and Lady Dixon Park
A 50ha park in South Belfast, Sir Thomas and Lady Dixon Park gives Ormeau Park a run for its money. Filled with fields, woodland, attractions, orienteering and a world-famous rose garden that must be seen to be believed, Sir Thomas and Lady Dixon Park is the perfect place to while away a few hours on a spring day.
---
CS Lewis Square memorialises the late, great CS Lewis, author of The Chronicles of Narnia, in this expansive square dedicated to his life and work. The square includes multiple statues and exhibits from The Lion, The Witch and the Wardrobe as well as eateries and attractions. This is a must for anyone who grew up with Lewis' books and dreamed of one day meeting Aslan for themselves.
---
The Lagan Valley, home to the area's famous Lagan River, which flows directly into Belfast Lough, is a park and bushland area popular with walkers, cyclists and runners. While not offering much for hikers, it's the perfect location for anyone who wants to get out of the city and breathe deep of the Irish country air. A more tranquil day out is hard to find.
---
The current requirements for travelling to Belfast
Talk to a Belfast Travel Expert
Our dedicated team of experts know all the ins and outs of travel and love sharing their knowledge. If you're looking for help planning specific sections of your trip or full itinerary planning, our team is ready and waiting to help create your perfect holiday.
Enquire now