Check out your incredible photos of Asia!
To have YOUR Asian holiday photos featured, go to our Flight Centre Australia facebook page and post your photo or video in the comments below the #FlavoursOfAsia facebook post and hashtag the destination, for example ‪#Penang. You can also tweet or instagram your photos or videos by including #FlavoursOfAsia and don't forget to include the destination where your photo or video was taken, for example #Penang.
View #FlavoursOfAsia Terms & Conditions
Visit 'Malaysia's Silicon Valley'
George Town is the capital of the 28-square kilometre island and sliver of mainland Malyasian peninsula, sporting a mixture of pre-war houses, colonial buildings, mazes of alleyways, churches and mosques. The nearby beautiful Kek Lok Si Temple pagoda is worth a visit and you'll see fine views of the region atop Penang Hill. George Town hotels include budget stays and restored Edwardian Anglo Malay mansions.
The northern beaches around Batu Ferringhi and Teluk Bahang (with all their watersports) steal the hearts of many. On this part of the island, the pasar malam (night market) stocks cheap food, jewellery, handicrafts and clothes and is a pleasant nocturnal diversion from sun and sea. When your appetite flares, wherever you are in Penang, you'll find the hallmarks of Nyonya, Chinese, Indian and Malay-style cooking. Hawker (street stall) fare is particularly tasty.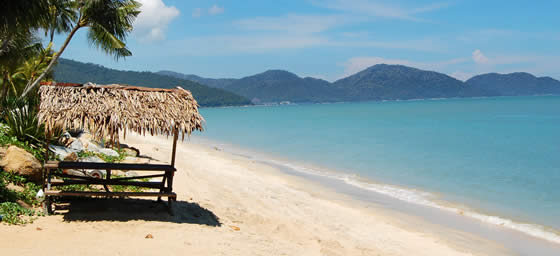 Batu Feringghi Beach
It's easy to get here too: the international airport is on Penang Island, about 20 kilometres from George Town, and links directly to Singapore, Bangkok, Medan, Xiamen, Madras, Kuala Lumpur and Hong Kong.