3 December 2020
The domestic flight game just got a little more exciting, with Rex (Regional Express) announcing their plans to launch return flights between Sydney and Melbourne early in 2021. The carrier will be throwing their hat into the ring to challenge Qantas, Virgin Australia and Jetstar for a slice of the lucrative domestic travel pie.
It's a move that the company's Deputy Chairman John Sharp has described as a new era for Australia's domestic air travel. "Finally, Australians can look forward to not only a safe, reliable and affordable airline, but one they can count on for the long term – Rex's origins date back almost 70 years, making it Australia's second oldest surviving carrier," he said in a statement.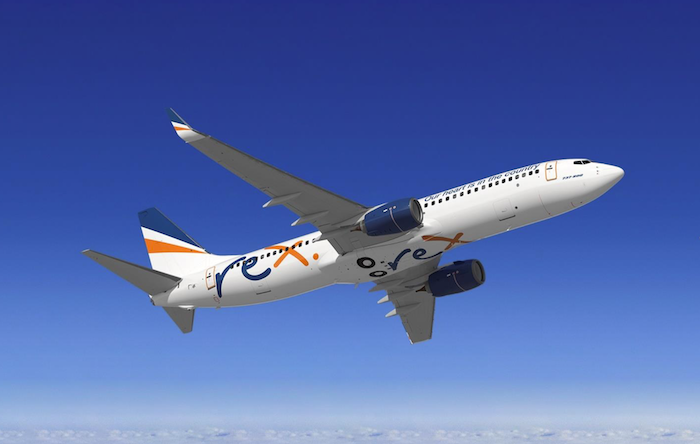 Flights will commence 1 March 2021 and have gone on sale this week at a bargain price to celebrate the launch, but you'd better be quick. The airline is offering 100,000 flights on the Sydney to Melbourne route from just $79 for economy class and from $299 for business class. 
Regional Express will begin with three Boeing 373-800s running nine Sydney-Melbourne return services each day. They have plans to have an additional two up and running by Easter 2021 before expanding the network to other capital cities. "If all things go as planned, we hope to grow our fleet to 8-10 by the end of 2021," Mr Sharp commented.
---
Planning a 2021 trip? Check out our top 21 for '21 here!
---
Aircraft & Airfares 
The jets are coming from Virgin Australia's former leased fleet and Rex has made the call to retain the class and seating configurations - eight business class and 168 economy seats per flight. They are even keeping Virgin's extra legroom 'Economy X' seating in rows 3, 4, 5, 13 and 14 which they will offer for a $15 'Advance Seat Selection' fee.
Business class fares will come complete with lounge access and free onboard wifi, which economy passengers will need to pay extra for. All tickets though will include food, a baggage allowance, pre-assigned seats and online check-in. Business class fares will also come with what Rex calls "Get Me Home", giving passengers flexibility to move onto an earlier flight at no charge. This will also be one of the advantages of Flex economy fares.
The airline will be offering ticket prices comparable to Jetstar, but with inclusions and service more inline with that of Virgin Australia. Fares twice the value at half the price is the aim, a statement stating "we will be offering premium full service with our trademark country hospitality". Something we think the Australian market can really get around.
The Network
After the initial roll out of the Sydney-Melbourne flights the airline is hoping to bring Brisbane into the mix from April 2021. Once these routes are successfully up and running they could expand to Canberra, Adelaide and Perth, with Mr Sharp stating "from there, we intend to develop a full domestic airline network, linking all the capital cities over time."
---
To score a hot flight or vacay for yourself, check out our latest deals here
---
The Schedule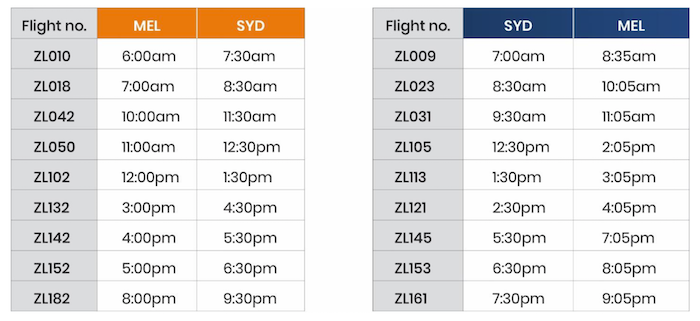 Schedule as at 3 Dec 2020
To get booking for 2021 with Rex, contact us, your agent or visit your nearest Flight Centre and one of our travel experts will be able to help get you flying high in no time.
Other Travel Articles You Might Like...