15 January 2020
"Mum, I'm going to trapeze class, then I'll meet you at the pool for aqua fitness and games, and then we can have lunch," my daughter, Emmie, instructed as she ran off to Mini Club with her new friends. That's how we rolled at Club Med on Bintan Island, Indonesia and at Club Med Kabira Beach on Ishigaki Island in Okinawa, Japan. Club Med is so simple, safe and stress-free, my eight-year-old had her first real taste of independence while I enjoyed peace of mind (with a cocktail in hand).
It's likely you've heard of Club Med, if not reclined on one of its beachfront lounges while the kids were flying high on a trapeze with the circus team. The pioneer of the all-inclusive holiday, there's a Club Med in more than 70 of the world's most beautiful locations (including more than 10 sun and snow resorts in Asia), churning out happiness and all-inclusive goodness for families, couples and friends.
To me, all-inclusive means leaving my wallet in my room and enjoying everything Club Med has to offer. Three delicious meals every day plus snacks, drinks (beer, wine, cocktails and soft drinks), watersports, games, entertainment and activities such
as archery, trapeze and yoga are all included. Emmie loved Mini Club, which combines outdoor activities like swimming, tightrope walking and trapeze with arts and craft, movies and special events such as foam parties and slip and slide.
---
---
The staff, known as GOs (Gracious Organisers), ensure guests feel like part of the family, and everyone is encouraged to join group activities and really let their hair down. How do I know this? I hula-hooped in a bikini by the side of the pool with a bunch of new pals at Club Med Bintan Island. And guess what? It was so much fun! Each day Emmie and I would play pool games and do aqua fitness together – it took the pressure off me to be the entertainment and we equally enjoyed the fun every day.
While there are many reassuring similarities, each Club Med has its own identity. At Club Med Kabira on Ishigaki Island we discovered Japan has clear blue water to rival the Maldives, and spent hours at the stunning Kabira Beach, snorkelling, swimming, learning to sail and stand-up paddleboard. We made friends from Japan, Taiwan and Korea and had a ball at the resort's signature Pool Party, while Emmie excelled at her solo dance moves (a shimmy and awkward backbend) at the children's evening concert.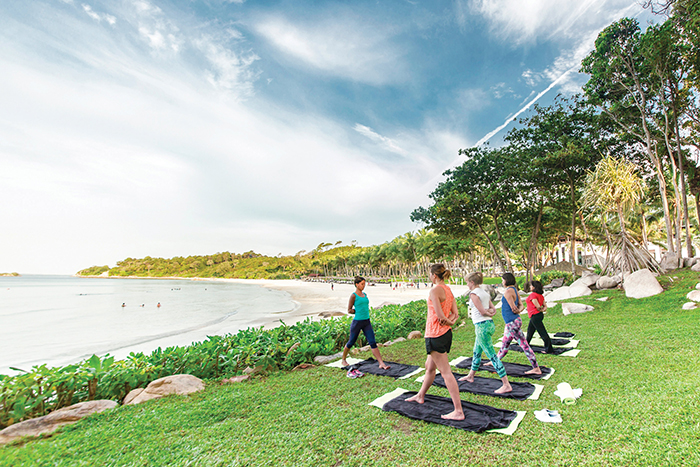 At Club Med Bintan Island, we took part in the annual Body & Soul wellness retreat, trying our hand at drumming, dance and meditation while drinking fresh juice each morning at the beachside juice bar. We explored the traditional temples and fresh markets on the island, played tennis, had a luxurious massage and danced in the waves at sunrise on the beachfront.
---
---
Club Med helped me realise that while it's easy to conform to a travel stereotype – the family traveller, the luxury traveller, the adventure traveller – I don't have to choose one way to travel.
I can do it all, at the same time, in the same place – and often kid-free with a poolside cocktail in hand after windsurfing, snorkelling with manta rays or exploring the world around me. Now, that's a holiday.
---
Must-Try Experiences
With an array of wildlife encounters and cultural activities, Club Med offers unique local experiences in each resort, all included.
Balinese dance show
Be entertained and charmed with a vibrant traditional Balinese dance recital by local performers at your Club Med Bali resort theatre. The colourful costumes and expressive moves weave an enchanting tale.
Yoga by the beach
Salute the sun by the ocean with a gentle guided yoga session at sunrise on the beach or unwind at the yoga palapa (a thatched roof structure) overlooking the South China Sea at Club Med Bintan Island.
Turtle encounters
Experience a wild encounter with endangered turtles at Cherating Turtle Sanctuary as part of your Club Med Cherating Beach, Malaysia stay. After a guided tour, take part in a turtle release between May and September.
Muay thai boxing
Led by a skilled instructor, the 'art
of eight limbs' or Muay Thai boxing is an exhilarating and heart-pumping way to learn about Thai culture at Club Med Phuket in Thailand. Classes are available for children and adults.
Shisa statue painting
The shisa, a mythological dog-lion creature, is considered a good luck omen in Okinawan culture. Turn your hand to painting your own shisa statue for a one-of-a-kind souvenir at Club Med Kabira Beach, Ishigaki in Okinawa.
Whisky and sake tasting
Japanese excel at whisky and sake distilling, which is also an ideal way to warm up at Club Med Tomamu ski resort on Hokkaido, Japan. Sample premium whiskies and local sakes at The Nest bar, for an extra cost.
Words by Evie Farrell
---
---
Other Travel Articles You Might Like...