18 May 2020
There is a silver lining for us travellers, jetsetters and holiday makers amid these uncertain times; and we're not talking about finally being able to say you achieved a New Year's resolution. That is, if you were one of many at the start of 2020, committed to holidaying here this year. Let's face it, according to the Pollies, Australia will be our best travel option for 2020 and maybe longer, certainly well before our next international holiday. There is of course, still a positive, a bonus silver lining.
So what is it you ask? Australian holidays are frequently trumped for a brag-worthy overseas jaunt, but right now all of those excuses and objections you face trying to convince yourself, your friends and your family to take a holiday in Australia are simply no more!
It seems long-haul travel will be out of vogue for now, and it's Australia's time to shine! All those Aussie holidays that previously lost out, trumped by a bargain Bali break, family trip across the ditch or a steal of a flight price to Europe are now waiting for you. All those Aussie holidays you keep putting off due to cost, time, the travel distance and romance of overseas are no longer valid objections.
If you're saving for a long-haul trip that is, who knows how long away, re-invest for an Aussie getaway. Here is a small selection of Australian holiday experiences that will make you feel worlds away! (Tried and tested by yours truly after committing to holidaying in Australia once a year to support our own tourism).
Broome
But you could be overseas with that flight!
The view from the descending plane of the striking contrast between bright blue waters, white sands, deep red earth dotted with green of Australian natives is simply unforgettable. Coast meets the outback in this past pearling town, rich with history and multiculturalism. For those of us residing on Australia's eastern side this provides that long-haul holiday you are yearning for, often overlooked due to its flight time and price comparison to Asia. You could be sipping a cool drink and watching the dramatic sunsets against the Indian Ocean, before having some delicious Asian cuisine (we did say multicultural). Start your morning with a dip on Cable Beach and leisurely walk to the headland where dinosaur footprints can be discovered at low tide. For breakfast you can't go past the Zookeepers Store and there is Matsos Brewery for a pub lunch with a view. There are pearls to see and galleries to discover too. Take a 4wd trip to Cape Leveque, or fly over it on your way to the Horizontal Falls! I promise the flight is worth it.
Kangaroo Island
With extra time & effort required to reach the Island
At least a car and ferry ride away for South Australians, and a lengthy road trip (adventure) or flight for the rest of us, the journey to Kangaroo Island will pay dividends. If you're craving some Australian nature on your holiday, then this will not disappoint. From the Remarkable Rocks at Flinders Chase National Park, to myriad other hikes with stunning backdrops, there are views galore. Not to mention friendly locals who run the Lavender Farm, Kangaroo Island Distillery, or my personal favourite, Dudley's Wines with its gorgeous views. You will have a range of local produce in abundance amidst beautiful native Australian scenery and wildlife (spot the sun-baking seals).
Uluru
A cliché and long road trip that will always be worth it
No doubt you expected to see this on the list. And it wouldn't be a great Aussie adventure list without it. There is nothing like stepping out of the plane in the heart of Australia - the stillness and remoteness immediately set in. Make it an ultimate long weekend, a week's holiday or do your research and turn it into a stop on a great cross-continent road trip. There's more flight accessibility and a range of accommodation offerings that have opened up in the small outback town, making it more accessible and affordable than ever before. 
Get up close and tick off a 10km walk around the base of this sacred rock and learn about Australia's ancestral heritage. See Uluru at sunset, perhaps with drinks and a bush bbq dinner, the looming red rock as your backdrop. My tip – see the Field of Lights before dawn breaks and watch the sunrise against Uluru on one side and the KataTjuta on your other all while you sip a warm hot chocolate! View the breathtaking landscapes from the air or hike through the Valley of the Winds. Hire a car and head to Kings Canyon or take a day trip – the Kings Canyon rim walk is not to be missed. A steep start up a cliff of stairs will lead you to amazing canyon views. Have your own Pricilla, Queen of the desert moment if you want!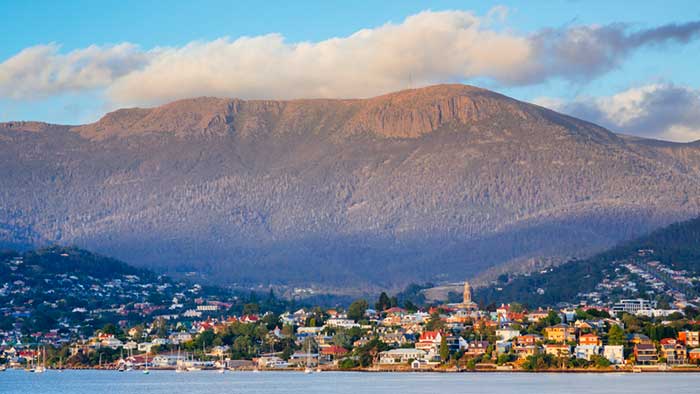 Hobart
Well attuned to the phrase "will get there one day"
Well to start with, most of us on the mainland need to go overseas (Dad joke) to get here. Do I need my passport? (stop it Dad.) Tasmania is a true Aussie gem!
A Kiwi friend of mine seeks to claim it for NZ as a West Island to complement their North and South Islands. Hands off mate, this one belongs to Australia.
Home to Australia's second oldest capital and a gateway to some amazing road trips with stunning shorelines, bushlands and mountains – it's an excellent city for a long weekend, or stay a little longer for a Tassie road trip you'll be talking about for years to come. In Hobart you can enjoy the historic heritage listed buildings, iconic waterfront, galleries, craft and not to mention the food! Take a side trip for the day or a small stay to Bruny Island, a foodie's heaven with fresh seafood (Bruny Island oysters are a must), artisan cheese, fudges, wine, whiskey and craft beers. Take some bush walks to work off that food, all the while keeping a look out for the island's wildlife such as fur seals, fairy penguins, albatross and white wallabies.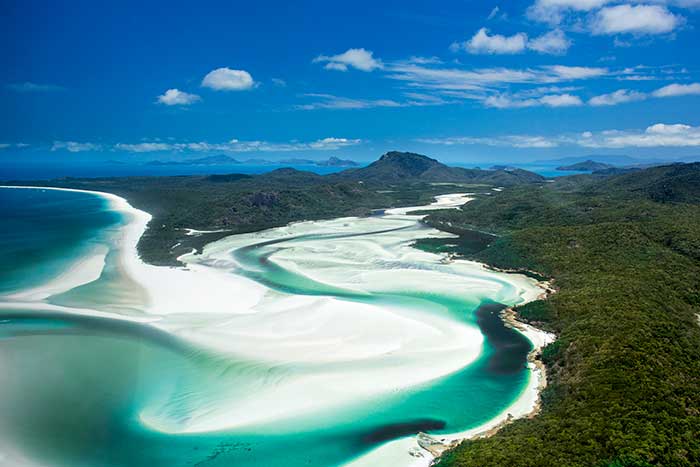 Tropical North Queensland
Competes with every beach destination in the world
It's not possible to choose nor section out just one little place here, where does one even begin? A place where the reef meets the rainforest and adventure meets relaxation. Take in one of the world's oldest rainforests, the Daintree, sink your toes in to some of the world's finest sand at award winning Whitehaven Beach in the Whitsundays, or don your snorkel and fins to discover an underwater kingdom like no other on the Great Barrier Reef. Forget the Maldives or a Pacific Island for the present and stay at Airlie Beach, or beach yourself on one of the many Queensland islands starting from the southern Barrier Reef right up the tropical north. If you need more options to choose from, base yourself in Cairns or Port Douglas. So many possibilities and so little time! Be sure to indulge in some fresh barramundi and mango salsa from one of the local restaurants (Oh Queensland and their deliciously polarising seafood and tropical fruit combos!).
---
Sign up to our newsletter for more travel inspiration, tips and exclusive deals sent straight to your inbox. 
---
Other Travel Articles You Might Like...