18 April 2019
Hamilton Island, or 'Hamo' as I affectionately refer to it like it's my own private haven, is a little slice of paradise in the Whitsundays that I'm lucky enough to visit often. So often that I have come to justify purchases that include a wardrobe full of linen, several sun hats and, of course, a 'beach to bar' makeup collection, because "I need this for Hamo". In other words, I am super familiar (and a big fan) of the island and its amenities, especially when it comes to wining and dining.
Almost as much as I love sunset cocktails on the Bommie Deck and daily marina muffins, I too enjoy dishing out my Hamo tips to almost anyone who will listen – most of which revolve around food. The island has seen an influx of investment over the past few years, much to mine and my taste buds' delight. There are quite a few new kids on the restaurant block, along with some of my long time favourites. So here are my top picks for dining out on Hamilton Island.
The Clubhouse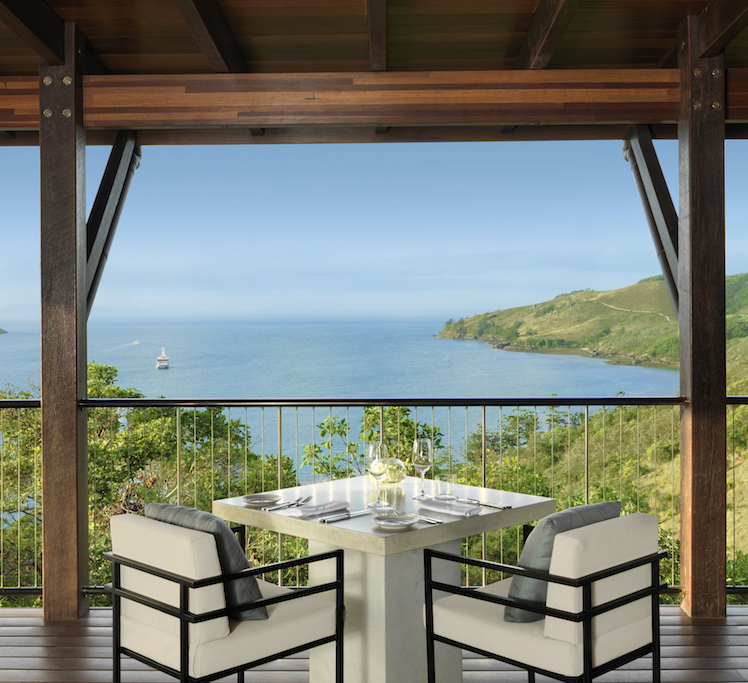 Firstly, no, I don't play golf. No, you don't need to play golf to dine here, and yes, it is number one because it's my favourite. It's a full dining experience and a must do when on the island. Lunch at the Clubhouse isn't simply a meal, it involves return water transfers to Dent Island, transport directly to the restaurant, an optional golf course buggy tour, a two-course lunch, views out over the Whitsunday waters and a refreshing lemongrass towel upon arrival... Need I say more? The food is fresh, immaculately plated up and the menu changes frequently based on seasonality. It's always consistent, but anything seafood centric that pairs well with an Aperol Spritz will generally be my pick... 
Tip: you must book ahead. I suggest a late morning booking so you can enjoy the golf course tour, before settling in for lunch. Also, the buggy tour offers some amazing photo ops; trust me, you'll want to get 'gramming here.
The Beach Club Restaurant
If you're seeking out a romantic atmosphere for an intimate meal for two, or simply want to relax and enjoy beachfront fine dining, this is the place to be. Located in the resort right on Catseye Beach, the tables spill out onto the sand and are softly lit with bamboo torches.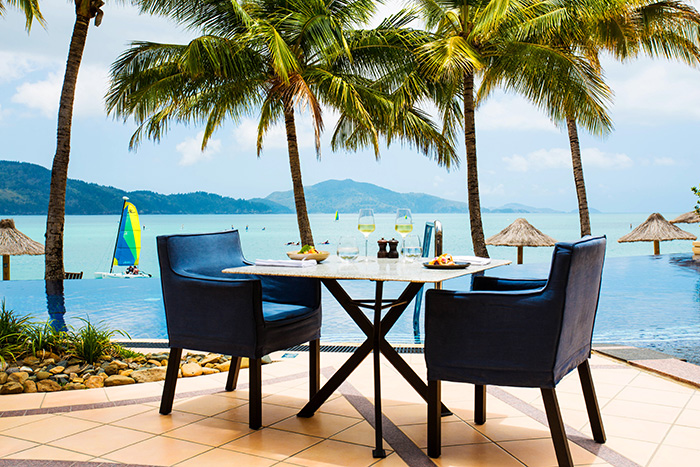 If you're anything like me (and like to eat like a king) then you really can't go past the degustation with matched wines. I simply can't fault it, but I certainly can finish it. Each course is served with a passionately detailed explanation, showing the care and energy that goes into its creation. If you're more in the mood for a la carte, perhaps treat yourself to a signature margarita upon arrival before settling in. 
Tip: Aim to get there just before sunset, to make the most of the beachside setting, and if you still have room for an aperitif, the house made limoncello is divine! 
Note: The restaurant is part of The Beach Club Resort, however you don't need to be staying on site in order to dine. Simply contact guest services to request a booking, I recommend doing this prior to your arrival on the island, it's a popular spot!
After long days relaxing or ticking off a list of island activities, a poolside cocktail and a little Asian fusion is a sure way to complete the day. Coca Chu is located on Catseye Beach sitting between the pool and ocean's edge; yet another prime location to enjoy a delicious meal. Here, guests will enjoy bold flavours from regions like Thailand, Vietnam, Cambodia and Laos.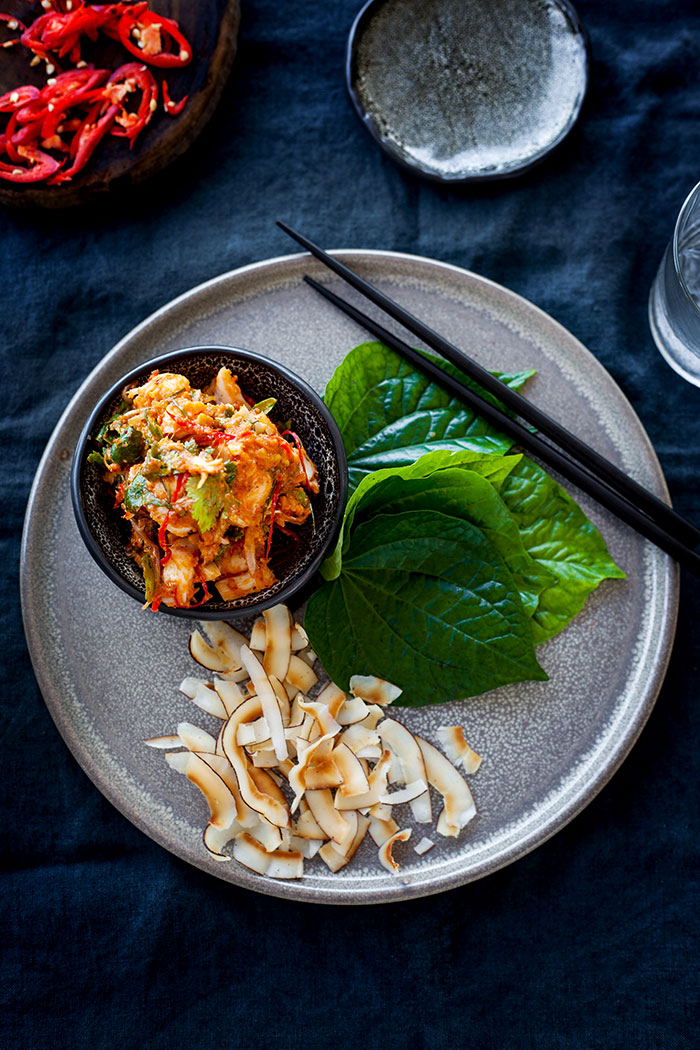 Ideal for dining with a group, the restaurant offers tasty Southeast Asian-inspired cocktail jugs (to share, but don't feel obliged), moreish starters, larger share style meals and some incredible curries. As with this style of fusion dining, the meals come as they are prepared, so they are always fresh, and all complement each other perfectly. The items are hard to resist, flavoursome and quite filling. To ensure you don't over order (like me – eyes are constantly bigger than my stomach) chat to your waiter as they are always great for suggestions based on the number of people dining. 
Tip: try the pigs ears – yes, you read correctly. I am yet to find anywhere that can make something taste this good.  
TAKO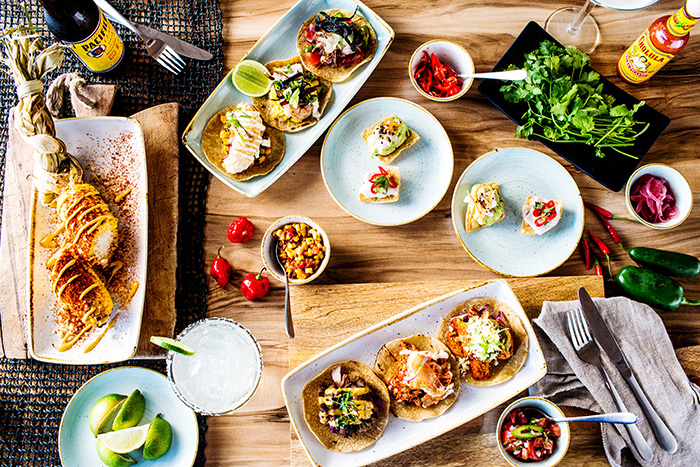 A recent addition to the dining scene, this Mexican meets Korean spot is great for the whole family, offering share style meals, kid-friendly dining and quite the tequila range. Now, I have spent quite a bit of time across Mexico so can get a little fussy when it comes to my quesadillas and tacos, but Tako had me from the moment I saw the 'mole' on the menu. It is rather authentic and definitely worth the walk in (they don't take bookings). It can get busy but from experience, the margaritas are a great way to kill any wait time and the service is fast. 
Note: only open from 5pm, so don't count on a Taco Tuesday lunch. Head there once the sun sets instead. 
Take Away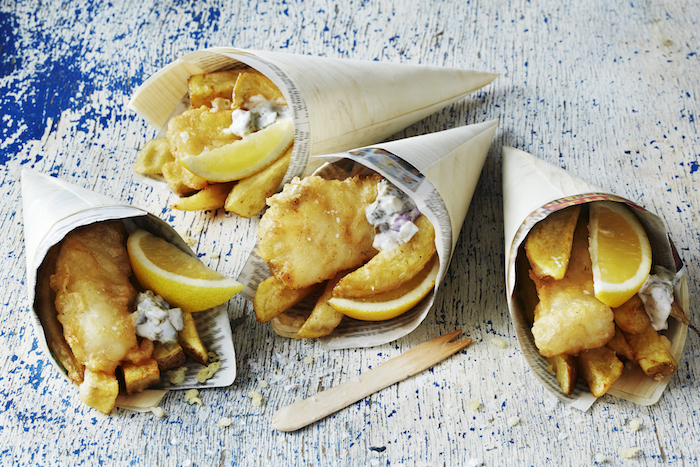 When it comes to take away dining on Hamilton Island, I have two favourites, so it really depends what you are in the mood for. When that sea air fills my lungs and I kick back to zero, I can't go past classic fish and chips; wrapped up in old school paper and served with fresh lemon and tartare. It's usually my pick for night one, when I swing by Popeye's on the main street. 
Now, the second is a recent addition but I can already tell it will pull me in on a cooler night, when I've done my dash on seafood and I'm looking for dinner and dessert in one swoop. Introducing the island's most recent addition: Pizzeria and Gelato Bar.  The name says it all; they serve up a mean pizza, fresh from the oven, and an assortment of gelato flavours that change daily. My picks were the Herbivore and the Quattro Formaggi. 
Tip: if you've really worn yourself out with a day of pool-lounging or kayaking, the Pizzeria and Gelato Bar will deliver for just $5. (Pairs very well with the island's Movies on Demand service!)
---
Other Travel Articles You Might Like...