24 August 2016
Words by Carlie Tucker
Raise your hand if you remember the days when in-flight entertainment consisted of a television screen folding down from the ceiling, with passengers leaning forward with narrowed eyes to try to watch whatever movie was playing. Airlines have certainly come a long way since those days, now offering passengers increasingly sophisticated systems to keep themselves occupied while flying the friendly skies. From touch screens to big screens; music to new releases, these new systems now have the power to make or break your flying experience.  
With in-flight entertainment playing an increasingly important role in passenger comfort, we're asking who does it best? Here's a look at some of the major airlines flying out of Australia that continue to pave the way.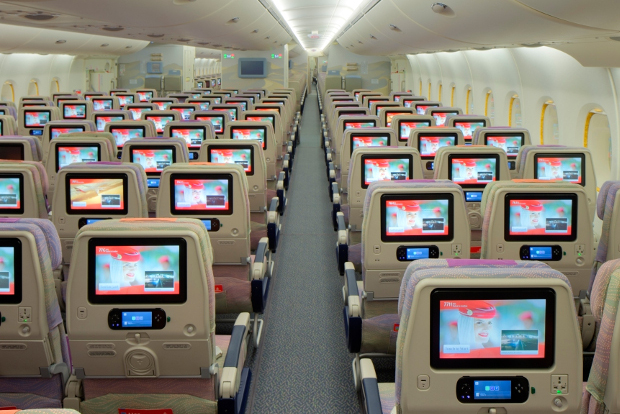 Emirates
Just last month, Emirates claimed the Best In-Flight Entertainment at the renowned Skytrax Awards. This marks the 12th consecutive year the airline has achieved top marks for its entertainment system, thanks to its ICE (Information, Communication and Entertainment) system.
Economy through to First Class cabins are fitted with digital entertainment widescreens with handheld remotes and touch screen capabilities. There are more than 2,500 channels of entertainment to choose from, including movies (classic and new releases), TV shows, music and games in 35 different languages. Emirates also offers live TV channels on more than 90 aircraft to keep you up-to-date on news and sports while you fly. 
This top international carrier gets bonus points for also offering in-flight WiFi and onboard cameras placed at the front and bottom of the plane, allowing you to quite literally watch yourself flying through the air. It's an especially cool feature when it comes time to land.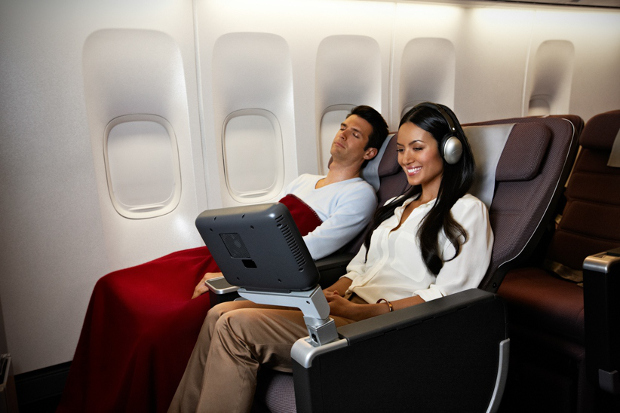 Qantas
This Aussie airline comes in second for top in-flight entertainment thanks to a huge variety of programs to choose from on all international long haul flights. Their A380 and select B747 aircraft offer passengers more than 1,500 entertainment channels. This includes over 150 movie titles (classic and new releases), 700 TV programs, 800 music options, 20 radio channels and daily Sky News coverage. Even better, Qantas has teamed up with the likes of HBO and Foxtel to offer passengers premium content on some flights.
As an added bonus, for passengers that wish to use their own devices while flying, QStreaming is available for download that provides access to a wide range of movies, TV shows and music. There is also a PressReader available for download, which provides passengers with complimentary access to thousands of newspapers and magazines from around the world.
Economy, Business and First Class cabins are all fitted with personal entertainment screens that feature touch screen capabilities.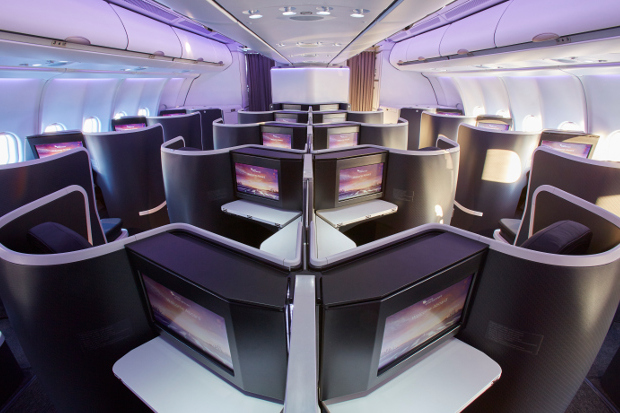 Virgin Australia
Virgin Australia sets itself apart from its competitors by thinking outside the box, which has extended to their in-flight entertainment. Domestically speaking, the airline provides travellers with hundreds of hours of movies, TV shows and music through its Wireless In-Flight Entertainment system. Passengers need only download the app on their personal devices to get watching! If you don't have your own device onboard, complimentary tablets can be provided.
When it comes to long haul international flights, Virgin's award-winning seatback entertainment doesn't disappoint. Economy through to Business Class are fitted with personal entertainment screens, which feature touch screen capability and handset controls. There is a great range of new release and classic movies to choose from along with TV shows, games and music.
Virgin goes the extra mile in passenger convenience by offering in-seat charging capabilities. Business and Premium Economy seats are fitted with power outlets and USB ports to charge your mobile devices while you fly. If you're seated in Economy, cabin crew can easily plug you in upon request.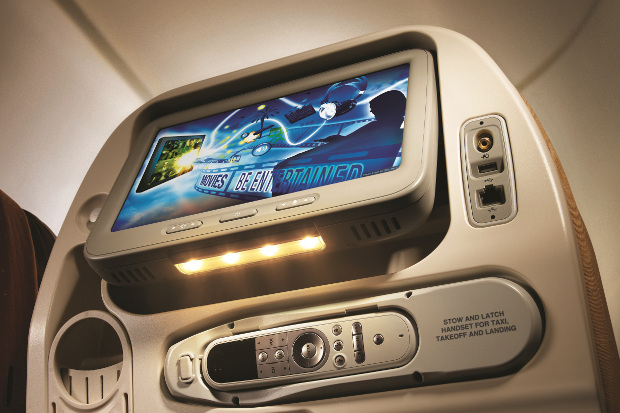 Singapore Airlines
Singapore Airlines came in second to Emirates for best in-flight entertainment at the July 2016 Skytrax Awards due to the diverse choice of options and overall quality of its KrisWorld entertainment system. All cabin classes are fitted with personal entertainment LCD screens that feature both touch screen and handheld controls.
There are more than 1,000 entertainment channels to choose from, with movies, TV programs, music, games and apps available. The latter is an especially helpful addition for business travellers as it features access to connecting gates, Berlitz learn a language programs and B-wise Culture Quest with advice on local culture and customs.
Singapore Airlines also offers a few different options for in-flight connectivity as part of its entertainment system. This includes internet access, in-flight texting, USB ports and outlets across all classes on select aircraft and an in-seat telephone.    
Etihad
Etihad is known for providing passengers with unrivalled comfort when it comes to flying, so it may come as no surprise that its in-flight entertainment system is among the best in the skies. Operating the E-Box entertainment system, passengers are treated to plenty of choice. With hundreds of hours of entertainment available, choose from more than 120 movie titles, 300 TV shows (including full box sets of your favourite dramas), seven live TV channels, an extensive music library, 16 radio channels and up to 60 interactive games.
Screens are fitted in all cabin classes, ranging from 10.6-inches (Economy) to 24-inches (First Apartment). If you're lucky enough to fly in The Residence, you can enjoy your entertainment on a full 32-inch flatscreen TV! 
Other Travel Articles You Might Like...