3 June 2015
Words by Ben Stower
Travelling for work makes it difficult to establish an exercise routine. Your Monday to Friday is often consumed with airport lounges, hotel check-ins, meet-and-greets and a lot of eating out, leaving little time to find a nearby gym or walking track.
Then, in one final shot against your health and fitness aspirations, you're left exhausted from all the travelling and work to pick yourself up from the couch once you get home.
Hold on. There's a solution. One of the easiest and most convenient ways to stay fit while travelling is committing to a 30-minute run at least once a day.
Brisbane is one of Australia's most frequented cities for business and also happens to be well-equipped for a morning or afternoon jog. Read on as we break down the city's best running routes.
The River Loop
If you're working in Brisbane's CBD, this running track might only be a few minutes away from your office cubical. There's no official starting point, but city workers tend to begin at Eagle Street Pier.
The Brisbane River hugs your right as you stride along the boardwalk towards the Story Bridge. The views get better as you jog along the bridge across the water and into Kangaroo Point.
This is where you can add a less forgiving edge to your run. The Kangaroo Point Cliffs can be admired from below, or you can seek out incredible views from the top by tackling the quad-burning stairs.
The path continues on to Southbank and along Goodwill Bridge, which carries you over the river to the City Botanical Gardens (a great spot for some post-run stretching). Follow the riverside footpath back to Eagle Street Pier.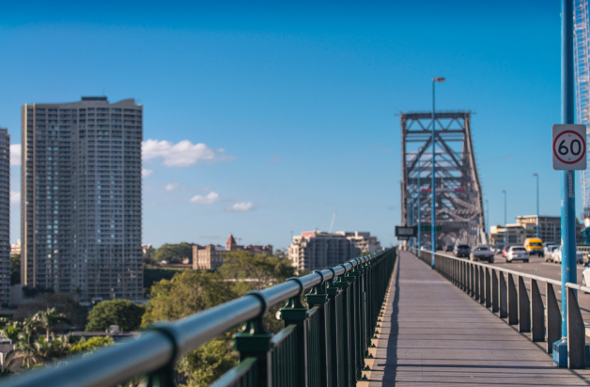 Pros:
Diverse and picturesque views
Generally flat terrain
Finish where you start
Cons:
Very popular running track
Loud city traffic noise
Mt Coot-tha
Mt Coot-tha offers a handful of running trails for those who don't mind a challenge and love exploring bushland. Although the runs are fairly short (average of two kilometres), you'll need to traverse difficult bush terrain and steep gradients in some areas.
One of the most popular runs is the Summit Track, which begins at JC Slaughter Falls, a spacious picnic area with free parking. The 1.9-kilometre run takes you all the way to the Mt Coot-tha Lookout where you can admire panoramic views of the city.
Extend your run by taking a short detour down the Aboriginal Art Trail. Branching off from the Summit Track, this one-kilometre circuit passes Indigenous tree carvings, etchings and rock paintings and arrangements.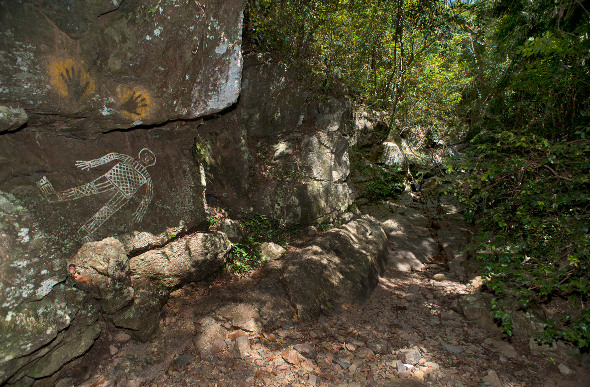 Image: Lyle Radford (Wikipedia)
Pros:
Secluded and tranquil running environment
Challenging gradients and terrain
Spectacular city views at the end
Multiple tracks
Cons:
Will need a vehicle to reach the running trails
Tracks are quite short
Need to carry a phone in case you get lost
Slightly out of town
Kedron Brook Bikeway
Further north of the CBD, tucked amongst Brisbane's quieter suburbs is a 16-kilometre stretch of concrete footpaths that follow the Kedron Brook. Despite its name, the Kedron Brook Bikeway has plenty of space for runners as well as cyclists.
There are multiple entries and parking spots along the course, which is often surrounded by green parkland. The atmosphere regularly changes as you come across popular areas, run underneath main roads and encounter seemingly deserted spots where silence is broken only by the native birdlife.
The Kedron Brook Bikeway has become so popular with runners that it's now used for an annual running competition, the Stafford City Brooke Run.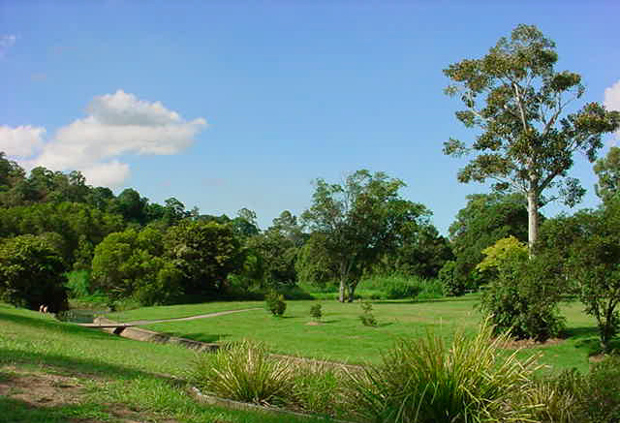 Pros:
Quiet area away from the city
Plenty of variety and different routes
Drinking facilities at regular intervals
Occasional outdoor gym station
Cons:
Can be crowded during peak times of the day
Popular magpie nesting area at certain times of the year
University Of Queensland
The University of Queensland track begins along the university's campus, at the UQ Lakes Bus Station. The path takes you around the picturesque UQ Lake and carries on along the Brisbane River all the way to the Eleanor Schonell Bridge. It's easily one of the most scenic and diverse runs in Brisbane's western/southern suburbs.
The Eleanor Schonell Bridge has a designated, covered pathway for walkers and runners, and links up with a pleasant running area in Dutton Park on the south side.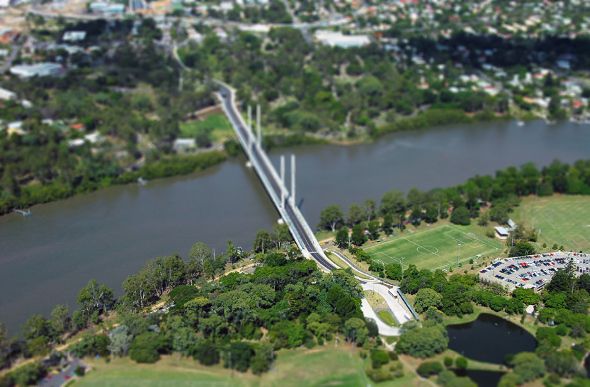 Image: Brisbane City Council (Wikipedia)
Pros:
Convenient bus link to the university
Designated pedestrian paths
Covered running areas
Varying scenery
Flat terrain
Cons:
Possibly too flat for experienced runners
Parking can be an issue on the university side
Other Travel Articles You Might Like...