20 December 2016
Calling to travellers heading through New Zealand's picturesque South Island, Christchurch charms with an easygoing sophistication that blends incredible outdoor spaces with a swathe of must-see institutions. From quaint cafe dining to the sprawling expanses of the Botanic Gardens, 24 hours is plenty of time to spark your interests, scratch the surface and convince you that a future visit is a must. Until then though, here's how to fill a single day in Christchurch ...
Where To Eat
New Zealand's penchant for all things fresh and local has created a blossoming culinary scene that calls to foodies from across the Tasman. Christchurch is no exception. This South Island stunner features a plethora of eateries that beckon with cute turn of the century facades and dazzle with fresh, farm to plate dishes.
Breakfast: There are a generous handful of cafes calling Christchurch home, and while any one would make a worthy spot to start your day, the Thyme Cafe is our favourite pick. It's only minutes from central Christchurch, which wins major points on the convenience front. The surrounds make it feel like a country B&B and the menu is all about classic brekky favourites. We're talking bagels, omelettes, pancakes and French toast.
Lunch: Lunch on the go should be the name of the game when you only have a mere 24 hours to explore this city. Enter Red Box Burger & Grill. This food truck serves up hearty takeaway burgers and chips from the front of the Re: START Mall in the city centre.
Dinner: For dinner, you may just want to switch gears and head for Dux Dine -- a seafood and vegetarian restaurant that consistently ranks among the city's best. With a focus on local suppliers, growers and artisan producers, diners are treated to the region's best. With menus that offer favourites 'from the land' and 'from the ocean' along with seasonal salads and pizzas, you're sure to find something to pique your interests.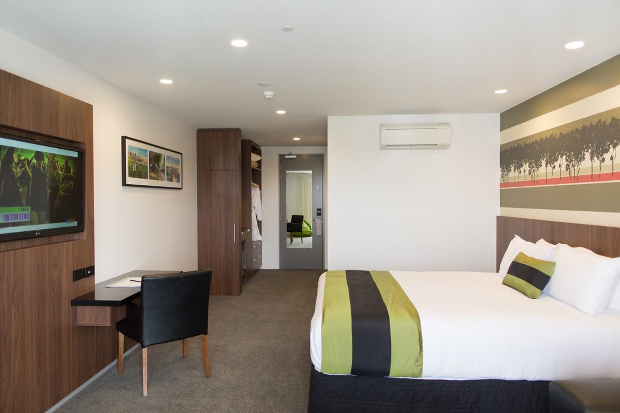 Where To Stay
When it comes to choosing a spot to stay, Christchurch offers up plenty of variety. There's a hotel to suit all budgets. This includes the Rydges Latimer Christchurch, a 4.5-star choice that provides excellent value for money. Located in Christchurch Central, the hotel is just minutes from scenic Latimer Square and Ferrymead Heritage Park. It's also a fine spot from which to travel further afield if time permits.
 There are 10 different room configurations, offering the space and rates to accommodate all travellers. Ranging from the Superior King to the Penthouse Suite, each offers slick, modern interiors with all the comforts expected of a great business hotel. This includes balcony access, work desk and WiFi access. Beyond the rooms, guests are also treated to conference facilities, a health and fitness centre and onsite dining. This SmartSTAY hotel also comes with a sweep of added extras when you book through your FCBT Travel Manager. This includes complimentary WiFi, a discount on food and beverage, late check-out to noon (if available) and a room upgrade (if available).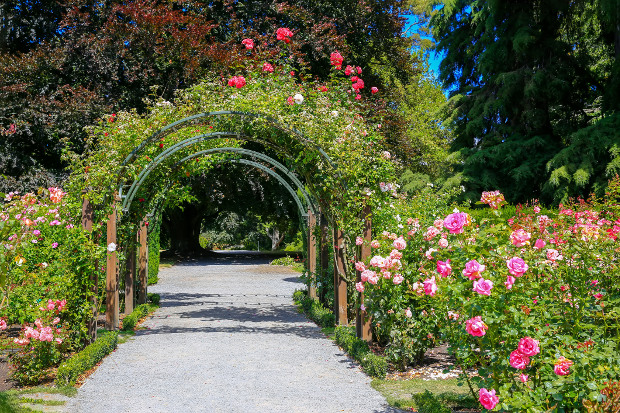 Where To Play
With just 24 hours to spare exploring the city, you may want to kick things off with a morning stroll through the Christchurch Botanic Gardens. This tranquil green space is located in the heart of the city and is completely free to enter. With gardens for all seasons, you'll be treated to a beautiful array of flowers and plants that range from exotic to native species. Tours are available or you're free to wander the grounds of your own accord.
The city is brimming with art galleries and studios as well as museums, offering insight into its rich heritage and history. For example, check out the Christchurch Art Gallery Te Puna O Waiwhetu for one of New Zealand's most important public art collections. If your travel tastes lean more toward the adventurous side, there's plenty of fun to be had here as well. Sky diving, jet boats and white water rafting are all easily arranged from the city. Speaking of getting out of the city, the Willowbank Wildlife Reserve or Hanmer Springs are both a great way to wind down the day, checking out some of the natural beauty surrounding Christchurch. 
Other Travel Articles You Might Like...
Request an appointment with a Business Travel expert