7 April 2016
Words by Carlie Tucker
It doesn't matter how many times you've been through airport security, we've all had that surprise stop. The metal detector goes off and you're forced to walk through a second time much to the chagrin of those waiting behind you. While the occasional stop is nothing to worry about – it does happen to the best of us – you could save yourself those precious few moments by skipping these fashion items.   

Domestic
It's pretty easy to prepare yourself for an effortless pass through domestic security. The biggest rule of thumb for both men and women is to avoid unnecessary accessories made of metal. The biggest offenders are watches, belts and jewellery. Toss these items in your carry-on before you leave the house and grab them after you've passed through the security check-point.
Some shoes have a tendency to set off the detectors as well, so be mindful when selecting your footwear for your flight. Ladies can get away with a pair of simple ballet flats – comfortable and security friendly. Gents can't go wrong with a pair of leather dress shoes or slip-ons. Avoid anything with steel caps, or be prepared to take them off before you proceed through the metal detector.
Loose fitting clothing, such as jackets, need to be taken off and placed in a security bin before you pass through. This is definitely easy enough to accommodate, but if you'd rather not deal with it, simply pack your jacket instead of wearing it.
---
Are you driving fellow passengers crazy? 5 Bad Airport Habits To Break
Need to kill some time at the airport? 5 Airports That Offer Layover Tours
---

International
When it comes to international travel, different security rules apply for different countries. It's definitely worth doing your research to review any rules and regulations before your flights to and from to ensure you're not caught off guard, but there are a few tips that generally apply across the board.
As with domestic travel, metal accessories are a definite no-no, which means necklaces, rings, bracelets, belt buckles and watches should be safely packed in your carry-on or checked bag. Hairpins are another surprising item that tends to set those buzzers off, so skip spending your morning creating a stunning up-do and let those locks down.     
Loose fitting clothing should be avoided no matter where you're travelling, or you can likely expect to be pulled aside for an additional pat down. Ladies, as comfy as those long flowing skirts and dresses are, opt for a slightly more tailored look to ensure you're not held up at security. For the guys, cargo pants or shorts with a loose fit and a lot of pockets are often a red flag. Swap them out for a pair of jeans or chinos.
When travelling to countries such as the USA, shoes will always have to come off when you're passing through security check-points. For this reason, any footwear that can't be easily slipped on and off should be avoided. For the guys, choose a nice pair of slip-ons or loafers that you can easily take off. For the ladies, swap those heels with tiny buckles for a comfortable wedge or flat. And remember to wear socks if you're adverse to shuffling through security with bare feet.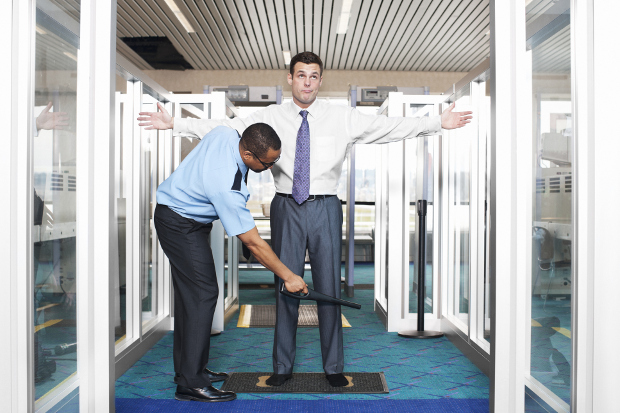 More Quick Tips For Airport Security:
Take your laptop out and place it in a separate security bin.
Only carry the essentials on your person, such keys and a wallet, to avoid getting held up.
Pack important travel documents in an outer pocket so you can quickly grab them if you need to.
Liquids, aerosol or gel products are restricted to 100 millilitres or less, stored in a clear, resealable bag.
Brush up on the prohibited items list. Basically if it's flammable or capable of harming someone, leave it at home or pack it in checked luggage.
Other Travel Articles You Might Like...