24 May 2015
Words by Anna Hart
When San Francisco International Airport opened the world's first airport yoga room in 2012, opinions were mixed.
Some rolled their eyes at what they saw as a faddish room doomed to gather dust. Others couldn't believe that an idea so beautifully simple hadn't been implemented before.
The yoga 'yay' sayers won, with more US airports following suit. Dallas-Fort Worth, Burlington Airport in Vermont and O'Hare in Chicago all now offer dedicated yoga studios within their departure lounges.
A few months ago, stiff-backed and fuzzy-headed after a flight from London, I eagerly made my way to the bamboo-floored space at Chicago O'Hare. Waterfall scenes and tinkly relaxation music emanated from a television in the corner, a tinted glass window let in some natural light, and a stack of purple mats sat in the corner.
For a yoga lover with a five-hour stopover, I can't think of a more welcome sight.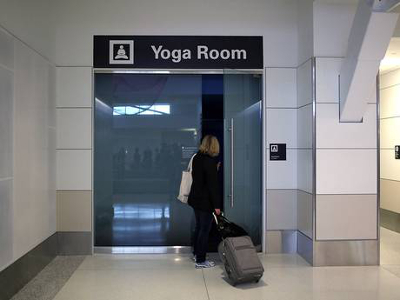 Last summer, the trend reached Europe, with Helsinki Airport opening a 24-hour space – with yoga mats, instructional posters and floor-to-ceiling windows overlooking the runway – where passengers could do brief yoga, pilates or meditation exercises.
Here in the UK, a pop-up yoga studio in Heathrow's Skyteam lounge proved so popular that it will now be made permanent, and it is expanding its repertoire of yoga videos to include pre- and post-flight stretching routines.
While all the other airport yoga rooms are free for the public to use, the one at Heathrow is only available to passengers with lounge access – although passes can be purchased for £27.50 (A$54.40), and you can visit the on-site Oxygen Bar when you're finished with shavasana.
"It used to be a TV lounge, but with a couple of yoga mats and some instructional videos, we have a whole new use for that space," explains Guylaine Burfield, of Skyteam.
Now that almost everyone travels with their iPads, airport television lounges have rapidly become redundant. What better use could a spare stretch of carpet possibly be put to?
"I think it's a brilliant idea," says Louise Palmer-Masterton, a yoga teacher and founder of Camyoga.
"Think about what passengers are normally encouraged to do in an airport, which is to drink too much and eat rubbish food. Yoga, being both physically stimulating and mentally relaxing, is exactly what our bodies need more of when we travel – and in airline passengers you have a captive audience."
As a travel writer, I regularly find myself stuck in departures lounges with hours to kill. Time is somehow less valuable in an airport; we seek to waste it, not spend it well.
Hours that could have been put to good use on the other side of security – watching a film, visiting my mum, going for a walk – are squandered on spritzes of duty-free perfume, bad sandwiches, and frustrating attempts to send emails.
We hear so much about how bad air travel is for our health: the long periods of physical inactivity, the dehydrating effects of stale cabin air, the merry scuppering of our circadian rhythms. But apart from popping on a pair of compression socks and nagging the cabin crew for another thimbleful of water, we have limited ways of mediating this.
Although San Diego International Airport can lay claim to the world's first meditation room, opened last year amid much fanfare and at a cost of US$200,000, the idea of an area within an airport for quiet contemplation is nothing new.
The first airport chapel opened in 1951 in Boston's Logan International Airport and the International Association of Civil Aviation Chaplains still holds an annual conference. Today, unstaffed "multifaith rooms" with a nondenominational focus are more common.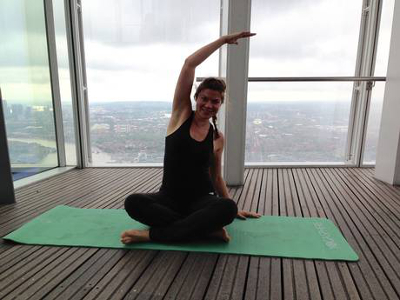 As our lives get busier and we all travel more, pockets of peacefulness within busy, hectic airports can only become more valuable.
"For business travellers in particular, meditation is an invaluable tool," says Palmer-Masterton. "I use my Happiness app to do a timed meditation several times across a long flight and this really boosts mental clarity and innovation by the time I land."
Admittedly, the people most likely to be excited about yoga studios in UK airports will be the estimated 2.5 million Brits who already do it. They'll need to bring the right gear in their cabin luggage, and know their way around a sun salutation.
But if the smokers get their own area, it's only fair the yogis do, too.
Airport Facilities So Good You'll Wish Your Flight Was Delayed
Butterfly Garden, Changi Airport, Singapore
It's tough to choose between the two-storey butterfly grotto – complete with 8-metre waterfall – or the Balinese rooftop pool.
Spa Centre, Bangkok Suvarnabhumi Airport
Plenty of airports already offer spa services within airline lounges, but Suvarnabhumi gets bonus points for a dedicated massage centre (offering jetlag recovery packages as well as A$20 traditional Thai massages), minutes from the food court.
Golf Town, Incheon Airport Seoul
Forget playing Candy Crush for hours. You can improve your golfing game on your stopover in Korea, thanks to a 300-metre driving range, 18-hole putting course and a swing analysis centre.
Art Gallery, Amsterdam Schipol
Stop perving over perfume posters in Duty Free and feast your eyes on a Rembrandt at this free branch of the Rijksmuseum.
Aquarium, San Francisco International Airport
When you're done feasting on quinoa salad at the food court, you can ogle the coral reefs of the South Pacific.
This article was written by Anna Hart from The Independent and was legally licensed through the NewsCred publisher network.
Other Travel Articles You Might Like...